The best PC cases come in many shapes and sizes. They will house your PC's components either relatively humbly, or with all the eccentricity of a Gundam design—your call. Not only do you get far more for your money nowadays, including RGB lighting and even built-in fan controllers, most modern cases are a doddle to build into, as well. If all goes to plan, you'll be left with a gaming PC you'll be proud to call your own.
The best PC cases offer a jumping-off point for your gaming PC build, but can also be the finishing touch that makes your machine stand out from the rest. You have a wide selection to choose from, too. Some of us like to go big and flashy, while others prefer a more minimalist approach. And of course, you can buy a prebuilt gaming PC if you want, but most people will tell you it's not the same as putting your own blood, sweat, and tears into a PC case that reflects your true, inner tech-head.
First, before you go throwing money around, think about how big the motherboard is that you want to use, and how much storage you're going to need. Not least: how big is your graphics card? If you don't make these considerations prior to buying a PC case, you could end up having to send it straight back again.
A full-size PC case supports the giant E-ATX boards but will take up a ton space under or on your desk. Small form factor cases like the NZXT H200i can only accommodate Mini-ITX boards, and can be restrictive for other components like big GPUs. Mid-tower PC cases are a much more common choice that supports all ATX and a handful of E-ATX boards. Size does indeed matter after all.
Once you've decided on the case size, the fun part happens next. There are dozens of features and options you can consider like I/O ports, cooling configurations, windows, airflow, lighting to start. Just take a look for yourself.
Image 1 of 5
Image 2 of 5
Image 3 of 5
Image 4 of 5
Image 5 of 5
Much like the original Cooler Master Cosmos, the C700P is a hefty beast with a similarly large price-tag. However, we'd argue that it's worth the expense. A beautiful handlebar design, curved glass panel, and sleek color-scheme are matched by features that'll support even the most high-end components (including E-ATX motherboards and oversized GPUs).
A larger footprint means that you won't be pushed for space either, making it a delight to build into. What's more, the RGB lighting is subtle enough that it won't distract you while you game. Yes, this is a lot to spend on an enclosure. However, those who are willing to go all out on a build will get a case with everything they need to create a stunning PC.
Want more full tower recommendations? See our guide to the best full tower case.
Image 1 of 2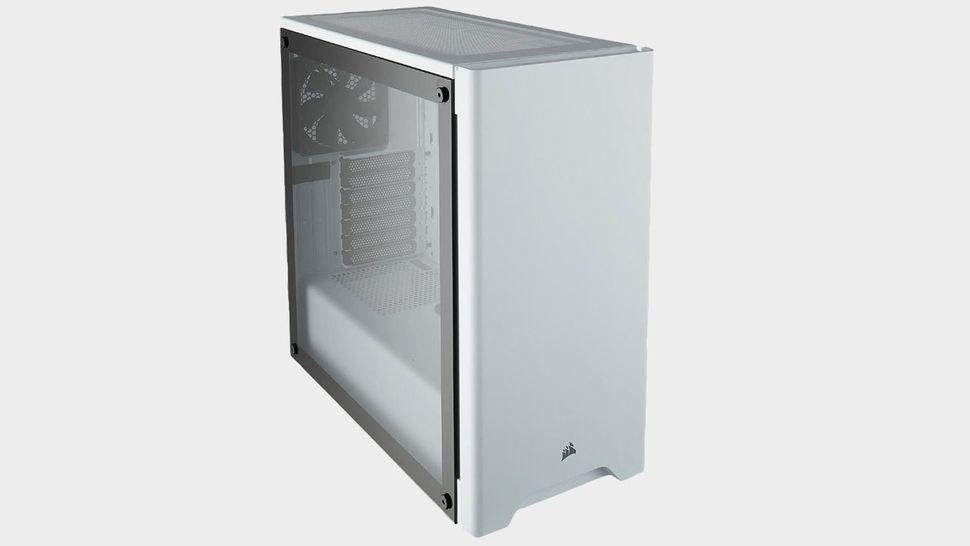 Image 2 of 2
One of Corsair's more recent cases, the Carbide 275R, might just be the ultimate minimalist's case. Aside from a small "sail" logo on the front panel, the 275R ditches additional branding for the sake of a clean design for the style-obsessed. While the design may be minimal, the functionality isn't.
Unlike NZXT's similarly minimal S340, the Carbide 275R can support a 360mm radiator in the front and up to six 120mm fans. With a modest $80 price tag, the 275R is a good case for beginners as well as advanced users looking to create a sleek custom loop.
Image 1 of 7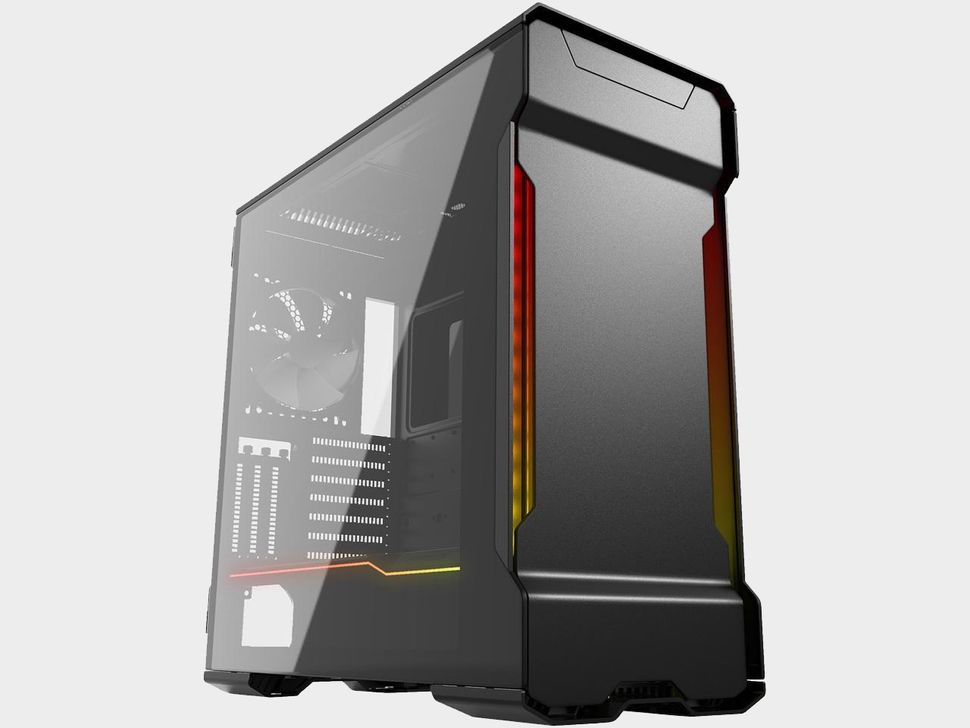 Image 2 of 7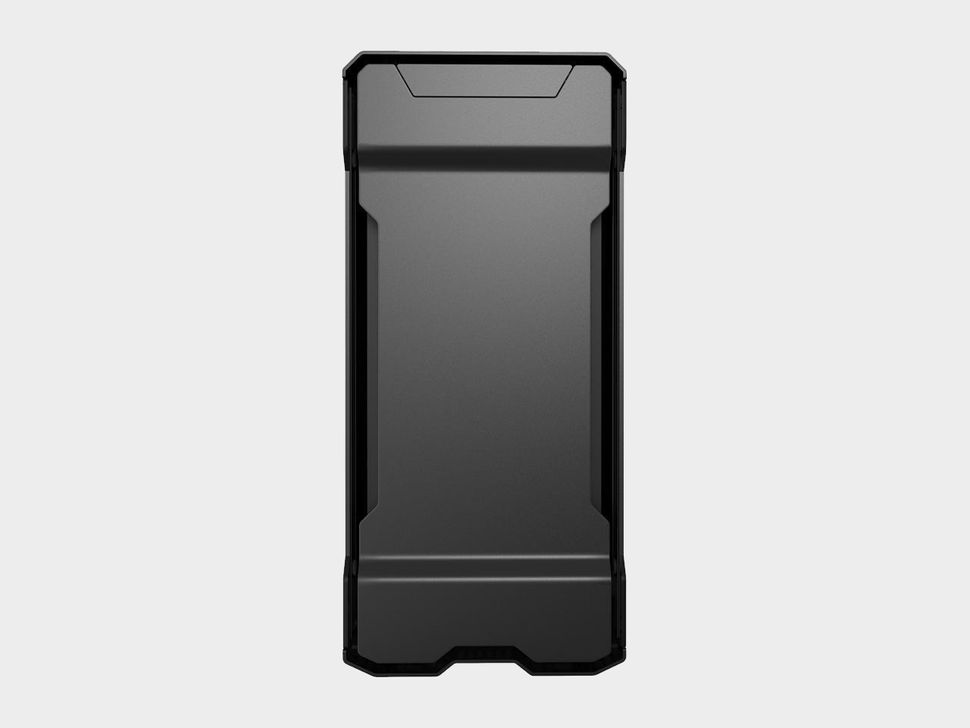 Image 3 of 7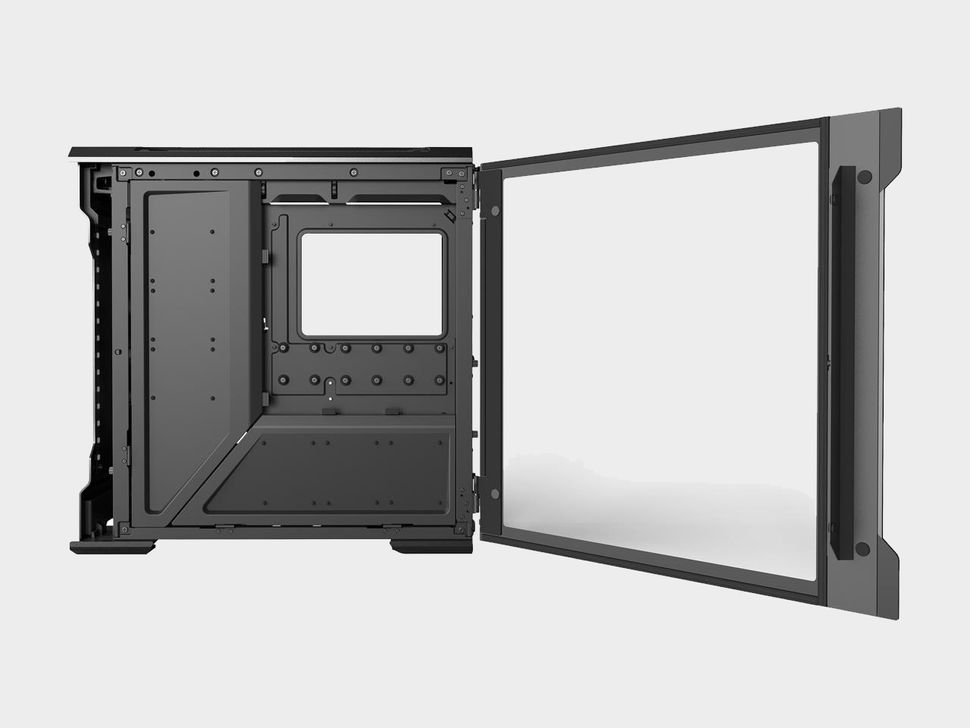 Image 4 of 7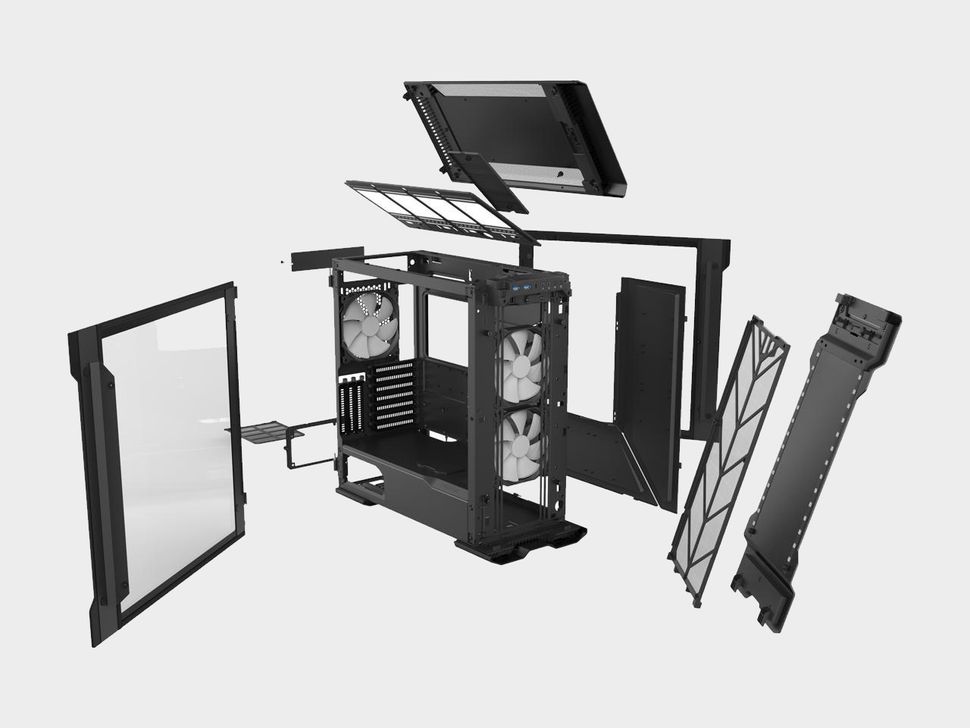 Image 5 of 7
Image 6 of 7
Image 7 of 7
Phanteks has made some incredible cases over the years, but the Evolv X stands out as an excellent chassis for anyone looking for a mid-tower instance with a little something extra. That extra being the ability to slide two systems into its pleasing form—there's room for an ITX system in the top to go above the main ATX system. It's a bit of a squeeze for sure, but it is possible.
If your demands aren't quite so crazy, then you'll find it roomy to build in, and there are enough neat little touches and funky design choices to cover almost any build you have in mind. There's space for all-in-one liquid coolers in the top (up to 360mm) and front (up to 420mm), it comes with a universal fan hub, three Phanteks Premium 120mm fans, and has cable-hiding flaps in the rear so that it looks good whichever side you look at. You can slide a frankly ridiculous amount of storage into it as well.
It does have a covered front panel, with a dust filter behind it, which affects airflow, so those looking to build custom loops may want to look for a mesh fronted system instead, but otherwise, there's so much to love here. You don't need to build two systems in it to feel like it's money well spent either, and it isn't that much cash in the first place given how capable it is, and how good it looks.
Image 1 of 5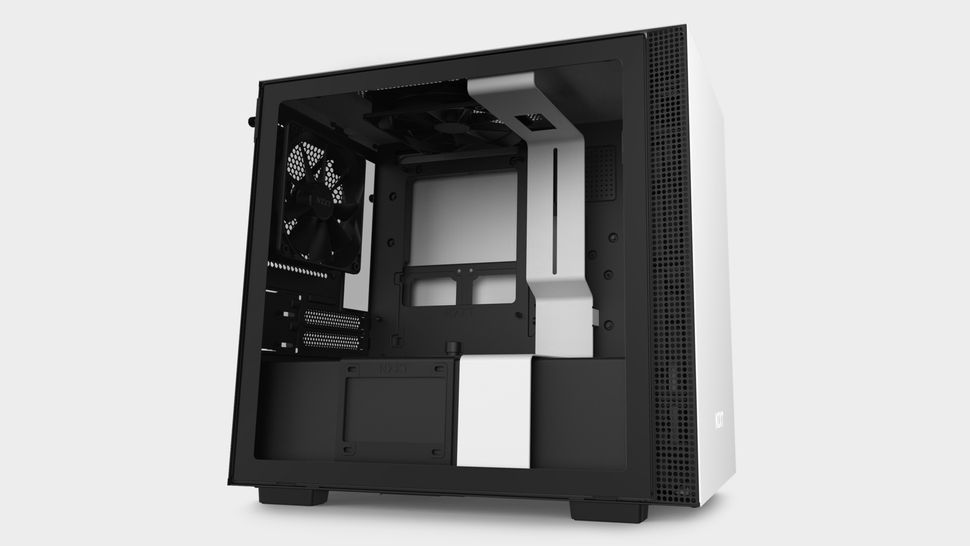 Image 2 of 5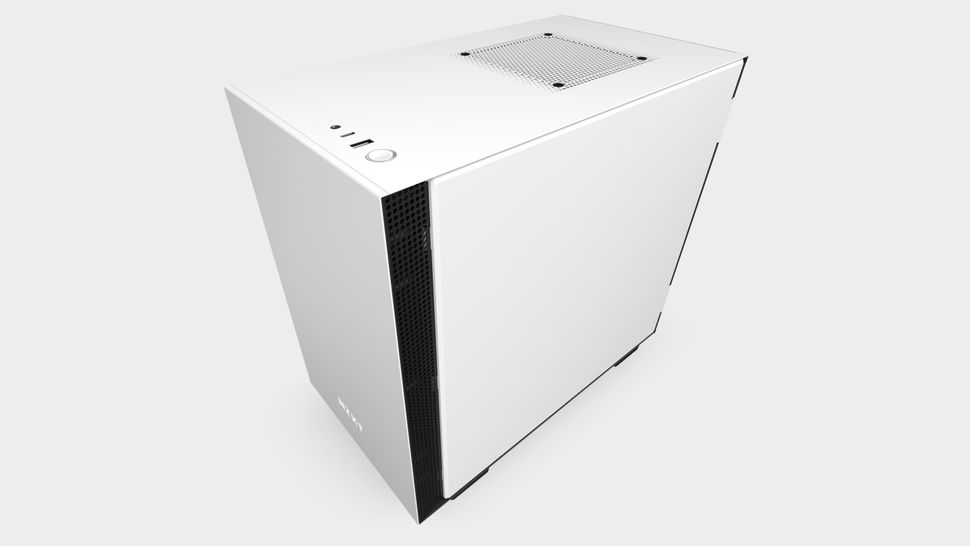 Image 3 of 5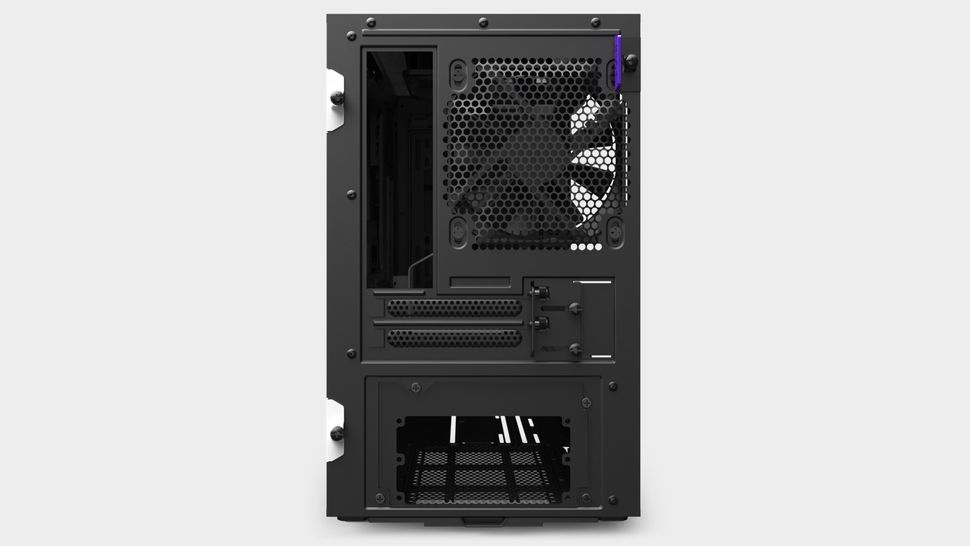 Image 4 of 5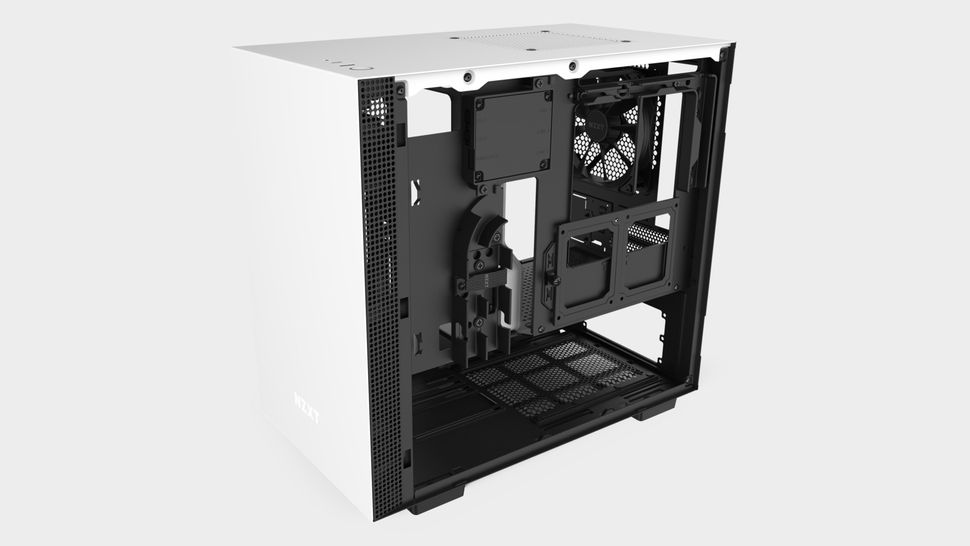 Image 5 of 5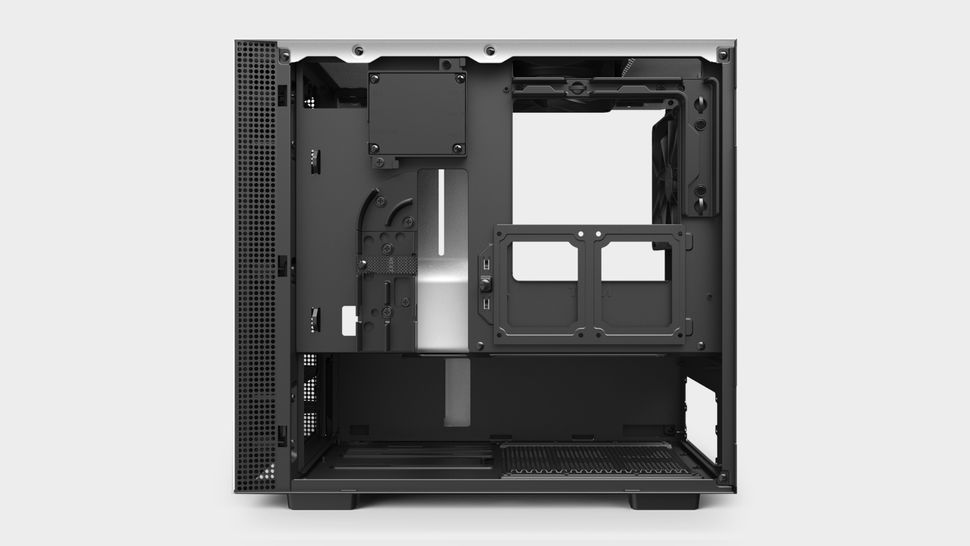 The NZXT H210i is a slightly updated version of the H200i that boasts a USB 3.1 Gen 2 Type-C port on the front panel. Apart from that, it's the same case, which is itself essentially a miniaturized version of our favorite mid-tower, the H710i. Built to support mini-ITX builds, the H210i is all about packing a high-end system into a compact, minimalistic package.
Like its bigger brother, the case comes equipped with NZXT's smart hub and also includes two fans and one RGB LED strip. With plentiful support for liquid cooling and full-sized components, the H200i is the perfect compromise between smaller ITX builds and larger mid-sized towers.
If mini-ITX is your thing, see more recommendations in this guide to the best mini-ITX cases.
Best CPU for gaming | Best graphics card | Best gaming motherboards
Best SSD for gaming | Best DDR4 RAM | Best gaming monitors
Image 1 of 4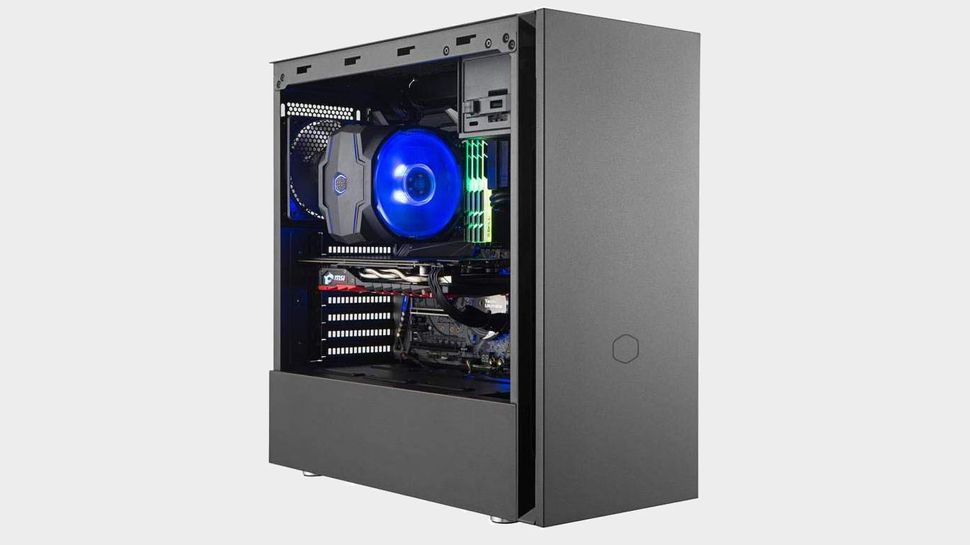 Image 2 of 4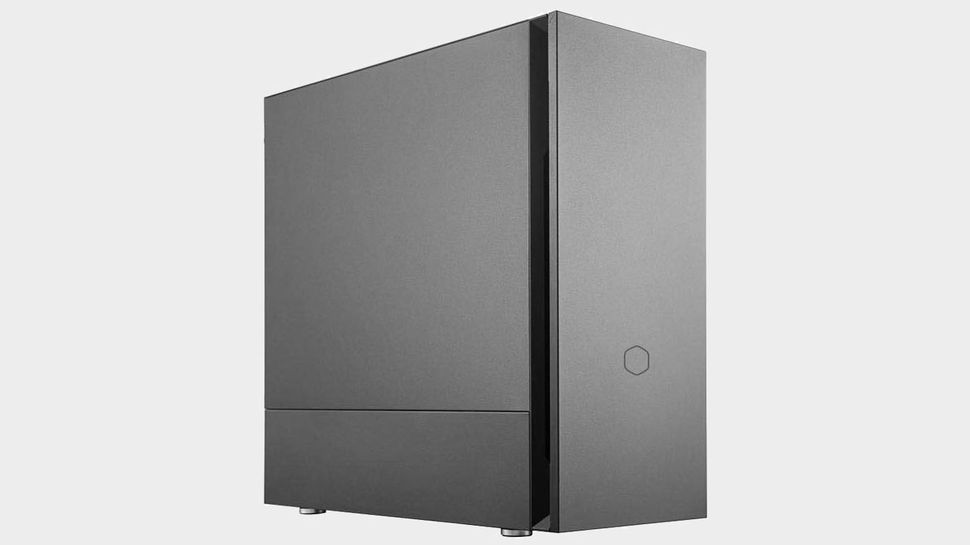 Image 3 of 4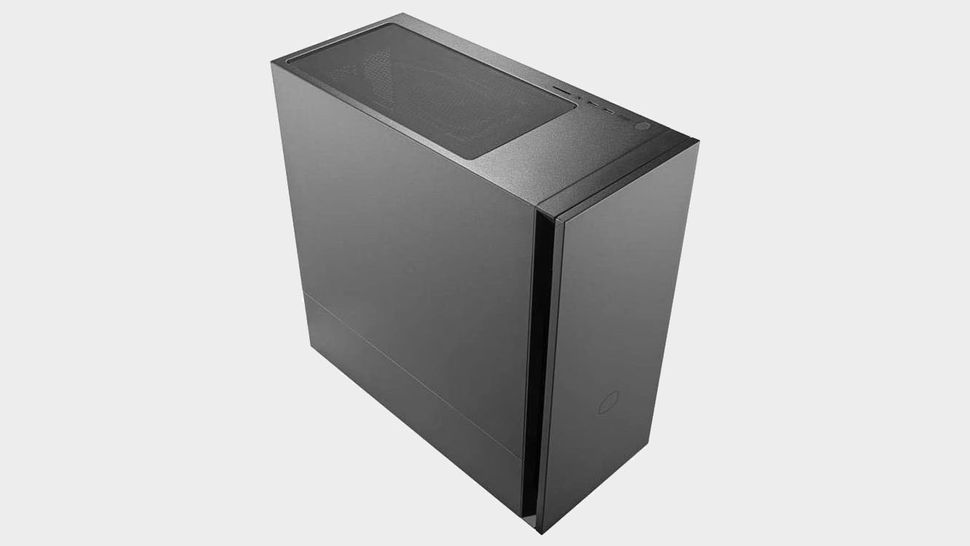 Image 4 of 4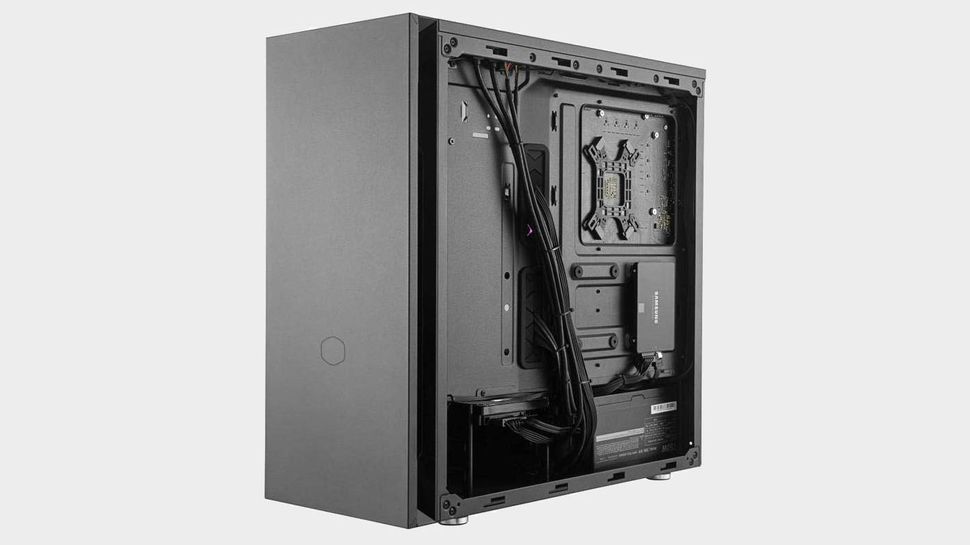 If you're the type of gamer that requires total concentration, a quiet PC case can be critical. Once your PC starts heating up and fans begin blowing at full force, your once-silent PC can quickly turn into something that resembles a roaring jet engine. It's times like these when a silent PC case can come in handy, and nothing does the job quite like Cooler Master's Silencio series.
The Silencio S600 mid tower looks simple on the outside, but the interior is filled with intelligent engineering and high-quality sound dampening materials to help drown out any unnecessary noise. Usually, this comes with a severe compromise for airflow, but the S600 does a pretty decent job of moving air and keeping things cool despite its silent properties.
If you are looking for a semi-silent build but also want to display your components, the S600 comes in a tempered glass version or a steel version, giving you some flexibility for your own specific needs. The case comes equipped with two 120mm PWM fans and offers decent liquid cooling support with radiators up to 280mm in size. If you're looking for something a little smaller, Cooler Master also provides the mATX-friendly S400.
Image 1 of 6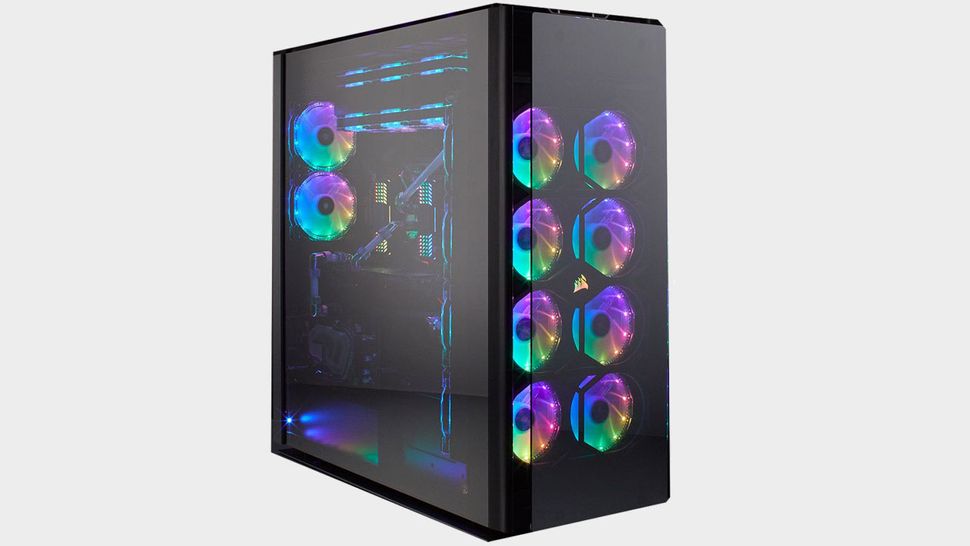 Image 2 of 6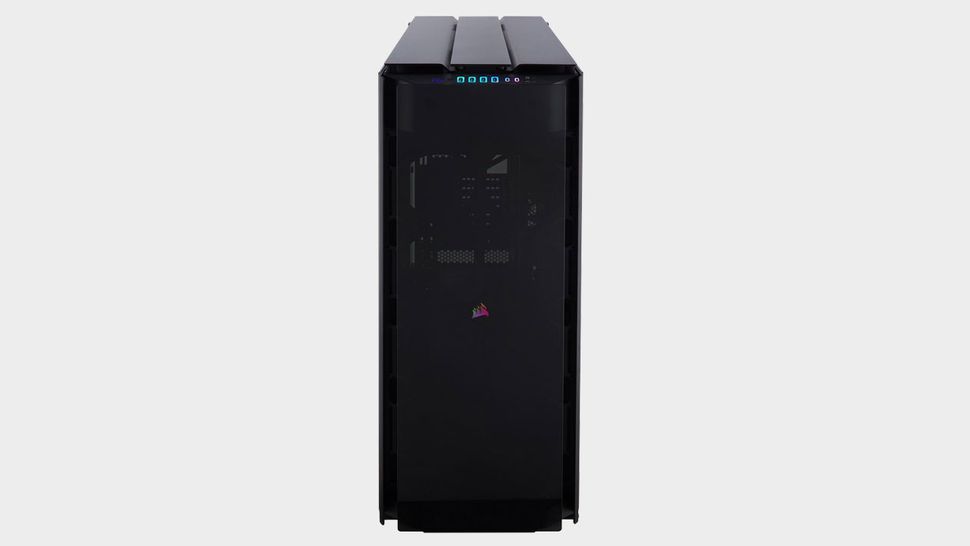 Image 3 of 6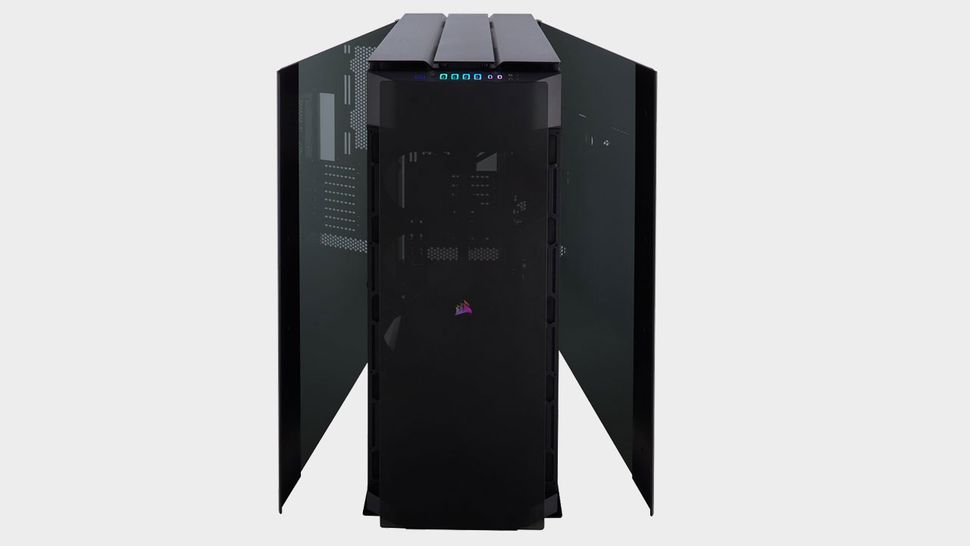 Image 4 of 6
Image 5 of 6
Image 6 of 6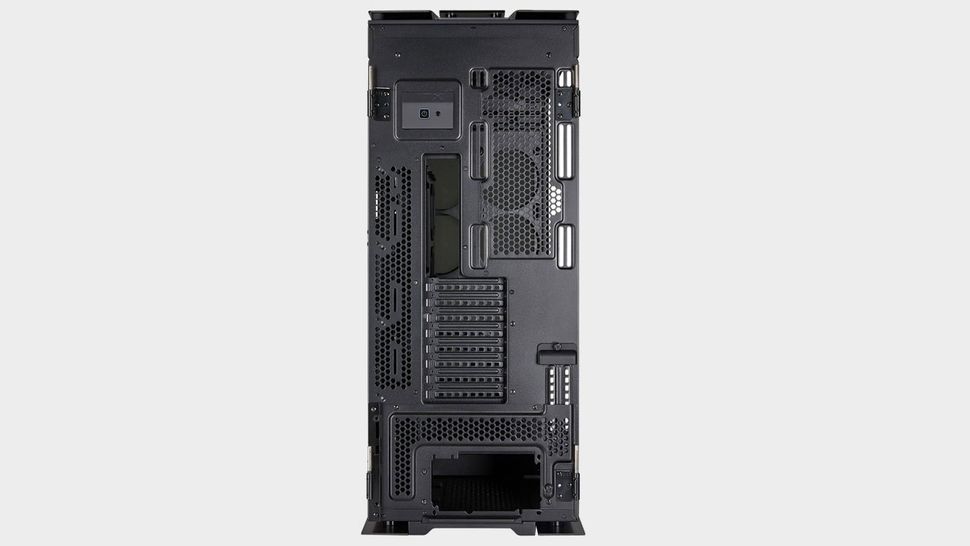 Speaking of roomy builds, the Corsair Obsidian Series 1000D is a behemoth of a PC case ready to house the biggest and baddest systems. Standing tall at a staggering 27.3-inches, this "super-tower" features enough space to house 18 fans and up to four massive radiators installed simultaneously.
In addition to the stellar cooling support, the 1000D features a unique triple-chamber design with convenient french-door-styled storage compartments and telescoping radiator trays for easy installation. Because it is 2021, of course, there is also an RGB lit front panel I/O with built-in smart lighting and fan control courtesy of Corsair's integrated Commander Pro controller. The Obsidian 900D has long been a top choice for massive, over-the-top builds and it only fits that the 1000D was designed to knock it off its throne.
Image 1 of 3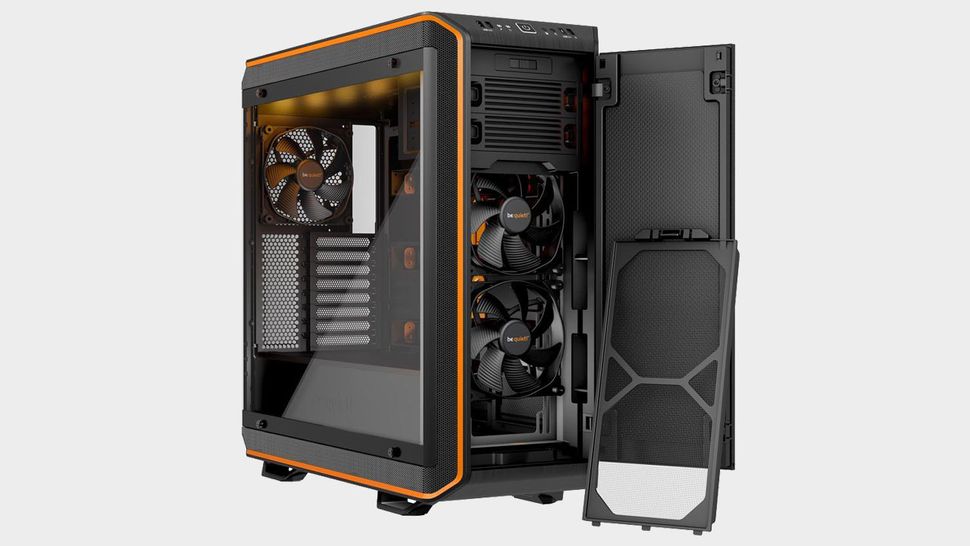 Image 2 of 3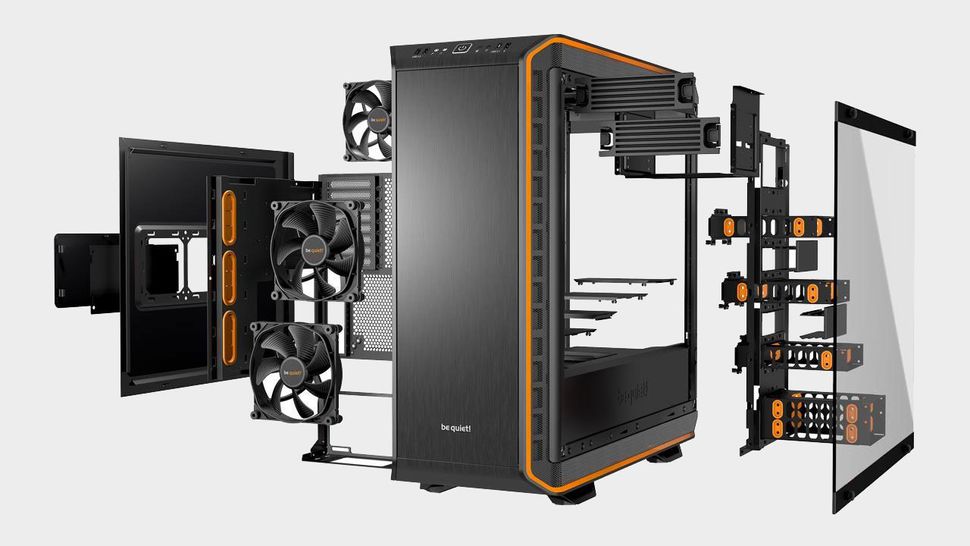 Image 3 of 3
Initially known for its silent power supplies and fans, be quiet! entered the case market with a big splash and has done quite well in a short period since its first case launch in 2014. One of its more recent cases, the Dark Base Pro 900, remains one of our highly recommended full towers thanks to its sleek design and enthusiast-friendly interior.
The Dark Base Pro 900 is large enough to support the biggest motherboards and radiators up to 420mm in size. The case also features total modularity with options for an inverted motherboard layout and even some nifty features like wireless Qi charging and preinstalled LED lighting.
Image 1 of 6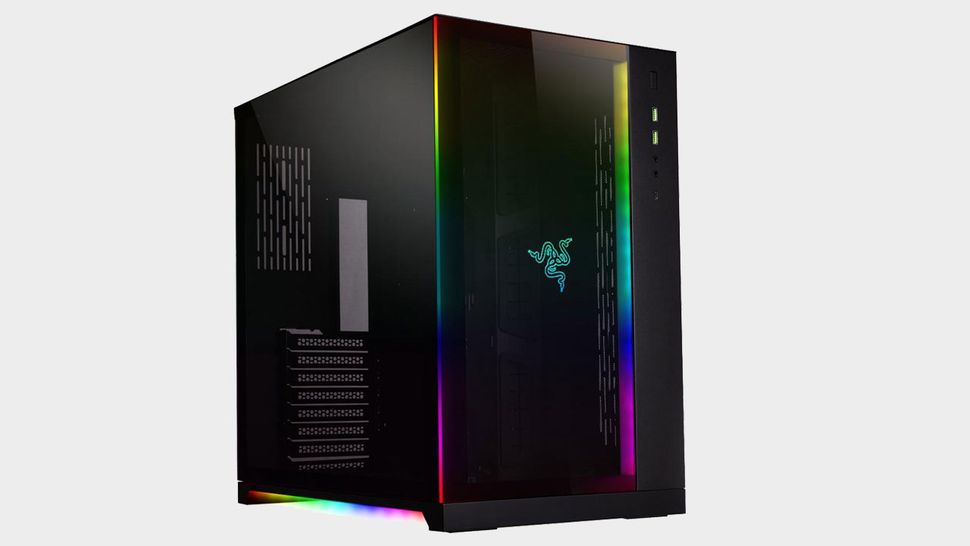 Image 2 of 6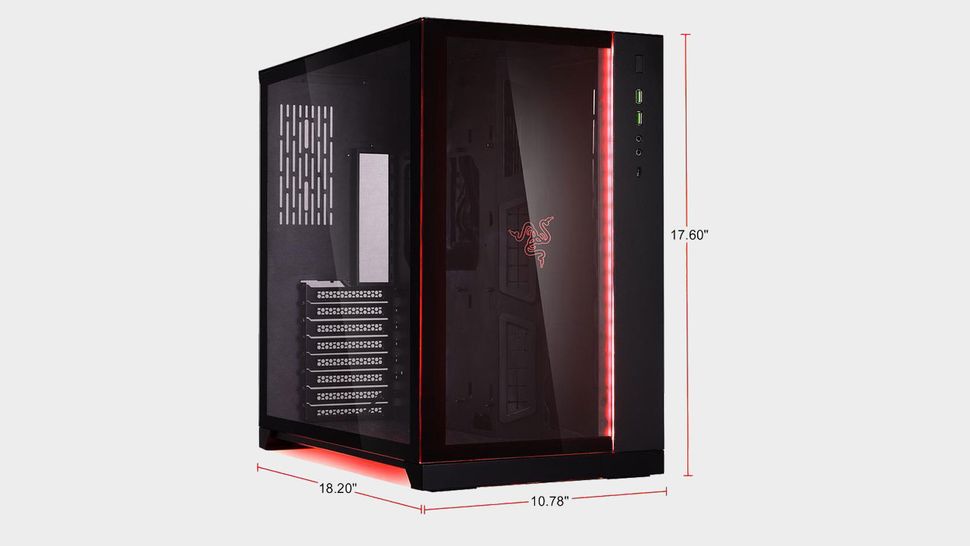 Image 3 of 6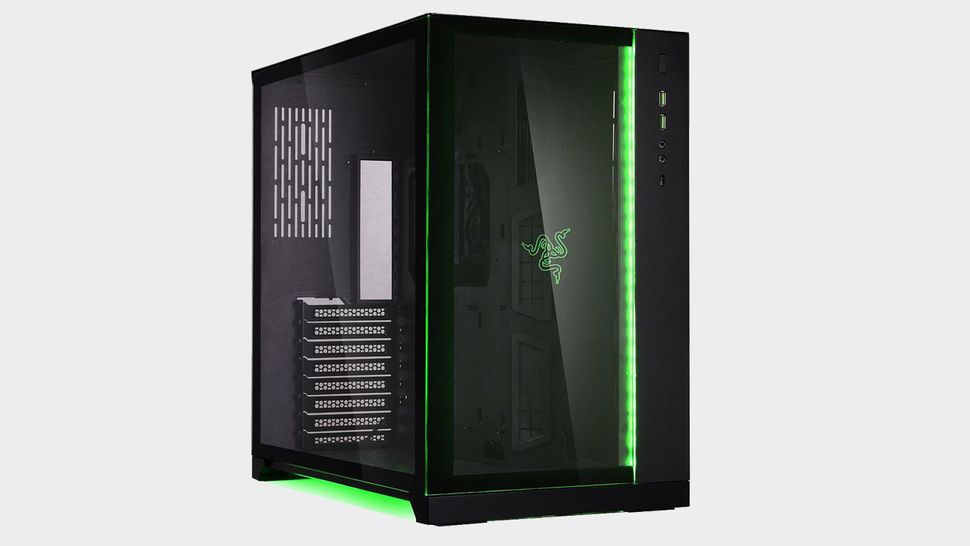 Image 4 of 6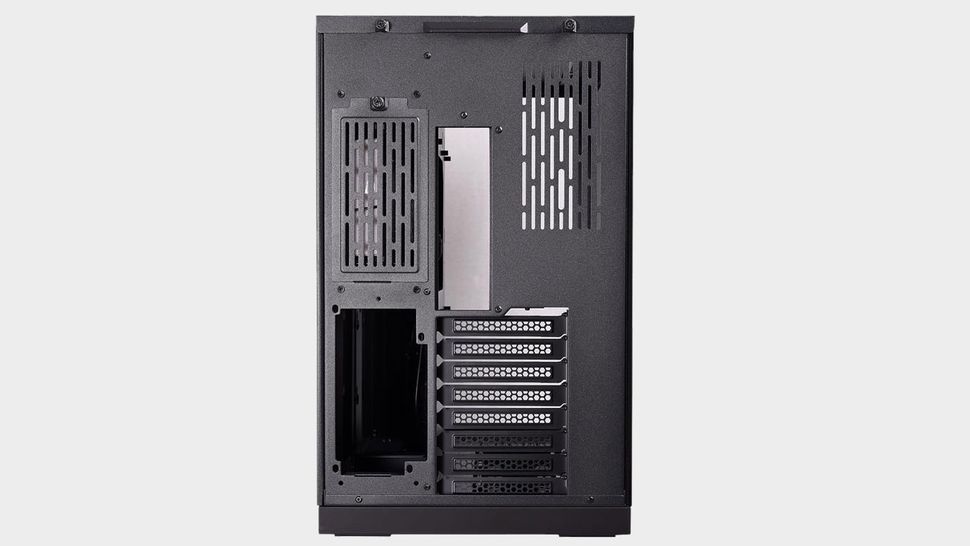 Image 5 of 6
Image 6 of 6
The worst thing about the Lian-Li PC-011 Dynamic is that its instruction manual is incomprehensible. If you already know how to build a PC, however, piecing it together shouldn't prove too difficult.
For the most part, it's a standard tempered glass mid-tower case with a few bells and whistles to make it all worth the enduring trial and error of the PC building experience. For one, it has three removable panels—one on the front and one on each side. Naturally, this makes for an easy installation. Incorporating a liquid cooler in its exposed ceiling area is an effortless undertaking.
Once everything is in place, assuming you have the coveted Razer Edition of the PC-011 Dynamic, you can get started customizing lighting schemes in the tri-snake company's Synapse 3 software, coordinating it with your other Razer peripherals along the way.