Think of the best gaming motherboard as the foundation for your future PC. Your motherboard dictates what your gaming PC can and can not do. It also tells what components you should buy since not all PC parts fit into all motherboards. A good motherboard should provide you with worry-free gaming lasting multiple CPU and GPU generations.
Before committing to a motherboard, you must ask yourself: How big is your PC case? Do you want to be able to overclock your CPU? Do you need high-performance RAM support? Do you need a block of USB ports? Bluetooth? Wi-fi? If your wish list increases, expect to spend extra. This isn't always bad, especially if you don't plan on getting a new motherboard for several years.
Now we have to consider the most important thing about motherboards; future-proofing. If you're in it for the long haul, you need to be sure that the board's socket or chipset can support this (and preferably the next round of) high-end processors. When it comes to AMD, the enduring AM4 socket and X570 chipset is finally phasing out since current Zen 4 CPUs use the new AM5 socket with B650 or X670 chipsets. Intel's 13th Gen CPUs, on the other hand, are backward compatible with the 12th Gen's LGA1700 socket, so a Z690 or Z790 chipset will do you fine.
I've tested a bunch of AMD and Intel motherboards over the past year, from Mini-ITX to E-ATX form-factors, so you can make the best choice based on the best motherboard for your lifestyle.
Best gaming motherboard
Best Intel Z790 motherboard
MSI's Tomahawk motherboards usually rate highly. They tend to focus on a core feature set rather than the premium tier features common to much more expensive boards. If the bells and whistles don't matter to you, but you still want something capable of driving a demanding Core i9 13900K CPU, then Tomahawk models will probably be on your radar.
The MSI MAG Z790 Tomahawk WiFi—as the name suggests—is a part of MSI's MAG range, its second tier sub brand. It sits above the Pro range and below the MPG and high-end MEG range. At $319 / £337 / AU$569 it's not cheap, though compared to what some premium tier boards are selling for, it's not badly priced at all. There's tough competition from the other vendors in its price range though.
Here for review I have the DDR5 version. There's also a DDR4 version should you have a good set of DDR4 memory on hand, though if you need to buy memory too, the DDR5 version is definitely the way to go. DDR4 is very much at the end of its life and the 13th Gen platform is almost certainly its last hurrah.
The Tomahawk includes support for four M.2 drives, though PCIe 5.0 SSD support is missing. Would it be nice to have? Yes, but along with a total lack of PCIe 5.0 drives, the Z790 platform requires an 8x/8x split between the 16x primary slot and the M.2 slot, meaning it's not something that's vital to have at this point in time. A good quality PCIe 4.0 drive will be more than sufficient for years to come, much like a good PCIe 3.0 drive still remains relevant today.
Unlike some PCIe 5.0 SSD supporting boards, such as the more expensive Gigabyte Aorus Z790 Master with its massive M.2 heatsink, the Tomahawk doesn't need one, sticking with a low profile design that doesn't require lots of surface area.
The Z790 Tomahawk comes with seven SATA ports. For bulk storage, SATA still has a place and those seven ports alone may be a deal maker for some users. Some boards costing a lot more come with only four SATA.
The VRM is a real highlight compared to competing offerings in its price range.
If you make up a checklist of what you want from a motherboard, the MSI Z790 Tomahawk should have most of what you need. Things like USB4 or 10G LAN are what board makers use to justify the price of motherboards costing double the money of the Z790 Tomahawk. The checklist is complete for most users.
Wi-Fi 6E, 2.5G LAN, a strong VRM capable of handling 13900K, lots of USB ports including 3.2 Gen 2x2, a solid BIOS, and a discrete design ready to blend in with just about any build theme. Ask yourself if you need more? If you do, be prepared to take a step up in price.
Perhaps its lack of PCIe 5.0 M.2 support counts against and it requires good airflow if you subject it to heavy loads, but the MSI MAG Z790 Tomahawk is still a solid, feature-rich board that delivers a core feature set that will suit 95% or more of users. Do you need to spend more? I'd say you probably don't.
Best Intel Z690 motherboard
It was almost inevitable that the top-end chipset for Intel's next-gen Alder Lake CPUs would end up being super-expensive. That is compounded by the premium attached to anything which mentions DDR5. Even so, the Gigabyte Z690 Aorus Pro almost bucks that trend by offering a rounded feature set along with DDR5 support for around $330. Sure, in the last CPU generation $300+ was seen as high-end, but for the 12th Gen platform that's positively mid-range.
There are cheaper DDR4 boards around—Gigabyte also makes an Aorus Pro in DDR4 flavor, too, though that's not sold in the US or EU—but if you want to get the absolute most out of the new Intel platform you want DDR5.
Gigabyte has been smart about the way it's specced out the Aorus Pro. By limiting it to 'just' Wi-Fi 6 wireless (as opposed to Wi-Fi 6E) and 2.5G Intel wired networking connections, and eschewing such unnecessary luxuries as Thunderbolt 4 or another M.2 slot, it has managed to keep the price at least relatively sensible.
And it's a great performer, too, delivering system and gaming performance easily on par with the far more expensive boards we've also tested. The BIOS is maturing regularly as well, which makes us completely confident in recommending the Gigabyte board as our pick of the Z690 bunch.
About the only downside with this option is the high contrast design, with lots of grey heatsinks. Though a lot of the grey chipset and M.2 cooling will be hidden beneath a GPU, it might not be the easiest board to blend in with your build. There's also minimal RGB lighting with just a tiny Aorus logo atop the rear I/O heatsink. That's rare for a gaming motherboard in 2022. There are four RGB headers, though, with two of them being addressable, so you can still add plenty of flashy illumination if you really want.
Gigabyte's Z690 Aorus Pro sits in a genuine Alder Lake sweet spot, where it offers good value for money and a nice, rounded feature set. Features such as Thunderbolt 4, a fifth M.2 slot, or 10G LAN would add considerable extra cost which is hard to justify. With plain Wi-Fi 6, 4x M.2 slots, a strong VRM, and loads of USB ports, most gamers will be happy. And at $330 you'll have a few dollars that you can put towards the scarcer things, like DDR5 memory or a faster GPU.
Read the full Gigabyte Z690 Aorus Pro review.
When ASRock first launched its Taichi brand, we were impressed with its less-is-more design approach. It offered a good feature set and value for money without the excessive RGB overload that was common to gaming boards a few years ago. The brand has now evolved into a genuinely high-end one. The yet-to-be-seen Aqua is the company's top model, but with its expected limited-edition nature and likely stratospheric price, the Taichi will essentially be ASRock's premium Z690 motherboard for us mortals. And that's not a bad place to be.
The look of the board is definitely unique, and though looks are in the eye of the beholder, for me the cyberpunk theme, with its copper accents and cogs, looks great. You get a good splash of RGB and those cogs above the I/O actually move. It looks expensive. Plus, if you're a fan of Razer products, then there's a Razer-themed Z690 Taichi for easy integration into the Chroma ecosystem, too.
Notably, the Taichi did well at gaming tests, often leading the pack. Though 1 fps here or there isn't significant, but hey, it's better to lead than trail. The board was happy to run DDR5-6400 memory, something not all Z690s could do. This indicates a strong level of maturity, though as is often the case with a brand-new platform and standard, there is surely some refinement to come.
The ASRock Z690 Taichi looks every inch a premium product. Its unique aesthetic will appeal to many. Its key features including Dual Thunderbolt 4 ports, a solid audio solution, and strong early memory support weigh in its favor. At $590 it's an expensive motherboard, though not unheard of for this platform—the Asus Maximus Hero and Aorus Master come in at about the same price.
The Taichi's great looks, solid performance, and strong feature set make it a serious competitor in its top-end price range. To be honest, we would have liked more M.2 slots, although three should be enough for most, other than that, there's a lot to like here. Apart from the price of course.
Read the full ASRock Z690 Taichi review.
Best Intel B660 motherboard
As a slightly more affordable Alder Lake option than some of the Z690 boards out there, this MSI MAG B660M Mortar WIFI DDR4 sacrifices some of the luxuries, yet still touts an impressive feature set. Not only are we looking at great power design, but this little micro-ATX board manages to fit eight USB ports on the back panel (including one USB 3.2 Gen2 Type-C), and a bunch of internal headers on the board itself.
There's no overclocking capability or DDR5 support here, but seeing as it's one of the more affordable routes into the Alder Lake platform it makes sense to go down the DDR4 path. There is a DDR5 version available in the UK, but we've not been able to find it in the US.
One obvious thing missing from the feature list is the support for PCIe 5.0 graphics cards, although seeing as no such cards currently exist, that's not the miss that you might think. Everything else is present and correct though, including a reinforced x16 PCIe 4.0 slot for the GPU, another full-length slot running at x4, and then a final, short x1 PCIe 3.0 slot. The fact you get a pair of PCIe 4.0 M.2 slots for your drives will be plenty for most users too.
You also get 2.5Gbps networking, courtesy of Realtek, and Wi-Fi 6 support from Intel. Your top Z690 boards offer 10Gbps LAN and Wi-Fi 6E, but for our purposes that is another one of those luxuries we can afford to ignore.
When it comes to performance, the switch from DDR4 to DDR5 doesn't make a huge difference, and if we're talking stock CPU performance the same can be said for the switch from Z690 to B660. The 14-phase power design is configured so the Vcore itself gets 12 phases and, combined with the 60A stages, that means the MAG B660M is able to keep a stock-clocked Core i9 12900K running at the same level as it will on far higher-spec Z690 motherboards.
There is, however, a drop in gaming performance with the B660 boards we've tested so far, so this chipset may not be the perfect option for a gaming PC if you're aiming to squeeze the absolute most from your components. It has to be said though, that the difference is slight, and only really noticeable with a super high-end GPU and CPU combination, and even then only at 1080p.
The MSI MAG B660M Mortar WIFI DDR4 is a quality little micro-ATX motherboard, and it's impressive that a sub-$200 board will still run the i9 12900K at its stock settings. This is an ideal board to build an affordable, small form factor gaming PC around, and our only real issue is that there are a few DDR4-based Z690s at this price level that might offer a little more for your money.
Read our full MSI MAG B660M Mortar WiFi DDR4 review.
Despite its lack of DDR5 support, the MSI MAG B660 Tomahawk WIFI DDR4 is a worthy contender for the budget Alder Lake builders among us. You're still looking at strong VRM, so the maximum turbo load of a 12900K shouldn't be an issue for it, and you still get a ton of I/O ports for your money. This evolution has taken a genuine step forward since the introduction of the last-gen B560 motherboards and is certainly worth considering if you're looking to save on your 12th Gen build.
The design is black and RGB-less, so it will easily blend into most systems. But there are four RGB headers, including two that are addressable, in case you are looking to keep up effervescent appearances.
There's sadly no overclocking capability with the MAG B660 Tomahawk, but it's a far more affordable option, particularly when compared with some Z690 options. Sure it's lacking a little in the M.2 space, but three slots will cover most of us plebians not looking to store mountains of 4K video or every game in their Steam library simultaneously.
The Tomahawk comes with three PCIe slots. The primary slot is a x16 slot that supports PCIe 4.0, the second is a x16 slot (x4 electrical) that supports a PCIe 3.0 and finally, there's a PCIe 3.0 x1 slot. PCIe 5.0 support for the primary slot would have been nice, though that's not likely to deliver any tangible benefit for GPUs for the foreseeable future.
MSI's Tomahawk motherboards have a good reputation for offering strong VRM solutions and this B660 entry continues this tradition. It includes a 12+2 phase VRM powered by dual 8-pin power connectors. Bearing in mind that overclocking is not allowed on B660 boards, all it has to handle is the maximum turbo load of a 12900K. It won't have any problem with that, we assure you. It's all cooled by chunky black heatsinks. For our review, we used an Intel Core i5 12600K, a chip more likely to be paired with the mid-range chipset. This resulted in a VRM load temperature of just 47°C. Though we use an open test bench, even if you add 30 degrees or more, that's still well within range.
The rear I/O is another definite highlight of the board. You get Realtek 2.5G LAN and Intel Wi-Fi 6 which will handle the networking needs of most typical users. There are nine USB ports made up of four USB 2.0, four 3.2 Gen 2 ports, and a 3.2 Gen 2x2 20Gbps Type-C port. It's good to see 20Gbps USB begin to filter down the market, too. There's also a full set of audio ports including a SPDIF. A Realtek ALC1220 chip takes care of audio duties. Finally, there are HDMI 2.1 and DisplayPort 1.4 ports should you wish to use Intel's Xe integrated graphics.
All told, the MSI B660 Tomahawk DDR4 is definitely a board worth considering for your Alder Lake setup. It would be a smart value purchase for a typical gamer who runs a single GPU, XMP memory, an SSD or two, and is happy to let a 12th Gen processor do its turbo boost thing without manual overclocking.
Honestly, that's probably 95% of the market, maybe higher. At $190 it's not what we'd call a cheap motherboard, but in a market where a good mid-range Z690 board can cost a lot more, the B660 Tomahawk definitely offers a lot of features while not losing sight of the value that's typically offered by B660 boards.
Read our full MSI MAG B660 Tomahawk WIFI DDR4 review.
Best AMD X670 motherboard
If you're in the market for a good quality X670E motherboard, the chances are that you've recoiled at the prices of many of them. High-end motherboards are more likely to be X670E models, but the Gigabyte X670 Aorus Elite AX comes in with just enough great features at such a reasonable pricepoint, that I've been tempted away from the -E model boards.
Part of the reason X670E boards cost a lot is because of the high-quality signalling required for both PCIe 5.0 expansion and M.2 slots. But since PCIe 5.0 x16 for graphics cards means nothing right now, an X670 board is a perfectly viable option. And at $289 / £349 / AU$599, the Gigabyte X670 Aorus Elite AX is a heck of a lot better value than X670E boards. But does the Elite AX have to sacrifice a little or a lot to come in at that price?
No it does not.
Here you get effective heatsinks, particularly the VRM one, though sadly Gigabyte opted not to include its excellent finned heatsink design on this model.
In total there are four M.2 slots made up of the aforementioned primary PCIe 5.0 x4 one, plus a further three PCIe 4.0 x4 slots that are cooled by a single large heatsink. There are four SATA ports to round out the storage complement.
Other highlights include a USB 3.2 Gen 2x2 type-C header, power, reset, and CMOS clear buttons, and a Thunderbolt 4 header.
The board comes with a 16+2+2 phase VRM with 70A power stages. More than enough for the average user. Throw a Ryzen 9 7950X with PBO enabled into the Elite AX and you won't have a problem. Your cooling will hit that 95°C operating temperature of a 7950X long before the VRM gets stressed.
Even if Zen 5 or Zen 6 CPUs take a step up in TDP, it's hard to imagine the Aorus Elite AX struggling to power them.
The cooling, storage, and VRM is more than enough to suit most users. Is the I/O lacking then? Hardly. The Aorus Elite AX includes AMD's RZ616 Wi-Fi 6E and Realtek 2.5G LAN. You'd expect to miss out on USB 4 at this price, but the rest of the USB count is stellar. You get a 3.2 Gen 2x2 type-C port, two Gen 2 ports, six Gen 1 ports, and four 2.0 ports. That's 13 rear USB ports! There's a HDMI 2.1 port for use with Ryzen 7000's newly included integrated graphics along with a BIOS flashback button.
The audio is nothing special, with an aging Realtek ALC897 codec taking care of things. An S/PDIF output would be nice too, but apart from that, there's not much to complain about with regards to connectivity.
If nothing else, the Elite AX shows that manufacturers are getting a bit greedy at the high-end of the market. If you absolutely must have USB4, 10G LAN or Thunderbolt, you'll have to pay a LOT more for it. For the mainstream market, a board like the Aorus Elite AX is where it's at.
Read our full Gigabyte X670 Aorus Elite AX review.
Best AMD B650 motherboard
The primary M.2 slot supports up to PCIe 5.0, while the other two support PCIe 4.0. The primary slot's cooling is relatively small compared to some of the chunky M.2 heatsinks I've seen, including those shipping with the Asrock X670E Pro RS and Gigabyte Z790 Aorus Master.
The board supports a single 5Gbps Type-C front connector and up to two Type-A and four USB 2.0 ports. Not bad, but a 10Gbps Type-C port would have been nice.
The VRM is decent, if not spectacular, but it's all relative. Expecting a gazillion 105A stages is something that's restricted to boards at well over double the price. The 12+2 phase design with 60A stages was enough to power my Ryzen 9 7950X without issue. The board includes 4+8-pin CPU power connectors.
Asus has done a wonderful job with the TUF B650 Plus' cooling design. The big and chunky heatsinks provide lots of surface area while allowing lots of air to circulate freely. Some mid-tier boards can skimp a little on VRM cooling. Here, Asus did not.
The TUF B650 Plus comes with a good set of rear I/O ports which are perfectly adequate for things like keyboards, mice and printers, which don't need high speed (and expense adding) ports. You also get 2.5G LAN and WiFi 6, though notably, not 6E. That might be a problem in the future, especially if you live in a crowded household or apartment building with lots of Wi-Fi signals.
The Asus BIOS is a little more difficult to navigate for a novice user compared to those of some other manufacturers, but once in the PBO modes are particularly worth looking at if you're planning to drop a non X Ryzen 9 7900 or Ryzen 7 7700 in.
The big VRM heatsinks are a highlight. My test 7950X ran without a hitch, and at no time did the heatsink get uncomfortably warm to the touch. As long as you have at least some case airflow, the VRM will be fine, even with PBO enabled. Take care to stick to reasonable expectations, and don't go shoving 1.5V+ through a high core count CPU under a full load for hour after hour.
The typical Asus BIOS refinement is here. I was able to run my test DDR5-6000 C30 kit by simply enabling the EXPO profile. That's something I have encountered issues with recently due to improperly applied memory controller voltage.
The Asus TUF Gaming B650-Plus WiFi is primarily a motherboard for a budget-conscious gamer. While you can't expect all the bells and whistles at this price point, as long as you don't expect too much of it, it's a fine motherboard. You'll need to ask yourself if you value PCIe 5.0 GPU support. If so, do consider a B650E option if you're going to stick with AM5 for a while (as most of us are).
Either way, the TUF B650 Plus is a solid entry into the market. It feels refined, it's got a good core feature set with excellent cooling, subtle good looks, and apart from the missing out on a PCIe 5.0 slot, it's destined to have a long life ahead of it. It may not tick every feature check box, but as a board for a 2023 system, it's got most of what you need, happily delivering up to 7950X and RTX 4090 class performance. Do remember the competition is very tough, but if you're an Asus fan, you won't be disappointed.
Read our full Asus TUF Gaming B650 Plus Wi-Fi review.
Best AMD X570 motherboard
Asus' ROG Crosshair VIII Dark Hero wants to be the last AM4 motherboard you'll ever need. But what is it that makes a great motherboard? Features are important, as is a stable and refined BIOS, value for money, a good design, but sometimes it's something intangible. Sometimes it's that the damn thing works.
Motherboard testing is often one of the most painful things a tech journalist has to do. With some boards, you have to fight it to get it to do what you want, or expect it to, or have to crank up some voltage setting to a level you don't really want to, but the Dark Hero just boots the first time, even as we played with the memory clocks and timings and the Infinity Fabric.
The Dark Hero features a rather subtle design. Some might even say it's a little bland. Perhaps we have reached 'Peak RGB' with recent motherboards being a little more discrete with their RGB implementations. It's also unusual that there's not a Crosshair VIII Apex or Extreme, especially when Gigabyte and MSI have boards priced well above the Dark Hero.
A $400 USD motherboard can never be described as cheap, but compared to the exorbitant prices of the MSI Godlike and Gigabyte Aorus Extreme, it certainly feels more affordable.
The layout of modern ATX boards tends not to vary too much these days. The primary M.2 slot is sensibly located above the PCIe slot. The second slot at the bottom also features a heatsink. The sockets are easy to access without having to remove the entire heatsink assembly. Plus, there's no chipset cooling fan, which is a boon in our book.
The VRM has been upgraded over that of the regular Hero. The power stages are now rated for 90a, up from 60a which brings it in line with some of the other premium X570 boards. Even if you're into smashing out benchmarks on LN2 (and this board will see plenty of that in the hands of overclockers), it will handle the punishment with ease. The heatsinks are big and chunky affairs.
The rear IO is packed out. If you need extra USB ports for that head massager or plasma ball, there are few better-equipped boards. There are no less than eight USB 3.2 Gen 2 ports, one of which is Type-C. These are joined by four USB 3.2 Gen 1 ports. There are also BIOS clear and flashback buttons, the LAN and WiFi antenna ports, and the usual set of audio ports including S/PDIF. The IO shield is preinstalled, which is blessedly now becoming standard practice on decent motherboards.
The Crosshair VIII Dark Hero might not be the best AM4 motherboard ever made, we'd have to review a few hundred others to make that claim, but it's an easy claim to make that the Dark Hero is certainly one of the best AM4 motherboards we've ever used. Time and months of user feedback will determine if the Dark Hero assumes a position as one of the truly legendary ROG motherboards, but we wouldn't bet against that happening.
Read the full Asus ROG Crosshair VIII Dark Hero review.
The MSI MPG X570 represents an amalgamation of bleeding-edge motherboard tech built to get the most out of AMD's 3rd gen Ryzen CPUs. It has four DIMM slots that can handle speeds up to 4,400Mhz and two M.2 slots sporting PCIe 4.0 connections.
The rear I/O panel features seven USB Type-A ports for peripherals and a single USB Type-C port for connectivity and high-speed data transfer. There are headers for the included Wi-Fi antenna to help with wireless connectivity, as well as a gigabit ethernet port.
This version of the MPG X570 supports Wi-Fi 6, and while that does necessitate a Wi-Fi 6-compatible router, it's backward compatible with other Wi-Fi standards and gives the potential for a speed boost down the line. Also of note is the HDMI port, which many X570 boards omit (not that we'd really recommend using an AMD APU with integrated graphics in a high-end board like this).
The MPG X570 features enough compatibility to get the most out of your hardware now and in the future, provided you're willing to pay a premium for it. While it's certainly an excellent mobo, if you aren't already committed to a shopping list of top-of-the-line components now or shortly, you may want to consider a slightly less expensive board for your needs.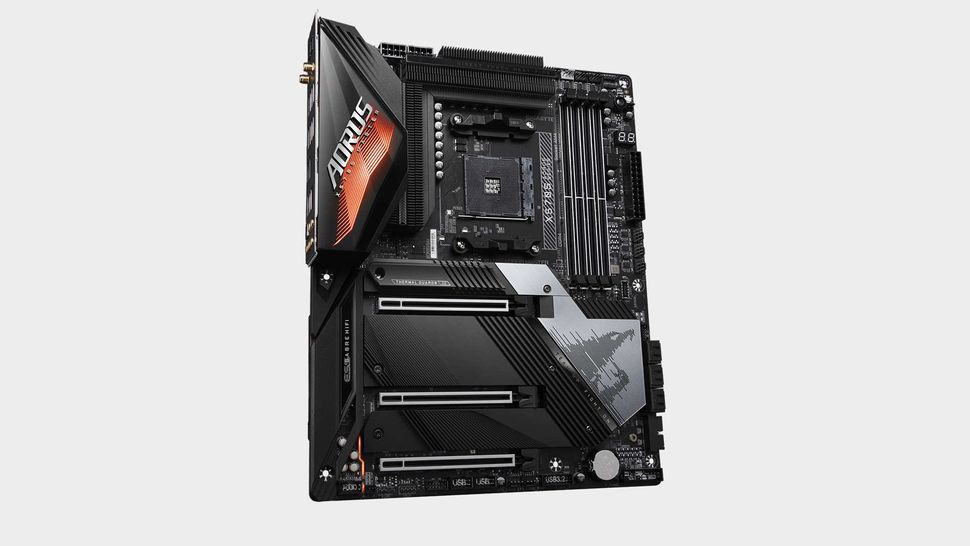 The original X570 chipset is starting to show its age, but there's a subtle difference with this motherboard—something given away by that trailing S. That S stands for silence, and unlike many of the first-generation X570 motherboards, this one doesn't require active cooling to keep it running smoothly and coolly.
Gigabyte's X570S Aorus Master feels like an old dog that's learned some new tricks. The fact that it comes with four M.2 slots alone is impressive along with a decent heatsink. Really the cooling all around gets a thumbs up from us.
Gigabyte deserves credit for continuing to use finned VRM heatsinks which add a lot of surface area. They're proof that it's possible to blend function with form. A 14-phase VRM with 70a MOSFETS is enough to power a 5950X cooled by LN2 with headroom to spare, which means users of ambient cooling won't face any issues.
Gigabyte's audio implementations usually impress, and the X570S does again. Purists will swear by discrete DACs, or 3rd party solutions, but with a decent ALC1220-VB audio codec and ESS Sabre Hi-Fi 9118 DAC for headphones, along with Chemicon and WIMA audio capacitors, gamers listening to bullets and bombs rather than Bach will be happy.
The rear I/O is fully featured, particularly when it comes to USB connectivity. There are twelve ports consisting of four USB 2.0, two USB 3.1 Gen 1, five USB 3.2 Gen 2, and a single Type-C USB 3.2 Gen 2x2 port. Something has to be done about that ridiculous USB naming scheme, but that's a story for another day. You get clear CMOS and BIOS Flashback buttons, antenna connectors, the standard audio ports with S/PDIF, and finally a single Intel i225-V 2.5G LAN port.
We'd like to have a 5G option at this price. Additionally, the non-S Aorus Master had dual LAN. A second may be desirable for some but now that Wi-Fi 6 and 6E are becoming widespread, dual LAN and Gigabit, are not as important as they once were.
The X570S Master proved to be quite strong under multi-threaded loads while its single-threaded performance is about average. Gaming performance is bang on where we expect it to be, within the margin of error. It also showed itself to have strong M.2 SSD performance.
Our only real knock against the Aorus Master is that it only offers a single 2.5G LAN and lacks 5G which is a bit of a bummer. That being said it's still one of the better AMD motherboards out there. I'm a sucker for a motherboard with a ton of USB ports this mobo has SO many.
The Aorus Master is still keeping AM4 and X570 relevant thanks to its many USB ports and storage options. Even at $400, it's got enough features (and looks good to boot) to justify the higher price point.
Read our full Gigabyte X570S Aorus Master review.
Best AMD B550 motherboard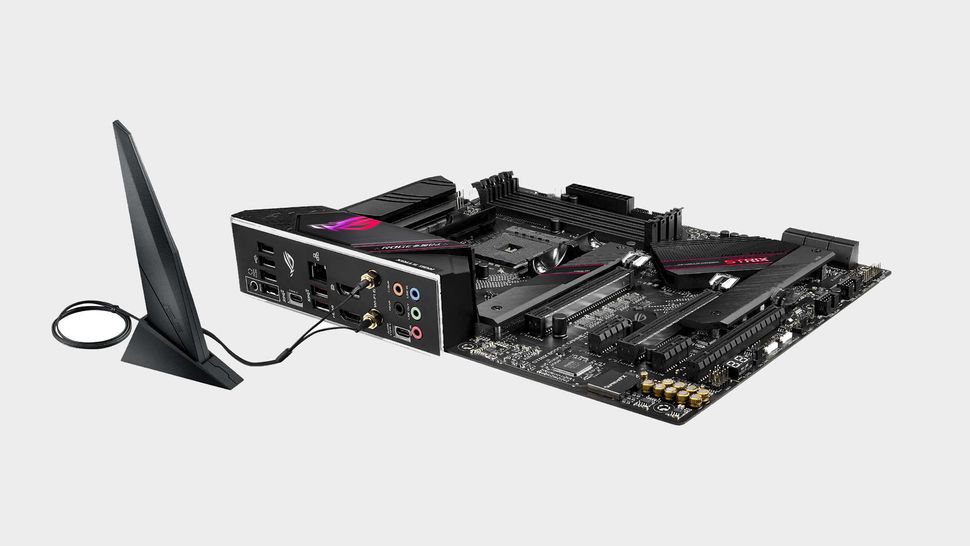 Sure, the Asus ROG Strix B550-E is the same price as plenty of X570 motherboards, but it's a premium motherboard, with all the trappings you'd expect from Asus' Republic of Gamers stables. I'm talking 14+2 power stage, M.2 heatsinks, and pre-installed backplates. You also get Wi-Fi 6 wireless networking as well as Intel 2.5Gb ethernet too. And RGB LEDs, of course.
What you'll no doubt be wondering about is performance: Is it actually all that much better than a more prosaic—and cheaper—B550 alternative? At stock clocks and default board settings, the inevitable answer is... no. In fact, the Asus ROG Strix B550-E Gaming is a solid 50% pricier than the likes of the MSI MAG B550M Mortar and tangibly slower in most of our benchmarks, including games.
Where the Strix looks stronger, inevitably, involves overclocking. AMD's laissez-faire approach to clocking the twangers off pretty much any CPU that comes its way, by enabling access to super-simple core ratio tweaks, means you'd almost be mad not to give it a go.
The Strix B550-E gets Asus' slick and familiar BIOS interface that allows access to not only the core ratio but pretty much every setting a keen overclocker could wish for. So you have the choice of bumping the core ratios up and letting the board work out the details, or getting down and dirty with voltages and timings.
Allowing the board to do the detailed brain work results in an overclock of our AMD Ryzen 3 3100 quad-core test chip of 4.2GHz on all cores. The Ryzen 3100 is good for a 3.9GHz boost clock as standard, so that's a 300MHz overclock. Which is significant, if not exactly stellar.
That said, of the B550 boards we've tested, it's the far more affordable MSI board that actually comes out top in our straight performance testing. But the Asus can overclock far better, even if it does chew up more raw power from the plug on the whole.
The Asus ROG Strix B550-E Gaming is the whole package then, and right now is our all-around pick for the best B550 motherboard. Though that still feels like a tough recommendation when X570 boards are the same price…
Read our full Asus ROG Strix B550-E Gaming review.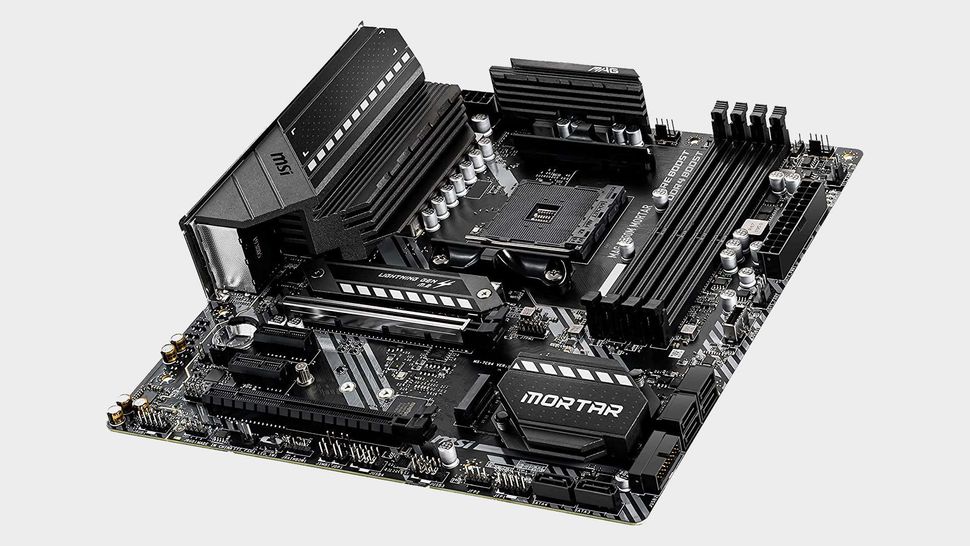 When it comes to gaming performance above all else, MSI's micro-ATX MAG B550M Mortar is your best bet for an affordable next-gen Ryzen machine. It comes in around the $160 mark, making it cheaper than a great many X570 and other B550 motherboards on the market right now.
At this price point, something has to give and the MAG B550M Mortar is conspicuously short on luxuries. There's no debug display, no physical power or reset buttons, no RGB lighting. Of course, none of those things make any difference in-game and it's easy to argue the $100 saving over a premium B550 board like the Asus ROG Strix B550-E Gaming can therefore be invested where it really counts—in a better graphics card.
Other economics include details like just one heat spreader supplied for the two M.2 slots and arguably the general air of old-fashionedness. That includes memory DIMM slots with clips at both ends and a user manual that feels a little dated and clunky compared to the relative polish of Asus. You can't say that, however, of the MAG B550M Mortar BIOS menu, which is slick, friendly, and full-featured.
The gaming frame rates of the MSI B550 Mortar put it above the rest of the B550 crew we've tested so far, and indeed its straight CPU performance puts it up there with some of the best X570s. That bodes well if you're looking for an affordable home for your AMD Zen 3 CPU of the future; this B550 has a great chance to ensure it performs to its fullest stock-clocked potential without breaking the bank.
But you will be missing out on extra PCIe 4.0 M.2 and x16 graphics slots if those extras mean a lot to you. You can also opt to ditch wireless networking, depending on whether you pick the straight Mortar or the more expensive Mortar Wi-Fi version. The 8+2+1 power phase design is arguably a more unwelcome miss, however, as that results in a board that will not spark any overclocking joy in your heart. But, as an affordable gaming board without OC pretensions, it's a great shout.
Read our full MSI MAG B550M Mortar review.
Best AMD A520 motherboard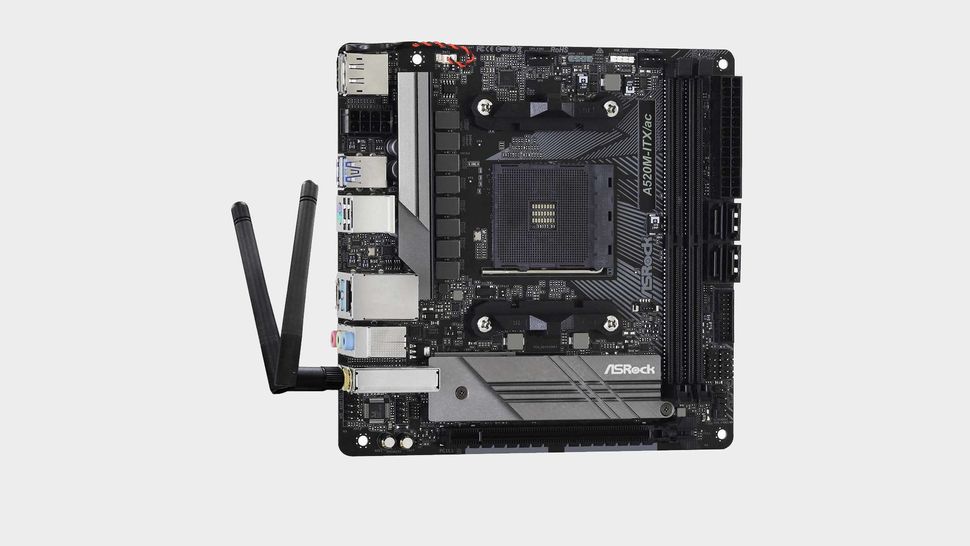 AMD's budget Ryzen motherboard chipset, the A520, has largely slipped under the radar. While B350 and B450 motherboards were mostly regarded as entry-level, A320 was strictly seen as the resolutely low end.
The introduction of B550 motherboards, and their associated move upward in price, left a big hole in the sub-$100 market. Enter A520. If you're on a tighter budget and don't care about PCIe 4.0 or the overclocking support offered by B550, then the A520 motherboards might be exactly what you need. There's cheap, and there's really cheap, but a decent A520 board can more or less do everything a board at double the price can.
This board supports AMD Ryzen 5000 series CPUs and, almost as importantly, Ryzen 4000 series APUs. Combine a Zen 3 CPU with a motherboard such as this ASRock A520M ITX/ac, and you'll be able to build an affordable and compact system that can beat any Intel chip in any workload.
The ASRock A520M ITX/ac is one of the most expensive A520 boards at $105. In fact, in many markets, it might be the most expensive. That would be a little unusual for ASRock which is normally known for its highly competitive bang for buck offerings. It's one of few A520 boards to include WiFi though, so that alone adds a great deal of usefulness. It supports a speed of 433 Mbps, not exactly the Usain Bolt of WiFi speeds when Wi-Fi 6 is the norm, but it's enough for high-speed internet.
The A520M ITX/ac includes an 8-phase DRMOS VRM with 60a chokes. Spec-wise this is surprisingly good for an A520 board. The only real concern is the very small heatsink. We wouldn't try overclocking a Ryzen 9 3950X with liquid nitrogen on this board, but a smart pairing of a 65W CPU with a bit of PBO for good measure won't present any issue, as long as you have good case airflow.
The ASRock A520M's audio is a bit of a letdown, but that's something that budget boards often compromise on. A gamer listening to compressed audio assets in-game probably won't be any less immersed.
The little ASRock A520M ITX/ac has it where it counts and will serve you well at the heart of a budget gaming system. It benefits from the strengths of the Ryzen platform and adds some future-proofing into the mix. ITX fans looking for a capable budget AMD Ryzen option should definitely have this one on their shortlist.
Read our full ASRock A520M ITX/ac review.
Screen queens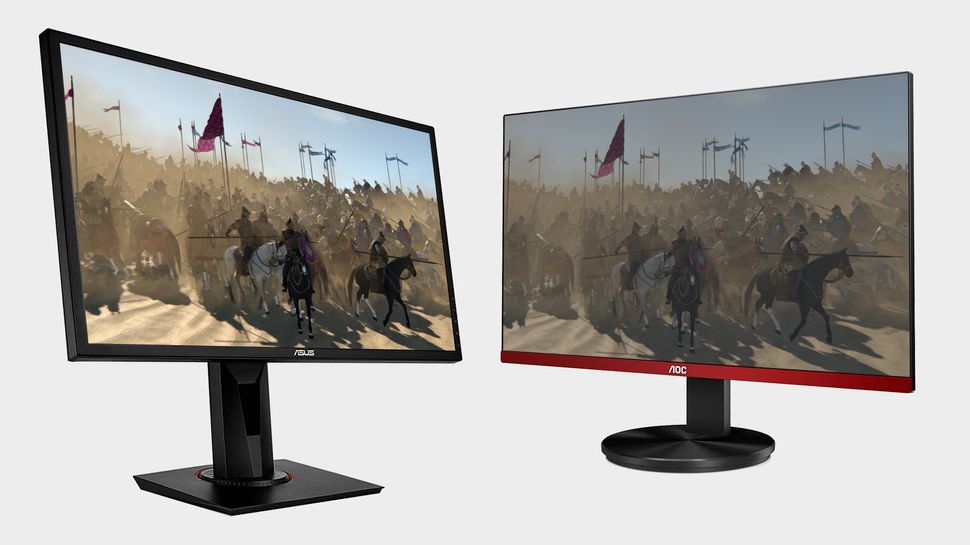 Best gaming monitor: pixel-perfect panels for your PC
Best 4K monitor for gaming: when only high-res will do
Best 4K TV for gaming: big-screen 4K PC gaming
AMD's A520 motherboard chipset might not make for the sexiest of PC components, that's for sure. You probably wouldn't buy one to take place at the heart of your water-cooled build or Nvidia RTX 3090 gaming system. When you look at the chipset itself, it doesn't really miss out in terms of real-world essential features. There's no PCIe 4.0, but no Intel systems have it either, not until Rocket Lake next year.
The Gigabyte A520 Aorus Elite is a high-end A520 board, which might seem oxymoronic, but if you didn't know what it was, you'd be forgiven for assuming it was more of a mid-range board and not a $90 bargain. It's even got two RGB headers and a further two ARGB headers. About the only thing it really lacks is Wi-Fi, but then do you really expect to have Wi-Fi at this price?
It doesn't have a VRM that you'd use to run a Ryzen 9 3950X at full power for extended periods but it will do the job with a suitable CPU. Something like a Ryzen 3 3300X would be right at home. Our eight core 65W Ryzen 7 3700X purred along without an issue. The heatsinks do a decent job, having no issue keeping things cool when presented with a sustained all-core load. A recorded peak of 73°C VRM temperature is perfectly acceptable.
There's a single M.2 slot and four SATA ports. Standard fare, though perfectly adequate for most users. How about memory support? Unlike the ridiculous memory limitations present on Intel B460 motherboards, The Gigabyte A520 supports up to 128GB at DDR4-4733. Realistically no one will run a setup like that but at least you're given the choice.
Gigabyte deserves credit for including audio built around the ALC1200 codec. Usually, this is reserved for use with more expensive motherboards. It doesn't feature the premium circuitry you'll find on higher-end boards, but for an entry-level board, having the choice of a headset, S/PDIF or HDMI audio is superior to the implementations you'll find on ancient ALC882 or 892 equipped boards. Don't forget we're dealing with a board that costs just $90.
Performance is about where we expect it to be. The underlying BIOS code is well and truly mature with Ryzen 3 CPUs having been in the marketplace for well over a year. The differences between boards are small. The Gigabyte was perhaps marginally behind under lightly threaded loads but was towards the front in the gaming tests. Overall, nothing to complain about with regards to how the Aorus Elite performed.
If you're on a budget, this Gigabyte A520 Aorus Elite is well worth a look. It leaves Intel's budget B460 boards looking weak in comparison, plus you get the benefit of next-generation Ryzen compatibility. Is it for everyone? No, but the Gigabyte A520 Aorus Elite, unlike almost all preceding A320 boards, definitely does not mean cheap and nasty.
Read our full Gigabyte A520 Aorus Elite review.
Gaming motherboard FAQ
What's the most important factor in buying a motherboard?
You need to know which processor you want to build your new rig around. Are you firmly tying yourself to the mast of the good ship Intel, with its impressive Alder Lake CPUs? Or are you going to continue flying the AMD flag proudly? Once you've picked your chip, it's down to features, overclocking intentions, and your budget.
What really matters when buying a motherboard?
Other than knowing which processor you're going to be fitting, size matters when picking up a motherboard. If you're building out a standard ATX scale gaming PC, then pretty much any motherboard is open to your whims, but if you want to go for a smaller chassis, either Micro ATX or Mini ITX, then you'll need a corresponding mobo.
That doesn't necessarily mean sacrificing performance or key features anymore. A single PCIe slot is more than enough for today's SLI/CrossFire-less GPU world, and even some Mini ITX boards will come with multiple M.2 SSD slots.
The scale will impact pricing, however. Interestingly Micro ATX boards are often the most affordable, while Mini ITX options can be the most expensive. We've picked our top two favorite gaming motherboards for each of the main Intel and AMD chipsets to give you the best options around.
Can I overclock on any motherboard?
No. There are absolutely restrictions in place to stop that, especially on the Intel side. It has opened up memory overclocking across its 500-series chipsets, but still, the Z590 is your only chance of overclocking the latest Rocket Lake K-series CPUs. But don't worry, they don't overclock very well.
AMD is more generous, allowing all its CPUs and most of its motherboard chipsets. Basically, if you make sure not to go for the cheapest Ryzen board, one with an 'A' at the front of its nomenclature, then you're good to tweak. Though again, there really are limited returns.
Jargon buster - motherboard terminology
ATX, Micro-ATX, Mini-ITX
The most common form factors/sizes of a motherboard from largest to smallest, which beyond physical dimensions determines which cases it'll fit into and (broadly) how many expansion slots are available. There are other, less common form factors (XL-ATX, HPTX, etc.), but these three are the most ubiquitous consumer form factors.
USB Header
A connector on the motherboard that allows you to run a cable to the case to add additional USB ports, typically on the front panel (though some cases provide top or rear panel slots as well).
BIOS/UEFI
Basic Input/Output System/Unified Extensible Firmware Interface connects the hardware and software that lives on the board (the firmware) to the operating system (OS, such as Windows or Linux). They allow you to adjust system-level settings, such as fan speed or RAM frequency. UEFI has largely replaced the older BIOS standard.
Expansion Slots (PCIe Slots)
Peripheral Component Interconnect Express slots on the motherboard are designed to accommodate add-in cards like graphics cards, SSD cards, dedicated sound cards, etc. PCIe slots are measured in both length (x16, x8, x4, x1) as well as by the number of data transmission lanes they provide (x16, x8, x4, x1). It's possible for an x16 slot to only provide 8 lanes of data, for instance, which means the maximum possible data transfer rate is halved (though in many cases, because PCIe provides such a high ceiling for transfer speeds, a lower number of lanes doesn't make a tremendous difference).
DIMM Slots
Dual In-Line Memory Module slots, the slots on a motherboard where your RAM lives. The number of total slots contributes to the maximum amount of RAM your system can handle, paired with the chipset and OS.
Chipset
The logic allows the various parts of a motherboard to talk to each other. The chipset determines which processor generations a motherboard is compatible with and what add-in cards can be used.
SATA Ports
Serial Advanced Technology Attachment ports, an interface for connecting storage devices/drives to a motherboard (HDDs, SSDs, optical drives, etc.). The number of physical ports on your board, combined with ports for NVMe storage, will determine the total number of storage drives you can have connected to your PC at any time.