The best gaming laptop is a thing of beauty. A piece of PC gaming hardware that's as sleek and portable as it is powerful. We're at a point in PC tech where you can genuinely have desktop gaming performance in a notebook less than an inch thick and small enough to pack in a backpack.
You've decided to buy a gaming laptop at the right time. The next generation of mobile GPU and CPU is only just hitting the shelves, offering the best Nvidia, AMD, and Intel has to offer. I've already tested the alternatives, and the best gaming laptop is the Lenovo Legion Pro 7i (opens in new tab). It makes the best RTX 4090 gaming laptops , including the Razer Blade 16 (opens in new tab) and Asus ROG Zephyrus M16, and even the frankly ridiculous MSI Titan GT77 HX (opens in new tab), look like overkill with similar gaming performance and a far lower sticker price for its RTX 4080 power.
But we know even these new chips will mostly be wrapped into the same chassis we've grown to love over the past year. And the price on last-gen offerings ought to come down in the short term, too, which makes this inflection point between two hardware generations a good time to start looking for a new gaming laptop.
We test dozens of gaming laptops every year. The ones that make it to the list provide the best bang for your buck—the best balance of performance, price, and portability.
Where are the best gaming laptop deals?
In the US:
In the UK:
Best gaming laptops
Why you can trust PC Gamer Our expert reviewers spend hours testing and comparing products and services so you can choose the best for you. Find out more about how we test.
Our favorite config: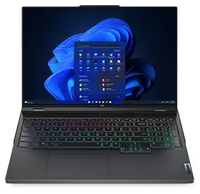 (opens in new tab)
We tested: Intel Core i9 13900HX | Nvidia RTX 4080 (150W) | 32GB DDR5 | 1TB NVMe SSD
---
The Lenovo Legion Pro 7i is the best 16-inch gaming laptop, and since 16-inch is the best form factor for a gaming laptop, it is therefore the best gaming laptop overall as well.
It's a machine that comes in at a price point that makes the rest of the high-end RTX 40-series look even more ridiculous on their lofty $4,000+ perches. And its the RTX 4080 model that has us impressed in testing, offering the sort of gaming performance that has me questioning why anyone would want an RTX 4090 machine (opens in new tab).
The Legion Pro 7i (opens in new tab) runs its RTX 4080 at a 150W TGP, which is the effective maximum of the GPU. Though manufacturers are given an extra 25W leeway to bulk up their own specs if they feel they can push a little extra juice through their own systems. Lenovo hasn't gone down that route, the Legion Pro knows what it likes, and it likes the 150W TGP and no more.
The Legion Pro 7i uses a 13th Gen Intel chip—the Core i9 13900HX. If, like me, you were to assume that would essentially be a slightly higher clocked version of the Core i9 13900H Asus has used in its excellent Zephyrus M16 gaming laptop, then you'd be wrong.
Despite the almost identical name, this is an entirely different, substantially better CPU. Where the one in the Asus is a 14-core design, with six P-cores, this is a 24-core setup with eight P-cores and twice the number of E-cores. They're both capable of 5.4GHz boost clocks, though inevitably the bigger chip has a higher base TDP of 45W.
Then, backing up the key CPU/GPU combination is a 1TB PCIe 4.0 Samsung SSD, and 32GB of DDR5-5600 SK Hynix memory.
The final part of the package is the 1600p 240Hz screen. Which is fine. I fear I've been spoiled by the joy of the mini LED backlights used in the last few laptop displays I've tested, because this one lacks the punch that I now want from a gaming panel. What it does have, however, is the 16:10 aspect ratio (opens in new tab) I never knew I needed in a gaming laptop until I started using them on the regular. The 2560 x 1600 native resolution is a great match for the 16-inch screen size the Legion Pro comes rocking.
The Legion Pro 7i manages to outperform both the Razer Blade 16 and the Asus Zephyrus M16 regularly, at both 1080p and 1440p resolutions. Only the chonky boi MSI Titan GT77 is able to utilise its RTX 4090-ish GPU to its fullest potential. And then at the expense of acoustics and potentially your sanity.
Because that's the thing I keep coming back to when I'm looking at this Lenovo machine. It's not the prettiest, but it sure can smash out them high gaming frame rates. And does it for around $2,000 less than the Blade 16.
So, it feels like a grown up gaming laptop, is eminently usable, has performance in spades—in both CPU and GPU terms—and doesn't cost anywhere near the same amount as the next-gen machines we've already checked out. I mean, it's not cheap; $2,750 / £2,800 is still a not inconsiderable chunk of change. But that's not an unexpected price tag for such a high powered notebook.
Read our full Lenovo Legion Pro 7i (Gen 8) review (opens in new tab).
Our favorite config: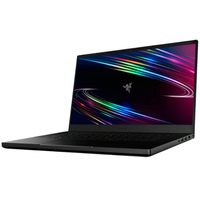 (opens in new tab)
Razer Blade 15 | Intel Core i7 12800H | Nvidia RTX 3070 Ti (opens in new tab)
You can, of course, go for the big boi—the RTX 3080 Ti—but in this slimline chassis, the Nvidia RTX 3070 Ti will deliver fantastic frame rates, even at the 1440p resolution of the 240Hz screen. You also get a 1TB PCIe 4.0 NVMe SSD and 16GB of dual-channel DDR5 RAM at a blistering 4,800MHz.
We tested: Intel Core i7 10875HX | Nvidia RTX 2080 Super | 16GB DDR4 | 1TB NVMe SSD
---
The latest spin of the Razer Blade 15 once again improves on one of the best gaming laptops ever made. It has the same gorgeous CNC-milled aluminum chassis as its predecessor, only this time it can house one of Nvidia's latest RTX 40-series GPUs and an Intel 13th Gen Core i9 CPU.
When we played with the Razer Blade 15 Advanced with a 10th Gen Intel chip and RTX 3080 (95W) GPU inside it. And we fell in love all over again. We've also since then tried out the larger Razer Blade 17 with an RTX 3080 Ti (opens in new tab) humming away inside it, alongside one of those tasty 12th Gen chips and still stand bewildered by what will fit inside such a compact and neat chassis.
That said, you will get some throttling because of that slimline design, and even on the larger Blade 17 the battery life can be a little slim, but you're still getting outstanding performance from a beautiful machine.
The Blade 15 isn't the lightest gaming laptop you can buy, but five pounds is still way better than plenty of traditional gaming laptops, while also offering similar performance and specs. That heft helps make it feel solid too. It also means the Blade 15 travels well in your backpack. An excellent choice for the gamer on the go... or if you don't have the real estate for a full-blown gaming desktop and monitor.
Keyboard snobs will be happy to see a larger shift and half-height arrow keys. The Blade 15 Advanced offers per-key RGB lighting over the Base Model's zonal lighting. Typing feels great, and I've always liked the feel of the Blade's keycaps. The trackpad can be frustrating at times, but you're going to want to use a mouse with this gorgeous machine anyway, so it's not the end of the world.
One of the best things about the Blade 15 is the number of configurations (opens in new tab) Razer offers. From the RTX 3060 Base Edition to the RTX 3080 Ti Advanced with a 144Hz 4K panel, there's something for almost everyone. It's one of the most beautiful gaming laptops around and still one of the most powerful.
Whatever config you pick, we think the Razer Blade 15 is the overall best gaming laptop on the market right now, though you will be paying a premium for the now-classic design. It may also be the last of its breed, as the Blade 16 is only slightly larger because it has a far smaller bezel around the display; I would expect Razer to discontinue the 15-inch version sooner rather than later.
Read our full Razer Blade 15 Advanced Edition (2020) review (opens in new tab).
Our favorite config: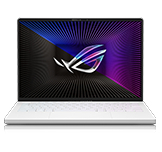 (opens in new tab)
Asus ROG Zephyrus G14 (GA402RJ) | AMD Ryzen 9 6900HS | AMD RX 6700S (opens in new tab)
This is the less powerful version of the G14 than the one we reviewed, but all the better off for it. The CPU remains the same powerful octa-core AMD number, but the GPU and RAM have come down to a more modest spec, which makes the impressive G14 an affordable yet still powerful gaming machine.
We tested: AMD Ryzen 9 6900HS | AMD Radeon RX 6800S | 16GB DDR5 | 1TB NVMe SSD
---
The Zephyrus G14 has impressed us once again with its well-balanced spec and excellent gaming performance. Seriously, this thing shreds through frames up to its 120Hz refresh rate, and it's great for much more than gaming, too.
We checked out the version with AMD's RX 6800S under the hood, which AMD is yet to replace with an RX 7000-series chip, so for now it's the best we can get. There is an option with the lower-end RX 6700S for a chunk less cash, too. Arguably, that cheaper option sounds a bit better to us, as the high-end one can get a little pricey and close in on the expensive but excellent Razer Blade 14. It's not helped much by its 32GB of DDR5-4800 RAM in that regard, though we do love having all that speedy memory raring to go for whatever you can throw at it.
At its heart is the AMD Ryzen 6900HS. That's one of the top chips from AMD's Ryzen 6000-series, but not its best and brightest—though you're really fighting over boost clocks and not much else when it comes to the tippy top of the red team's mobile processors anyways. It delivers eight cores and 16 threads of the Zen 3+ architecture, capable of boosting to 4.9GHz (which it actually does on occasion), so that's more than acceptable by me.
That GPU and CPU combo makes quick work of our benchmarking suite, however, and I have to say I'm heartily impressed with the G14's gaming performance overall. That's even without turning to the more aggressive Turbo preset—I tested everything with the standard Performance mode. It's able to top the frame rate of RTX 3080 and RTX 3070 mobile chips pretty much across the board, and while it does slip below the RTX 3080 Ti in the Razer Blade 17, that's a much larger laptop with a much larger price tag. Admittedly the RTX 40-series mobile chips are a step-up again on what this laptop can offer, but we're yet to see Asus refresh this line-up with newer graphics silicon.
One of my favorite things about the G14 is in the name—it's a 14-inch laptop. The blend of screen real estate and compact size is a great in-between of bulkier 15- and 17-inch designs, and not quite as compromised as a 13-inch model can feel. But the big thing with the 2022 model is that the 14-inch size has been fitted out with a larger 16:10 aspect ratio than previous models' 16:9 panels.
When it's running smoothly, the G14's high refresh and high-resolution panel also looks fantastic. Being such a bright and colorful IPS display on this model, you really get to soak in every detail.
One of the downsides with this machine is the battery life, which really isn't the best while gaming—less than an hour while actually playing. You'll get more when playing videos or doing something boring like working, but we do expect a bit more from a modern laptop. It's not a deal-breaker, but definitely something you'll want to bear in mind.
The G14 has lost that quality of being surprisingly cheap for what you get, too, even if you do get stellar performance out of it.
Perhaps one reason for that is the inclusion of 32GB of DDR5 RAM—16GB of that is soldered to the board, and the other 16GB attached via removable SO-DIMM from the underside of the laptop. That's not cheap memory. DDR5 prices have hardly settled down since the memory standard was introduced last year, and 32GB is a bounty of high-performance memory by comparison to most gaming PCs today.
Overall, though, the G14 experience is a pretty easy and straightforward one. I didn't run into any major issues with it over the couple of weeks I've had it, and for the few negatives I have with the design, Asus has offset them with heaps of positives. The cheaper models may be a better bet than the one we reviewed, however. The same chassis and great design but with a slightly more amicable price tag.
Read our full Asus ROG Zephyrus G14 2022 (GA402RK) review (opens in new tab).
Best Razer laptop for gaming (opens in new tab) | Best Acer laptop for gaming (opens in new tab) | Best MSI laptop for gaming (opens in new tab)| Best gaming keyboard (opens in new tab) | Best gaming mouse (opens in new tab) | Best gaming chair (opens in new tab)
Our favorite config: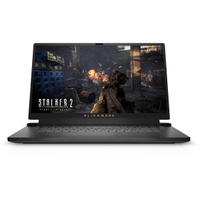 (opens in new tab)
We tested: AMD Ryzen 9 6900HX | AMD Radeon RX 6850M | 32GB DDR5 | 1TB NVMe SSD
---
One thing I love about Alienware is the company's unrelenting confidence in its new products. Whether that's boasting about a desktop being a "Benchmark Bruiser (opens in new tab)" or releasing one of the slickest OLED gaming monitors (opens in new tab) to date. So, when I get offered the chance to check out the new Alienware m17 R5 it has dubbed "the most powerful 17-inch AMD Advantage gaming laptop," how can I pass that up?

Powering the Alienware m17 R5 is an AMD Ryzen 9 6900HX and Radeon RX 6850M XT combo that, on paper, seems like a slam dunk for Team Red. It's also the first gaming laptop we've tested with an RX 6850M XT, and so I was stoked to see how it stacked up against laptops with an RTX 3070 Ti and even RTX 3080 Ti mobile GPUs. It's not quite as new as the RTX 40-series or RX 7000-series GPUs out now, however.

The surprisingly bright 500cd/m² 4K display got a lot of use for streaming video. I appreciate seeing the detailed stress lines on Guenther Steiner's face in the last season of F1: Drive to Survive in 4K on Netflix. Games look pretty good, though this display is better served for professionals and creatives. So if you don't fall into that category, you may be better off sticking with the 1080p display at 240Hz to save money and add time to your much-needed battery life.
This laptop also takes advantage of AMD's suite of game-boosting technologies (opens in new tab), such as SmartAccess Graphics, which automatically switches your output from the Ryzen APU and Radeon GPU, along with Smartshift Max, which automatically shifts around your power depending on what app or game you're using. The good thing about these features is that they just work without you messing with them. All nice features, especially if you are bouncing between gaming and, let's say, video editing and trying to eke out extra horsepower.

On the GPU side, the Alienware m17 R5 AMD Advantage model excelled at nearly all our gaming benchmarks at 1080p on mostly maxed-out settings. It hit triple-digit framerates in nearly all the games I played, with a Hitman 3 average of just over 200 fps.

If you value frame rate over resolution, the m17 R5 easily delivers over 100 fps frames on most games at 1080p. Even Cyberpunk was hitting around 128 fps (with FSR turned on). The high 120Hz refresh rate on the display means you'll run into little to no screen tearing. Because of the drastically higher frame rates, I played more games at 1080p than 4K. If you're playing a shooter like Apex Legends or Fortnite, that's the way to go, which makes the 4K display a bit redundant much of the time.

The Alienware m17 R5 might not be the most powerful gaming laptop ever, but it isn't through lack of trying. Even with the CPU performance lagging behind some of its rivals, the m17 R5 makes up the deficit with impressive gaming results. The 4K display is great for anyone watching movies or working, but you could save a few hundred dollars by scaling down some of the more expensive components and score yourself a really solid 1080p gaming laptop.

Read our full Alienware m17 R5 AMD review (opens in new tab).
Our favorite config: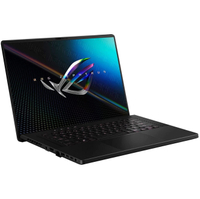 (opens in new tab)
Asus ROG Zephyrus M16 (2023) | RTX 4090 | Core i9 13900H | 32GB DDR5-4800 | 2TB SSD (opens in new tab)
Our pick of the M16s is the one we reviewed—the one that packs an RTX 4090. It's not the sensible choice, but that's why we don't have this laptop in the top spot and instead rate it as the best ultra high-end machine. Of all the high-end machines we've tested so far of this generation, this is the best performer and makes the most sense.
We tested: Intel Core i9 13900H | Nvidia RTX 4090 | 32GB DDR5 | 2TB NVMe SSD
---
The Zephyrus M16 is my favourite of the high-end next-gen machines I've tested so far this year, and that's despite it still carrying an absurdly high cost and whirring up like a jet turbine.
This version of the Zephyrus M16 isn't about affordability, this is all about excess in a modest chassis. To those ends we're looking at the RTX 4090 version, though not the extreme 175W level Razer and MSI have allowed (opens in new tab) the GPU to in their systems. This is the slightly more parsimonious 150W RTX 4090 spec, which is still technically at the top of its potential TGP rating, but without the extra 25W leeway manufacturers are allowed on top of that figure.
The Zephyrus M16 also comes sporting one of Intel's next generation of mobile processors from the Raptor Lake lineup. This Core i9 13900H is a 14-core chip, with 20-threads. In Intel's modern hybrid parlance, that means six Performance-cores with Hyperthreading, and eight Efficient-cores without.
That is markedly down on the Core i9 13950HX we've checked out in the Blade 16 and the Titan machines, which has a full 24 cores and 32 threads. But, honestly, for a gaming laptop, I'm not convinced that you're really missing out when this chip is still happily supporting that monster Nvidia GPU with single core performance around the top of the charts.
The good news is the cooling inside the Zephyrus M16 is good enough that both the RTX 4090 and the Core i9 CPU are able to run at top levels, though the trade off is that you do have to put up with those unreasonable noise levels.
Still, you can see what the Asus machine is capable of in the benchmarks. Despite trading that extra 25W on the RTX 4090 TGP with the Blade 16, the Zephyrus M16 is still able to deliver frame rates almost on par with the more expensive Razer system. Interestingly, in some CPU bound games at 1080p you can even see it pulling ahead, even though it doesn't have as powerful a processor inside it.
The final piece of the next-gen triumvirate in the new range of gaming laptops is the screen. The Zephyrus M16 in RTX 4090 and RTX 4080 flavours comes with a mini LED backlight on its 16:10 screens, and it makes this bright panel and incredibly effective HDR display.
This screen is one of the reasons I'm so enamoured with the Asus Zephyrus M16, but as an all-round package I think I'd probably pick the Asus rig over Razer right now. The Zephyrus chassis is still impressively slight, and the lifting action of the screen hinge remains a smart way of increasing airflow, it's just a little more angular and more traditionally 'gamery'.
But I'm always going to come back to that price. I get that this is the top spec for the Zephyrus M16, and it's a whole new generation, which is going to be a large part of the reason for the early adopter price premium, but over $4,000 for a gaming laptop is unconscionable. That's the only real negative I have for the Zephyrus M16, and though price is a big one, it doesn't change the fact this is the hardware package that's impressed me the most in this current generation of gaming laptops.
Read our full Asus ROG Zephyrus M16 (2023) review (opens in new tab).
Best gaming laptop FAQ
How do we test gaming laptops?
Every gaming laptop here is one that we have personally tested. That means writing on them, browsing on them, watching video, and most importantly gaming on them. That experiential take on how good a machine is to actually use is vital when it comes to making recommendations on the best gaming laptop.
But we also run a full suite of benchmarks, ranging from synthetic CPU tests, rendering tests, memory bandwidth tests, thermal testing, and of course gaming benchmarks.
To get a holistic view of how good an actual gaming laptop is, it's this mix of the subjective experiential view and the objective benchmarks that give us our final list of the top notebooks for gaming.
What's the most important gaming laptop component?
When it comes to gaming, the obvious answer is the graphics card, but that's where things have gotten a little more complicated recently. With GPU performance now so dependent on cooling, you have to pay attention to what wattage a graphics card is limited to and what chassis it's squeezed into.
As we said at the top, an RTX 3080 confined in an 18mm chassis will perform markedly slower than one in a far chunkier case with room for higher performance cooling.
Which gaming laptop brand is best?
For our money it's a toss-up between the Razer and Asus machines for top gaming laptop honors. The Blade series from Razer are clean-cut, stylish notebooks that have a matte black gaming MacBook aesthetic that we really dig. And Asus is a brand that knows how to do all the important hardware stuff; can deliver on style and technological substance, but can also offer better value than the more premium-focused Razer laptops.
Should I worry about what the CPU in a gaming laptop is?
That really depends on what you want to do with your laptop. An 8-core, 16-thread AMD Ryzen chip will allow you to do a whole load of productivity on the road, but honestly, it will have little benefit in gaming. That's one of the reasons Intel has launched its Tiger Lake H35 chips; they're quad-core, 8-thread CPUs, but they're clocked high to deliver high-end gaming performance when paired with something like the RTX 3070.
What screen size is best for a gaming laptop?
This will arguably have the most immediate impact on your choice of the build. Picking the size of your screen basically dictates the size of your laptop. A 13-inch machine will be a thin-and-light ultrabook, while a 17-inch panel almost guarantees workstation stuff. At 15-inches, you're looking at the most common size of the gaming laptop screen.
Are high refresh rate panels worth it for laptops?
We love high refresh rate screens here, and while you cannot guarantee your RTX 3060 will deliver 300 fps in the latest games, you'll still see a benefit in general look and feel running a 300Hz display.
Should I get a 4K screen in my laptop?
Nah. 4K gaming laptops are overkill; they're fine for video editing if you're dealing with 4K content, but it's not the optimal choice for games. The standard 1080p resolution means that the generally slower mobile GPUs are all but guaranteed high frame rates, while companies are slowly drip-feeding 1440p panels into their laptop ranges.
A 1440p screen offers the perfect compromise between high resolution and decent gaming performance. At the same time, a 4K notebook will overstress your GPU and tax your eyeballs as you squint at your 15-inch display.