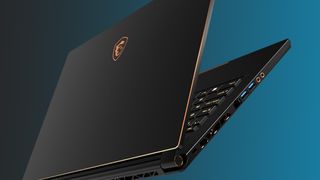 Finding one of the best gaming laptops in 2019, and getting it a little cheaper, can make for a great start to the year. After all, we all love a good deal, and if that means you save a bit of money and get hold of a gaming laptop that'll easily handle the biggest games of the year, then it's a win/win situation. With the price of most components dropping over the past 12 months, that means not only are we getting more powerful gaming laptops, with increasingly better GPUs, but we're also getting more choice when it comes to the actual builds. So, what is the actual best gaming laptop in 2019?
Right now, we'd recommend either the MSI GS65 Stealth Thin (in 15.6 inch) or the Razer Blade 15. Both are dedicated gaming laptops, and both pack in enough power and tech to handle everything a dedicated gamer might throw at them. While some of the most ridiculously priced gaming laptops pack in a 1080 GPU, the MSI and Razer Blade have either a 1060 or 1070 Max-Q, which is plenty to run titles like Overwatch at some of the top settings. What's more, these laptops actually mix style with grunt, giving you something you could happily take to work as well as being part of your gaming life. The best gaming laptops are also packing in smart features like SSDs, 144Hz screens, and advanced batteries for even longer pay time.
Whether your budget is $700 / £650 or $4000 / £3500 (lucky you), there's a gaming laptop here that'll suit your price and needs. We've tested each one, picked the specs we loved the most, and we constantly evaluate this list to make sure it has the best prices and the actual best gaming laptops right now. And if you decide to go desktop, here are the best gaming PC options for 2019.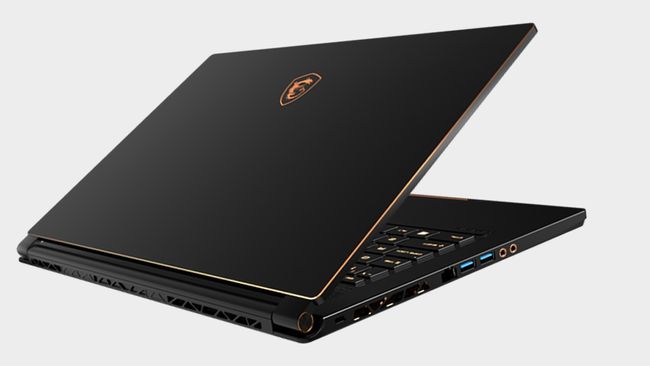 The best gaming laptop you can buy—Elegant. Portable. Powerful.
CPU: Intel Core i7-8750H | GPU: Nvidia GeForce GTX 1070 Max-Q | RAM: 16GB DDR4-2400MHz | Screen: 15.6-inch FHD (1,920 x 1,080) wide-view 144Hz | Storage: 512GB M.2 SSD | Battery: 82 Whr | Dimensions: 9.75 x 14.08 x 0.69 inches | Weight: 4.14 lbs
Sleek and powerful
Long battery life
No G-Sync
The GS65 Stealth Thin delivers everything I want in a gaming laptop. It has the convenience and portability of a productivity notebook—light and thin enough that I can toss it in my backpack, tote it to meetings, and comfortably use it on the couch—married with the internal guts of a gaming PC—powerful enough to play the latest games at high or max settings once the workday is over.
It has a sleek matte black aluminum body with gold accents that feels sturdy and luxe—and thankfully lacking in obnoxious gamer aesthetics. Best of all, in addition to a slim, 18mm thickness, the screen's 4.9mm thin bezels allow for a overall chassis size that's about an inch smaller than most 15-inch laptops.
Performance-wise, the GS65 doesn't disappoint. The base spec features a GTX 1060 Max-Q GPU, but I recommend the GTX 1070 (again Max-Q) model for a few hundred dollars more. It brings with it an upgraded SSD and Killer wireless networking. This spec lets the GS65 maintain framerates above 60 fps in most of the latest games with settings maxed out. And by tweaking a few settings and disabling some of the more demanding, less visually-impactful options, you can easily push your framerates up to 100 fps and above, taking advantage of the system's 144Hz display.
There are other nice details, too: a keyboard from SteelSeries that's solid and responsive (and RGB-lit, if you care about that sort of thing), a responsive touchpad, and a webcam that's placed at the top of the screen, thankfully avoiding the abysmally unflattering "nose-cam" found on most thin-bezeled laptops like the Dell XPS 13.
The only gaming feature missing here is G-Sync, but that's a forgivable offense as the omission allows for both a lower price tag and battery life that legitimately lasts through a whole day of email, web browsing, and streaming video.
Read the full review: MSI GS65 Stealth Thin
The toughest, most well designed gaming laptop of 2019
CPU: Intel Core i7-8750H | GPU: Nvidia GeForce GTX 1070 Max-Q | RAM: 16GB DDR4-2666MHz | Screen: 15.6-inch FHD (1,920 x 1,080) IPS 144Hz | Storage: 512GB SSD | Battery: 80 Whr | Dimensions: 9.25 x 13.98 x 0.68 inches | Weight: 4.63 lbs
Beautiful construction
Thinnest gaming laptop we've tested
Vapor chamber cooling
No Ethernet port
With the new Blade 15, launched earlier this year, Razer has finally caught up to the competition in terms of what makes a great gaming laptop. Solid construction, slim body, elegant design, long battery life, thin bezels, 144Hz screen, and internals powerful enough to play the latest games. That means an Intel Core i7-8750H processor paired with an Nvidia GeForce GTX 1070 Max-Q GPU.
What sets the Blade 15 apart from the competition is the details. Its aluminum body is the most solid and flex-resistant of all the laptops we've tested lately, and by a measure of about half a millimeter, it's the thinnest as well. Of course, that half-millimeter difference is mostly negligent in terms of perception—more impressive is the overall solid feel of the body, which Razer says is CNC-milled from a single block of aluminum. Opening the clamshell, the touchpad is noticeably larger than its peers, and the keyboard is flanked on either side by large speakers.
Read the full review: Razer Blade 15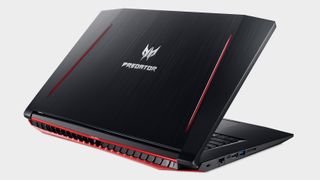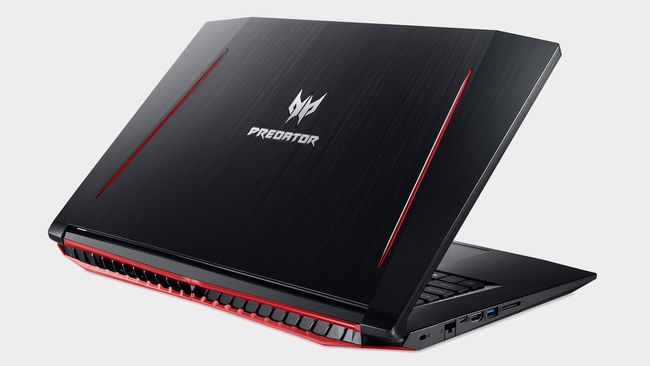 The best budget gaming laptop—GTX 1060 graphics for a grand
CPU: Intel Core i7-7700HQ | GPU: Nvidia GeForce GTX 1060 6GB | RAM: 16GB DDR4-2133MHz | Screen: 15.6-inch FHD (1,920 x 1,080) wide-view 60 Hz | Storage: 256GB M.2 SATA SSD | Battery: 48 Whr | Dimensions: 10.47 x 15.35 x 1.05 inches | Weight: 5.95 lbs
Incredible value
Decent battery life
Only red backlighting
Gaudy aesthetics
Acer's Predator Helios 300 offers an incredible value proposition. At just over a grand, sometimes less if you can find it on sale, it offers a GTX 1060 6GB graphics card that can lock down 60 fps at near-max settings in most games from the last few years. The system's lacking in any fancy screen features like G-Sync, although you can get a model with 144Hz refresh rate, and you'll probably want to think about investing in a large HDD to back up the 256GB SSD. But those minor issues don't mean much when you factor in the super-affordable price tag.
The Acer Predator Helios 300 is the best budget gaming laptop you can buy, without compromising on the features you need from a portable gaming device. Right now you can get the 1060 GPU version, with a 144Hz screen, 1TB HDD and 256GB SSD for $1,149 at NewEgg, saving you $250. That's a great price for what you're getting here.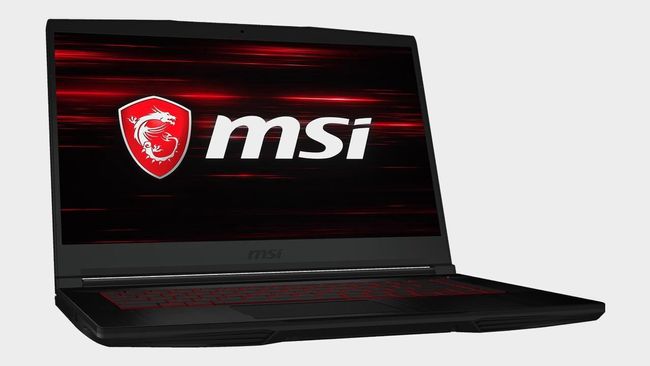 The best entry-level gaming laptop, currently under $650
CPU: Intel Core i5-8300H | GPU: Nvidia GeForce GTX 1050 4GB | RAM: 8GB DDR4-2666 | Screen: 15.6-inch FHD (1,920 x 1,080) IPS | Storage: 1TB HDD | Battery: 3-cell 51 Whr | Dimensions: 14.13 x 9.99 x 0.85 inches | Weight: 4.10 lbs
Thin bezels
Easy to upgrade RAM and storage
Noticeably lighter than competition
No included SSD
The MSI GF63 8RC has to be our top choice for ultra-budget gaming laptops. Priced as low as $649.99 on sale, the GF63 comes equipped with Intel's i5-8300H, 8GB of DDR4 RAM, Nvidia's GeForce GTX 1050 and one of the thinner bezels we've seen in this price range. The only obvious downside is the lack of an included SSD. The laptop comes loaded with a 1TB HDD which means you'll probably want to upgrade the storage fairly quickly.
With its highly competitive price tag, the Newegg exclusive MSI GF63 8RC is one of the cheapest gaming laptops we could find with a GTX 1050 discrete graphics card. It's priced just a little bit higher than Acer's Aspire E 15, but the GF63 offers up to 67% higher gaming performance and exponentially higher performance when compared to laptops with integrated graphics. If you're working with a tight budget, the GF63 offers everything you'd need in a laptop without putting a huge dent in your wallet.
Read the full review: MSI GF63 review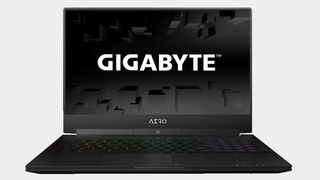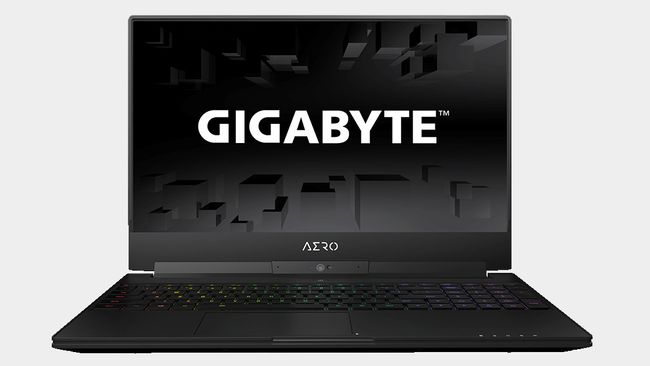 Productivity powerhouse with longer battery life
CPU: Intel Core i7-8750H | GPU: Nvidia GeForce GTX 1070 Max-Q | RAM: 16GB DDR4-2666MHz | Screen: 15.6-inch FHD (1,920 x 1,080) IPS 144Hz | Storage: 512GB SSD | Battery: 94 Whr | Dimensions: 9.8 x 14.0 x 0.74 inches | Weight: 4.49 lbs
Incredible battery life
Beautiful screen
Rough edges
Some driver issues out of the box
Gigabyte's Aero 15X was the first thin Max-Q laptop to catch my eye, and the 2018 Aero 15X v8 refresh remains a promising entry in the field, fixing most of the issues I had with its predecessor while keeping everything else that I love about it. Primarily, the keyboard works much better after a driver update, and the screen's been updated to a snappy 144 Hz panel.
Compared to MSI's GS65 and the Razer Blade 15, the Aero 15X has a less attractive body with sharp edges, but wins in the productivity category on account of a bigger, 94 Whr battery. In practice—that is, our streaming video test—that larger battery lasts upwards of six hours, compared to the GS65's four and a half. With near-identical internals, gaming performance is comparable to the GS65 as well. The biggest difference, other than the body design and battery, is that the Aero 15X can be outfitted with a 4K screen. I recommend sticking with the high refresh rate 1080p screen if gaming is your primary concern, but 4K is a nice option for productivity power users who can take advantage of the extra pixels.
Read the full review: Gigabyte Aero 15X v8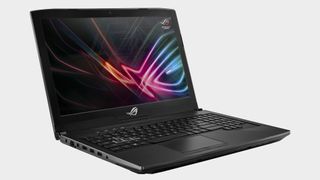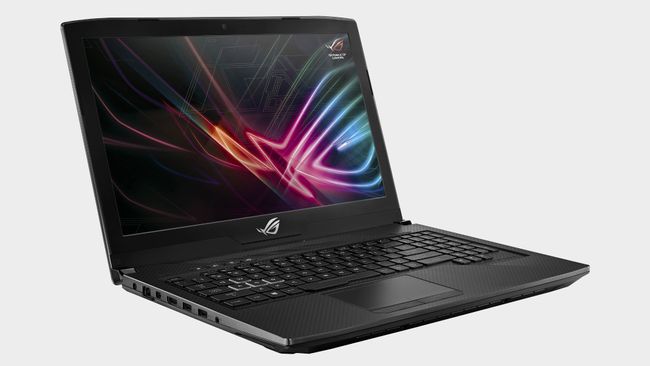 Bigger body, better performance
CPU: Intel Core i7-7700HQ | GPU: Nvidia GeForce GTX 1070 | RAM: 16GB DDR4-2400MHz | Screen: 15.6-inch FHD (1,920 x 1,080) wide-view 144Hz with G-Sync | Storage: 256GB NVMe SSD, 1TB FireCuda SSHD | Battery: 64 Whr | Dimensions: 10.3 x 15.2 x 1.0 inches | Weight: 5.6 lbs
Full-power (non Max-Q) GTX 1070
Great SSD
Bulky
Poor battery life
I said at the beginning that choosing a laptop usually means picking two between price, performance, and portability. Where thin-and-light laptops like the GS65 offer the latter two of those three, the Asus ROG Strix GL503VS-DH74 Scar Edition instead checks the first two boxes: price and performance.
In exchange for a larger shell, the GL503VS packs in a regular (non Max-Q) GTX 1070 GPU. This results in a performance improvement of around 15 percent at a slightly lower price point. It uses a previous gen quad-core CPU, but that doesn't matter in most games. The GL503VS also offers G-Sync on its 144Hz panel, but the tradeoff means you miss out on Nvidia's Optimus battery tech. As such, you shouldn't expect more than around two hours of battery life. Don't forget your charger!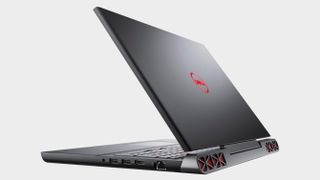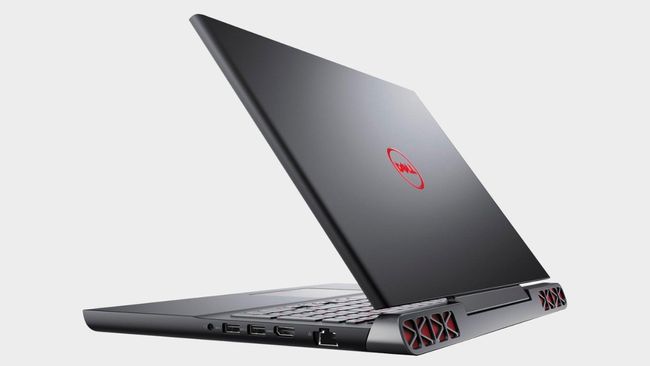 Perfect for indies and lightweight titles like Fortnite
CPU: Intel Core i5-7300HQ | GPU: Nvidia GeForce GTX 1050 Ti 4GB | RAM: 8GB DDR4-2400MHz | Screen: 15.6-inch FHD (1,920 x 1,080) | Storage: 256GB SSD | Battery: 6-cell 74 Whr | Dimensions: 10.82 x 15.15 x 1.0 inches | Weight: 5.76 lbs
Great for indies and other less-demanding games
Solid battery life
Not very powerful
Cheap plastic feel
If you're looking for a cheap laptop to play indies or other less-demanding titles, Dell's Inspiron 15 7000 series is just the ticket. The 7567 model features a GTX 1050 Ti, a slight upgrade over the bottom-barrel GTX 1050 model which can be had for a few bucks cheaper. Neither can handle the latest games on high or max settings, but if all you're interested in is lightweight indies or don't mind cranking the settings down, the 7567 is a great ultra-budget option.
As a bonus, the 7567 features a robust 74 Whr battery that should last upwards of four hours, depending on the workload. This makes it a great back to school laptop for gamers who need a machine that'll last through classes and then help secure Victory Royale once homework is done.
The most powerful thin-and-light laptop around
CPU: Intel Core i7-7700HQ | GPU: Nvidia GeForce GTX 1080 Max-Q | RAM: 32GB DDR4-2400MHz | Screen: 15.6-inch FHD (1,920 x 1,080) IPS 120 Hz with G-Sync | Storage: 256GB M.2 SATA SSD | Battery: 3-cell 54 Whr | Dimensions: 10.47 x 15.47 x 0.74 in | Weight: 5.4 lbs
GTX 1080 power in a thin and light shell
Outstanding specs
Horrible touchpad placement
Expensive
Acer's Predator Triton 700 has a lot to love about it. The overall chassis is a sleek sci-fi-inspired aesthetic with a solid clam shell design (and thankfully no hinge opening like on the ROG Zephyrus). This amounts to the most portable GTX 1080 laptop around (albeit a GTX 1080 Max-Q GPU).
This system crushes benchmarks and games, offering about the same or slightly higher power level as a desktop-class GTX 1070. The one drawback is the abysmal touchpad location, a glass panel that sits above the keyboard. It's terrible for anything other than brief usage, so just be sure you never forget an external mouse.
The behemoth desktop replacement
CPU: Intel Core i7-8750H | GPU: Nvidia GeForce GTX 1080 | RAM: Up to 64GB DDR4-2666MHz | Screen: 17.3-inch FHD (1,920 x 1,080) wide-view 120 Hz with G-Sync | Storage: 512GB M.2 SATA SSD, 1TB HDD | Battery: 8-cell 90 Whr | Dimensions: 12.36 x 16.85 x 2.28 inches | Weight: 9.92 lbs
Fantastic cooling
Mechanical keyboard
Gigantic and heavy
While MSI's GS65 is the king of thin-and-light, the GT75 conquers the other end of the spectrum: massive and heavy. This behemoth desktop replacement is outfitted with a full-size (chiclet-style) SteelSeries mechanical keyboard, a robust (albeit loud) cooling system, and booming speakers. All paired, of course, with the desktop-class internals of a Core i7-8750H (an upgraded version with an i9 processor is available as well), GTX 1080 GPU, and up to 64GB of DDR4-2666 RAM. If you want everything a desktop offers in a foldable, semi-portable form factor, the GT75 Titan crushes the competition.
How we test gaming laptops
What makes one laptop more attractive than another in the eyes of a gamer? Is it light weight, for portability in between LAN parties? How about high-end hardware to facilitate the fastest frame rates? Surely connectivity matters. External displays, gaming peripherals and direct-attached storage can make you forget you're even using a notebook. Or maybe value is what matters most. For a low-enough price, we're all willing to compromise on graphics quality, right? Right?
Of course not, which is why the best builders cram in as much processing muscle as possible, even when money is tight. And at the top of the range, desktop-class components in mobile enclosures set new performance records with every generation.
We run the following tests to measure performance and productivity on gaming laptops:
Cinebench 15
CrystalDisk QD32 Read and Write
3DMark Fire Strike
PCMark 10 Express
For gaming, we use the built-in benchmarks on Shadow of the Tomb Raider, Total War: Warhammer II, and Tom Clancy's Ghost Recon: Wildlands. Tests are performed at 1080p using the highest available graphics preset, with V-sync and G-Sync disabled. All tests are run multiple times to ensure that thermal throttling doesn't occur. In the event that scores drop on subsequent tests, the lower (throttled) scores are used.
Some online stores give us a small cut if you buy something through one of our links. Read our affiliate policy for more info.