The best gaming mouse provides you with the most satisfying sweeps, clicks, and hand-feelTM possible. Whether it's lining up a clutch headshot in Call of Duty: Warzone 2.0 or allowing for pixel-perfect unit placement in League of Legends, the last thing you need is an unreliable rodent costing you the game. And if you're looking into a wireless gaming mouse, it should have all that and good long battery life.
The best gaming mouse is still the Razer DeathAdder V2. It's a classic design that has stood the test of time, and now that the V3 has launched you can find the older model for a bargain price. And it still has an excellent, high DPI sensor that will help you keep up with the best in competition.
A lightweight mouse will let you perform feats of digital greatness with minimal physical effort. MOBA and MMO players need a mouse with a wealth of buttons for all their bindings. Even best wireless mice are faster and more accurate than their tethered brothers. Whatever the size, style, or amount of buttons, there's a mouse for you.
Some excellent budget gaming mice can give you a competitive edge without maxing out your credit cards if you're tight on cash. As a team, we've tested dozens of gaming mice throughout the year, and this list highlights some of our favorites. Of course, you should pair your new mouse with one of the best gaming keyboards. You know, to make sure all your gear compliments each other. And matches.
Where are the best gaming mouse deals?
In the US:
In the UK:
Best gaming mouse
The Razer DeathAdder V2 improves on everything we love about the DeathAdder Elite, itself one of the best gaming mice, and one that has been around since 2016 in various forms.
You can pick up the improved DeathAdder V3 nowadays, but we're still fans of the older kit as it's just so darned cheap right now. Some day that'll change, yet for now we're betting on the better value buy.

The most obvious improvement with the V2 over the original DeathAdder is the Focus+ Optical Sensor, the same one used in the excellent Razer Viper Ultimate Wireless. I'll go into it in a second, but I was more impressed by the more subtle changes Razer has made for the V2. The first is the scroll wheel. Razer has a ridiculous name for the new design, "Instinctive Scroll Wheel Tactility," but the results are perfect. It's exactly the right tightness. It spins smoothly, but you can still feel every notch of the turn, so you won't accidentally scroll too many times.
The fact Razer is using a special wire, with an equally ridiculous name, "Speedflex Cable," also sounds insignificant, but turns out to be a big deal. I've used a version of the DeathAdder (the Expert) for years, and my one complaint is that the stiffer wire can sometimes pull the mouse to one side, depending on how it sits on my desk. The V2's wire is the most flexible I've tried on a gaming mouse, and ultimately that means it's less likely to impact your mouse movement, even if you get lazy about wire management, like me.
The left and right mouse buttons are more durable than the Elite, too. They're optical, rather than mechanical (they use an infrared light beam to register clicks), which means they should deliver fewer misclicks, lower latency, and have a longer life. Razer reckons they'll last 70 million clicks, rather than the 50 million for the old DeathAdder Elite. While I can't possibly tell how accurate that number is, they certainly felt as responsive as I could ever need, and I never misclicked. In games of Fortnite and Escape from Tarkov, my shots felt instant, and I never had to worry about firing accidentally.
And then we come to the sensor, Razer's 'party trick' (the DeathAdder Elite's stats are in parentheses for comparison). It goes up to 20,000 DPI/CPI (16,000), tracks up to 650 inches per second (450), and has a resolution accuracy of 99.6 percent (99.4 percent). Those increased numbers may or may not mean much to you, because they'll make very little difference in day-to-day performance. How often do you need to go above 16,000 DPI/CPI? Not often.

However, carrying on a trend in recent Razer mice, the left and right mouse buttons are a bit flimsy. They feel fine, even sturdy, when you're clicking them straight on, but the slightest amount of sideways pressure makes them waggle off-center. It makes me think they couldn't take much of a beating, such as if you threw the V2 into a bag before running out the door. It's a relatively minor gripe, but I noticed the same thing with the Viper Ultimate Wireless, and I hope Razer can sort it soon. It detracts from the overall solid build.

Read our full Razer DeathAdder V2 review.
If you find the Logitech G203 Lightsync familiar, you're not the only one. This mouse may be tipped as a fairly recent arrival, but it is almost functionally identical to the G203 Prodigy that preceded it.

The G203 Lightsync sits within a hotly-contended category of budget-conscious gaming mice. Most of all it faces stern competition from Razer, whose lineup at this price, or thereabouts, now includes the Deathadder Essential, Basilisk Essential, and Viper Mini. However, the G203 Lightsync has enough about it to stand its own. Its no-nonsense design packs the bare essentials, and it builds upon that slight flair for the aesthetic that you won't find quite so pronounced anywhere else.
The G203 Lightsync is a wired mouse—it's Lightspeed that you're looking for if you're after a wireless rodent. Instead, Lightsync denotes this mouse's compatibility with the Logitech G app and RGB lighting system, which is able to unify RGB lighting effects across compatible Logitech products. What's somewhat confusing is that non-Lightsync products are also able to integrate with said app to varying degrees.
The three titular lighting zones all lie within the thin strip that spans the rear palm rest, with the logo above taking the same color as the middle RGB lighting zone. While it might've been nice to have independent control of the logo itself, the option does allow for gorgeous tri-color gradient effects sweeping from one side of the mouse to the other.
Pair this with the G203 Lightsync's slightly tweaked white and grey option (as opposed to the white and black option previously available with the Prodigy) and you're onto something quite stunning for $40. That's right, the only other difference to note with the G203 Lightsync over its predecessor is the introduction of a grey scroll wheel reservation, as opposed to the bog-standard black adopted previously.
I've gone for the white colorway for the test unit for this review, and while I can't tell you what it will look like in five years' time, I can tell you that it looks quite stunning out of the box.
Expect the same near-ambidextrous design with the G203 Lightsync as Logitech's Lightspeed then, complete with two buttons under whereabouts the pad of your right-hand thumb would sit. These aren't removable or swappable to the opposite side, which certainly comes as a surprising flaw in the Logitech G203's otherwise one-size-fits-all design. Nevertheless, it's a simple design, and one which Logitech aptly calls "tried and true".

The unnamed "gaming-grade" sensor within the G203 offers a DPI range of 200-8,000, which should prove more than enough for all but the most colossal of 4K monitors—at which point you might want to turn to something with a little more grandeur than the G203. The sensor is more than suitable for decent and consistent gaming and turns up a clean sheet in mouse sensor tests.
Perhaps Logitech's unwillingness to reinvent the budget-conscious gaming mouse with every iteration of the G203 begets a quiet confidence in what it's bringing to the more affordable segment of its sprawling mouse lineup. The changes introduced with the G203 Lightsync, however few, may make for a materially slim review, but we're also not jumping at the chance to shift it out from our best gaming mouse roundup just yet.

Read our full Logitech G203 Lightsync review.
With over 15 million sold since its inception, the Razer DeathAdder has certainly earned its place in the best gaming mouse hall of fame and at the top of our best gaming mouse guide. There have been so many iterations and variants of the legendary mouse and with the newest one, the DeathAdder V3 Pro, Razer isn't really messing with a winning formula. In fact, it has doubled down on everything that earned the DeathAdder its name: excellent ergonomics and pro-level performance.
Razer has taken the DeathAdder to the gym, cut down the fat, shed weight, and ripped the muscles to create a lean, mean, clicking machine. The design changes are reasonably subtle but enough to offend some DeathAdder diehards. Gone are the massively flared-out mouse buttons and smooth shell in favour of a slimmer, less aggressive profile that has more in common with the Viper Ultimate than previous DeathAdders.
It's still very much a right-hander's mouse thanks to the slanted curve of the mouse's hump that leans ever so comfortably into your palm. The shell has a new micro-texture coating instead of smooth plastic. It helps keep the now 63g mouse (a 25% drop from the previous DeathAdder) from flying out of your hand in the heat of battle.
As a clicker aimed at the highest echelon of esports professionals, Razer has put only its finest tech inside the V3 Pro. First up, it features Razer's fastest-ever sensor: the new Focus Pro 30K Optical sensor with a 70G acceleration and a maximum speed of 750 inches per second for 99.8% accuracy. No one will play at such a ludicrous DPI but combined with a few tricks like Asymmetric cut-off, Motion sync, and Smart tracking, you'll never claim that the mouse is why you lost that match. For the main clickers, the DeathAdder gets third-generation Razer optical mouse switches with a blink-and-you'll-miss-it 0.2ms response time and long life of 90 million clicks.
to me, there's no distinguishable difference between using the V3 Pro wireless or wired. But if you have doubts, Razer also has a special 4,000Hz Hyperpolling dongle that you can buy as an add-on, but I reckon most folks would simply use the bundled Speedflex USB cable to assuage their latency fears.
The new DeathAdder, like its predecessors, is light on buttons, having only five which is laughable compared to the 11 you'll find on the Basilisk V3. I like how chunky and accessible the side buttons are since I don't have to awkwardly contort my thumb just to use them. I'm not too enamoured with the scroll wheel though. Sure it's tactile with steps that are great for weapon switching in-game, but it gets very tedious to do lots of scrolling with this mouse.
Razer's new Hyperscroll Tilt wheel would have been welcome here. It's little things like this and the simplicity in button configuration that works great for FPS gamers but not so much for other game genres or work. I wager more gamers are like me; we need a mouse that's as great for Doom slaying as it is for navigating dense Excel sheets. However, if your job is playing twitch shooters, then this is just perfect.
Razer claims 90 hours and since unboxing it about three weeks ago, I've only charged it once. I've been exclusively using this as my primary mouse for at least 8 hours a day.
It's fast, comfortable, has excellent battery life, and is very deadly in the right hands. Very few gamers can lay claims to such hands though. For most of us, the $149 being asked for the DeathAdder V3 Pro is simply too much, and it feels somewhat akin to owning an F1 car and using it for grocery shopping and school runs. Still, if you fancy yourself an esports pro who needs a no-nonsense, hyper-focused slaying machine, the V3 Pro lives up to the legends of old.
Read our full Razer DeathAdder V3 Pro review.
Cut the cord...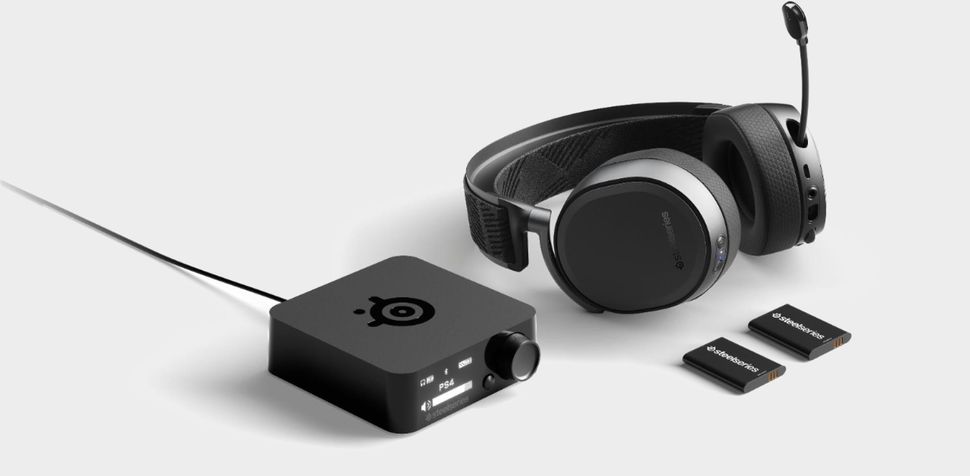 Best wireless gaming mouse: ideal cable-free rodents
Best wireless gaming keyboard: no wires, no worries
Best wireless gaming headset: top untethered audio
Even the Naga Pro Wireless has been somewhat replaced by the Naga V2 Pro Wireless, it's so much cheaper by comparison. That's why we're still keen on the older version, so long as it stays as budget-friendly as it is today.
What you get here is an MMO mouse and a wireless mouse. A 2-for-1 deal we can't turn down. The Naga Pro drops the cable for Razer HyperSpeed Wireless and Bluetooth connectivity. It also picks up optical mouse switches and the over-the-top 20,000 DPI sensor.
The overall design of Naga Pro stays close to the Naga Trinity it replaced but has gained a bit of weight to accommodate the new tech. The Naga Pro is 7mm wider and heavier than the Trinity at 117g, but thanks to the 100% PTFE feet, it glides smoothly across most surfaces. The bigger mouse also takes some getting used to; requiring my long hands to adopt a full palm grip. But the contoured mouse buttons and a rest for my ring finger make it easier to hold onto. Textured rubber grips for the thumb and pinky also help.
I'm a fan of Razer's optical-mechanical switches, which use light to register clicks instead of mechanics, and that makes them really fast. The switches are durable too, with a lifespan of 70 million clicks, but of course, the Naga Pro has plenty of other buttons too. The three swappable plates have 2, 6, and 12 buttons which you can remap to your heart's content.
Remapping buttons in Razer Synapse is child's play—a simple point-and-click affair. You can do anything from simple keyboard shortcut bindings to complex game macros as well as adjust DPI stages, polling rates, lift-offs, power management, and of course, Razer Chroma lighting.
Obviously, none of this matters if you have a laggy experience. Thankfully, the HyperSpeed Wireless doesn't disappoint. I used vsynctester.com to quickly measure lag and I was very impressed. The test records how quickly the cursor responds to your mouse movements. In wired mode, I recorded 6ms while the the Naga Pro's wireless connection managed 6.1ms—a 0.1ms difference. The Bluetooth was slower by 4-6ms but only a keen eye would notice it in daily use.

The Naga Pro's optical sensor has also been updated to the Razer Focus+ 20,000 DPI sensor with 650 IPS tracking. This is far beyond anything most people will ever need—I max out at 8,000 DPI.
Now, with all this technical wizardry, battery life is a legitimate concern but Razer's claim of a 150-hour battery life proves true. I've been using this review unit for the past week—averaging 14 hours daily and I still have about 35% battery left. That involved a ton of gaming, work, and swapping back and forth between wireless and Bluetooth.
Quite frankly, lack of a dock aside, I find nothing to really complain about the Naga Pro. The discerning, cable-phobic multi-genre master will love the speed, accuracy, and versatility of this Razer Naga Pro.

Read our full Razer Naga Pro review.
At first glance Logitech's G502 X gaming mouse may not appear much different to its predecessors, but look a little closer and you'll notice some useful revisions, in particular for FPS players. While there's no change to the already improved G502 Hero 25k sensor, there are some impressive ergonomic enhancements to note, along with customisability, and weight improvements to boot.
In fact, Logitech has doubled down on making the Logitech G502 X lighter. It comes in at 89g, which is a significant difference over the Hero's 121g. Sadly, it doesn't come with the option to configure the weight like the Hero, which would have been a nice addition considering it's going for the same price as its predecessor.
There's no LED system behind the Logitech G symbol, or any RGB at all. And while that's a little disappointing that you can't program damage flashes on your mouse, for example, it makes sense to appeal to the FPS audience more. While the scroll wheel is now plastic instead of metal to improve the weight, it still comes with an infinite scroll—our Dave's most loved feature.
Comparing the G502 X to my absolute favourite gaming mouse, the Logitech G502 Lightspeed, I've spotted some subtle differences that might not seem like much, but do affect the overall experience.
Interestingly (and most evidently) there's now an interchangeable thumb button with a little lip that can be rotated. I assume for use with larger or smaller hands, though hand positioning could also be a factor, or perhaps aimed more at fingertip grippers.
Speaking of hand placement, one of the major differences from the previous model comes in the form hand angle. While my initial qualm was that the lower profile shell meant my wrist was leaning on the desk a lot, my hand has now shifted around to the intended position. I get it now. It's slightly skewed, similarly to those vertical mice that are all the rage at the moment in offices, which gives it superior ergonomics to the simple flat, front facing hand placement of the original design.
Pair that with the fantastic thumb rest, longer buttons and you have yourself a superbly ergonomic mouse that boasts improvements we didn't know we needed from the Logitech G502 line.
The G502 X may not come with an updated sensor, but the switches are now lightforce hybrid switches. They're opto-mechanical, so they combine optical speed with a mechanical actuation. They sound a little clunky but that's likely due to the lack of internal components tucked in the mouse.
As far as pricing goes, it's being shipped at roughly the same price as the earlier models: $80 for the wired version, $140 for the wireless version, and $160 for the G502 X Plus. The latter is the only one with RGB, which pushes the weight up 106g, over the wired version. It's certainly one way to separate the company's more utilitarian users from the rest, but $20 for some RGB LEDs does seem a little steep.
I personally regarded the previous model as the perfect mouse, and it's almost a shame to remove the weight it had behind it, though I do admit the ergonomic changes are likely better for my hand. The new ergonomics do have the potential to alienate those with larger hands or who don't enjoy the sideways slant, and the weight reduction has meant RGB likers like me would need to spend substantially more.
Either way, this wired version here is the evident choice for the sensible and frugal among us. For $80 I have no issues recommending the wired G502 X, especially if you can get a Logitech G promo code, it's just a little sad that RGB now costs extra.
Read our full Logitech G502 X review.
It's fascinating how much the new Steelseries Prime Wireless gaming mouse reminds me of the Razer Viper Ultimate. It's a no-frills, high-performance machine designed to meld with your palm and make you the FPS god you always dreamed of being.
The Prime Wireless immediately felt like it was designed just for my particular hand. Steelseries says they worked with several esports pros to develop the right shape and weight that feels like an extension of your arm. For once, the product lives up to the hype.
The Prime Wireless is designed for right-handers particularly claw and fingertip grippers. The whole mouse seems to gently slope towards the right so that it cradles in your palm for a comfortable grip. The body is made from a micro-textured ABS plastic which has a matte finish that feels simultaneously slick and yet grippy. At 80g, it's slightly heavier than the Viper Ultimate, but it's hardly what you'd call heavy.
The thumb well curves inwards while the mouse buttons rise higher towards your index finger and taper off under your middle finger. This subtle slope makes the buttons feel somehow easier to click. The thumb buttons are positioned slightly above where your thumb rests so there's barely any travel to reach them. I do wish they were slightly more forward so I don't have to crook my thumb so much in order to press the rear button but I can live with it.
The Prime Wireless has a built-in rechargeable battery that's rated for 100 hours per charge. That's over a week of average use. However, I should point out that those numbers are only achievable when the mouse is running in High-efficiency mode which tones down some settings like the RGB to save power. For gaming, you'll want to keep it in performance mode which will chew through the battery in significantly less time—around 40 hours in testing. Thankfully, charging the Prime Wireless is a breeze, thanks to a handy quick charge feature.
When it comes to gaming, the Prime Wireless is just a joy to use. The mouse glides effortlessly thanks to its lightweight and large PTFE skates, especially since there's no annoying wire to hold you back. The TrueMove Air 18,000 CPI optical sensor combined with a 1,000Hz polling rate makes 1-1 tracking precise and snappy. Annoyingly, switching CPI sensitivity requires lifting the mouse to access the button underneath which isn't ideal in the heat of battle.
Up top, the main clickers use proprietary Prestige OM magnetic switches which use a combination of magnets and lasers to actuate at 'quantum speeds' and are satisfying and responsive. The buttons feel solid without any wobble or sideways travel at all and are built to last longer than most—over 100 million clicks.
Bringing all this together is the Quantum 2.0 Wireless which is delivered via a slim USB Type-C dongle. Don't worry if you haven't got any Type-C ports on your machine, Steelseries bundles a Type-A adapter in the box. Quantum Wireless uses a unique dual channel system so that the mouse maintains a connection even if one channel has disruption. The Prime showed no perceptible latency at all except when using the hyper-efficiency mode.
I never expected to like the Steelseries Prime Wireless but it's just so damn comfortable to use for work and gaming. Input lag is no issue and honestly, wireless these days are virtually indistinguishable from their wired counterparts. The battery life is great and that quick charge is something every wireless peripheral should have.

Read our full SteelSeries Prime Wireless review.
Best gaming keyboard | Best CPU for gaming | Best graphics cards
Best VR headset | Best wireless gaming mouse | Best wireless gaming keyboard
Gaming mouse FAQ
Why should I choose a gaming mouse over the average optical mouse?
For one thing, gaming mouse sensors are designed to be more responsive and accurate. With adjustable (or no) smoothing and acceleration, your aim will stay true. Gaming mice are more accessible because of their programmable buttons and versatility over a traditional mouse.
Is a wireless mouse good for gaming?
Historically the answer was always: no. The wireless connection, though convenient, was used to add extra latency to the connection compared with a wired cable, which meant input lag in games was 'a a thing'. For reference, that is also seen as a 'very bad thing' in competitive online games.
But modern wireless interfaces, primarily the 2.4GHz radio connections, have zero perceptible difference in latency compared to a standard wired connection. Blind tests have been done with pro gamers using wired and wireless mice, and if the most sensitive players around can't tell the difference, we're confident you won't be able to either.
Bluetooth connections, however, can still introduce unwelcome input lag into a gaming situation, so that's best avoided. In modern wireless gaming mice, however, Bluetooth is only used as a low-power backup option.
What should I look out for in a gaming mouse?
When deciding on a mouse, your priority should be finding one that's comfortable for your hand. There are numerous sizes, shapes, and weights to consider. You might have the coolest-looking mouse with the most practical array of buttons, but if it's not comfortable for you, you won't be able to settle in with it. There are plenty of ambidextrous gaming mice and gaming mice for lefties in the list, too—if the goofy stance is more your style.
In the last few years, most gaming mice have also adopted very high DPI sensors (or, more accurately: CPI), so even a budget mouse will likely perform well. Most of these sensors can handle extremely high DPI counts at up to 20,000 DPI when realistically, you'll play on a much lower sensitivity—generally under 2,000 DPI. The consensus is not to worry about that number too much. Instead, concentrate on finding a mouse with the ideal shape and weight, and obviously, one that'll match your stylish set-up.
Pro gamers generally recommend lighter, more straightforward mice with few buttons to get in the way. Lighter mice won't fatigue your wrist and can easily glide across the mouse pad at high speeds. Anything below 100 grams is often ideal for competitive mice. But something has to be said about how powerful you feel at the helm of a nice heavy mouse.
How do we test gaming mice?
We've used enough gaming mice to have a good feel for build quality, button placement, and shape. Our opinions on those aspects of mouse design are naturally subjective, but they're also well-informed. The tricky part of testing gaming mice is analyzing the other part of the equation: tracking performance, jitter, angle snapping, acceleration, and perfect control speed, and determining how each of those issues affects the experience of using a mouse.
For that, applications such as Mouse Tester come in handy. We used this software to see if we could spot any glaring issues with the mice we used. In every gaming mouse we tested, though, angle snapping and acceleration were disabled in the mouse drivers by default (though a mouse can still exhibit acceleration from issues with the sensor itself) and never encountered any glaring performance issues.

Gaming mouse jargon buster
Grip refers to how you hold the mouse. The most common grips are palm, claw, and fingertip. Here's a good example of how each grip works.
CPI stands for counts per inch, or how many times the mouse sensor will read its tracking surface, aka your mousepad, for every inch it's moved. This is commonly referred to as DPI, but CPI is a more accurate term. The lower the CPI, the further you have to move the mouse to move the cursor on the screen.
Jitter refers to an inaccuracy in a mouse sensor reading the surface it's tracking. Jitter often occurs at higher mouse movement speeds or higher CPIs. Jitter can make your cursor jump erratically, and even slight jitter could wreck a shot in an FPS or make you misclick on a unit in an RTS.
Angle snapping, also called prediction, takes data from a mouse sensor and modifies the output to create smoother movements. For example, if you try to draw a horizontal line with your mouse, it won't be perfect—you'll make some subtle curves in the line, especially at higher sensitivities. Angle snapping smooths out those curves and gives you a straight line instead. This is generally bad because it means your cursor movements won't match your hand's movements 1:1, and angle snapping will not be useful in most games. Thankfully, almost all gaming mice have angle snapping disabled by default.
Acceleration is probably the most reviled, most scrutinized issue with gaming mouse sensors. When a mouse sensor exhibits acceleration, your cursor will move faster the faster you move the mouse; this is often considered bad because moving the mouse slowly six inches across a mousepad will move the cursor differently than moving the mouse rapidly same distance. This introduces variability that can be hard to predict.
Perfect control speed, or malfunction rate, refers to the speed at which the mouse can be moved while still tracking accurately. Most gaming mice will track extremely accurately when moved at slow speeds, but low CPI players will often move their mice large distances across the mousepads at very high speeds. At high speeds, especially at high CPIs, not all mouse sensors can retain their tracking accuracy. The point at which the sensors stop tracking accurately will differ between CPI levels.
IPS measures inches per second and the effective maximum tracking speed of any given sensor is rated too. Not to be confused with the gaming monitor panel type by the same name, the higher the IPS of any given mouse, the better it can keep up with high-speed movement and maintain accuracy.
Lift-off distance is still a popular metric in mouse enthusiast circles, though it does not affect most gamers. LOD refers to the height a mouse has to be raised before the sensor stops tracking its surface. Some gamers prefer a mouse with a very low lift-off distance because they play at very low sensitivity and often have to lift their mouse off the pad to reset it in a position where they can continue swiping. With a low LOD, the cursor will not be moved erratically when the mouse is lifted.