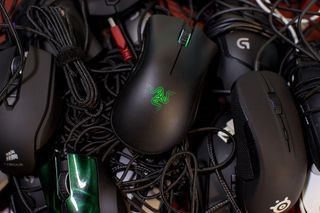 Finding the best gaming mouse in 2019 is becoming more complicated, with a raft of new models coming from top manufacturers like Logitech, Corsair, Razer, and others, as well as a number of new entrants trying to elbow their way into this crowded marketplace. It's now not just a matter of finding a mouse that fits your hand nicely and works as advertised: these days there's a huge field of features, gimmicks, and performance metrics that differentiate the top tier pointers from the bottom of the barrel also-rans. We've been rigorously testing dozens of mice to determine which of these flashy new features are actually worthwhile, and which mice actually perform as advertised.
Budget gaming PC build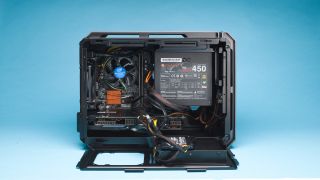 Budget gaming PC build
If you're looking to build your own rig to connect your new gaming mouse to but find yourself on a tight budget, check out our build guide for putting together a rig on the cheap.
So what actually makes a great gaming mouse? Scroll down to the very bottom of this roundup for a look inside our testing process, but there are a few things you should prioritize. First, you want a high CPI range, so you can steadily lineup headshots but also swing around at crazy speed when you need to react to an ambush from the rear. You also want a pointer with a great IPS rating, meaning that it won't flicker or lose tracking when you're making all those dramatic movements, zooming your mouse across the pad at blazing speed. You also want to decide whether you prefer a traditional wired mouse, meaning you'll never have to waste time juggling batteries or worrying about charging, or one of the best wireless mice to declutter your desk and eliminate cord drag. And there are always ergonomic options like the Logitech MX Vertical, which are designed to ensure that your wrists will be able to endure those marathon sessions of Civ 6.
Whatever gaming mouse you end up choosing, make sure you're pairing it with the best gaming PC . And find it an appropriate BFF in our best gaming keyboard roundup.
Best gaming keyboard | Best gaming PC | Best gaming chair
Best VR headset | Best wireless gaming mouse | Best wireless gaming keyboard
1. Logitech MX518
CPI: 16,000 | Sensor: Optical | Interface: USB | Buttons: 8 | Ergonomic: Right handed | Weight: 101 g (0.22 lbs)
Top of the line HERO sensor and ARM 32-bit microprocessor
Fully customizable suite of buttons
Flexibile, intuitive software
Slightly narrow
The original Logitech MX518 is one of the most recognizable and celebrated gaming mice ever produced, and the refresh honors that legacy. Logitech has replaced the original's outdated 1,800 CPI sensor with their fancy new 16,000 CPI HERO sensor, one of the most accurate and best performing sensors anywhere. It's sensitive and incredibly precise, so it'll serve for both the most demanding productivity tasks as well as for lining up pixel perfect headshots.
The MX518 focuses on the things that matter in a proper gaming mouse while eschewing all the fluff and unnecessary bloat that finds its way into some of the competition. This not only means a streamlined mouse that's a joy to use but also means that Logitech is able to avoid wild price inflation. It also packs an ARM 32 microprocessor that pairs with the sensor to ensure a 1ms report rate, and its matte black build and Nightfall finish make it one of the sleekest looking mice we've tested.
2. Razer Deathadder Elite
The best mouse for shooters
CPI: 16,000 | Sensor: Optical | Interface: USB | Buttons: 6 | Ergonomic: Right handed | Weight: 105 g (0.23 lbs)
Rivals the best gaming mouse sensor available
Ideal shape for palm or claw grips and a variety of hand sizes
Driver software requires a sign-in
The Razer Deathadder has an all-around fantastic shape for all sorts of grips and hand sizes, and I've spent hundreds of hours playing games, using Photoshop, and browsing the Internet with it. Despite years of iterations, Razer never messes with the Deathadder's shape. There's no reason to.
The Deathadder Elite uses a 16,000 CPI optical sensor, but big numbers don't necessarily mean quality. Here's the important bit: for the Elite Razer chose a sensor based on the PMW-3389 developed by sensor company Pixart in collaboration with Logitech, which is easily one of the best mouse sensors available with 99.4% resolution accuracy and a 450 IPS rating. Razer's implementation should deliver flawless tracking, even if you move the mouse as fast as you can.
For the majority of games and gamers, the Deathadder Elite is an amazing mouse. It's simple where it should be, with two perfectly placed, generously sized thumb buttons, has a great optical mouse sensor that will work on both hard and cloth pads, and has the ultimate body shape for a claw or hybrid claw/palm grip.
3. Logitech G203 Prodigy
The best budget gaming mouse
CPI: 8,000 | Sensor: Optical | Interface: USB | Buttons: 6 | Ergonomic: Right-handed | Weight: 85 g (3.0 oz)
Logitech build quality in a cheap mouse
Great shape for those who like smaller mice
Not the best sensor
You can find a lot of decent, no-name brand gaming mice on Amazon for less than $20, but it's worth spending just a little more for the Logitech G203 Prodigy (also called the G102 in some regions). With this mouse you get Logitech's fantastic, reliable build quality, good gaming driver software, and a tried-and-true mouse shape. Since its popular G100s years ago, Logitech has released several mice with a nearly identical small, almost-ambidextrous body, and it remains a comfortable mouse great for the active grip of FPS or MOBA players. And the G203 is damn cheap.
The G203 Prodigy doesn't use Logitech's top-end sensor, but testing has shown that the Mercury sensor (developed by Logitech) in this mouse is so good, you probably won't notice the difference. It supports up to 8000 CPI and has no issue with jitter or acceleration. Unless you need insanely high CPI settings, the G203 is a killer mouse for a budget price. And if you decide you really like the shape and can spend a bit more, consider a step up to the Logitech Pro, which does include that top-of-the-line sensor.
4. Logitech G903
The best high-end gaming mouse
CPI: 12,000 | Sensor: Optical | Interface: USB / 2.4GHz wireless | Buttons: 11 | Ergonomic: Ambidextrous | Weight: 110 g (3.88 oz)
Uses an extremely accurate, reliable sensor
The best click feel of any mouse we've used
Expensive
The only wireless mouse on this list is here for a reason: not only is it the best wireless gaming mouse, it's the best gaming mouse you can buy if you're willing to get spendy. The Logitech G903 Lightspeed is expensive, but the only mouse over $100 that I think is worth the price. It can easily be used in wired mode by plugging in the included micro USB cable, making it a fantastic wired mouse, too.
Why is it so great? The G903 Lightspeed is wonderfully light at 107 grams and uses Logitech's PMW-3366 sensor, which is extremely reliable at low and high CPI settings, with no issues of acceleration or cursor jitter. The G903's ambidextrous design includes removable thumb buttons for either side, and it fits my medium-large hand perfectly. The G903 also has a one-of-a-kind pivot bar click mechanism which feels better than any mouse I've ever used. Seriously: it's the best click ever. At a lower price, this mouse would be my recommendation to everyone, but as it stands, the G903 is the best high-end mouse you can gift to your hand.
Read the full review: Logitech G900 (a near-identical previous iteration of the G903).
5. Corsair Ironclaw RGB
The best gaming mouse for larger hands
CPI: 18,000 | Sensor: Optical | Interface: USB | Buttons: 7 | Ergonomic: Right-handed | Weight: 105 g (3.7 oz)
Great, comfortable fit for larger hands
Highly responsive with tactile buttons
Feels a bit heavy for a wired mouse, with no adjustable weights
The Ironclaw is the best mouse we've tested for gamers with larger hands. While its design encompasses a strange blend of materials, from smooth matte plastic on the buttons to the diamond print, grippy rubber sides, to the unique, wavy rubber on the scroll wheel, each conforms well to its function on the mouse. Instead of a single cohesive material, Corsair has designated one to suit each panel individually, which adds to the excellent overall fit of the mouse to make it feel really cozy gliding over your mouse pad. It's domed and curved fit perfectly in the palm of right-handed gamers, and is one of the best feeling mice to grip I've ever tested.
It does feel a bit weighty, particularly for a wireless mouse that doesn't require a discrete battery, and unfortunately doesn't offer customizable weights. While that means the Ironclaw feels just a hair more cumbersome than other, lighter wired mice, it also makes the mouse feel more significant and substantial. The RGB lighting is slick and understated, exactly the way I like it, and the unit can be fully customized through Corsair's iCue software, including the option to calibrate your mouse to the surface on which you're using it. While iCue isn't the most intuitive software suite I've ever used, it does offer a comprehensive set of customization options.
6. Razer Naga Trinity
The best gaming mouse for MOBAs and MMOs
CPI: 16,000 | Sensor: Optical | Interface: USB | Buttons: 19, 14, or 9 | Ergonomic: Right handed | Weight: 120 g (0.26 lbs)
Customizable thumb grip with three different button arrays
Buttons feel nice and clicky despite being removable
Design is a bit squat for larger hands
The form and function of Razer's Naga mouse has come a long way over the years. Its latest version, the Naga Trinity, is the best yet: a small, comfortable mouse with a high quality sensor and three interchangeable thumb grips with button arrays ideal for MOBAs, MMOs, or general use. The MOBA array is the best, offering seven buttons in a circle around your thumb. There are enough buttons to map multiple abilities, but not so many that they become an overwhelming samey blob. The 12 button array, designed for MMOs, has that problem for me, but anyone who wants a whole number pad under their thumb will appreciate the option.
The Naga Trinity's side panels snap into place with strong magnets and don't wiggle a bit when gaming. Otherwise, the Naga Trinity is the same as the Naga Hex before it, with a comfortable palm grip shape that includes a small pinky rest. The Naga Hex is a bit on the small side for larger hands, with more of a squat shape than some gaming mice. It's comfortable in the relaxed grip suited to MMOS, but will still do the job if you play MOBAs, shooters, or any other active games.
7. Steelseries Sensei 310
The best ambidextrous gaming mouse
CPI: 12,000 | Sensor: Optical | Interface: USB | Buttons: 8 | Ergonomic: Ambidextrous | Weight: 92.1 g (0.20 lbs)
Very light at 92 grams
Great shape with improved grips and materials
May be too small and light for those with larger hands
The updated version of this Steelseries mainstay, the Sensei 310, subtly reinvented a classic mouse. It needed it. Almost everything is new except the Sensei's ambidextrous shape, and that's exactly how it should be. Thanks to a new plastic, the Sensei is grippier and can shrug off a sweaty palm. And Steelseries is using its own custom version of one of the best gaming sensors around, ensuring the Sensei 310 won't suffer from any tracking issues.
The Sensei 310 fits in your hand just like the old Sensei, and is a great shape for either left- or right-handed gamers looking for a midsized ambidextrous mouse. That means it has a pair of identical thumb buttons on the left and the right, a common issue for ambidextrous mice—it can be far too easy to accidentally click the wrong side's buttons as you grip with your pinky. In my hours of testing the Sensei 310, that hasn't happened once. The size and shape of the thumb buttons has been tweaked, making it easy to rock your thumb upwards to press them but keeping them out of the way of accidental pinky clicks. Anyone looking for a small, light, or ambidextrous mouse: this should be your first stop.
8. Logitech G502
The best heavy gaming mouse
CPI: 12,000 | Sensor: Optical | Interface: USB | Buttons: 11 | Ergonomic: Right handed | Weight: 121 g (0.26 lbs)
Most accurate gaming mouse sensor on the market
Adjustable weight
Some buttons can be hard to press in the heat of battle
The Logitech G502 Hero is a 121 gram monster (that's with its weights removed, and not counting the cable), slightly longer than the Deathadder, and built to look vaguely like some kind of futuristic weapon. It's an update of Logitech's classic MX 518 and G500 mice, with Logiteceh's newest top-of-the-line 16,000 CPI sensor. It's a cozy palm grip shape that's stood the test of time, and it has some real premium build quality touches like its weighted metal scroll wheel, which has a super satisfying notched scroll and an option to switch to a free-spinning mode.
Due to the design and placement of its buttons, and its size and heavy weight, the G502 isn't as great an all-around mouse as the Deathadder. A couple buttons by the left-click are a bit awkwardly placed and prone to occasional mis-clicks. But for gamers who love a heavy mouse, the Logitech G502 Hero is the mouse to get. It's a recent update of a model that's been hugely popular for Logitech for years with the new Hero sensor. The older model, the Proteus Spectrum, is being phased out. But if you can find it, it's still a great mouse at a cheaper price.
Read the full review: Logitech G502
9. Logitech MX Vertical
The best ergonomic mouse for gaming
CPI: 4,000 | Sensor: Laser | Interface: Wireless or USB | Buttons: 4 | Ergonomic: Vertical, Right handed | Weight: 135.5 g (0.30 lbs)
Extremely comfortable, fully ergonomic
Works wired through USB-C or wirelessly
Great battery life when wireless
Modest CPI compared to traditional gaming mice
Comfort is one of the most important factors in choosing any mouse, gaming or otherwise, and the Logitech MX Vertical is best-in-class. It's ergonomic design allows you to comfortably rest your hand in a neutral position, meaning you'll experience virtually no strain, even across marathon sessions. It's top CPI setting (4,000) doesn't compete with some of the other gaming mice on this list, but it's still extremely precise, with an excellent laser sensor that provides all the precision you're ever likely to need. You can also unplug it from your machine and run it wirelessly with virtually no input lag, and it's got a killer battery life - just three minutes of charging time will net around an entire day of use.
If you're a strategy gamer or anyone for whom CPI running into the 10,000+ range is a necessity, the MX Vertical is an awesome mouse that feels like a luxury. And its unique form factor is eye-catching and pleasantly curved, without relying on RGB gimmick lighting for its aesthetic appeal.
10. Logitech G Pro Wireless
The best wireless gaming mouse
CPI: 16,000 | Sensor: Optical HERO 16K | Battery: 40+ hours rechargeable | Interface: USB | Buttons: 8 | Ergonomic: Ambidextrous | Weight: 81 g (0.18 lbs)
Swappable components
Excellent design
Extremely light
Pricey
The G Pro Wireless is peerless when it comes to cord-free pointers, packing Logitech's excellent 16,000 CPI HERO sensor and the kind of latency-free experience you'd expect from a wired mouse. Sitting just over the 80g weight mark, it's incredibly light, but unlike some lighter mouse, doesn't feel cheap or disposable. Instead, it's crafted of high quality materials and exhibits performance to match. Logitech designed every component in the G Pro Wireless to be as light and durable as possible, including shaving down the thickness of the chassis' side walls without sacrificing composition or density. Judging from the multiple hard tumbles the G Pro has survived from my desk, it's a very sturdy piece of kit.
It also boasts a length 40 hours of battery life and is customizable, with buttons on the side panels that can be removed and traded out for smooth inserts, if that's your preference. You could also pair the G Pro with Logitech's Powerplay charging mat and never worry about running out of juice again. The only real downside is the price tag: at a $150 MSRP, the G Pro isn't cheap, but it's able to fully justify its price tag.
Testing gaming mice
I've used enough gaming mice to have a good feel for build quality, button placement, and shape. My opinions on those aspects of mouse design are naturally subjective, but they're also well-informed. The tricky part of testing gaming mice is analyzing the other part of the equation: tracking performance, jitter, angle snapping, acceleration, and perfect control speed, and determining how each of those issues affect the experience of using a mouse.
What do all those terms mean? If you're deeply interested in the intricacies of gaming mice, you can read this amazingly thorough guide on Overclock.net. But here are some basic definitions that will help you understand why each of these terms are important issues.
Grip refers to how you hold the mouse. The most common grips are palm, claw, and fingertip. Here's a good example of how each grip works.
CPI stands for counts per inch, or how many times the mouse sensor will read its tracking surface, aka your mousepad, for every inch it's moved. This is commonly referred to as DPI, but CPI is a more accurate term. The lower the CPI, the further you have to move the mouse to move the cursor on screen.
Jitter refers to an inaccuracy in a mouse sensor reading the surface it's tracking. Jitter often occurs at higher mouse movement speeds or higher CPIs. Jitter can make your cursor jump erratically, and even slight jitter could wreck a shot in an FPS or make you misclick on a unit in an RTS.
Angle snapping, also called prediction, takes data from a mouse sensor and modifies the output with the goal of creating smoother movements. For example, if you try to draw a horizontal line with your mouse, it won't be perfect—you'll make some subtle curves in the line, especially at higher sensitivities. Angle snapping smooths out those curves and gives you a straight line instead. This is generally bad because it means your cursor movements won't match your hand's movements 1:1, and angle snapping isn't going to be useful in most games. Thankfully, almost all gaming mice have angle snapping disabled by default.
Acceleration is probably the most reviled, most scrutinized issue with gaming mouse sensors. When a mouse sensor exhibits acceleration, that means that your cursor will move faster the faster you move the mouse; this is often considered bad, because it means moving the mouse slowly six inches across a mousepad will move the cursor a different distance than moving the mouse rapidly the same distance. This introduces variability that can be hard to predict.
Perfect control speed, or malfunction rate, refers to the speed at which the mouse can be moved while still tracking accurately. Most gaming mice will track extremely accurately when moved at slow speeds, but low CPI players will often move their mice large distances across the mousepads at very high speeds. At high speeds, and especially at high CPIs, not all mouse sensors are able to retain their tracking accuracy. The point at which the sensors stops tracking accurately will differ between CPI levels.
Lift-off distance is still a popular metric in mouse enthusiast circles, though it's not one that affects most gamers. LOD refers to the height a mouse has to be raised before the sensor stops tracking its surface. Some gamers prefer a mouse with a very low lift-off distance because they play at a very low sensitivity, and often have to lift their mouse off the pad to "reset" it in a position where they can continue swiping. With a low LOD, the cursor isn't going to be moved erratically when the mouse is lifted up.
I used a piece of software called MouseTester to see if I could spot any glaring issues with the mice I used. In every gaming mouse I tested, though, angle snapping and acceleration were disabled in the mouse drivers by default (though a mouse can still exhibit acceleration that comes from issues with the sensor itself) and I never encountered any glaring performance issues.
Like in audiophile circles, there's a small group of people who can notice and care deeply about the most minute differences in mouse sensors. But for most gamers, including myself, the differences are hard to pick up on in everyday gaming. I'm more concerned with the design of the mouse, the placement and quality of its buttons and its driver software, as long as jitter and acceleration don't crop up in my FPS and MOBA matches.
Some online stores give us a small cut if you buy something through one of our links. Read our affiliate policy for more info.