Puzzle games
Portal 1 + 2
Released: 2007/2011 | Developer: Valve | Steam
Portal would be great if it only had inventive puzzles. It would be great if it only had clever writing. Somehow Valve managed to pack both into an unmissable, unforgettable experience that messes with your head in more ways than one. Its titular mechanic teaches you to think differently by letting you instantaneously create paths to almost everywhere, and its underlying story, at once grim and gut-bustingly funny, is constantly egging you on.
Portal 2, meanwhile, delivers more of everything that made Portal great, and a peerless co-op mode besides. Portal 2's world is bigger and its puzzles are more complex, and it doesn't sacrifice any of the series' sinister, sassy humor to pull them off. But the sequel's true triumph is that it invites you to play with a friend—not through some tacked-on bonus levels, but through a handcrafted co-op campaign so good it makes the stellar singleplayer feel like a prelude.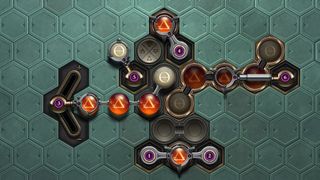 Opus Magnum
Released: 2017 | Developer: Zachtronics | Humble Store, Steam | Our review
The challenge of Opus Magnum isn't just to figure out how to solve each puzzle, but how to solve it the best way. With programmable robot arms you'll build alchemy machines that are more or less efficient at the transmutation task put before you, and there's an amazing number of ways to succeed—simple parts and simple instructions can produce some not-so-simple machines. If it grabs you, Opus Magnum doesn't let you go easily.
Gorogoa
Released: 2018 | Developer: Buried Signal | GOG, Steam | Our review
The gorgeous, hand-drawn Gorogoa is one of our favorite recent puzzle games. The premise is simple: arrange illustrated tiles "in imaginative ways" to solve puzzles. The complexity, and the feat of its creation, is in how those tiles interlock with impeccable elegance. As Pip said in our review: "Chunks of interiors and exteriors match perfectly without seeming out of place in either of their respective scenes, an image in a thought bubble lines up with a balcony scene, a star in the sky is positioned perfectly so that it peeps through the gap in an overlaid tile and becomes the light from a lamp." It's best to see it in motion, so check out the trailer here.
Lumines Remastered
Released: 2018 | Developer: Resonair | Steam | Our review
The classic musical puzzle game, which was first released on the PSP, returns in top shape and is still great after 15 years. The new version is far superior to the original PC port, and the remastered music is fabulous. Lumines doesn't translate perfectly to PC—it's one of those games that feels like it was meant for handheld devices—but if you missed it the first time around, take any opportunity to play it.
Great stories
What Remains of Edith Finch
Released: 2017 | Developer: Giant Sparrow | GOG, Steam | Our review
Explore the curious home of a doomed family in this surprising and varied narrative game, which at first feels like a familiar walking simulator but then transforms into something else. Each member of the Finch family has a story to tell about what became of them, and each tale is presented in almost a minigame-like way—some of these chapters are thrilling, most of them are quietly devastating, and you should play this game without having a single one spoiled. You deserve to discover the secrets of this mysterious house for yourself if you haven't already. More than deserving of our GOTY award for Best Story in 2017.
Life is Strange
Released: 2015 | Developer: Dontnod | Humble Store, Steam | Our review
You could argue most videogame stories are Young Adult fiction, but Life is Strange is actually like the kind of story in the YA section of your local bookstore. It's about teenagers, small towns with secrets, and coming to terms with adult responsibilities through the metaphor of being able to rewind time. It's Twin Peaks for teens.
Life is Strange benefited from being released episodically, able to adapt to what players enjoyed about the early chapters and then focus on those elements later. That means you have to give it an episode and a half to get going, and the finale's divisive too, but in the middle it's as affecting an emotional rollercoaster as anything that's about to be turned into a movie and make someone very rich.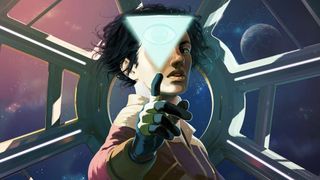 More great stories
Tacoma
Released: 2017 | Developer: Fullbright | Humble Store, Steam | Our review
Calling a game a 'walking simulator' was probably meant to be pejorative, but I can't think of a better description of what games like Tacoma and Gone Home—and developer Fullbright—do better than any other game: build a world I want to walk around in, explore, and learn to love. In Tacoma, the player walks into an abandoned space station and a mystery. Exploring this detailed setting feels like spending time in a real place, and hours spent there make the departed crew intimately familiar. I saw dozens of tiny stories, comedies and dramas, unfold as I watched the crew through VR recordings and dug into their discarded belongings. If you want to see the future of storytelling, to experience characters and plot in a way that can't be duplicated in a book or a movie, go for walk in Tacoma.
Simulations and city builders
Euro Truck Simulator 2
Released: 2013 | Developer: SCS Software | Humble Store, Steam | Our review
A lot of players have the same story about Euro Truck Simulator 2. Lured in by curiosity, we try this ridiculous-looking game about driving trucks back and forth across a low-budget Europe. Then, hours later, we're flicking headlights up and down while driving through the night. It starts to rain somewhere outside Berlin, the sound adding percussion to whatever's playing on the central European radio station. We're hooked and don't even know why. Even on a different continent in American Truck Simulator it can have the same effect, proving that ordinary inspirations modeled well enough can make for extraordinary games.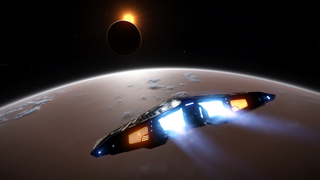 Elite Dangerous
Released: 2014 | Developer: Frontier Developments | Humble Store, Steam | Our review
Space, to borrow a phrase, is big. Really, really big. In Elite: Dangerous, players can become deep-space explorers spanning the entire Milky Way galaxy, or they can be asteroid miners whose entire world consists of two space rocks and the vacuum between them. Both are equally worthy ways to use your flight time in Elite, an open-world (open-galaxy?) space flight sim that masterfully gives players total freedom. At the high end, you can spend your time being everything from a space trucker to a bounty hunter, but newbies shouldn't overlook the simple joy of being a pilot, of the tactile way that flight skills grow and deepen over time. Anyone into sci-fi or flight sims owes it to themselves to spend time in an Elite cockpit—especially if they can do it in VR.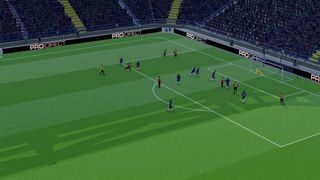 Football Manager 2018
Released: 2017 | Developer: Sports Interactive | Humble Store, Steam | Our review
Football Manager is the best football/soccer management simulation series on the market. With a haul of personable, sophisticated and story-generating features, FM 2018 is not only the most ambitious installment to date, but also the most well-rounded.
A new Dynamics system, for example, forces players to consider their team's well-being past the pitch and into the dressing room and beyond. Players can fall out with each other and also with you, the manager. This means success is no longer just about winning games, but also about keeping your squad happy behind-the-scenes. This attention to detail allows for some interesting, fun and circumstantial set pieces that directly reflect your management skills—or lack thereof. Fall out with your captain. Discipline your unruly youth team. Wind up out on your arse because the board sided with the players over you. Perhaps this scenario's exclusive to me. Hmph! I didn't want the job anyway.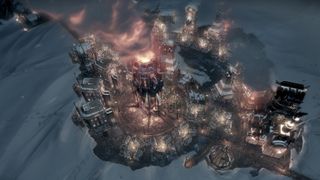 More sims and builders
Frostpunk
Released: 2018 | Developer: 11 Bit Studios | GOG, Humble Store, Steam | Our review
Part city-builder, part survival game, Frostpunk is about making difficult choices and dealing with the consequences. Trying to keep a handful of citizens alive in a perpetually frozen world isn't just about managing resources but managing hope, and to keep people working toward their future means convincing them there is one, often through brutal means.
Unlike most city-building games, Frostpunk isn't an open-ended experience: it takes place over a 45 day period, with narrative events occurring periodically that can throw a wrench in the gears of your city and society. It's a tense and grim experience where you can wind up regretting your finest moments or defending the harshest choices you made. What are you prepared to do to save lives, and what will the ultimate cost be?
Super Mega Baseball 2
Released: 2018 | Developer: Metalhead Software | Steam | Our review
With so few great sports games on PC, Super Mega Baseball 2 gets squished into our sims category for now—though with Madden finally coming back to PC this year, we may need to add a proper sports category. Super Mega Baseball 2 may look cartooney, but look beyond that, because as we said in our review, it's the "best on-field baseball sim on PC."
On the next page: MMOs, local multiplayer games, and platformers...