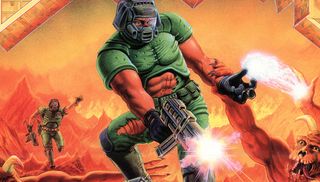 The best FPS games of all time
Before we knew what to name them, we called them "Doom clones." id Software's seminal work sparked a phenomenon when it began to circulate as shareware 20 years ago, and since then shooters have propagated through mods, experimentation, LAN parties, co-op, eSports, and big-budget masterpieces. Guns and enemies are their bread and butter, but we don't think of our favorite shooters as outlets for simulated violence. We celebrate the way they test our minds and mouse reflexes, the personal stories they generate, the captivating worlds they've founded, and the social spaces they provide for lighthearted bonding or hardcore competition.
Our Criteria
Whenever we sit down to make ourselves feel important by listing games, our first step is settling on what the heck "best" means. In this case, we're mostly concerned with identifying which shooters are fun now, today. Games—3D games especially—age. They're products of the technology they were built on, and sanctifying Starsiege: Tribes over its modern successor Tribes: Ascend, for example, doesn't help us help you figure out what games to play.
We value that more than the historical significance of a game, and doing so helps us build a list that recommends what's great today rather than publishing a popularity contest. But we don't ignore a game's impact completely—innovation and influence just has a lesser weight under our criteria.
We're also laser-focused on the things that make a shooter a shooter. We consider Fallout: New Vegas, System Shock 2, and Deus Ex to be must-play experiences, but do we celebrate them because they're great shooters, or because they're excellent story-driven games that happen to feature guns? Drawing these kinds of lines helps us provide a better service to you, we hope.
A note on affiliates: some of our stories, like this one, include affiliate links to stores like Amazon. These online stores share a small amount of revenue with us if you buy something through one of these links.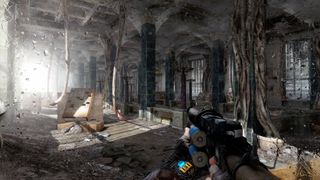 Metro 2033
Release date: 2010
Developer: 4A Games
Link: Amazon
In the Metro series, mankind survives in the tunnels beneath Moscow, having abandoned the nuclear-irradiated overworld, now infested with mutated creatures. The idea is that ammo is finite, that each stash is precious, and Metro walks an interesting line between survival horror and first-person shooter. The guns feel great, but it's the fiction around them, the commitment to such a bleak tone, and the gorgeous environments with just a few signs of human life that you'll remember Metro for. Now in a Redux version, it's never looked better.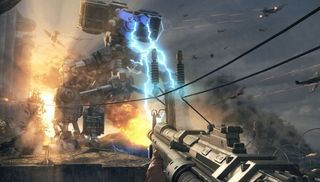 Wolfenstein: The New Order
Release date: 2014
Developer: MachineGames
Link: Amazon
This big, silly revival of Wolfenstein has inventive level design, a daft but entertaining story based on an alternate WWII history, and guns that feel amazing to fire. It also made dual-wielding an exciting idea for the first time in about a decade. You battle boilerplate robo-dogs, you fight Nazis on the Moon. The feel of the machine guns and shotguns is spot-on. The former Starbreeze leads who formed MachineGames reinterpreted Wolfenstein in a way that made it exciting and new both for the series' existing audience and for those gamers coming in fresh. This big, chunky shooter is so much more than just a retro pastiche, offering variety and production values you rarely get to enjoy in singleplayer games these days.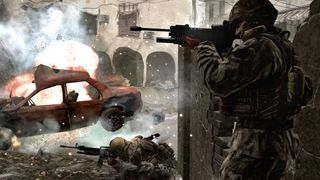 Call of Duty 4: Modern Warfare
Release date: 2007
Developer: Infinity Ward
Link: Amazon
Marking the start of the age of scripted shooters, CoD4's campaign is still a blast even if it isn't that interactive. It jumps between different playable characters in an escalating global conflict, from raiding an enemy ship in the prologue, to the unforgettable 'All Ghillied Up' flashback sequence. Modern Warfare still has a small active multiplayer base, too.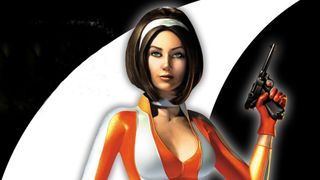 No One Lives Forever
Release Date: 2000
Developer: Monolith
Where many classics play better in our memories than on our modern PCs, No One Lives Forever holds up brilliantly today thanks to the garish '60s art direction, a fine arsenal (from a petite .38 Airweight with dum dum rounds to lipstick grenades and a briefcase missile launcher), as well as remarkably sophisticated AI. Monolith wraps it all up in endlessly inventive level design and writing so consistently hilarious that it created its own genre—the comedy FPS—and hasn't been outdone since.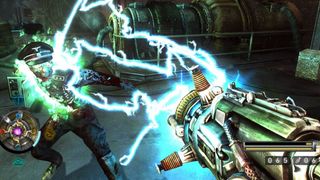 Wolfenstein
Release Date: 2009
Developer: Raven Software
This criminally under-appreciated reboot showcases Raven Software's strength for creating absurd sci-fi weapons and entertaining enemies for you to point them at. You'll inevitably use a Tesla Gun to arc lightning at skeleton-sorcerers (above) and Nazi dominatrices. The Third Reich's grunts are even better, tumbling, barking, and dismembering like stage actors playing to the back row of a theater—snipe a Nazi kneecap with an upgraded KAR 98 and watch him reach for where his foot used to be. The guns' particle effects and the damage they cause are both spectacularly over-the-top (read the nice things we have to say about the Particle Cannon on the next spread), embracing fun over seriousness. A well-designed hub town called Isenstadt acts as a Nazi-occupied playground between missions.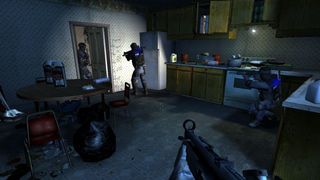 SWAT 4
Release Date: 2005
Developer: Irrational Games
Enemies aren't enemies in SWAT 4—they're suspects, and they're innocent until they try something stupid. Unlearning your instinct to shoot first is an initially uncomfortable but ultimately rewarding experience in SWAT 4 because it's one that demands playing deliberately—dealing with civilians commingled with bad guys takes coordination in a way that's comparable to Arma. That's doubly-true in SWAT's five-man co-op, where the mechanics for gathering information (like a fiber-optic camera), securing rooms, and breaking down doors come to life when paired with voice communication. SWAT 4 still isn't available digitally, but you can pick up a hard copy on Amazon for a measly $12.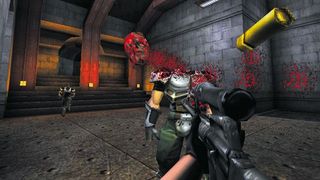 Unreal Tournament
Release Date: 1999
Developer: Epic Games
Among the concepts pioneered or refined by UT '99: secondary fire modes, asymmetrical attack and defend maps, bot AI with multiple skill levels, ricochet physics, low gravity, mode customization through "mutators" and other selectable settings. UT is endearingly American in the way it exaggerates—the superfluous secondary fire modes, automated taunts, a pistol that fires faster for some reason when you tilt it gangster-style and a gun that shoots radioactive yogurt. Arena shooters haven't retained their appeal this decade, but Instagib remains a mainstay at PC Gamer HQ, and we still love maps like Facing Worlds, Overlord, and Deck17.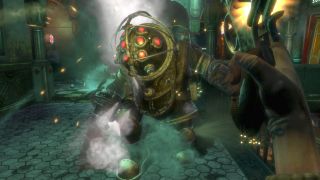 BioShock
Release Date: 2007
Developer: Irrational Games
Link: Amazon
Its greatest asset is its setting, and what Rapture provides from its ruined eden are enemies that are hysterical, tragic figures. One encounter with a Splicer or a Big Daddy can arc from curiosity, to sympathy, and then swing into full-on fear and violent panic. One of the best things Irrational does is imbue its monsters with terrifying sound design: the psychotic speech of Splicers, the fog horn drone and steel steps of the Big Daddies. The claustrophobia and anxiety Rapture throws at you gives you permission to fight recklessly, tooth-and-nail with powerful plasmids and upgraded shotguns as a way of getting revenge on the horrors that haunt you throughout BioShock.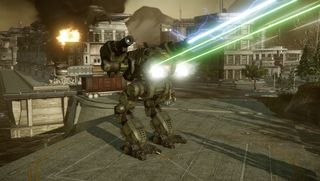 MechWarrior Online
Release Date: 2013
Developer: Piranha Games
Mechs are piñatas, and shooting them is a pleasant process of eroding armor, limbs, and weapons—modular damage is one of the things that distinguishes MechWarrior most from conventional shooters. Even in MWO's incomplete, beta form, Piranha Games has shown how well it understands what's mechanically compelling about mechs. The customization garage is a context for engineering problems: how do you cram the weapons and subsystems you want into a 50-ton Hunchback without compromising on durability and speed? MWO rewards marksmanship, a tactical mind, and physical awareness.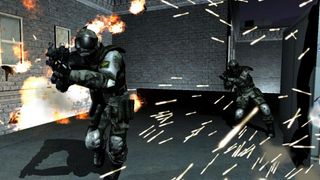 F.E.A.R.
Release Date: 2005
Developer: Monolith
Link: Amazon
F.E.A.R.'s supernatural encounters are somewhat segregated from its shootouts. One moment you're a time-slowing, slide-kicking SWAT superman, the next corridor you're peeing your pants because an eight-year-old ghost is lurking in your hallway. That pacing empowers and scares you, a feat for games that combine action and horror. The creepiness that permeates everything works with F.E.A.R.'s outstanding weapon design, clever enemy pathfinding, and dimly-lit offices that are simultaneously unsettling and cathartic to blow apart in slow motion.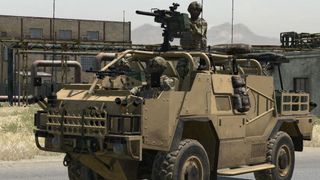 Arma 2: Combined Operations
Release Date: 2009
Developer: Bohemia Interactive
A platform for teamwork wrapped around high-fidelity simulation. Arma has the utmost respect for your ideas, and the self-authored war stories that arise from its open-ended systems and miles-wide sandbox are why we continue to evangelize it. It's one of the few games that actually lives up to marketing itself as a shooter where you can approach a tactical problem in twelve different ways. Modders continue to be its lifeblood, building anything they can: comprehensive sound packs, huge islands, serial killer scenarios, medical systems, realistic wind modeling, Star Wars vehicles, advanced radio systems that simulate distortion over range, and at least one groundbreaking zombie survival sim.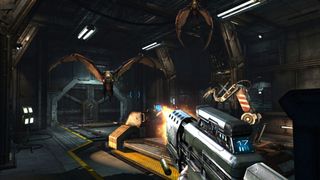 Natural Selection 2
Release Date: 2012
Developer: Unknown Worlds
Full of daring ideas and crammed with asymmetry. An alien team made up of wall-crawling, creep-spreading, wing-flapping, and rhino-sized monstrosities square up against turret-building, flame-throwing, body-armored marines. Both teams are captained by a commander who plays NS2 through an RTS lens, and the way this system frees grunts of the burden of thinking strategically is genius—in the hands of a good tactician, you feel liberated to focus on executing orders in NS2's mazey cooridors. Visually, it's top-notch: built on a custom engine that gives it a unique sheen, dripping with texture quality and gooey particle effects that convey the spore-based biology of the alien side.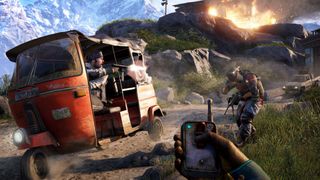 Far Cry 4
Release Date: 2014
Developer: Ubisoft Montreal
Link: Amazon
The other games in the Far Cry series have plenty to recommend them, but Far Cry 4 is the latest and best. It properly buys into the big and silly, letting you raid bases on elephant back, hang glide, and dangle from gyrocopters. It's the best use of the open-world formula that Ubisoft pretty much applies to all its big games. As a shooter, it's fantastic fun, but it's these extra tools, and how easy it is to find yourself thrown into an absurdly fun and chaotic set-piece, that make this one of the best FPS games around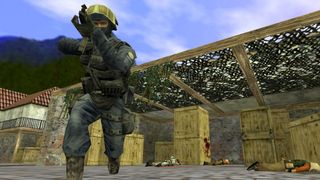 Counter-Strike
Release Date: 1999
Developer: Valve
Global Offensive has become our go-to version of the game, but the longevity of CS 1.6 is astounding. Against two better-looking iterations of itself, 1.6 is still the standard for most of the competitive community, though a portion is shifting over to CS:GO to compete for tournament money. The weapon balance and map design is what stands out most. CS pioneered the concept of precisely-timed jousts that occur at bottlenecks at the start of each round, and their implementation in Office, Inferno, Dust 2, Nuke and other timeless creates a set of expectations about positioning for players to plan around.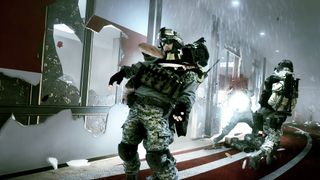 Battlefield 3
Release Date: 2011
Developer: EA DICE
Link: Amazon
Ignore the campaign, of course—the good in Battlefield 3 is in its traditional giant multiplayer battles, which are like carnivals full of skill games. At one booth, you pilot a wobbly toy helicopter while everyone else tries to shoot it down. At another, you darting around corners blasting pop-up targets. At yet another, you bop soldiers over the head with tank shells as they pop out of cover. Our favorite is the sniping booth, where you peer down a scope and lob bullets at ant-sized moving targets, watching as white hot stars arc, and arc, and—hold your breath—fwap. Big points for hit, but you'll spend most of your time aerating the dirt, so you get a consolation prize for helping your team by spotting. It's the most fun we've had sniping in a multiplayer shooter, with Arma 2 being a less-accessible exception.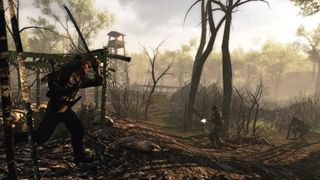 Rising Storm
Release Date: 2013
Developer: Tripwire Interactive
Rising Storm makes the act of putting bits of metal into men authentic with its fidelity, believable ballistics, and detailed damage modeling. It's the only shooter we've played that conveys war's ruthlessness, and as a result every kill feels earned through some combination of intuition, patience, and marksmanship. Tripwire's rendition of the Pacific includes a set of diverse, island, beach, and jungle maps that each produce gritty, hard-won battles for territory and facilitate a feeling of freedom in a 64-player-sized battlefield.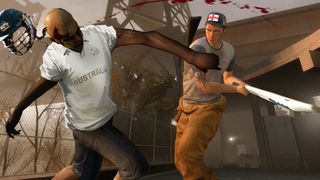 Left 4 Dead 2
Release Date: 2009
Developer: Valve
It's insane how much mod meat has grown around the bones of Valve's co-op shooter. Four years in, L4D2 remains an overflowing fountain of free content. Forget the stock characters: download skins and play as The Joker, Princess Zelda, and a bipedal velociraptor. Skip Valve's campaigns: fight zombies in Helm's Deep, in a meticulous 12-map recreation of Silent Hill, or as you and your survivormates try to build and launch a rocket. With the introduction of new custom scripting tools in February we don't expect to go hungry for campaigns and add-ons anytime soon.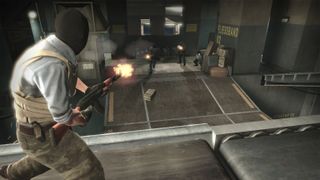 Counter-Strike: Global Offensive
Release Date: 2012
Developer: Valve / Hidden Path Entertainment
The grandchild game has fully replaced CS' parents at PC Gamer. 1,500 maps have been created by the community since GO added Steam Workshop support in February, and we've been playing non-stop since then. Those maps, and GO's willingness to bend CS' sacred aspects (like adding a set of stairs beneath the underpass on de_dust, or making a wider set of the weapons viable) have reinvigorated our interest in CS.
Updated shaders, animations, and player models provided a face-lift to Counter-Strike: Source, and the new guns (especially the magazine-fed MAG-7 shotgun) have grown on us. At some point, Demolition mode became our favorite way to play GO—its five-on-five, best-of-20-rounds format inside compact maps turns it into a concentrated, casually-competitive form of CS.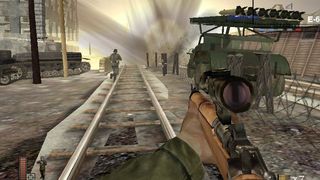 Battlefield 1942
Release Date: 2002
Developer: DICE
Capturing one base or scoring one fantastic kill is enough satisfaction for an entire Battlefield 1942 match, because it's not about your kill/death ratio, or even winning. It's about the little tactical victories and failures—when a plan works or bombs—and the absurd war stories they create. It's a simulation of the battles had by model airplanes and plastic soldiers on bedroom floors, a place where it's OK to play hide-and-seek in bunkers, drive jeeps into tanks, or lie prone on the wing of a flying A6M Zero, fall into the ocean, and spend the rest of the match swimming because suicide would ruin the fun.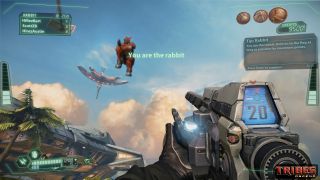 Tribes: Ascend
Release Date: 2012
Developer: Hi-Rez Studios
Hi-Rez's free-to-play reinterpretation retains Tribes' reverence for player movement, and along with it the hair-raising hole-in-one shots that happen when everyone's equipped with splash damage weapons and jetpacks. Threading a spinfusor disc into an enemy feels like playing frisbee on parallel bullet trains, and flicking a Fusion Mortar into a fleeing flag carrier base is the closest thing to nailing a half-court shot at the buzzer that a game has ever produced. Fluid, fast, free, and inspiringly uncompromising in its intention to be a skill-driven shooter.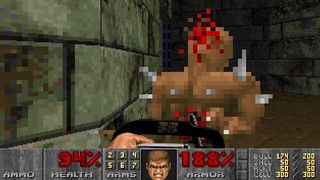 Doom
Release Date: 1999
Developer: id Software
Wolfenstein 3D preceded it by a year, but Doom is in the DNA of everything here. It's the progenitor of moving, aiming, and shooting things that hate your health bar in a 3D environment. Hunting for access cards and thumbing walls with spacebar doesn't have the appeal today that it did in 1993, but Carmack's technical feats (like creating height differences in a 3D environment, a totally new concept at the time) and well-animated sprites help Doom hold up as an agile, colorful, essential shooter that happens to be the foundation for every other game here.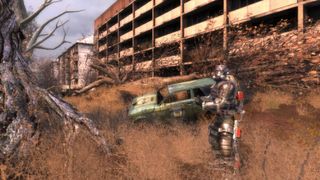 S.T.A.L.K.E.R.: Call of Pripyat
Release Date: 2010
Developer: GSC Game World
Link: Amazon
What's most refreshing about Pripyat is how much trust it puts in you to figure out its brutal setting yourself. In The Zone, standing next to the wrong pond might be all it takes to kill you--it's the genre's capital city of death, populated with zombies that carry guns, invisible humanoid Cthulhus, and horrifying walls of energy that have emanate "nope" in a mile-wide radius. It's a game blissfully low of exposition and hand-holding, making each time you escape alive feel earned. GSC's compromises between realism and playability are smart, and excellent ballistics modeling and tracer effects bullet make for gritty firefights. It only improves with mods.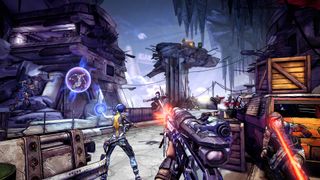 Borderlands 2
Release Date: 2012
Developer: Gearbox Studios
Link: Amazon
With the ideas that drove its predecessor validated by strong sales, Gearbox had the resources to pour production value into the second coming of its silly, more-is-more approach to a grindy FPS. Yes, there are a hojillion guns, but we're more enamored with the way BL2 embraces its colorful, sci-fi setting to create unconventional enemy designs. Bandits scream, limp, kamikaze, and sputter last words. The Goliath subverts your years of training, counter-intuitively going into Hulk mode when you headshot it. Mutated pests swoop, leap, burrow, and shield their vulnerable spots. Polished, playful, and our favorite antidote to military shooters that take themselves too seriously.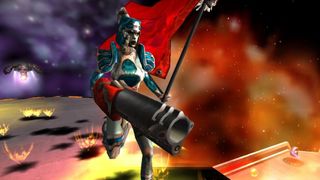 Quake III
Release Date: 1999
Developer: id Software
The Formula 1 of FPS, Quake III's athleticism and minimalism separate it from other shooters. Tribes' player movement might be faster in units per second, but Quake doesn't spread its speed over miles of terrain. The tight arenas flow in a way that demands constant dexterity. You can feel your brain firing as you sprint between weapon and armor pickups, anticipate which route your rival will take, and time a perfect pass over the quad-damage power-up to grab it just as it refreshes.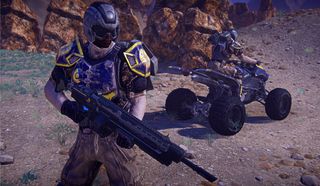 PlanetSide 2
Release Date: 2012
Developer: Sony Online Entertainment
Audacious. Sony Online built a multi-continental world wide enough for thousands of players on three factions to fight in the air, on the ground, and inside bases, and released it for free. To do all that without totally diluting the ingredients that make large multiplayer shooters work (responsive hit detection, squad commanding, vehicle dynamics) is technical sorcery.
Your first hours inside PS2 expand your understanding of what's possible on PC. How are there that many tanks on screen? How is the server handling a dozen firefights across a six different bases? How do the particle effects look this good? What's most impressive is the way individual heroics co-exist so comfortably alongside the massive, never-ending territory battles in canyons, snow, and savannah. The glory you get from assigning yourself a goal—harassing a tank column from the sky, going full Alamo with your friends to defend a Tech Plant, C4ing a valuable Sunderer spawn point, taxiing your friends in a Galaxy—and seeing it through is precious. PlanetSide 2 trusts its players to create their own fun.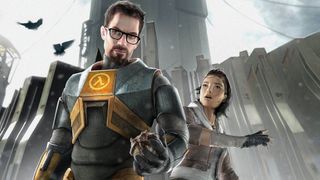 Half-Life 2
Release Date: 2004
Developer: Valve
A decade later, Valve's best single-player game is still the standard for how action and storytelling are paced in first-person. Without burdening the player with interface or resorting to anything that disconnects your eyes from Gordon's glasses, HL2 unravels effortlessly between compelling combat and sci-fi that's grounded in relatable characters. As a shooter its guns hold up well—the plasticy pop of the basic pistol, the hollow clink and three-two-one fuse of the spraycan-shaped grenades, scavenging for sawblades to feed the Gravity Gun.
Episode Two's climax sits with Mass Effect 2 as one of the most exciting gameplay-driven finales ever. And at the game's outset, we admire the way Valve introduces HL2 by building up your resentment for the game's bad guys. You're put face-to-face with the Combine without any way to defend yourself, and getting acquainted with their cruelty provides a surplus of motivation for the hours that follow.
It isn't ageless: the loading screens that bookend level areas are a drag, and vehicles and the Source engine still don't get along perfectly, but otherwise Gordon's heroics stand as PC gaming's most essential, original, and influential single-player shooter.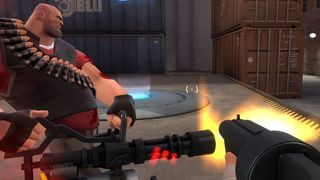 Team Fortress 2
Release Date: 2007
Developer: Valve
It launched with six maps, four game types, and 26 weapons divvied up between nine classes. 358 patches later, Team Fortress 2 wouldn't recognize its former self in the mirror. Its official map list has ballooned to dozens, drawing on endless community talent. It has a cooperative, wave-based horde mode against robotic doppelgangers. The Scout can quadruple jump, and the Demoman can now be specced into a lunging, medieval melee fighter. Each Halloween has introduced a monstrous boss NPC that opposing teams can beat up on for achievements or loot. Weapons are craftable, paintable, tradable, smeltable, giftable. Rockwellian, stylized helps it ignore its years of age.
TF2 continues to be Valve's go-to guinea pig for experimentation, and through years of surgeries it's charted new technical and creative territory by appending everything from a video highlight system, to a free-to-play business model, to in-game contests and player-created item creation (with profit sharing) to TF2's skeleton. It's a miracle the game not only survived those operations, but stitched most of them in so elegantly that we now consider features like trading and holiday events as inseparable aspects of TF2's identity. More miraculously, it's remained a shooter that can be played competitively and casually with equal appeal—in online leagues, at a LAN with a clan, with a beer, or cooperatively in Mann vs. Machine mode. It's an unbelievable achievement for a shooter to be so inclusive, versatile, and retain a high skill ceiling over six years.
Multiplayer games aren't known for their character development, but a portion of TF2's longevity is owed to the ridiculous lore Valve has built up around its nine classes. Merasmus, the sorcerer boss that invaded the 2012 Halloween event, is the Soldier's ex-roommate. A series of comics explain why the red and blue-colored mercenaries you play as are fighting one another. Lightheartedness permeates everything, and the humor does nothing to undermine the the meaning of scoring an air-shot with the Soldier's rocket launcher or chain-stabbing your way through half the enemy team as a Spy. The best maps, like pl_badwater, cp_gorge, and cp_granary, have a beginning, middle, and end, and are balanced despite their size and the amount of different classes and weapons they have to accommodate.
Judged on its perfect balance between accessibility and skill, its longevity, inventive mechanics, visual design, and the absurd amount of content baked into it, we'd recommend TF2 to a friend before any other shooter. It's had a rich, surprising history, and we fully expect to be playing it until the Sun runs out of hydrogen.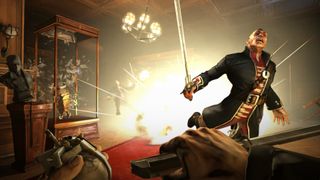 Dishonored
Release date: 2012
Developer: Arkane Studios
Link: Amazon
#You might have played Dishonored purely as a stealth game, just as prod ed Tony Ellis did, denying yourself access to its firearms because you decided it's the most credible way to play. The thing is, firing a gun in Dishonored feels really good. The armoury consists of antiquated weapons that feel very satisfying to fire and fit the design aesthetic of the world. Also, they're nice and loud, with pleasing reaction animations from enemies during battle, particularly when you blink up to a Tallboy and open fire. For a game that ultimately punishes you for chaos and killing in various ways, they do make the idea of murdering absolutely everyone incredibly tempting.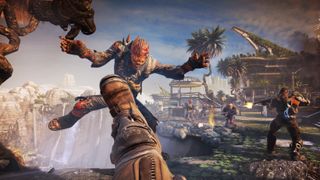 Bulletstorm
Release date: 2011
Developer: People Can Fly, Epic Games
Link: Amazon
Bulletstorm is an incredibly well-made score attack shooter that's a little different to everything else on the list. The energy leash, the ability to kick enemies and the fast player movement give you plenty of scope to put together cool, flashy combos and to use your armoury creatively. The sweary, deliberately immature script, put together by comic book writer Rick Remender, matches the over-the-top action perfectly. The only downside is it's still locked behind the infernal Games For Windows Live, and getting it to work at all is an absolute pain in the arse – it could really do with an update or two.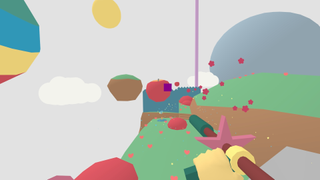 Lovely Planet
Release date: 2014
Developer: QUICKTEQUILA
With a name like Lovely Planet, you may be surprised to learn this isn't a game where you pull off headshots or yank out crossbow bolts from corpses. Because that would be lovely. This is, instead, a shooter where precision matters above everything else, where memorising the maps is all but essential. You have to kill every enemy in every level and navigate through obstacle courses of potential environmental mishaps, and you have to do this across 100 levels. Thanks in part to an unconventional but pretty art style, there's nothing else quite like Lovely Planet on PC.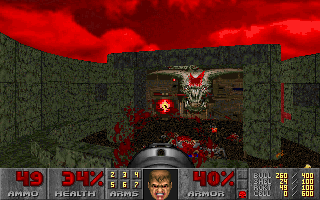 Doom 2
Release date: 1994
Developer: id Software
Classic Doom feels great. Its movement is fast, but not uncontrollable. Its levels are complex, but not confusing. Its enemies are demonic, but not so tough as to be unaffected by a couple of shotgun blasts. And it's been further elevated by its modding community. More than 20 years later, they're still going strong. You'll find new weapons, new campaigns and total conversions that let you be everything from a pirate to a cartoon square.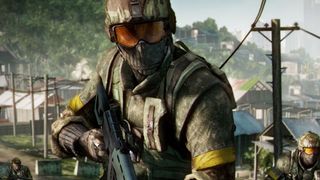 Battlefield: Bad Company 2
Release date: 2010
Developer: DICE
There's a reason this one felt more explosive than its Battlefield successors. It's the setting. By avoiding commercial urban environments, Bad Company 2's smaller, less essential buildings were at the mercy of the Frostbite engine's destructive capabilities. Houses would creak and moan, then collapse in a beautiful moment of panic and chaos. It's best played in Rush mode, which has maps that elegantly funnel players through a gauntlet of destructible chokepoints. Great sound design, too.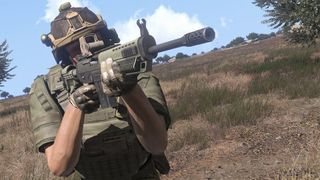 Arma 3
Arma 3 is about scale and detail together: it's not just a snapshot of a battle, it's the whole thing. It's the realistic reloading, the helicopters that almost require real-life helicopter pilots to control them, and the damage you sustain from taking an enemy shot. No other firstperson shooter offers what Arma does, with the same high production values. And as Bohemia gradually builds on the base game with more environments – Tanoa, 100 square kilometres of jungle landscape, is arriving next year as DLC – it becomes a fuller simulation of war.