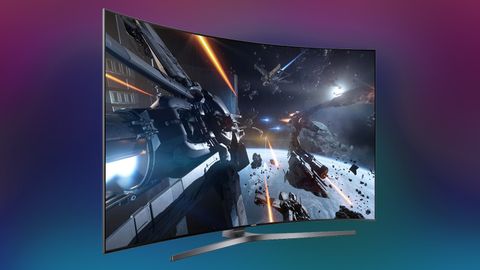 Best TV for gaming
Big screens for big games.
Gaming is going through the biggest period of technological upheaval we've ever seen. Ultra High Definition (UHD) resolution, high dynamic range and wide color technologies are all looming large on both PCs and consoles - and we've already seen enough evidence of all three in action to have no doubt that their arrival is going to take our gaming experiences to a whole new level. Provided, that is, you've got a screen capable of doing all this juicy new tech justice.
For the vast majority of us, this will mean buying a new TV. Which probably sounds like fun until you start to realize just how many different screen technologies and specifications there are out there that you'll need to wade through before you finally decide which set to buy.
With this in mind, we've donned our hard hats and lab coats on your behalf to unearth our three ultimate 2016 gaming TVs: one budget solution, one mid-ranger and one truly premium beast for those lucky gamers who frankly earn way more than we do.
After thoroughly playing through a plethora of TVs, we've determined three that we think are the best options for all budgets.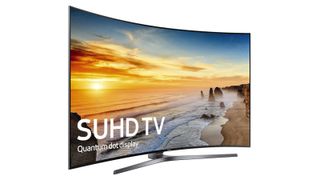 The best high-end TV for gaming
UHD resolution
Curved screen
HDR support
Excellent color and contrast ratio
Can sometimes produce color halos with HDR mode
Premium display at a premium price
No TVs go further to unlock the full potential of all the latest picture technologies than Samsung's KS9800 series.
Particularly eye-catching is their ground-breaking brightness. They're capable of hitting a peak light output of 1400 nits, which is by miles the highest such figure the TV world has seen to date. This lets them do a uniquely stunning job of maximizing the impact high dynamic range (HDR) technology - with its greatly expanded brightness range - brings to the table.
The KS9800s also combine their ground breaking HDR brightness with exceptional dark colors for an LCD TV, thanks to a premium lighting system that places clusters of LEDs directly behind the screen capable of outputting different light levels to each of their neighbors.
When it comes to the new color systems games are preparing to employ, the KS9800s employ advanced Quantum Dot technology to produce one of the widest color spectrums of any TV.
As if all this wasn't enough already, the KS9800s also deliver arguably the sharpest Ultra HD pictures around, regardless of whether you're watching native UHD games/video or HD content up-converted to the TV's UHD resolution.
The KS9800s even carry a uniquely effective 'HDR+' system for converting standard dynamic range games of the sort most of us are playing now into high dynamic range - albeit at the expense of increased input lag (the time it takes the screen to produce images received from your PC or console).
Skip the HDR+ system, though, and the KS9800s suffer with only 25ms of input lag - an outstandingly low figure by TV standards.
The KS9800s even manage to partner their next-generation visuals with one of the most powerful, detailed and involving sound performances the TV world currently has to offer.
The KS9800s are not perfect. When showing HDR they can produce unwanted light halos around bright objects that appear against dark backdrops. HDR content can also show signs of color striping unless you manually set the TVs' Dynamic Contrast feature to its 'high' level.
The bottom line, though, is that once you've experienced UHD HDR gaming on a KS9800, everything else just looks a bit dull.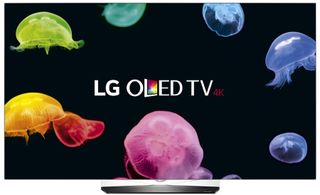 The best midrange TV for gaming
OLED technology is the future
Amazing black levels
Punchy colors
Not nearly as bright as our high-end pick
50ms lag with HDR mode on
30ms passable but not astonishing
Among serious AV fans the OLED screens used inside LG's OLEDB6 series are about as close to legendary as any TV technology is likely to get.
The simple reason for this is that unlike LCD TVs, which share external lighting across whole swathes of pixels, each pixel in an OLED screen can produce its own light and color independently of its nearest neighbors. Not surprisingly this has a profound impact on contrast, as pitch black pixels can sit right alongside bright white ones without either impinging on the other.
The same pixel-level control also helps with the delivery of subtle details in dark scenes versus LCD TVs—a key benefit for survival horror games if nothing else—as well as avoiding the problems LCD TVs routinely have with distracting backlight clouds, halos and stripes. At least when playing HDR.
The precise OLED light handling helps the OLEDB6 models get plenty of detail and clarity from their native Ultra HD resolutions too, while colors look spectacularly intense and vibrant - especially as they're able to appear against a foundation of those unprecedentedly inky black colors.
The OLEDB6 TVs also suffer with only around 30ms of input lag with most sources, though this does sneak up to around 50ms when you're using its HDR picture modes.
While the OLEDB6 series often produce pictures that look peerlessly good, though, they're less than half as bright as Samsung's KS9800 series, meaning bright HDR game sequences and film scenes, at least, don't look as dynamic and punchy as they do on Samsung's flagship sets. The relative shortness of brightness means you lose some detail in the brightest parts of the picture too.
The OLEDB6 also suffers a little with judder if you don't use its motion processing, but increased input lag and some unwanted processing issues if you do. Finally, while its OLED nature means it enjoys an incredibly ultra-thin design, that design doesn't leave much room for powerful speakers, leaving it sounding a little weedy versus the best-sounding flat TVs.
You can always add a separate sound system if you feel the need, though, and although the OLEDB6 series' pictures aren't perfect, there are many (especially non-HDR) gaming and movie moments where they get pretty darned close.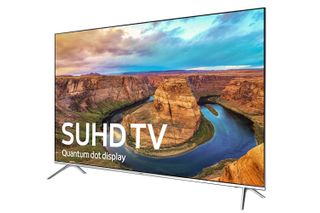 The best entry TV for gaming
VA LCD panel produces good contrast
Good prices for size options
22ms lag time
HDR support
Colors not as good as OLED or Samsung's own KS9800 series
Edge-lit LED panel instead of array-lit impacts black levels
In an ideal world we wouldn't have come back to Samsung for a second time in this selection of our three favorite gaming TVs. Unfortunately, though, with every other big name brand out there choosing to include some poor-contrast IPS LCD panels in their more affordable ranges, Samsung—which only uses more contrast-rich VA-type panels—is the only safe place to turn when you're looking for a reasonably priced gaming TV.
That's not to say, though, that VA panels and affordable prices are the only things the KS8000 TVs have going for them. They also enjoy native Ultra HD resolutions, and despite their aggressive pricing they still support high dynamic range and wide color spectrum technologies.
In fact, uniquely for their price point, the KS8000 TVs support HDR with enough brightness, contrast and color range to satisfy the AV industry's 'Ultra HD Premium' specification recommendations for a genuinely high quality HDR experience. Watch a KS8000 running side by side against similarly priced rivals and its relative strengths in all the key picture areas is immediately and irresistibly obvious.
The KS8000 also excels where input lag is concerned, measuring less than 22ms when you activate its Game picture mode - a truly outstanding result for an Ultra HD television.
The KS8000 series' much more approachable price versus Samsung's KS9800 series does come with a few strings attached, though. Their pictures are clearly less bright than those of the KS9800s, colors look more muted, and black colors look less deep and natural.
The way the KS8000s use an edge LED lighting system rather than the KS9800s' direct LED one also means you sometimes see stripes of extraneous light around bright objects if they appear against dark backgrounds, and the KS8000s' sound quality is less powerful and involving than that of the KS9800s, too. But then what did you expect for the KS8000's price?
The only thing that really matters here is that the KS8000 TVs are both more forward-thinking and significantly better performers for both games and movies than any other TVs in their class.
Conclusion
If you want to game on a big screen, computer displays top out at 34-inches. That's not to say that at 34-inches it's not a big picture. But at 55-inches and up, our recommended TVs deliver a visceral impact like no computer display can.
Of course there are some caveats. You're not going to get super fast response times down to the sub 5ms range, and you're not going to get technologies like G-Sync and FreeSync. There's also the part where some of these TVs cost much more than a really good gaming display.
But what you do get is a huge picture. In some cases, like Samsung's KS9800 series, you can get a screen size up to 78-inches. That's mammoth any way you slice it. If you have the space for it, and want to get the same big impact in your games as you do with movies, then a TV is the way to go.
Topics