MMOs and online RPGs
World of Warcraft
Released: 2004 | Developer: Blizzard Entertainment | Official site | Our review
World of Warcraft might have a few grey hairs here and there, but it's still the undisputed king of MMOs. Set in the high-fantasy setting of the famous Warcraft real-time strategy games, World of Warcraft is the story of you, a hero who rises from lowly pawn to god-slaying badass as you strive to save your world from all manner of fiendish enemies. With 12 classes and 13 races to play as (and an ever-growing list of subraces), who and what your character will become is entirely up to you. And whether you want to play for two hours a month or two hours a night, there are a nearly unlimited number of places to explore, quests to complete, raids and dungeons to conquer, and items to craft. It's less of a videogame and more of a part-time hobby.
World of Warcraft's latest expansion, Battle for Azeroth, is a bit of a low-point for the series according to its most hardcore fans. That doesn't mean it's bad—the austere mountains of Kul Tiras and lush jungles of Zandalar are evocative and fun to explore—but it is disappointing because World of Warcraft's usually stellar endgame of dungeons and raids is hamstrung somewhat by its wonky gear system. Still, World of Warcraft is the jack-of-all-trades MMO that can satisfy nearly any kind of player. Whether you want competitive PvP battles, white-knuckle raids, or just a fun, colorful story to follow along with while you collect mounts, World of Warcraft delivers.
Warframe
Released: 2013| Developer: Digital Extremes | Steam | Our review
Set in a bizarre science-fiction universe full of esoteric secrets, Warframe sells itself on one amazing concept: You are a space ninja. And yes, it's as fun as it sounds. This free-to-play third-person shooter gleefully taps into the fantasy of being a gun-toting, sword-wielding killing machine through its versatile movement system. You'll air dash, wall run, and slide through levels with up to three teammates as you eviscerate hordes of android enemies in exchange for oodles of crafting resources.
But Warframe's true strength is just how complex it is. Each Warframe (a kind of suit of armor that you wear) plays like its own character class, complete with unique abilities that define its combat style. You might charge into packs headfirst as Rhino or silently assassinate your targets as Ivara. Hell, there's even a Warframe that lets you compose your own music using an in-game sequencer to inflict debuffs on enemies. Learning how to craft and equip these Warframes is a daunting task for new players, but those who endure will find a rich action RPG that can easily devour thousands of hours. What's more, Digital Extremes is constantly taking Warframe in bold new directions, like adding open world zones to explore with friends. It might not be an MMO in the traditional sense, but Warframe is every bit as massive.
Path of Exile
Released: 2013 | Developer: Grinding Gear Games | Steam | Our review
A free-to-play spiritual successor to the beloved Diablo 2, Path of Exile is a dauntingly complex action RPG that will make even the most zealous theorycrafter weep tears of joy. Behind that familiar loop of dungeon diving and looting are several dozen features that each feel like the Marianas trench of progression systems—they're that deep. Skill gems can be chained together to create practically limitless spell combos, while the passive skill tree has hundreds of nodes to choose from that each shape your character in their own small way. And then, of course, comes the gear, which is a whole separate school of learning that can take months to fully understand. Path of Exile is certainly daunting and it won't appeal to everyone.
It's good news then that it's also fun as hell. There's 10 acts to explore, each one touring you through desecrated temples or corrupted jungles full of the walking dead. It's a grim place to be, but the kinetic combat and enticing rewards make the journey worth it. Every few months, Grinding Gear Games rolls out a new temporary challenge league that introduces entirely new progression systems, cosmetics, and enemies but requires starting a new character. Normally that'd sound like a chore, but Path of Exile is so robust that starting fresh is just a chance to learn something new.
EVE Online
Released: 2003 | Developer: CCP Games | Official site | Our review
Brutal, uncompromising, and intimidating—there's a good chance that EVE Online's reputation precedes it. While its players will say that it's mostly hyperbole, there's no denying that EVE Online isn't an MMO for the faint of heart. But in return for a considerable investment of your time and energy, EVE Online achieves something remarkable: It feels alive.
The galaxy of New Eden is an ever-evolving virtual world full of merchants and pirates, mercenaries and warlords, and, yeah, the occasional spy. It's a thriving ecosystem grounded by a player-driven economy where players are encouraged to group together to achieve long term objectives like conquering territory or just becoming filthy, stinking rich. To participate, you'll need to contend with a hopelessly unintuitive user interface and familiarize yourself with a daunting number of systems. But it's worth it. The focus on player-driven experiences creates stories that just don't happen in any other kind of game, and being apart of those narratives is thrilling. It's an experience that is so absorbing, there's a good reason why EVE players joke that quitting for good is "winning at EVE Online."
Final Fantasy 14: A Realm Reborn
Released: 2014 | Developer: Square Enix | Steam | Our review
Final Fantasy 14 is a dream come true for Final Fantasy fans who don't mind the rigamarole that comes standard with MMOs. Set in the high fantasy world of Eorzea, you play as one of the series' iconic classes, like a black mage, and set out to help the locals defend themselves from constant invasions by the evil Garlean Empire. It's as generic a Final Fantasy story as they come, but FF14 lives up to the series legacy by populating the world with an endearing ensemble of characters that grow significantly over the course of its two expansions. If you like story-driven MMOs, Final Fantasy 14's sweeping epic is undoubtedly the best.
Square Enix doesn't try to reinvent the wheel when it comes to being an MMO, though. Final Fantasy 14 is formulaic in its progression and the equipment system is pretty bland. It is by no means boring, however. The story reaches some surprising highs and Final Fantasy fans will be pleased to hear that FF14 has a nearly endless supply of memorable boss fights to work through. It might not be as expansive as other MMOs, but Final Fantasy 14 is beautiful and charming.
Local multiplayer games
Nidhogg 2
Released: 2017 | Developer: Messhof | Humble Store, Steam | Our review
Some say Nidhogg 2's clay-monstrosity art style and added weapons marred the elegance of the first game, but they're both great in their own ways. Whichever one you choose, the basic format is the same: two players duel across a single screen, attempting to push their opponent left or right into the next screen, all the way to the end of the map. That's a big part of the brilliance of the series: get pushed all the way to your corner, and it's still possible to make a comeback and finesse your opponent all the way back across the map for a clutch win. Pure thrill.
The fighting itself is great, too, like an ultra-lo-fi Bushido Blade. Kills come in one hit as you thrust and parry and throw your swords with simple controls that result in complex dances of stance and aggression. It's exciting, hilarious, and tests the hell out of your reaction time and ability to predict your opponent's moves. There's nothing quite like either Nidhogg.
TowerFall Ascension
Released: 2014 | Developer: Matt Thorson | GOG, Humble Store, Steam | Our review
As cool as bows and arrows are in games like Tomb Raider, TowerFall does them best. Whether played by four people against each other, or two in co-op against waves of monsters, TowerFall makes leaping from a ledge and skewering somebody with a perfect shot easy to do. It also makes shooting at someone above you, missing, and then impaling yourself as the arrow falls back down easy to do. It's as chaotic as it sounds, but the clean pixel art and expressive animation makes it simple to follow, and every triumph and screw-up is visible to all.
More local multiplayer games
Overcooked 1 and Overcooked 2
Released: 2018| Developer: Ghost Town Games | Steam | Our review
We hate Overcooked. Wait, no: We hate anyone who gets in the way in Overcooked, or doesn't bring us our damn tomatoes when we need them, pre-chopped. This four-player kitchen catastrophe simulator sets up some brilliantly simple basics—working together to prepare ingredients, cook basic dishes, and turn them in on a tight timetable—and then mercilessly complicates them with devious kitchen hazards. In one level, on the deck of a pirate ship, some of your counters slide back and forth, forcing you to switch up tasks on the fly. In another cramped kitchen, there isn't enough space for two characters to squeeze past one another, forcing you to coordinate all your movements or get into shouting matches about which direction to go.
There's a lot of shouting in Overcooked, but barking orders, properly divvying up jobs, and setting a new high score feels so good. The controls are intuitive enough that infrequent gamers can get onboard. Just beware of playing with anyone with a truly explosive temper. While both are great, if you haven't played either we'd recommend Overcooked 2, which adds online play.
2D platformers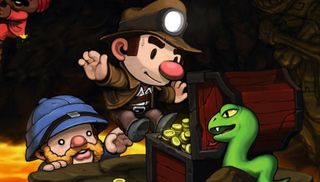 Spelunky
Released: 2013 | Developer: Mossmouth | GOG, Steam | Our review
Spelunky deserves much of the credit (or blame) for the boom of roguelikes in the 2010s, but none have bettered the rich interactions of this game, which sees you adventuring through mines, the jungle, caverns, and even Hell in search of riches and escape. You'll die many, many times along the way—sometimes suddenly, sometimes hilariously, and often because of your own stupidity. But that arms you with knowledge of what not to do and how to exploit the game. Can you trick two NPCs into fighting each other? Can you use a damsel you should be rescuing to instead safely set off a trap for you? What's the deal with the Ankh, anyway?
These are all things you'll discover as you play more Spelunky. Half the game is 2D platformer; the other half is a rich simulation packed with secrets and interlocking pieces that make the entire game feel like a living organism designed with the express purpose of killing you. That's what makes pulling those pieces apart and using them to your advantage so endlessly satisfying.
Celeste
Released: 2018| Developer: Matt Makes Games | Steam | Our review
In this age of quick saves and infinite lives, action-oriented platformers need to be difficult. And this difficulty almost always becomes the talking point, even for games that seem to hide something more profound beneath their mounds of countless dead (see: The End is Nigh). But no one talks about how hard Celeste is—or at least, that's not why we talk about it. Even if you roll your eyes at the masochistic appeal of Super Meat Boy or N++, you might find yourself seeing Celeste through to the end. Sharing the vibrant, chunky pixel-art of Matt Makes Games Inc's TowerFall, Celeste charts its protagonist Madeline's efforts to scale a gigantic mountain. She's not going up there to save the world, she's going up there to save herself. It's hardly a visual novel, but the light narrative dabs make progress more meaningful than "simply wanting to do it", and its set-piece moments are really spectacular. It feels great too: Madeline can grab onto walls and quick-dash through the air, and there's never a lack of new environmental challenges to ward off monotony.
More platformers and Metroidvanias
Hollow Knight
Released: 2017| Developer: Team Cherry| Humble Store, Steam | Our review
Hollow Knight is still slightly too new to be regarded as highly as Nintendo's genre-defining Super Metroid, but it might actually be the better game (gasp!). It's at least the best game to follow in Metroid's footsteps in a decade (if you want more games in this vein, make sure to play Cave Story). You play as a small explorer venturing through the remnants of Hallownest, an underground bug civilization, with remarkably little hand-holding showing you where to go. Subtle environmental clues and smartly doled-out powerups will help you find your path through the world, and from the first moments the 2D essentials of jumping and attacking have a perfectly tuned weight and snappiness to them. That's what will keep you playing Hollow Knight long enough to be pulled into its world, and then there's no turning back.
Some online stores give us a small cut if you buy something through one of our links. Read our affiliate policy for more info.