For a constantly updated list of our favorite games on PC, check out our list of the best PC games right now.
Every year, the PC Gamer team embarks on an epic quest to choose the top 100 PC games. Where previously we voted for our favourite games, this year we talked: discussing each of our nominations and deciding which games should make the list. The result is a more honest, considered reflection of our conflicting tastes and opinions as PC gamers.
This list represents what we think are the greatest PC games you can play today. We wanted to celebrate the breadth and variety of PC gaming, and so, for the most part, have restricted ourselves to one game per series. You'll also find a selection of personal picks: games we individually love that didn't quite make the cut. Enjoy!
If you're looking for a list of the games that helped shape PC gaming as we know it, try the 50 most important PC games of all time.
100. Path of Exile
RELEASED 2013 | LAST POSITION New entry
Steven Messner: Path of Exile has quietly become one of the best action RPGs around thanks to its almost incomprehensible depth and wildly different seasonal leagues, where whole new systems are introduced. But the best part is its character customisation and spell crafting system. Path of Exile encourages players to make marauders who let spell totems do all the killing for them, witches who melt hordes with a fiery beam, or duelists that cover every inch of the map in a deadly rain of arrows.
99. Twisted Insurrection
RELEASED 2010 | LAST POSITION New entry
John Strike: Tiberian Sun's best mod brazenly shames the original Firestorm expansion in almost every way. It's bigger and bolder, offering new buildings, a whole fleet of new units and even a new faction. There's a completely new musical score and dozens of single player missions, some of which are based on the original Command & Conquer. Not only are new missions and units still being added, but, as a standalone free download, it's the most accessible way to play one of C&C's greats.
98. Killing Floor 2
RELEASED 2016 | LAST POSITION 81
Evan Lahti: There are disturbingly few places in video games where I can cut an evil clown in half with a quad-barrelled shotgun. Killing Floor 2 is the world's greatest gore effects system laid atop an enjoyable skeleton. Hordes of monsters trickle into the map, magnetized to your position, and you mulch them with buzzsaw-spitters, incendiary shotguns, rocket launchers, or a microwave cannon that heats enemies from the inside until they burst. The dynamic slow-mo system adds so much, dampening the chaos just enough—granting extra moments to take aim or take in the sight of an intestine flying across the screen. Tripwire is a skilled digital gunsmith, and the detail lent to particle effects and reload animations holds up wonderfully even under the scrutiny of these plentiful, slowed-down sequences. I also love that KF2 doesn't simply make these mutants into bullet sponges. On higher difficulties, enemies adopt different behavioral triggers that make them genuinely harder to handle.
Wes Fenlon: The precision and teamwork it takes to play Killing Floor 2 at higher difficulties is especially thrilling. Also, I once played a community map that was monochrome purple and themed after Game Boy-era Pokémon. It was pretty bad, but I appreciated the option.
97. Night in the Woods
RELEASED 2017 | LAST POSITION New entry
Phil Savage: A coming-of-age platformer starring an anthropomorphic cat returning home to a dead-end town after dropping out of college. On paper, Night in the Woods sounds like it could be intolerable, but its relationships are so well developed—so warm and fraught and human—that it's impossible not to get drawn into Mae's world, and to want the best for her and her friends. I particularly love the frequent use of minigames as a way to highlight the need to escape the monotony of day-to-day responsibility.
Andy Kelly: A beautiful, heartfelt story brought to life by flawed, nuanced characters who just happen to be talking animals. It says something about life, but always knows when to crack a joke—and always with perfect timing—when things get too heavy.
96. Deadly Premonition: The Director's Cut
RELEASED 2013 | LAST POSITION New entry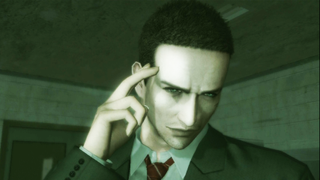 Philippa Warr: Deadly Premonition is always a gamble of a recommendation. It's a gamble worth taking, though, because if you get on with its strangeness and its idiosyncrasies, it rewards you with a weird and beautiful experience of a kind you don't often get in gaming. Yes, the cars handle horribly. Yes, the PC version has crashed on me extensively. Yes, it starts off more as an irritating pastiche of Twin Peaks. Yes, it has frustrating quicktime events. And yes, some reveals draw uncomfortably on lazy tropes. But within that is a supernatural-tinged mystery that alternates between survival horror third-person shooter and a horror comedy investigation. None of the game's shortcomings were dealbreakers for me and several of the characters I encountered as I hunted for the Raincoat Killer have stayed with me for the best part of a decade.
Wes: The jank may be part of the charm, but at least make sure you install Durante's DPFix, which lets you select resolutions above 720p and fixes many minor graphical issues—mitigating some of the PC port's shortcomings.
95. Stick Shift
RELEASED 2015 | LAST POSITION New entry
Pip: Stick Shift is my go-to example of a game which invokes complex subject matter while also being really fun to play. As per developer Robert Yang's description: "Stick Shift is an autoerotic night-driving game about pleasuring a gay car." It's part of a trilogy alongside Hurt Me Plenty and Succulent, and together they explore aspects of eroticism, consent, arousal, politics and more. It's also a game where you move your mouse rhythmically, working your car to a climax.
94. Elite Dangerous
RELEASED 2014 | LAST POSITION New entry
Phil: Frontier's galactic sandbox treads a fine line between excitement and tedium. Aliens! Dogfights! Smuggling! Interdictions! Ferrying pesticides to an outpost six lightyears away! However you decide to play, though—whatever amount of excitement you desire—Elite is still a masterfully crafted spaceship simulator. I love the design and feel of its ships, particularly the holographic UI and peerless sci-fi sound design. The thrill of warping to another solar system is never entirely diminished, meaning Elite remains entertaining even if you've chosen the life of a glorified space trucker.
Andy: Whether it's a chunky cargo hauler or a nimble fighter, every starship in Elite has its own distinct personality. They're all a delight to fly. Even the most mundane task feels wonderfully tactile.
93. Ni No Kuni 2: Revenant Kingdom
RELEASED 2018 | LAST POSITION New entry
Andy: While the original Ni no Kuni was co-designed by Spirited Away creator Studio Ghibli, it wasn't involved in this sequel. But developer Level-5 has done fine on its own, creating a rich fantasy world with a cast of vivid characters worthy of the Ghibli name. This is a sweeping JRPG about an usurped boy king on a quest to rebuild his kingdom and reclaim his throne. It's also one of the most colourful, vibrant games on PC.
Wes: The cutscenes are remarkably Ghibli and full of pep and puns, but what really made me fall for Ni No Kuni 2 is just how many systems it layers atop systems, like a big-budget JRPG of old. The sprawling kingdom builder is the centerpiece, with characters to recruit and buildings to construct and upgrade.
92. Mu Cartographer
RELEASED 2016 | LAST POSITION New entry
Pip: Mu Cartographer is initially obtuse. You'll probably feel utterly lost as to what you're supposed to do for a while. But once you start tinkering with all the different buttons and dials on the interface you begin to see how to explore the strange map. The peaks and troughs of digital noise on your display suddenly turn into recognisable shapes as you tweak the settings and find the sweet spot. Stepped pyramids rise up where seconds ago all you could see was a fuzzy mess.
91. Guild Wars 2
RELEASED 2012 | LAST POSITION 86
Phil: Guild Wars 2 is full of clever quality-of-life features—it's still one of the few MMOs that's figured out how to let you easily play with friends of a different level. The flow and pace of its maps are a thing of beauty, too. Groups expand and contract naturally, as people wander off to explore on their own, before coming together for a small-scale event or organising to complete a single map-wide objective. You get all the joy of cooperation without the need to commit a significant amount of your time. Just turn up and play. Then, when you eventually get tired, go off and do something else. There's also no subscription, and none of the expansions have raised the level cap, so you're free to come and go as you please, playing at your own pace without ever worrying that you're falling behind. You can play for hours every week if you want—ticking off the hardest achievements and earning the rarest loot—but I'm happy to log back in every six months or so, safe in the knowledge that I'm ready for whatever's next.
Tom: I have fought huge dragon bosses and a marionette the size of a skyscraper, and I didn't need to grind for 200 hours for the privilege. Guild Wars 2 earnestly tries to reinvent the MMO by reshaping the bullshit grinding and levelling systems that had become rote in the genre.