70. StarCraft 2
RELEASED 2010 | LAST POSITION New entry
Andy: Across its three campaigns, StarCraft 2 boasts some of the best, most cinematic single-player RTS missions on PC. New challenges are constantly being thrown at you, forcing you to try new units and tactics, and the story isn't bad either. When you're done with all that, you can take your newfound skills online, which still has a huge and dedicated following. There's a bottomless pit of tips, tutorials, and strategies online, meaning new players have a decent chance of catching up.
69. Galactic Civilizations 2
RELEASED 2011 | LAST POSITION New entry
Tom: Maybe a game like Stellaris will knock this classic spacebound 4X strategy game out of the Top 100, but not this year. It's hard to beat a game that's so smart and complete, and that can generate so much strategic intrigue with every campaign. The AI is so cunning that former PC Gamer staffer-turned-developer Tom Francis once wrote an entire book about one of his attempts to thwart it. Singleplayer games don't get much deeper than this.
68. Prison Architect
RELEASED 2015 | LAST POSITION New entry
Chris: There's an engrossing amount of depth to the management simulation of Prison Architect, where building a workshop for inmates to make license plates doesn't mean they'll just walk in and begin working. First they'll need training, which requires classrooms, which require instructors, who require work and class schedules and their own facilities. Oh, and metal detectors to make sure the inmates don't smuggle out tools to use as weapons against guards or other inmates, or to tunnel under the walls of your prison. It's not easy building and managing a small city where most of the population is plotting escape.
Andy: I love it when things go to shit in management sims, and Prison Architect is enormously fun to watch (and manage) when disaster inevitably strikes. A streak of black comedy runs through the game, and there's something darkly hilarious about a riot erupting—these cartoonish little characters shivving each other, starting fires and beating up guards. Something as simple as a fight in the canteen can be the flashpoint for a full-scale riot, and trying to suppress it safely and quickly is a real test of skill. But that doesn't mean you can't have some fun observing the chaos before rolling your sleeves up and stepping in to deal with it.
67. Ori and the Blind Forest
RELEASED 2015 | LAST POSITION 62
Pip: An adorable Ghibli-esque aesthetic—particularly the opening cutscene—gives way to a rock hard Metroidvania platformer. Your eyes are as likely to tear up with emotion as they are with absolute fury if you fail a boss one too many times.
Tom: It looks like sugar but tastes like salt. Ori is not the moonlit animal paradise it appears to be at first glance. It's a game about loss, revenge, and bastard-hard jumping challenges. The art is absolutely gorgeous. It's a hazy, dreamlike world of artfully twisted overgrowth and spike pits. The movement is so quick, precise and responsive I just want to squeeze it, even as it stabs me repeatedly in the heart. Approach with caution and keep some hankies and a swear jar within reach.
66. Frostpunk
RELEASED 2018 | LAST POSITION New entry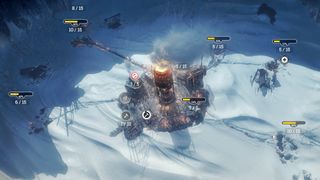 Chris: A survival and crisis management sim about building and sustaining city in a frozen world. In addition to providing food, warmth, and shelter to your citizens, you have to provide them something much trickier: hope for the future. That's immensely difficult when people are starving, freezing, and working themselves to death under your direction, and the choices you face are grim ones that never leave you feeling like a hero, even when things work out. Frostpunk is a game that asks two questions: 'How far are you willing to go to save lives?' And, 'No, really, how far are you willing to go?' It's a masterful exploration of the burden of leadership, the true costs of survival, and the balancing act between guiding your citizens and controlling them.
65. Diablo 3
RELEASED 2012 | LAST POSITION 30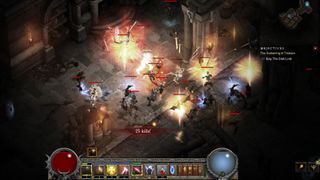 Tom: 'Maybe I should start another Crusader run': seven words that could take up 60 hours of my life. Diablo 3 is still a stellar action RPG that has only become more generous year on year after its unsteady and controversial launch. The necromancer is a fantastic addition that calls back to Diablo 2 without nostalgically retreading the same ground. If you want to smash up thousands of monsters for gold and loot, there aren't many games that do it as well as Diablo 3.
64. Bayonetta
RELEASED 2017 | LAST POSITION 32
Samuel: A superb hack-and-slash game that rewards mastery with feeling like a badass. It's pretty much the first place I'd send anyone new to this genre of game that has its modern roots in Capcom's Devil May Cry series. This, from that game's creator, is funny, stylish and satisfying to learn. Its sequel, which Nintendo published, doesn't come close to matching the original. The range of weapons here fits together perfectly.
Phil: The fast-paced combat is yet to be bettered, and the world and story are equal parts stylish and absurd.
63. Crypt of the Necrodancer
RELEASED 2015 | LAST POSITION New entry
Pip: The rhythm combat in this game is so polished that I love it even when it's at its most stressful. You have to move on every beat or risk losing your cash multiplier, which means there's no downtime to plan your next move. Is a multiplier all that important, you ask? "Oh," I reply, "Only if you want to keep being able to afford new items at the shop where the amazingly catchy soundtrack is suddenly given an EVEN MORE AMAZING operatic flavour thanks to a singing shopkeeper called Freddie Merchantry."
Wes: This would be a great roguelike in its own right, but it's almost unfair how cleverly the musical element is threaded through exploration and combat. Try dungeon dancing to your own music for a new challenge.
62. Sunless Sea
RELEASED 2015 | LAST POSITION 75
Pip: I bounced off Sunless Sea so hard when it first came out—I remember clunky combat and irritating resource grind as core objections. Returning to the game with the Zubmariner DLC I found myself well and truly suckered in—devoting hours to pottering away in the Unterzee, drinking in Failbetter's expert prose and luxuriating in the art style. Sunless Skies is shaping up to be another step forward so I'm singing Sunless Sea's praises now, lest seas be eclipsed by skies in the near future!
61. Baldur's Gate 2: Enhanced Edition
RELEASED 2013 | LAST POSITION 48
Tom: Baldur's Gate 2 is still a magnificent achievement. Few RPGs since have been as broad, deep or fully featured as this sprawling classic. Pillars of Eternity and other games are steadily bringing the classic RPG back to prominence, but Baldur's Gate 2 is still very much worth playing today, and is still one of the most faithful videogame interpretations of D&D's Forgotten Realms setting. It's a great party RPG too. Few modern games would be brave enough to implement a morality system that causes party members to fall out with you and leave the party—the closest you might get is Wrex's rebellion in Mass Effect. While we all remember Minsc and his space hamster companion Boo, the roster went much deeper and accurately reflected the spread of D&D classes, from lawful good paladins to chaotic neutral thieves.
Phil: After the slightly too long tutorial dungeon, Baldur's Gate II hits the ground running, setting you loose in the massive city of Athkatla to earn money to fund the next leg of your journey. It's a great way to encourage you to explore the city, seeking out its stories and adventures.