1. The Witcher 3: Wild Hunt
RELEASED 2015 | LAST POSITION 1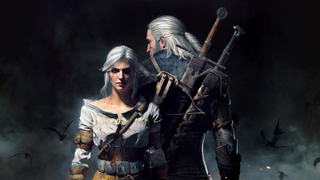 Tom: It's a great execution of the ronin fantasy set in one of the most beautiful worlds on PC. The craggy Skellige isle might be one of my favourite places in games, or is it Novigrad, or the sunlit vineyards of Toussaint? Even the dripping bogs in the early areas are pretty, in their own miserable way. Within these gorgeous places you meet people with interesting problems. Maybe their local well is haunted. Maybe their spouse is haunted. Usually something is haunted, or cursed, or being pursued by a hideous mythical beast. I treated the sidequests as the main quest, to be honest, roleplaying a mutant outcast on a mission to make the world a slightly better place. Oh, and let's not forget Gwent, one of the best games-within-a-game since Final Fantasy VIII's Triple Triad.
Jody: The fact you play a character with his own place in the world, including allies, enemies, and ex-girlfriends, is a definite strength of The Witcher 3. But it wasn't always this way. In the first Witcher game Geralt was an amnesiac sleazebag and honestly a bit of a tool. He wasn't a fun person to be around, let alone to be. But by The Witcher 3, Geralt's a caring father figure with a heart of gold beneath layers of beard and gruff, and more than that he feels like someone you personalise. How much he cares about getting paid, who he loves, how seriously he takes his creed, that's all you. The Witcher 3's version of Geralt is the perfect videogame protagonist not because he's more integrated into his world than a character you make from scratch, but because he's a solid outline with room to manoeuvre inside that. He contains multitudes—but not too many. He has well-defined areas of doubt and uncertainty.
Wes: "Place" really is what makes The Witcher 3 so spectacular, and like no other game I've played. It's not just that the world is gorgeous and detailed, though it is both of those things. The Witcher 3 has this unparalleled combination of artistry and technology that makes its locations and characters feel authentic. Accents and architecture differ between the mainland and Skellige. The characters you encounter out in the world have quests that involve their families or monsters native to their region, and the more of these quests you take, the more you appreciate how natural and human they seem. No one's asking you to go out and slay five wolves because that's a good way to spend ten minutes in an RPG. If you're killing beasts, it's probably to save a village's flock or get revenge for a grieving father, and even straightforward quests often end with surprising deviations. Depending on how you play Geralt, you can be a mercenary in search of coin, or calmly talk someone out of a decision you know they'll regret. You can haggle with assholes who don't respect the value of a witcher's work, and you'll have to decide what to do when a poor farmer doesn't actually have the money he promised you. Those touches, along with the motion capture, the voice acting and the wind on a blustery night in Velen, make the whole thing come alive. What a world.
Phil: A thing I hate about most RPG writing is that something as simple as asking to be rewarded for your time and effort is treated as the most evil thing a protagonist can do. But in The Witcher 3, Geralt is a professional doing his job. His haggling with clients over money isn't a deviance or a crime, but the expected cost of hiring a man who is good at what he does for a living.
Andy: I love The Witcher 3 because it's a game where almost everything is meaningful. When you pick up a quest, it isn't just some thinly-written excuse to get you to go kill a monster. There's a backstory, a motivation, and often a twist. Quests can spiral, turning an encounter with a peasant in a tavern into a sprawling epic that ends with you fighting some great, mythical beast atop a crumbling tower in a raging storm. The game is heaving with interesting characters and worthwhile things to do, and Geralt is the foundation of it all: a complex lead who makes other videogame characters look like cardboard cutouts.