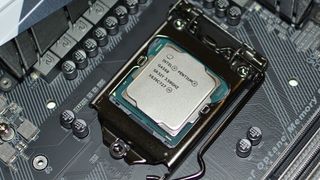 PC gaming can be expensive, we know, especially when you're brand new and don't have a previous rig to upgrade or retrofit. This build is aimed at creating a gaming PC that performs decently well for as little money as possible. It cuts corners on any sort of bells and whistles, opting purely for components that provide the best performance in the bottom price tier. Long story short: this is the best gaming PC build for $500.
PC build guides
To be clear, this build won't break any performance records, but you can expect to pull in around 30 to 60 average FPS at 1080p max settings in the latest games. Nothing to write home about, but when you consider the entire rig checks in at right around $500/£500, it's pretty impressive.
To do that, the build uses a relatively budget motherboard, low-end CPU, and a cheap case, opting to spend money on the best (budget) options in the GPU and SSD category. It'll boot up and load games quickly, and perform well enough in the latest games. What it won't do is let you play in 1440p or 4K, and your upgrade options in the future are fairly limited.
Take note that this is also a "barebones" build. It skimps on storage and cuts out an optical drive and other optional features in order to save money. If you're interested in those sort of add-ons, we've included recommendations throughout.
The price point also doesn't account for the operating system or any peripherals. Check out our buying guides to the best mouse, keyboard, and gaming monitor for our favorite picks to pair with your new rig. It's also worth noting that this build utilizes an AMD graphics card, which means you can pair it with a FreeSync monitor—much cheaper than their G-Sync brethren.
A bit about pricing: this build was made with a sub-$500/£500 price point in mind, not accounting for sale prices. Having said that, prices do fluctuate over time, and you may be able to build a rig of this caliber for even cheaper by waiting for sales. You will find current region-specific prices for the parts in the above table.
Components
CPU: Intel Pentium G4560
We haven't seen a Hyper-Threaded Pentium since the venerable Pentium 4 and Pentium D back in the mid-'00s. Much has changed in the last ten years, but the extreme budget pricing on the Pentium G4560—it retails for $65, including an Intel heatsink and fan—makes this potentially the most interesting budget CPU Intel has released in years.
In our testing, the Pentium G4560 does bottleneck a high-end GPU like the GTX 1080, but makes little-to-no difference when using a mid-tier card like the GTX 1060 or lower. For the RX470 we're using here, the difference between a $600 unlocked CPU and the $65 Pentium G4560 is less than 10 percent.
You definitely won't be able to do any video editing or live-streaming, but for this ultra-cheap build, the G4560 is the clear choice.
GPU: AMD Radeon RX 470 4GB
Thanks to the Pentium G4560, we have a bit of budgetary breathing room that lets us upgrade our GPU to the Radeon RX 470 while still keeping the entire build around $500.
The RX 470 doesn't blow our socks off compared to top-end GPUs, but it performs great at this price point, able to consistently lock down 60 fps at 1080p ultra. Basically, it offers slightly lower performance than the RX 480 and R9 390 at a price now well south of $200 / £200. On sale, you can even find it for less than $150 / £150, about half the price you would have paid for this level of performance one year ago. In other words, there's good reason we named it our best GPU value.
The RX 470 comes in two flavors, 4GB or 8GB GDDR5. But if you want 8GB, you might as well go for the RX 480 instead. 4GB is a nice blend of performance and pricing and makes for a good match with the RX 470. There aren't a ton of games that really need more than 4GB VRAM right now, and while that will likely change over the lifespan of the RX 470, dropping a few settings should keep framerates up.
We're not recommending a specific manufacturer of RX 470—the main difference between various card versions is only in the shroud and fan design. As this is a budget build, the best RX 470 variant to buy is the cheapest. Go with whatever model costs the least when you're ready to buy.
Motherboard: ASRock B250M Pro4
Much like most of the components in this build, the ASRock B250M Pro4 is a budget-minded motherboard. Having said that, it brings a lot to the party, offering dual M.2 slots, four DIMMs, and a USB 3.0 type-C port, all on an mATX form factor.
The M.2 slot means you can opt for either the 2.5" SATA or M.2 option for our chosen SSD, and with four DIMMs you can upgrade from two to four 4GB DDR4 sticks if you want a little extra RAM. It also comes with Intel I219-V LAN for Gigabit Ethernet.
Of course, the board is not without drawbacks. Outside of doubling the number of RAM sticks, upgrade potential is limited by the mATX form factor and, more importantly, the B250 chipset's meager 12 lane PCIe 3.0 I/O potential. That means no overclocking of your processor or RAM—not an issue for this particular build, but something to consider should you ever decide to upgrade to an unlocked CPU.
Memory: Crucial 8GB (2 x 4GB) DDR4-2133
There's not much to say about our RAM pick here. Crucial is a respected name in the memory game, and this simple 2 x 4GB DDR4-2133 kit is cheap, reliable, and gets the job done.
Of course, once again the best option is to pick whatever kit is cheapest or on sale at the time. There is a plethora of DDR4-2133 options all available within $5 of each other. If two competing kits look similar in price, capacity, and speed, check the timings. Finally, choose a kit that matches the aesthetic you want in your case. (That sometimes means paying a little extra for a different color, though.)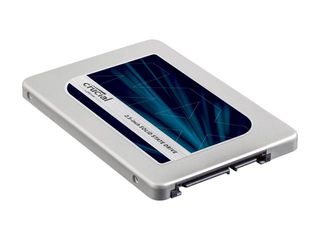 Storage: Crucial MX300 SSD (275GB)
Let's be frank, even though SSD storage is much more expensive than HDD, we think an SSD as your primary drive is an essential part of any gaming PC. The speed difference between SSD and HDD when booting up your system is massive, and with current prices even a moderate SSD has room for a few games, which will also load faster.
Crucial's MX300 SSD isn't the absolute fastest SSD available, especially compared to higher-end M.2 options. But what it lacks in speed it makes up for in price and capacity. For around $75, this 275GB SSD is cheap enough to fit our budget while providing enough storage to serve as a solo primary drive for our build. (It's also our top pick for best budget SSD.) Sure, you won't be able to keep a massive game library loaded at once, but it's enough for a handful of games on top of your OS.
If 275GB isn't enough for you, you can jump up to a 525GB model for around double the price, or pair it with a a Western Digital Black 1TB HDD for roughly the same price increase.
The MX300 is also available in an M.2 form factor around the same price point—which our motherboard supports. While it doesn't offer a performance increase (this is a SATA M.2 drive and not PCIe based), the compact form factor of M.2 means less cables to deal with—something especially nice considering the MicroATX case we're building inside.
PSU: EVGA 450W 80+ Bronze PSU
A power supply is a required part of every build, and this EVGA model offers a nice set of features for the price. 80+ Bronze is a respectable level of power efficiency, and 450 watts is more than enough juice for all our components. Unfortunately it isn't a modular PSU, which would be a useful feature to help cable management in our MicroATX case. If you don't mind spending an extra few bucks, that's where we'd look.
Case: Fractal Design Core 1100
Choosing a case for your build can be very much a personal decision, as there are factors beyond pure functionality that may carry some weight. Namely, aesthetics. But if you need a suggestion, we like the Fractal Design Core 1100. It's a micro-ATX mini tower that gives you a bit more room to build in, as well as opens up our motherboard options to cheaper mATX boards.
Fractal Design is one of our favorite case manufacturers, and the Core 1100 is a great case for this budget build. It has 1x USB 3.0, 1x USB 2.0, and audio ports on the front, and has room for two 3.5 inch HDDs or three 2.5 inch drives. It also comes with a 1200 RPM Fractal Design 120mm fan, as well as dust filters on the front panel and sealable panels on the top and bottom.
The case measures 14.09 x 6.89 x 16.14 inches, and weighs 8.38 pounds.
Some online stores give us a small cut if you buy something through one of our links. Read our for more info.