Gaming PC deals
$500 - $1,000: Entry-level machines
$1,000 - $2,000: The sweet spot
$2,000+: The luxury end
GPU hierarchy: How the graphics cards match up
The best cheap gaming PC is all about finding the PC deal that suits both your wallet and your gaming needs. Whether you're after an entry-level rig that can deal with a 1080p load or a high-spec machine capable of 4K gaming and beyond, you want to get as much tech for your cash as possible.
And that's where we come in, trawling through the systems on offer this week, to give you the best idea as to where you should be spending your money. It's not an easy task, either, because PC gaming has become a supremely expensive hobby in recent years. Unless you know where to look...
We're splitting our rigs into three distinct categories: Entry-level, Sweet spot, and Luxury. In the middle, the $1,000 - $2,000 mark is where you'll find the widest range of possible systems, and arguably is where the best gaming PC deals of today are likely to exist. But at both ends of the price spectrum it's important to know you're getting the best gaming hardware for you money.
We use all our combined decades of technological PC gaming expertise to determine whether something is a good deal or not, and you can rest assured that we'll only recommend the best gaming PC deals right here. If something's super cheap doesn't automatically make it worth the money, and likewise just because a system's $2,500 doesn't mean it can't be great value.
Where are the best gaming PC deals?
$500-$1,000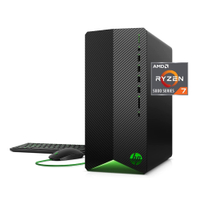 (opens in new tab)
HP Pavilion | Ryzen 3 5300G | AMD RX 5500 | 8GB RAM | 512GB SSD | $559.99 at Amazon (opens in new tab)
Affordable gaming PCs are tough to find, and sometimes it is necessary to go back to older generations of hardware to hit a tight budget. But the 8-thread Ryzen chip still has something to offer, and the RX 5500 OEM GPU will deliver 1080p gaming performance around the same level as the current RX 6500 XT. For the money it will be a decent baseline to start from.
(opens in new tab)
Skytech Shadow 3.0 | Core i5 10400F | AMD RX 6600 | 16GB RAM | 500GB SSD | $849.99 at Amazon (opens in new tab)
If you're going to go old-gen for any component I'd argue the CPU is the best place to do that if you're able to pair it with a more modern graphics card. Here, the RX 6600 is a decent match for the old 12-thread 10400F CPU. It's not quite as speedy a GPU as the RTX 3060, but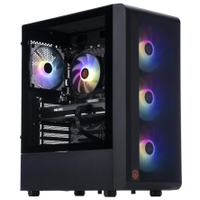 (opens in new tab)
ABS Stratos Aqua | Core i5 12400F | Intel Arc A750 | 8GB RAM | 512GB SSD | $999.99 $869.99 at Newegg (save $130) (opens in new tab)
Yup, an all-Intel gaming PC and that actually includes a discrete Intel Arc A750 graphics card. In terms of gaming performance it can be a bit of a mixed bag with Arc frame rates right now, but with modern games there's a good chance you'll get beyond RTX 3060 performance. Especially if the next patch significantly increases Arc frame rates.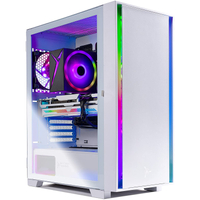 (opens in new tab)
Skytech Shiva II | Core i5 12400F | Nvidia RTX 3060 12GB | 16GB RAM | 500GB PCIe SSD | $999.99 at Amazon (opens in new tab)
The 12-thread Intel Core i5 is still one of the best gaming CPUs around, and with the back up of a 500GB NVMe SSD and 16GB RAM the Skytech rig is a decent rig when specced out with the RTX 3060 card. The $1,000 price tag is probably the limit of what you'd want to pay for this config, though.
$1,000-$2,000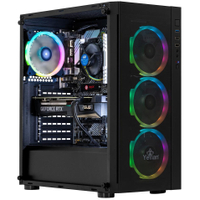 (opens in new tab)
Yeyian Katana X10 | Core i5 11400F | Nvidia RTX 3060 Ti | 16GB RAM | 500GB SSD | $1,399 $1,082.99 at Newegg (save $316) (opens in new tab)
This is a great deal for a mid-tier gaming PC, especially when a lot of rigs around this price are delivering you an RTX 3060. The Core i5 is still a real solid CPU today, and that RTX 3060 Ti is probably the best mainstream GPU of Nvidia's last generation of cards. You also get a full 16GB RAM and a 500GB NVMe SSD... which you'll probably want to give a little more storage too down the line.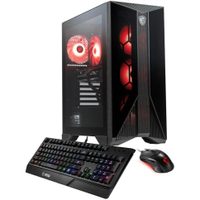 (opens in new tab)
MSI Aegis | Ryzen 5 5600G | AMD RX 6700 XT | 16GB RAM | 500GB SSD | $1,499 $1,128.99 at Newegg (save $370) (opens in new tab)
It's tempting to ignore AMD GPUs when you're looking for a new gaming PC, but the last generation of Radeon cards are better value than Nvidia right now. The RX 6700 XT here is as good, sometimes faster, than the RTX 3060 Ti it competes with. The rest of the spec on this MSI-built machine also backs it up, too.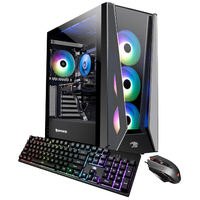 (opens in new tab)
iBuyPower Gaming RDY SLHRG221 | Ryzen 7 5700X | Nvidia RTX 3070 | 16GB RAM | 1TB SSD | $1,699 $1,499 at iBuyPower (save $200) (opens in new tab)
The RTX 3070 is still a genuinely good gaming GPU in 2023, and this is usually the sort of price that you'll see RTX 3060 Ti-based machines sitting at. Alongside that is a great 16-thread CPU from the previous AMD generation, and a full 1TB SSD, too.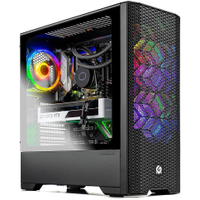 (opens in new tab)
Skytech Blaze 3.0 | Ryzen 7 5800X | Nvidia RTX 3080 | 16GB RAM | 1TB SSD | $2,399.99 $1,799.99 at Newegg (save $600) (opens in new tab)
That's a lot of money off at RTX 3080 gaming PC, and that still remains one of the best graphics cards of the past generation. At $1,800 that also makes it a good price, too, especially alongside a 1TB SSD and that speedy 16-thread AMD processor.
$2,000+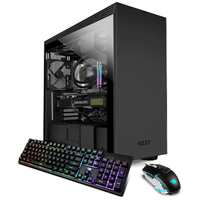 (opens in new tab)
iBuyPower Gaming RDY NTBG205 | Core i9 13900KF | Nvidia RTX 4080 | 32GB RAM | 2TB SSD | $3,349 $3,099 at iBuyPower (save $250) (opens in new tab)
The RTX 4080 is a tough recommendation when it's just a single point of upgrade, but as part of a full rig it makes for a monster gaming PC. This machine will ship in a couple of days, and comes with the most powerful gaming CPU around, 32GB RAM, and a full 2TB of SSD storage.
Graphics card hierarchy
The most important component for any gaming PC build is always going to be the graphics card. That will give you the best idea about how one machine matches up with another just in terms of raw gaming performance.
Below, we've listed the slew of GPUs we've had over the past couple of years listed in terms of their Time Spy Extreme index score as a way to put them in some sort of consistent hierarchy.
Click the button in the top right to enhance!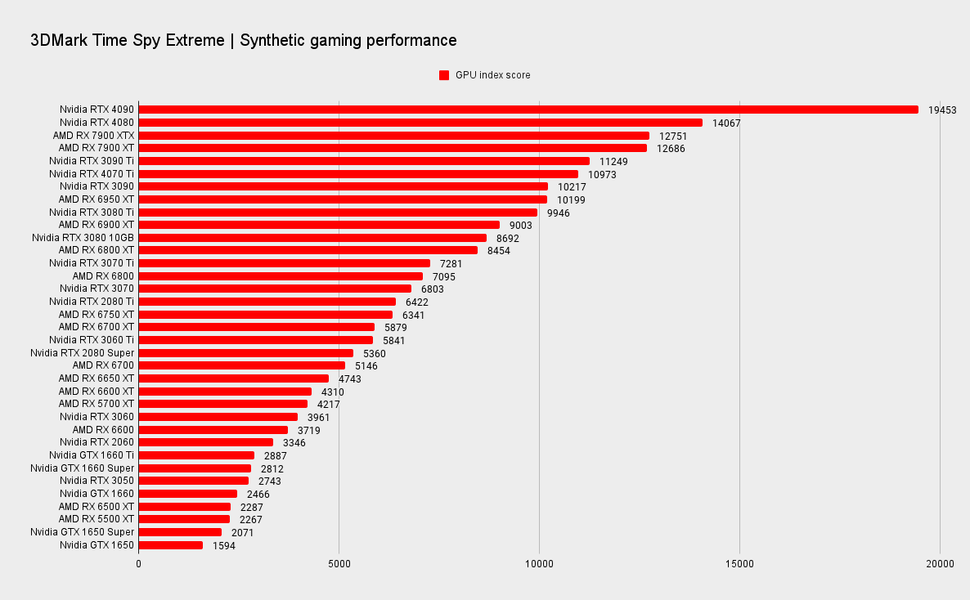 Should I build my own gaming PC or buy a prebuilt?
One of the biggest advantages to putting together your own budget gaming PC build (opens in new tab) is the ability to essentially choose every single component in the system. This allows you to take your time shopping around for deals and finding the perfect combination of parts to fit your budget and performance needs. The downside for most inexperienced builders is that this whole process can take some time and has the potential to cause quite a headache if something goes wrong. This is where prebuilt gaming PCs really shine.
When you pay the premium to configure or purchase a prebuilt PC you are paying for more than just the parts. You are paying for warranty service, support and the peace of mind that your system was put together by professionals. These are some of the things we value highly when considering the best budget gaming PCs. We also look at other unique selling points like design, upgradability and anything you wouldn't be able to do when building it yourself.
Now that graphics cards are regularly available and the silicon shortage is starting to clear up, building your own PC is much easier than it was before. That said, a prebuilt rig is still a reliable way to get the exact graphics card you want.
For most users that don't have the luxury to spend over $1000 on a prebuilt gaming PC, upgradability and performance per dollar are paramount. When we set out to choose our top choices for budget prebuilt gaming PCs, we took a look at almost every major manufacturer and system integrator to find the best combination of value, reliability, customer feedback, design and performance under $500 and under $1,000.
We still highly recommend the experience of building it yourself, but if you can't do that then one of the systems above will have you gaming in short order.
What is a decent price for a gaming PC
The $1,000 - $1,500 mark is probably around the sweet spot for a new gaming PC. That will get you a graphics card that can nail 1440p at solid frame rates as well as a really good supporting spec. That should mean a relatively sizeable NVMe SSD, around 500GB, as well as 16GB of speedy memory, and a modern CPU.
Is PC gaming better than console?
Unquestionably. In real terms, it's more expensive in terms of hardware, but there is a games library stretching back decades that no other gaming platform can possibly match. Games are also regularly cheaper, or free, on PC, too.
The PC is also more capable of doing more things than a games console, too. Try browsing the web on your PlayStation and you'll know what we mean. It can also be portable, in either laptop or Steam Deck style.
What PC is equivalent to a PS5?
We would suggest that the AMD RX 6700 GPU will deliver around the same level of raw graphics performance as Sony's PS5. That's an OEM part, so you'll only find it in a prebuilt gaming PC, but it's a 11.3 TFLOP GPU versus the 10.3 TFLOP of the PS5.
Those numbers aren't wholly comparative, however, but you would also need an 8-core CPU, 16GB of memory (though the PS5's is spread between GPU and system), and a 500GB+ SSD.