The Ghost of Our Love treasure map is the first loot-seeking puzzle that you encounter in Hogwarts Legacy, but that doesn't mean it's an easy one to solve. You might have worked out that the map requires you to go to the Forbidden Forest, but once you arrive, struggle to find what the next step is. As you'd expect from a game centered around magic, the answers lies in a spell.
If you're just starting to explore the Highlands around Hogwarts, it might be useful to know how to get a broom (opens in new tab) so you can move faster, or how to complete those Treasure Vaults (opens in new tab) and Merlin Trials (opens in new tab) you find around the map. Either way, here's how to solve the Hogwarts Legacy Ghost of Our Love treasure map so you can complete the quest for some loot.
How to solve the Map with Floating Candles
After you go to meet Natty in Lower Hogsfield and complete the first Merlin Trial with Nora Treadwell, you'll unlock one of the four following quests depending on your house:
The Hunt for the Missing Pages (Gryffindor)
Scrope's Last Hope (Slytherin)
Olivander's Heirloom (Ravenclaw)
Prisoners of Love (Hufflepuff)
Each of the quests is slightly different, but they all lead to meeting the ghost of Richard Jackdaw, and beginning the Jackdaw's Rest quest that sees you head to his tomb in the Forbidden Forest. In each of these quests, you also encounter a treasure map called the 'Map with Floating Candles' and picking it up begins the Ghost of Our Love quest. There's no compass available for this quest, but the solution to the map won't require you to go too far out of your way.
Fast travel to the Forbidden Forest Floo Flame and then immediately change the time of day to night in the map menu. Behind you is a small bridge, and on your side of it you'll find a love letter that adds a bit more flavor to the quest—two students were sneaking into the Forbidden Forest for a romantic dinner. Now you need to use the Lumos spell by where the letter was to summon some enchanted floating candles.
Once you've caught the candles' attention, follow them into the forest. You won't have to travel too far before you find a table for two, a tonne of floating candles, and a chest which contains your promised treasure. The good news is that you're also now pretty close to Jackdaw's tomb, so you can jump right back into the main quest.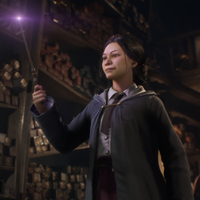 (opens in new tab)