Explore The Golden Apple with these Genshin Impact 2.8 guides
Genshin Impact 2.8: What you need to know
Genshin Impact Phantasmal Conches: Sea shells
Genshin Impact Astral Puzzles: Starry shapes
Genshin Impact Klee build: Little red bomber
Genshin Impact Kazuha build: Anemo ronin
Genshin Impact codes are a great way of getting free Primogems that you can use to wish on characters. Since there are limited methods of gathering the currency in-game except for events and scraping them together from chests and achievements, these codes can help supplement your haul, and might very well let you land a five-star.
Since the new version of Genshin Impact features reruns for Kazuha, Klee, and Yoimiya, you're going to need lots of Primogems if you actually want to recruit any of them to your party. In this Genshin codes guide I've listed what freebies are currently available, how to redeem them, and also get yourself some extra Primogems in-game.
Codes
All Genshin Impact codes
GENSHINGIFT - 50 Primogems, three Hero's Wit (this code doesn't expire)
XTNDKTEBWA59 – 60 primogems, five adventurer's experience (NEW)
Expired codes:
MTNUJBXDD72R
DTNVKAWBWSF5
WANVJAFAXTER
HA6C2AFBXSZV
LANVJSFUD6CM
DTNUKTWCC6D9
HSNUKTXCCPWV
MS7C3SV8DMZH
ZSPDKSC3V8V5
FANRONGCHANGSHENG
SA7V2DRZGAU5
PSNVJURZZSD9
5SPDKV8ZHBFV
ETNU2DN5NZRR
BSPD3ZRXU985
BSNDJC747Z7D
AS7CJDP4NG7H
KB6DKDNM7H49
NB6VKHQWVANZ
LBNDKG8XDTND
BSNUJGQFUTPM
NTPVU7JTJYPD
CB7UU6KT2H59
DSPVUN2BKH5M
GenshinEpic
GenshinGalaxy
LS6T4L9ZZ7TH
GBNA9J5H9Y4H
AS6BQKLY9GLD
How to redeem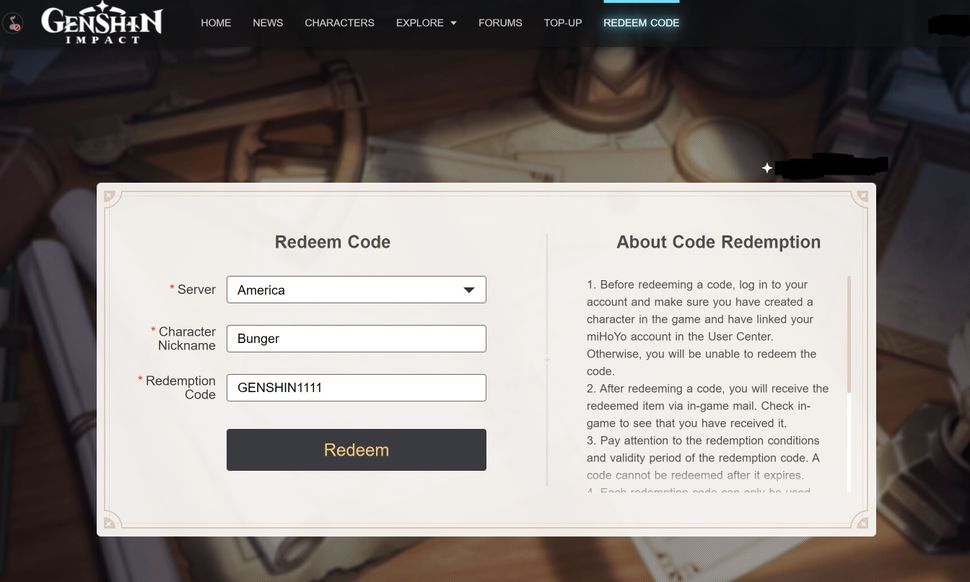 How to redeem Genshin Impact codes
To redeem your Genshin Impact code simply follow these instructions:
Head on over to miHoYo's gift redemption site
Log in to your account and region
Copy a code from the list into the box
Head to your in-game mailbox to get your rewards
Do note that you have to be at least Adventure Rank 10 in order to redeem the codes. If you're looking for some tips to raise you rank, this Genshin Impact guide can help.
How to get Primogems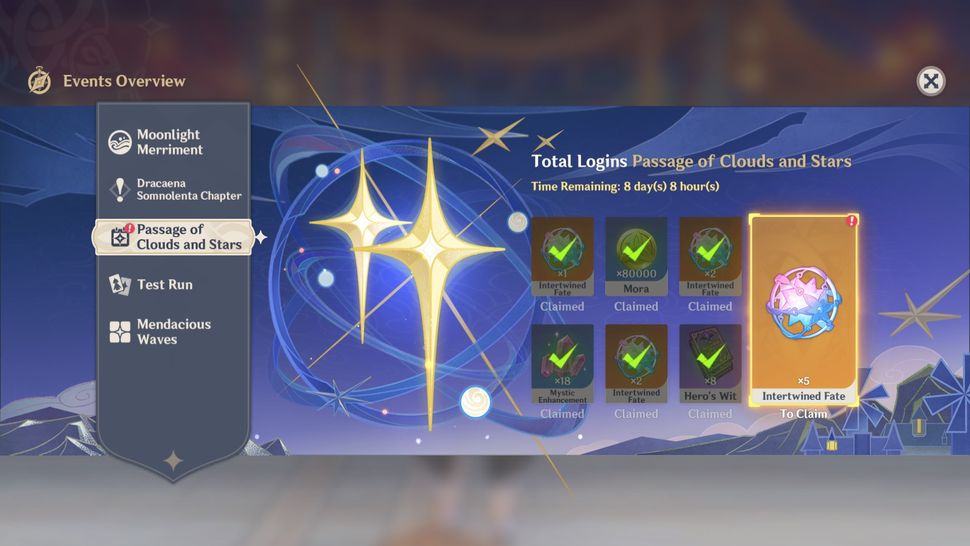 How to get more Primogems
If you're looking for more ways to get Genshin Impact Primogems or Fates so you can wish for characters, here's a list of how to source some:
Exploration: Opening chests and activating waypoints gives you some Primogems, as does completing one-time dungeon domains you find.
Commissions: The best way to get Primogems is completing the daily commissions in your adventurer's handbook. These are also labelled on the map, and if you complete all four, you get a bonus, and a story key to unlock character quests. It also helps you gain...
Adventure Ranks: When you gain an adventure rank you get some Primogems and sometimes Fates that you can use to wish for characters.
Events: Limited-time events offer a variety of rewards, but usually for the first completion of an activity gives you Primogems.
Ascension: You get a Fate for every other character ascension, and while this might not be a cost effective method, they are still free.
Spiral Abyss: If you have the two levelled teams necessary to clear the Spiral Abyss, you can earn a lot of Primogems. The dungeon also resets, allowing you to earn them all over again.
Paimon's Bargains: If you've got Stardust or Starglitter, you can use these to purchase both kinds of Fate each month in the Paimon Bargains shop. You get Stardust from wishing, and Starglitter from landing a four or five-star character or weapon.
Adventurer's Investigations: Completing investigation milestones in your adventurer's handbook can earn you Primogems and even more adventure rank XP.
Statues of the Seven: Using Anemoculus or Geoculus to level statues of the seven rewards you with a few Primogems.