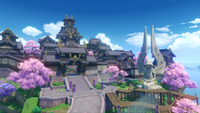 (opens in new tab)
Looking for the best Genshin Impact Yoimiya build? The five-star Pyro archer is poised to arrive in-game, bringing a whole arsenal of fiery abilities to bear against Inazuma's enemies. Yoimiya may be a happy-go-lucky character, but if her skills are anything to go by, she'll pack a real punch.
Though Ayaka (opens in new tab) may have been version 2.0 (opens in new tab)'s headlining character, Yoimiya and Sayu (opens in new tab) look just as great, offering distinctive fighting-styles, as well as fun animations and character designs. We even got to see the owner of Naganohara Fireworks in action during her story quest.
If the leaks are to be believed, then Genshin Impact 2.1 (opens in new tab) is bringing some pretty strong characters to Inazuma, including Baal (opens in new tab). But 2.0 isn't over just yet, and Yoimiya may very well prove to be this version's most powerful character. Here's the best Genshin Impact Yoimiya build, as well as info about her ascension materials, and how to get her.
Builds
The best Genshin Impact Yoimiya build
The best Yoimiya build takes into account her powerful charged attacks, as well as the Pyro buff that Niwabi Fire-Dance adds to her normal attacks.
DPS build
This five-star bow was introduced in version 2.0 and it's a great fit for Yoimiya, synergising with her powerful normal and charged attacks. Rule By Thunder increases attack by 20%, but stacks a further normal attack bonus of 12%, 24%, and 40% as you gather Thunder Emblems.
You can gather these by doing any of the following: deal damage with a normal attack (grants a five second stack), or cast an elemental skill (grants a ten-second stack). Each stack's duration is calculated independently, and they disappear when energy is full.
Of course, not everyone has the latest five-star bow, so a reasonable replacement in terms of rarity is the four-star Hamayumi, which boosts normal attack damage by 16% and charged attack damage by 12%. When character energy reaches 100%, this effect is doubled.
You can also obtain Hamayumi's forge diagram by opening Takashi's chests for seven days in a row. You can find him on the little islet north of Tatarasuna.
Artifact: Shimenawa's Reminiscence
It's no coincidence that the new Shimenawa's Reminiscence artifacts look a lot like what Yoimiya already wears, as this set is perfect for her. A two-piece boosts attack by 18%, while a four-piece boosts normal, charged, and plunging attack damage by 50% when you cast an elemental skill—provided you have 15 or more energy.
This buff lasts for ten seconds, and is another great way of boosting Yoimiya's already potent normal and charged attacks. Shimenawa's Reminiscence is available in both five-star and four-star sets, so it's not too hard to get hold off. You can earn it as a reward from the Momiji-Dyed Court domain on Yashiori Island.
How to unlock
How to get Yoimiya in Genshin Impact
Yoimiya's banner, Tapestry of Golden Flames, is available from today, with boosted rates for the Pyro archer. The new banner also features increased drop rates for the new Anemo claymore-user, Sayu, as well as Xinyan (opens in new tab), and Diona (opens in new tab).
Abilities
Yoimiya's abilities
Here are Yoimiya's abilities, passives, and Constellations:
Swipe to scroll horizontally
Normal Attack: Firework Flare-Up

| | |
| --- | --- |
| Normal | Fires up to five consecutive shots with a bow. |
| Charged | Performs an aimed shot that deals increased damage. If charged, this arrow deals Pyro damage. If charged for even longer it can create three Kindling Arrows that fire at the same time, and home on enemies to cause Pyro damage. |
| Plunging | Fires off a shower of arrows before falling to deal AoE damage. |
Swipe to scroll horizontally
Elemental Skill

| | |
| --- | --- |
| Niwabi Fire-Dance | Yoimiya waves a sparkler creating a circle of salt-peter around her. During this time normal arrows become Blazing Arrows that deal increased damage that is also converted to Pyro. Yoimiya can't create Kindling Arrows while this skill is active. |
Swipe to scroll horizontally
Elemental Burst

| | |
| --- | --- |
| Ryuukin Saxifrage | Yoimiya leaps into the air detonating her creation, "Ryuukin Saxifrage", that fires a volley of rockets dealing AoE Pyro damage, and marks an enemy with the "Aurous Blaze". This means any attack or elemental ability from another character against this enemy causes an explosion dealing AoE Pyro damage. When the enemy is defeated, the effect passes to a nearby opponent who inherits the remaining duration. An Aurous Blaze explosion can only be triggered every two seconds, and the effect will stop if Yoimiya is downed. |
Swipe to scroll horizontally
Passives

| | |
| --- | --- |
| Blazing March | When Yoimiya crafts Decorations, Ornaments, or Landscape-type furnishings, she has a 100% chance to refund a portion of the materials used. |
| Tricks of the Trouble-Maker | During Niwabi Fire-Dance, shots from Yoimiya's normal attack increase her Pyro damage by 2% on hit. This effect lasts for three seconds and has a maximum of ten stacks. |
| Summer Night's Dawn | Using Ryuukin Saxifrage causes nearby party members (not including Yoimiya) to gain a 10% attack increase for fifteen seconds. Additionally, a further attack bonus is added based on how many "Tricks of the Trouble-Maker" stacks Yoimiya possesses, granting a further 1% for each. |
Swipe to scroll horizontally
Constellations

| | |
| --- | --- |
| Agate Ryuukin | The Aurous Blaze created by Ryuukin Saxifrage lasts for an extra four seconds. Also when an opponent affected by Aurous Blaze is defeated, Yoimiya's attack increases by 20% for 20 seconds. |
| A Procession of Bonfires | When Yoimiya's Pyro damage scores a critical hit, she gains a 25% Pyro damage bonus for six seconds. This effect can be triggered even when Yoimiya is not the active character. |
| Trickster's Flare | Increases the level of Niwabi Fire-Dance by three. Maximum upgrade level is 15. |
| Pyrotechnic Professional | When Yoimiya's own Aurous Blaze triggers an explosion, Niwabi Fire-Dance's cooldown is decreased by 1.2 seconds. |
| A Summer Festival's Eve | Increases the level of Ryuukin Saxifrage by 3. Maximum upgrade level is 15. |
| Naganohara Meteor Swarm | During Niwabi Fire-Dance, Yoimiya's normal attacks have a 50% chance of firing an extra Kindling Arrow that deals 60% of its original damage. This damage is considered normal attack damage. |
Ascension materials
Yoimiya Ascension materials
Character
Yoimiya's character ascension materials are the usual Agnidus Agate that you can get from Pyro bosses, but also Smoldering Pearls, which only come from the new Pyro Hypostasis. You'll also need two world materials:
Naku Weeds
Divining Scrolls
Naku Weeds are found all over Inazuma, but the best places are dotted around Narukami Shrine and Mikage Furnace on Tatarasuna. Divining Scroll-series items, on the other hand, can be found all over, and are dropped by Samachurls of different world levels.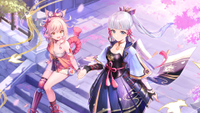 (opens in new tab)
Talent
Here are Yoimiya's talent ascension materials:
Divining Scrolls
Teachings of Transience
Dragon Lord's Crown
Crown of Insight
As mentioned before, Divining Scroll and their higher tier version come from Samachurls of different world levels. Teachings of Transience are a reward from the Violet Court domain on Mondays, Thursdays, and Sundays.
The Dragon Lord's Crown is obtained through completing the level 70+ Azhada boss challenge in the trounce domain. And finally, Crowns of Insight are earned through seasonal events, but also by upgrading the Sacred Sakura in Inazuma, or the Frostbearing Tree in Dragonspine.