There's not much longer to wait for Hogwarts Legacy (opens in new tab) release time, so you'll soon be able to jump in and explore the vast magical world. There's plenty to do in and around the famous School of Witchcraft and Wizardry, from learning spells (opens in new tab) to solving all kinds of puzzles. You can even import your house and wand (opens in new tab) from the Harry Potter fan club into the game.
With all that in mind, if you want to know exactly when Hogwarts Legacy unlocks and you don't want to be late for class, here are the Hogwarts Legacy release times, broken down by region.
Hogwarts Legacy release times
Hogwarts Legacy is set to officially release on February 10 and will unlock globally for PC players at 10 am PT. Here's how that breaks down in other time zones:
Los Angeles: 10 am PT
New York: 1 pm ET
London: 6 pm GMT
Paris: 7 pm CET
Those who pre-ordered the deluxe edition have been able to play in early access since February 7, which accounts for the nearly 500,000 people that are playing it already (opens in new tab). This is despite many pledging not to buy the game (opens in new tab) due to the anti-trans views of Harry Potter creator JK Rowling.
You can preload Hogwarts Legacy now, and If you're planning on jumping in straightaway, you might want to get that started as the game is a chunky 70 GB download.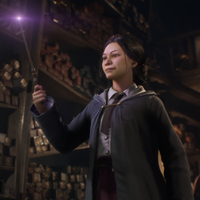 (opens in new tab)