Welcome back to , our weekly livestreamed podcast. You can catch the show live on Wednesdays at 1 pm PDT on , or after the fact at any of the links below.
On this week's show we'll be talking about James' time with Watch Dogs 2 on PC, Black Friday, good games to play with (or to help ignore) your family during the holidays, and more—including our usual Twitch chat Q&A.
The week's topics:
What we've been playing recently.
James talks about his time with Watch Dogs 2 on PC.
We talk about good games to play with or help you ignore your family for the holidays.
Black Friday is coming, and we talk strategy and what we hope goes on sale.
We take your questions from Twitch chat.
Definitely not Pokemon.
Listen:
Your flapping heads for this episode: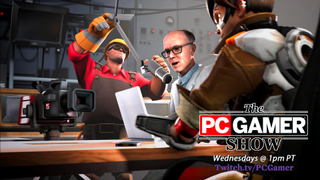 The awesome images we use for the show were made for us in Source Filmmaker by Ness "Uberchain" Delacroix. You can find her and her .