The best gaming PC is much more than the sum of its parts. What we look out for in our testing is a complete system built with care by professionals and tailored to gaming performance. We also want to see that the manufacturer has been careful with their selection of components and hasn't cut corners on components. These key factors separate the best gaming PCs from the mediocre machines.
We've all experienced the difficulties and spiked pricing of product shortages over the past few years, most evident by the high pricing and scarcity of the best graphics cards. Thankfully, this has improved in 2023, but it remains true that the buying power of system builders means they generally have a better chance of getting hold of a new piece of hardware than you do on your own without an insulting markup in price. That means it's easier and often cheaper to chase down that desirable new GPU by buying the best gaming PC.
But with so many different configurations meant for many different budgets, how can you tell the best gaming PC? We've switched up how we test prebuilt PCs and are focusing less on exact configurations and more on what different system builders will prioritize in terms of specs and what they offer regarding the quality of build and warranty.
Your future gaming PC should be packing the best graphics card, combined with the best CPU for gaming, as far as your budget will allow. That's why I tested systems that give you the best frame rate for your money at 1080p, 1440p, and 4K. There's something here for everyone, from budget to high-end.
Best gaming PCs
Our favourite Aurora R13 config: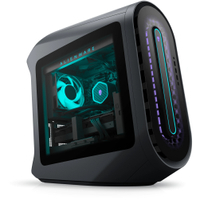 Intel Core i7 12700KF | Nvidia RTX 3070 | 16GB DDR5-4400
Pairing the impressive RTX 3070 with one of Intel's newest Alder Lake CPUs will give you a great gaming PC without an offensively exorbitant price tag. This config also comes with 16GB DDR5-4400—importantly configured in dual-channel mode—and a 512GB NVMe SSD. You will need to select the GPU in configuration options, to get the superior graphics card.
Look, an Alienware Aurora with a side window. What a world. The new Aurora R13 uses the release of Intel's Alder Lake processors to slightly redesign its extraterrestrial chassis. It offers a host of configurations, from the Core i5 12400F, thru the i5 12600KF and i7 12700KF, all the way up to the Core i9 12900KF.
They're paired with Nvidia GPUs from the GTX 1650 Super up to the unfeasibly expensive RTX 40-series or AMD Radeon cards from the RX 6600 XT up to the RX 6900 XT. That gives you a range of Alienware gaming machines from reasonably affordable 1080p gaming right up to blistering 4K workload-smashing performance. The Alienware AIO cooling system will help keep the cozy interior of the case at a reasonable temperature too.
While Alienware's actual configs are great starting points, as with the Ryzen Edition, it's absolutely worth digging around in the customization options when it comes to picking the right rig for you.
It has to be said that Alienware is being a bit stingy with its DDR5 memory here. In only the Core i7 or i9 versions of the Aurora R13 can be configured with dual channel memory out of the box or have more than 8GB of DDR5. It's also not the fastest either, with only DDR5-4400 available.
I'll give it a break while DDR5 is expensive and hard to find, but it still stings, and I'm not impressed.
Our favourite CyberPowerPC Infinity X109 config: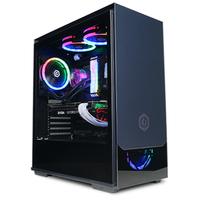 Intel Core i5 12600KF | Nvidia RTX 3060 Ti | 16GB DDR4-3200
This is a slight variation on the machine we recently looked at for review, boasting a more powerful Intel Alder Lake CPU alongside the 1080p/1440p powerhouse that is the RTX 3060 Ti. This an impressively quiet gaming PC that also looks incredible thanks to a wealth of RGB-lit fans.
This isn't the first Alder Lake gaming PC we've looked at this year, but the ones before it has all been very, very expensive. If you've got the budget to stretch to an all-singing all-dancing high-end system, then you're spoiled for choice, with the likes of the Velocity Micro Raptor X55, Corsair One i300, and Origin 5000T Milleniumall being fine machines if you've got $5,000 burning a hole in your back pocket. Which, frankly, not many of us have.
Time for something completely different: A budget Alder Lake PC. While the previous machines we've looked at focused on 4K gaming and showcasing the top of Intel's 12th Gen stack, here Cyberpower is more concerned with 1080p gaming and hitting a far more reasonable price point.
To do that, you're looking at an Intel Core i5 12400F and an Nvidia GeForce RTX 3050. Much more modest fare. And at £1,055 ($999 for a similar core spec in the US) much more affordable too. There was a time when that's how much you'd expect to pay for a reasonable gaming machine, so it's good to see that we're finally returning to some kind of normality here.
When it comes to performance, the Infinity X125 sits exactly where you'd expect—just about capable at 1080p, although it's a tough call at times. You're going to want to tweak some of the settings to maintain a smooth frame rate, particularly when it comes to more exacting games, which probably isn't what you want to hear after dropping a grand on a new gaming PC.
Metro Exodus, for instance, averaged 50fps at the highest settings, while turning on RTX pretties drops this down to 41fps, and yes, that's with DLSS turned on. You can tweak the settings to hit 60fps, but then you're not getting the best visual experience. At least you have GeForce Experience on hand to make the whole thing as easy as possible.
Less exacting games perform better, strangely enough, with the likes of F1 2020 hitting a silky 118fps whilst hurtling around a rainy Vietnam circuit. Horizon Zero Dawn also managed a respectable 71fps on average, with lows of just 58fps. These frame rates are all recorded at 1080p, and upping the resolution to 1440p proves that the RTX 3050 simply doesn't have the raw grunt to handle higher resolutions.
The same is largely true of ray tracing as well, with one of the lowest scores I've ever seen in 3DMark Port Royal. If you're after serious ray tracing performance, you should really have your sights set on the RTX 3060 at least.
In fact, you can tweak the configuration at the time of purchase to upgrade to an RTX 3060 for a mere £42 extra. That's easily the best upgrade you could ever make—far better gaming performance for the price of a game. You know it makes sense. It's worth highlighting that this machine runs quietly and coolly even when pushed hard too. Even though Cyberpower has used the Intel cooler stock, the temperature only hits 79­°C. The RTX 3050 maxes out at just 66°C as well. Those case fans aren't just for the pretty RGB lights.
Overall then, there's plenty to like here. Component selection mostly makes sense, and it's a surprisingly good-looking system, given its budget nature. I'd recommend upping the graphics card to an RTX 3060, for sure, and the lack of USB Type-C ports is annoying, but it's still a decent PC for the money. It's well-built, uses well-known components, and has plenty of space for further upgrades.
Our favorite Corsair One config: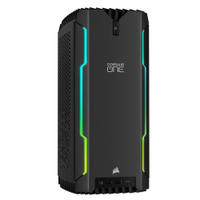 Ryzen 9 5900X | RTX 3080 | 32GB DDR4-3200
Finding powerful, small form factor gaming PCs is tough going, but the Corsair One design has big Mac Pro energy, and this beastly mini machine sports both the finest AMD processor you can buy as well as Nvidia's best 30-series graphics card. And don't come at me with your overpriced RTX 3080 Ti...
The Corsair One i300 is the latest version of the compact high-end gaming PC. It's been updated to use Intel's top-end Alder Lake Core i9 12900K(opens in new tab) and comes with the kind of impressive spec list that almost makes sense of its incredibly steep price tag of $4,999 (making it the most expensive Corsair One to date.) Not only do you get a GeForce RTX 3080 Ti(opens in new tab) inside that brilliant chassis, but there's 64GB of DDR5-4800 and a speedy 2TB NVMe SSD in there too. That's a lot of cutting-edge hardware for what can only be described as a helluva lot of money.
This is an important update for a high-end system like the Corsair One because when you're dropping this kind of cash on a PC, you need to know that you're getting the best hardware around. The Intel Core i9 12900K certainly falls into the camp. That Corsair has coupled it with the RTX 3080 Ti confirms this as a gaming rig too, as the more-expensive RTX 3090 only really makes sense for those looking at professional rendering and workloads.
Don't dismiss the memory or storage in this rig either. DDR5 is currently incredibly hard to get ahold of. In 64GB trim like we have here, you know you're not going to come up lacking in any game on this front is welcome. Yes, it's overkill, but it means you won't need to upgrade anytime soon.
When it comes to testing there's certainly a lot to like here, with some of the fastest benchmark results around. Synthetic benchmarks, such as the raytracing showcase, and 3DMark Port Royal, produced the highest score in the labs so far. Something that is backed up in the RTX rendition of Metro Exodus, where it left all but the RTX 3090-powered Alienware Aurora R12 eating beautifully rendered dust. Losing out to the much more expensive card feels reasonable here.
The important thing is of course that this PC can game, and game incredibly well. You'll get the kind of high frame rates that esports monitors were built for at 1080p and at 1440p for that matter. Up the resolution to 4K and you're still in with a good shout of tipping over into 100fps in plenty of games.
This thing is a beast. A quiet, purring beast that can also handle itself with more serious pursuits too.
You can configure the Corsair One i300 in a couple of ways, although the Core i9 12900K is the only option for the CPU. You can go with an RTX 3080 instead of the 3080 Ti, which limits the build to 32GB of DDR5 as well, although that does shave a cool $1,000 off the asking price, so that could make sense. Even so, there's something brilliantly over the top with this 64GB system that makes it all the more tempting.
Not that this is an easy machine to justify to yourself, let alone anyone else. And yes, you could, in theory at least, build a similar spec'd machine to this for a lot less, although good look actually getting your hands on that graphics card or DDR5 RAM for that matter. And importantly it wouldn't look anywhere near as good as this or run as cool and quiet as this does for the vast majority of the time.
Overall, the Corsair One i300 ably achieves what it sets out to do. It's a compact gaming PC that showcases the latest technology and an impressively smart and dare I say, beautiful case. It's a machine that many gamers would love to own, but few can afford it. But for those that can... it's a treat.
Read our full Corsair One i300 review and Corsair One A200 review.
Our favorite HP Omen config: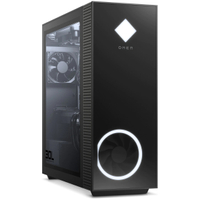 AMD Ryzen 7 3700X | Nvidia RTX 3060 Ti | 16GB DDR4-3200
The updated HP Omen desktop machine comes with a shinier chassis and can be configured to house an RTX 3060 Ti for under £1,400. It's worth upgrading the 256GB SSD at the time of purchase through, as that's a bit pokey by modern standards.
Hewlett Packard has been around since before the Second World War, and that historical expertise is evident in the design and construction of the Omen line of gaming PCs. I mean, they are slightly smaller than they were back in the day, but the heritage remains. HP Omen offers a wide range of customization options with its Omen 25L, and 30L systems, allowing you to pick up AMD, Intel, and Nvidia component CPU and GPU options.
You can also take that configuration to the memory and storage requirements, allowing you to tailor your system. HP Omen rigs are on the more restrained side of PC gaming so you won't find an over-elaborate liquid cooling system or a massive suite of spectacular RGB lighting. Tall, surprisingly thin towers still contain some of the best hardware around today.
Omen systems are appropriately named dense black blocks of computing power. If you value smooth lines and compact design over the flash and spectacle of RGB, you'll appreciate the dark, slightly brooding aesthetic of the HP lineup.
We've looked at machines with last-gen processors in them, and that can be a good way to save a little cash because you can still get the latest Nvidia GPUs inside them. You can also get last-gen GPUs, but we'd advise you to steer clear of either the RX 5500 or RTX 2080 Super builds; those are still relatively expensive, and the graphics hardware will date far quicker than anything else in the system.
We haven't specifically reviewed the latest range of gaming systems from HP. Still, we've been testing its gaming PCs since the Obelisk range, and we've always appreciated its no-unnecessary-frills approach to system-building and the value proposition of its rigs.
Our favorite Scan 3XS Gamer config: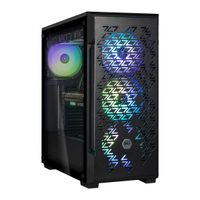 Intel Core i7 12700F | Nvidia RTX 3080 | 16GB DDR4-3600
It's not easy getting your hands on Nvidia's Ampere GPUs, but Scan is one of the biggest retailers in the UK and seems to have better access than most. This combo of Intel Core i7 12700F and RTX 3080 should see you right for years, even at 4K.
Your next upgrade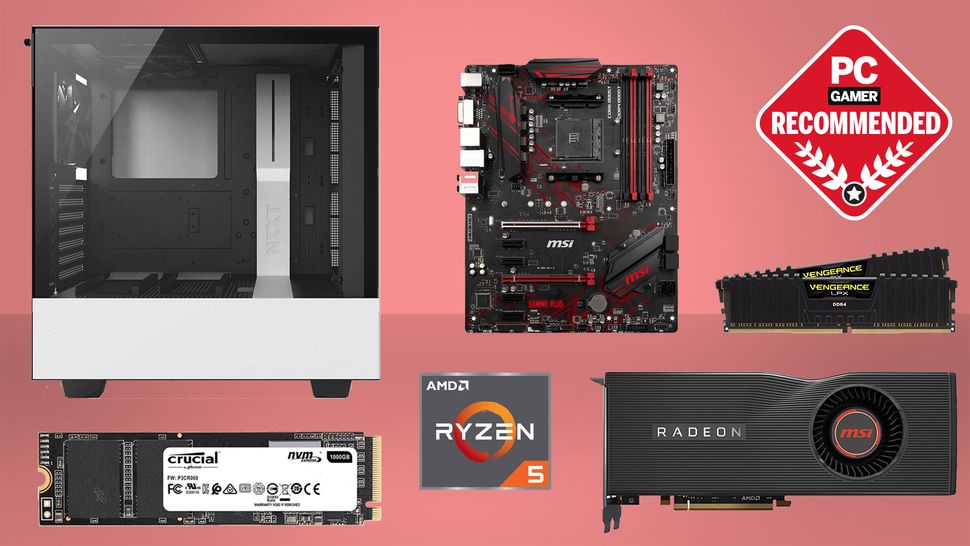 Best CPU for gaming: the top chips from Intel and AMD
Best graphics card: your perfect pixel-pusher awaits
Best SSD for gaming: get into the game ahead of the rest
Scan has been a mainstay of system building in the UK for years, and we've used enough of their systems to know that we're in safe hands whenever we get a gaming PC in for review. The systems are well built, using well-known components, and all backed up by a brilliant three-year warranty (on-site first year). That warranty does bring peace of mind.
This 3XS Gamer 3080 is like a wishlist given physical form, boasting an RTX 3080 alongside Intel's excellent gaming CPU, the Core i7 12700F. This may not be the overclockable variant (it lacks that all-important trailing K for that), but given overclocking has little impact on gaming performance, we're cool with that. Speaking of being chill, the Corsair Hydro H100x does an excellent job of keeping the CPU in check.
You get a 16GB Corsair Vengeance LPX kit for your money, which should see you good for years of gaming to come, and there's a healthy 1TB SSD from Intel to keep things humming along. This is all housed in the Corsair iCue 220T case, which is a good-looking case offering plenty of airflow to keep your components running optimally.
You can, of course, configure the machine to your heart's content, with faster processors, more memory, better storage options, you name. Scan also has a few other builds to get you started, including RTX 3070 systems from £1,500 and the option of going with either Intel's Core i5 10700 or AMD's brand new Ryzen 7 5800X.
Best gaming keyboard | Best gaming mouse | Best gaming chair
Best VR headset | Best wireless gaming mouse | Best CPU for gaming
Best gaming PC FAQ
Should I buy a pre-built PC?
One of the most significant advantages of building your PC is the ability to hand-pick every single component in the system. This allows you to shop around for deals and find the perfect combination of parts to fit your budget and performance needs.
The downside for most inexperienced builders is that this whole process can take some time and has the potential to cause quite a headache if something goes wrong. You only get warranties on the individual components, not your finished build, and this is where the best pre-built gaming PCs shine.
Are pre-built PCs good value for money?
When you pay the premium to configure or purchase a pre-built PC, you pay for more than just the parts. You are paying for warranty service, support, and peace of mind that your system was put together by professionals. These are some of the things we value highly when considering what the best gaming PC is. We also look at other unique selling points like design, upgradability, and anything you couldn't do when building it yourself.
What's better, pre-built or DIY gaming PC?
The design is one of the most significant factors that make PCs stand out from the competition. Pre-built systems like the Alienware Aurora R13 or Corsair One use unique in-house chassis designs you wouldn't be able to purchase when building it yourself. You can take some comfort in knowing that these systems were designed and built specially to house your configuration, though that can make upgrading more awkward later on down the line.
When we set out to choose our top choices of pre-built gaming PCs, we look at almost every major manufacturer and system integrator to find the best combination of value, reliability, customer feedback, design, and performance for various budgets and needs.