Our readers and writers alike love PC gaming. But in 2023, when it comes time to open the wallet or purse to pay for a top spec gaming PC, I feel like crying. I like to see unique systems like the MSI MEG Trident X2 13th gaming PC. I like to see companies push out something that combines form, function, and performance, but dammit I want some nod towards value too. It's not unexpected to be charged extra for a hassle-free prebuilt PC, but not this much!
The Trident X2 is a flagship tier gaming PC by just about every measure. Any system with a Core i9 13900KF, RTX 4090 (opens in new tab) and 64GB of DDR5 memory has to be considered as such. And it looks like a serious PC. Personally, I'm kind of on the fence when it comes to its look. It looks like an older generation Trident chassis with a black box glued to the side.
There is a certain subtlety to it though. It doesn't have a tempered glass side panel so apart from the front mounted touch screen and RGB strip, its look is rather reserved. I do, however, prefer it to some of the modern cases that look like something out of a Transformers movie.
Now, let's talk pricing. It is—to put it mildly—ridiculous. US vendors have the Trident X2 with this spec listed for $5,999. Ouch. Configuring a similar Alienware system comes to $5,379, and that's without factoring in any of Dell's frequent discounts. A system that makes an Alienware sound cheap is definitely too expensive. At the time of writing the Trident X2 was listed at Newegg for $4,801 (opens in new tab), a 19% discount. That makes it more attractive but it's still too pricey relative to far too many competing systems.
MSI MEG Trident X2 13th specs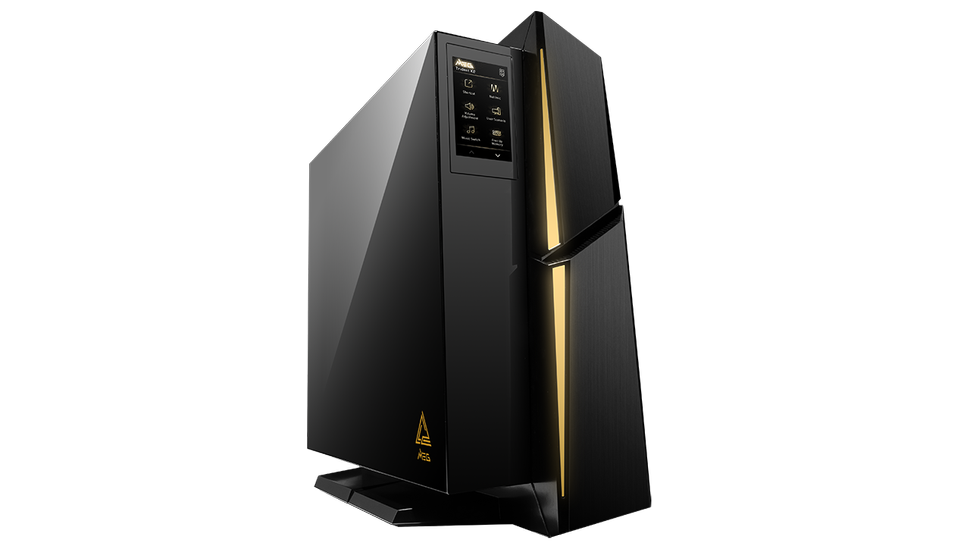 CPU: Intel Core i9 13900KF
Cooling: MSI 280mm AIO liquid cooler
Motherboard chipset: Z790
Memory: 64GB (2x 16GB) DDR5-4800
Graphics: MSI GeForce RTX 4090 Ventus 3X
Storage: Samsung 2TB PCIe 4.0 NVMe SSD & Seagate Barracuda 2TB HDD
Power: MSI 1000W 80 Plus Gold
Warranty: 3 years
Price: $5,999 (opens in new tab) / £5,427 (opens in new tab) / AU$12,499 (opens in new tab)
In Australia the system is even more exorbitantly priced. Popular retailers including JB HiFi and Harvey Norman have the system listed for AU$12,499 (opens in new tab). No thanks. I reviewed an Mwave Respawn system (opens in new tab) recently. It had a similar spec and it cost a relatively cheap AU$7,699. Other similar systems are widely available for AU$8,000 or less.
The MSI does have some cool features and an eye-catching design, but when it costs 50% more than many systems that are just as good, if not better in some areas, the MEG Trident X2 13th is a nonstarter. A console costs a tenth of the price or less depending on the region.
But a crappy price doesn't mean it's a crappy system. The price surely has to drop in the months ahead. Let's have a look at what's under the hood...
Before I get to the spec, though, I'd like to talk about the Trident X2's unique feature. The eye-catching screen at the front of the case is what MSI colorfully names the Human Machine Interface, or HMI. It's a 4.5-inch touch panel with a variety of uses. It can be used to show things like the system's status, monitoring information, and more.
It can launch apps, control your music library, and it can be used to control many of the functions of compatible MSI monitors too. I'd probably control the monitor via the monitor, but still, cool? Cool. It's got a little countdown app that could come in handy, and of course, it supports MSI's Mystic Light RGB app.
Is the HMI a game changer? No, of course not, but there's enough there to be genuinely interesting. Imagine something like this with an Android OS and what you do with it then? Easier said than done I suppose.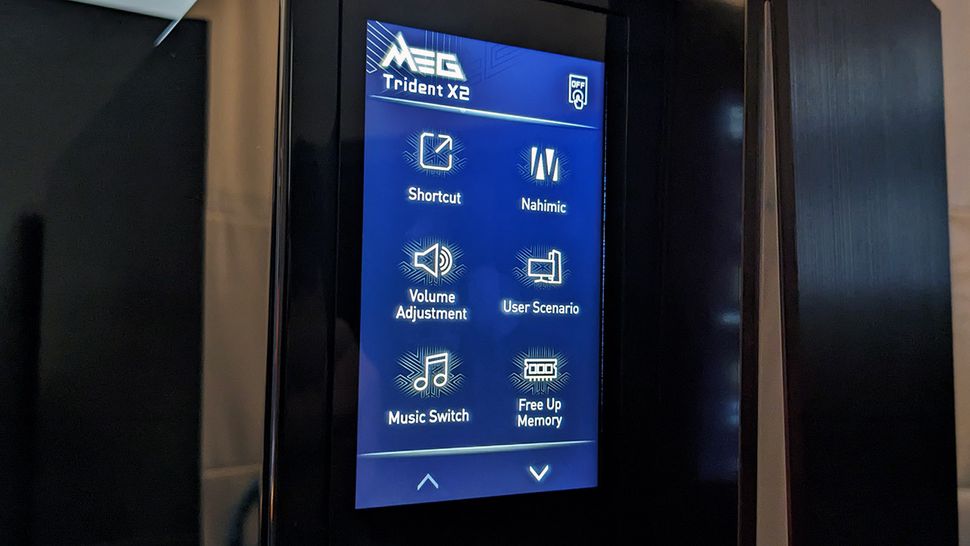 Moving onto the core components, and there's a lot here to like. Intel's Core i9 13900KF is a powerhouse of a CPU. It's cooled by an MSI 280mm AIO cooler. The pixel pushing prowess of a GeForce RTX 4090 is as good as it gets at this point in time. It's an MSI Ventus 3x model; in MSI's range, that sits below the Gaming and Suprim models.
MSI chose to include 64GB of DDR5-4800, an odd choice for a gaming PC but less odd if your tasks include any one of a number of RAM intensive apps. Games prefer speed over high capacity, and 32GB of DDR5-5600 or 6000MHz would make more sense for a rig aimed at gamers.
This spec Trident X2 comes with a 1000W Gold rated PSU. It's easily enough to power the RTX 4090 and the rest of the components. A Samsung 2TB PCIe 4.0 SSD and Seagate Barracuda 2TB HDD take care of the storage needs. Though I think an 8TB+ HDD would be more appropriate at this price.
MSI obviously includes one of its own Z790 motherboards. One of the areas I'm disappointed with is the rear I/O: you only get six USB ports with one 3.2 Gen 2x2 Type-C, three 3.2 Gen 2 Type-A and two USB 2.0. You get the front ports too of course, made up of a Gen 2 Type-C and two Gen 1 Type-A, but that's pretty much what you'd get on a mid-range B760 board.
You get dual LAN made up of Intel I226V 2.5G and I219V 1G. Intel AX211 WiFi 6E takes care of your networking. HDMI 1.4, the audio ports and a good old PS/2 port round out the I/O.
Almost all of the Trident X2's components are off the shelf MSI components. Apart from the unique case and HMI touch panel, it's really no different from a gaming PC you can buy from any PC shop or boutique retailer. With that in mind I wish it was upgrade friendly.
MSI allows you to upgrade the storage of the Trident X2 but nothing else. The other side of the case has screws that are covered with void warranty stickers, and even if you do choose to ignore them as I did, accessing the internal components is more difficult than it is with a normal DIY PC as the motherboard is placed behind the large CPU radiator. It's far from impossible to remove, but if you're confident or knowledgeable enough to be elbows deep inside a PC case in the first place, you wouldn't be buying this system. And you don't want to void your warranty regardless.
Even if you were to upgrade just the RAM, there are no options in the BIOS to enable XMP or adjust its speed.
As you'd expect from a system with a spec like this, performance is very good, though there are caveats.
System performance
The relatively slow 64GB of DDR5-4800 will negatively affect apps and games that are sensitive to memory speeds. Until recently, 2x32GB of RAM necessarily ran slower than 2x16GB due to the strain it puts on the CPUs memory controller. There's little need for 2x32GB for a gaming or general use system, and it should come with faster 2x16GB memory.
Of course, there are users that can make use of the the extra memory, especially in conjunction with the power of the RTX 4090, Nvidia's Studio driver and CUDA supporting software, but then those users probably wouldn't be looking at a system like this with its gaming focus.
I expected the Trident X2 to be on the noisy side. Its not exactly quiet but it did better than I expected, and it didn't let the CPU get too hot either. MSI sets the 13900KF's power limits to Intel's default spec which means the worst power and heat excesses of an unleashed chip are avoided, but this mean the Trident X2's CPU performance is a bit behind that of the comparable Mwave system.
Synthetic and 1440p gaming performance
4K gaming performance
Gaming is where the Trident X2 shines. The RTX 4090 is the stuff gaming dreams are made of. Whatever you need its grunt for, 4K, ray tracing, high fps or the cores for productivity, the RTX 4090 is the best there is, though if you are one that needs to use the GPU for its compute ability, there are viable Quadro options when you're in this price range.
The Trident X2's gaming performance is again a touch behind that of the Mwave system, though that system includes a higher clocked MSI Suprim X GPU and benefits from longer CPU boost clocks. Still, the Trident X2 is a mega gaming system.
At its core, the MEG Trident X2 13th is powerful PC. The Ventus RTX 4090 will rip through 4K games with ray tracing enabled. The 13900KF is Intel's best CPU (ignoring the limited edition 13900KS), and you get 64GB of DDR5 memory—albeit entry level slow stuff.
The touch screen is a nice option with some real useability. It's a good looking system, though its unusual design won't appeal to all. It's got capable cooling too. I wish it was a bit more upgrade friendly and had a better set of I/O options. More USB ports or faster LAN would be nice for a start.
Then reality bites.
I just can't get over its ludicrous price. In fairness to MSI, pricing is variable. We're still early in the RTX 40-series and 13th Gen product cycles. That means the Trident X2 is sure to have a long shelf life. If MSI were to drop pricing to more palatable levels, my conclusion would be different, but at this price there's simply no way I can recommend the Trident X2.
Shop around. You'll find something just as good and have enough money left over for a game or ten, a decent monitor or… you get the picture.