The Origin Millennium is the first gaming PC we've checked out with a new Nvidia Ampere RTX 30-series card inside it. You can probably imagine my excitement at finally get my hands on a system with an RTX 3080 in it because let's be honest, there's no other way I'm getting my hands on one (opens in new tab). We reviewed the Nvidia RTX 3080 Founder's Edition a while back, but I was curious to see how well the graphics card does in a non-test bench setting. The Millennium, Origin's massive desktop game station, seems like a good candidate for such a massive GPU.
Technical Specs
Processor: Intel Core i7 10700K 8-Core 3.6GHz (4.9GHz TurboBoost)
Graphics: MSI GeForce RTX 3080 Gaming X Trio
Memory: 32GB CORSAIR DOMINATOR PLATINUM 3200MHz RGB (2x16GB)
Storage: 1TB SAMSUNG PM981 NVMe M.2, 3TB HDD
Connectivity: HDMI 2.0, DisplayPort 1.4, 6x USB 3, Ethernet, Wi-Fi 5 (802.11ac)
OS: Windows 10 Home/Pro 64-Bit
Dimensions: 20"(H) x 9"(W) x 23"(D) inches
Weight: 30 lbs
Warranty: 1 year warranty, free lifetime labor
Price: $3,601 (opens in new tab)
I'm sure you've heard, but it turns out RTX 3080s have been hard to come since launch. In fact, for a while, the only way to get one was to order an entirely new system and strip it for parts.
The Origin Millennium PC is fully customizable. You have a choice of three cases, Intel or AMD builds, and now you can even spec it out with an RTX 30-series GPU, with the lowest priced configs starting at $2,060 (opens in new tab).
The system we've got in for review has a 10th Gen Intel Core i7 (overclocked), 32GB Corsair Dominator Platinum RAM, and most importantly, and the excellent MSI RTX 3080 Gaming X Trio (opens in new tab) doing all the graphical heavy lifting. This particular build retails for a hefty sum of $3,601 which sort of sits in the middle of the field as far as Millennium configs are concerned.
Modern, high-end desktops will still generally use a combination SSD and HDD as a storage solution and like the Maingear Turbo, this has a similar setup. This config has 1TB Samsung PM981 NVMe M.2 SSD as the primary drive and 3TB HDD for additional storage. Not the fastest SSD on the market but I'm still of the opinion that given high-capacity SSDs are now more common, if you're already spending thousands of dollars on a premium gaming rig, why not just splurge on a bigger SSD and future proof your storage?
Benchmarks
Cinebench R20: 4645 (multi-core) 496 (single-core)
Geekbench 5: 9266
x264: 60 fps
CrystalDiskMark Q32 Sequential (Read): 3,519 MB/s
CrystalDiskMark Q32 Sequential (Write): 2,383 MB/s
Shadow of the Tomb Raider (Ultra, RTX): 104fps (1080p) 72fps (1440p) 58fps (4K)
Division 2 (Ultra): 147 fps (1080p) 116fps (1440p) 71fps (4K)
Gears Tactics: (Ultra): 134 fps (1080p) 123fps (1440p) 66fps (4K)
Far Cry New Dawn (Ultra): 103 fps (1080p) 125fps (1440p) 98 (4K)
Total War: Troy (Ultra, Battle): 110 fps (1080p) 126fps (1440p) 56fps (4K)
Metro Exodus (RTX): 73 fps (1080p) 75fps (1440p) 41 (4K)
3DMark Fire Strike: 30819
3DMark Fire Strike Ultra: 11050
3DMark Time Spy: (GPU) 17960, (CPU) 11673
3DMark Port Royal: 11050
PCMark 10 Express: 5365

The Corsair Obsidian Series 500D, with dual tempered tinted glass panels, is a thing of beauty. Even as a mid-tower, this imposing PC often feels like it's looming over your desk as you work. It's a nice effect to see the RGB lighting peek through the tinted glass that gives the PC what I can best describe as an intimidating presence like a piece of supervillain tech.
What I like most about this case is the screwless access to all the internals. Though having magnets instead of screws keeping your PC shut does you run the risk of the panels accidentally swinging open should you decide to move your machine. It would be nice to have some sort of clamp or mechanism to hold everything in place. You can still be screwless and secure without mutually exclusive ideas. You'll see why in a bit.
The centerpiece of the Origin Millennium is the RTX 3080 that takes up residency inside it. If you peek inside though, it seems like the case wasn't meant for a graphics card this big. It looks like it's just sort of stuffed in there with an errant bracket sticking out that needs to be held down with the power cables—not exactly the primary function of those cables.
When it isn't being held down by the cables the bracket protrudes out far enough to actually keep the case from closing. So much that the magnets simply aren't strong enough to keep the panel from remaining permanently open. Upon further inspection, the bracket itself is only millimeters from making contact with the GPU fans.
I reached out to Origin about this and they said there might have been an issue that with how the instapak was installed during delivery, bending the GPU support. The bracket itself was provided by MSI and the fix Origin provided was to simply push the bracket back into place far enough so the case would close. The quick and dirty fix was worked enough to continue testing, though still doesn't look great.
Thankfully the tinted glass panel obscures my repair job. It's a shame because we have been seeing improved build quality from Origin these days.
Now the bracket drama is settled, I'm able to get back to the main event and see how the Millennium handled gaming. This hard-to-get GPU posts some remarkable gaming performance (especially at 4K) at an affordable price. You might have noticed some additional scores on the Benchmarks boxout.
Since the RTX 3080 is such a big jump in performance from the previous generation of RTX GPUs. It's not unusual for it to manage well over 100fps at 1080p in a lot of the games we run. So, we added 1440p and 4K scores for more context. My sweet spot for gaming has always been 1440p so the system hitting an average of 110fps is pretty wild. What's most surprising though are the scores with ray-tracing turned on. While there is a dip we still hit over 100fps on Shadow of the Tomb Raider and 75fps on Metro Exodus at 1440p.
4K gamers will be happy to read that RTX 3080 has no problems delivering a near stable 60fps on nearly everything I played, with the exception of Metro Exodus (ray tracing on) and Crysis Remastered, which I would argue aren't optimized that well for testing graphics to begin with, but still hit a range of 45-55fps on multiple runs.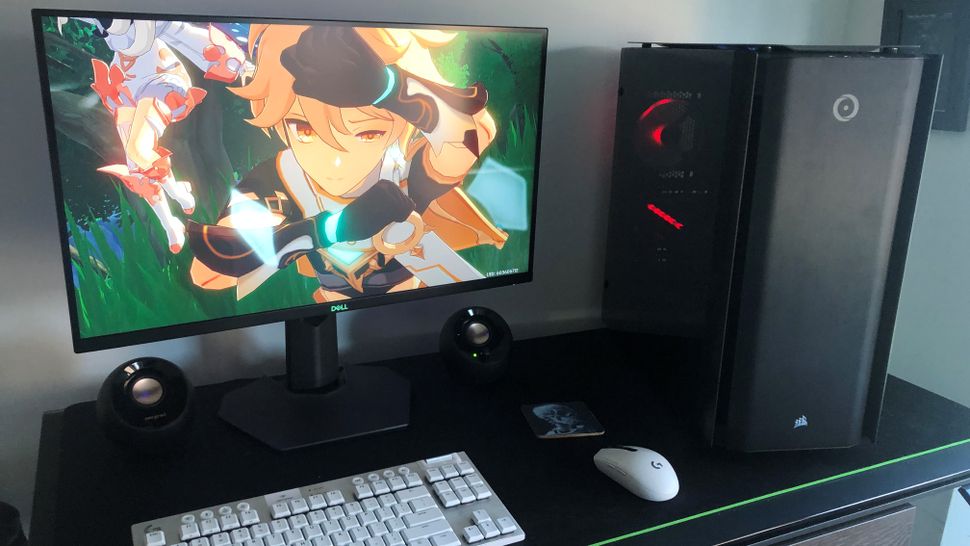 There's a lot to like about the Origin Millennium as a high-end gaming PC; it's got the performance and style you'd want at $3,600. Honestly, I would have scored the Origin Millennium higher if it weren't for the design issues I had with the case and GPU.
For systems this expensive, people are paying these sorts of prices to avoid the headaches of building a PC themselves. The smart play is either go with a different case option (even though this one looks amazing the magnets are a problem for me) or wait until the GPU support issue is dealt with on Origin's end before you hit check out on the shopping cart.
Or maybe the best thing to do would be to instead wait for system builders to create setups created specifically with the new RTX 30-series cards in mind. Though that means more waiting to get your hands on an RTX 3080, sorry.
Update 15/10/2020:
After the original review was published with a score of 75, Origin sent over a replacement GPU and bracket, in an effort to simulate the experience an end user would have if their system arrived in the same state as our review machine.
These parts would have been covered under Origin's parts warranty. Both fit perfectly into the system and we were able to boot up fine, though obviously we are experienced PC tinkerers.
We re-benchmarked all the games from the review just to make sure we didn't see any major changes in performance and, as suggested in the text above, we have updated the score to reflect the overall system performance and subsequent 'after-sales' experience.