Quick menu
⚙️ The list in brief
1. Best overall
2. Best budget
3. Best gaming CPU
4. Best Intel high-end
5. Best AMD high-end
6. Best AMD AM4 upgrade
7. Best CPU graphics
8. FAQ
9. CPU review list
10. Jargon buster
The best gaming CPU is one of the most hotly contested titles in the industry, changing hands with each successive new generation of processors. Right now, Intel is leading the charge on the more affordable side of things with its excellent budget and mid-range 13th Gen chips, while AMD has the superb Ryzen 7 7800X3D to deliver mega gaming performance for more money.
Now AMD has launched its mega-cache X3D CPUs, we're seeing some stiff competition for the blue team with the AMD Ryzen 7 7800X3D being the fastest gaming CPU, though the Intel Core i5 13600K is still the best affordable CPU for most gamers. That's true even now it's launched the 14th Gen, because the Core i9 14900K and Core i5 14600K are just nominal refreshes of the chips that went before them, just with IRL irrelevant clock speed bumps.
The outright best CPU for you isn't all about raw frame rate metrics—most of us game at resolutions where our graphics card is the dominant player in terms of deciding on game performance—so, while the AMD is undoubtedly the best for top-end gaming frame rates, Intel's chip is a superb all-rounder for the money.
I'm happy to report that there are a ton of great affordable processors out there right now, too. On the more affordable side there's the Core i5 13400F. AMD also keeps making its Ryzen 5000-series CPUs just that much cheaper, which is great if you already have an AM4 motherboard and need an upgrade.
Every chip on this list has been tested through our intense CPU benchmarking suite on our PC Gamer test rigs so you can get a good idea of their capability. It involves running a bunch of the latest gaming benchmarks, as well as 3D and video rendering workloads, because we're all content creators and streamers now. Games are the most important tests for us, however, hopefully for obvious reasons.
Curated by
Jacob knows a thing or two about CPUs. The first being which to spend your hard-earned money on; he's tested, benchmarked, and tinkered with chips from Intel and AMD going back half a decade. The second is what not to do when overclocking to keep your processor alive. He's killed a chip or two in his time, but all in the name of science. Promise.
The quick list
Recent updates
Updated November 29 to remove Black Friday and Cyber Monday deals, as they've finished for another year.
The best CPU
The Intel Core i5 13600K is another mighty mid-range chip from Intel, and you can expect a major uplift in core counts even with this more parsimoniously priced Raptor Lake chip. Well-tuned to deliver high gaming frame rates, this is ultimately the chip most gamers should consider first for their next gaming PC. It's cheaper than the newer Core i5 14600K, but has the same essential core makeup and actually performs identically.
The Core i5 13600K is a 14-core processor, made up of six Hyper-Threaded Performance-cores (P-cores) and eight Efficient-cores (E-cores), for a total of 20 threads. That's four more E-cores than this chip's predecessor, the Core i5 12600K, but don't be fooled by the E-cores's diminutive name and silicon footprint.
Those four extra cores make for a significant increase in multithreaded performance. The Core i5 13600K's single-threaded Cinebench score? Exactly the same as a Core i9 12900K.
Alright, real-life performance won't see the Core i5 13600K matching the Core i9 12900K in every regard, but it really does deliver something similar in gaming for a lot less money. In three out of six games I've tested, the Core i5 13600K matches the pace of the Core i9 12900K.
We're once again seeing the best gaming chip come from the lower rungs of the stack with Raptor Lake. The Core i5 13600K delivers exceptional gaming performance in a sensibly priced package, delivering only a handful of frames less than the processors that fetch double the asking price. For a gaming PC build in 2023, this is absolutely the chip I'd recommend to most.
But I'd go one further than that. The inclusion of four more E-cores turns this processor into a 14-core chip with the multithreaded performance to deliver in high-demand applications, and that makes it a great fit for streaming, content creation, editing, and more.
The Core i5 13600K is much more of an all-round powerhouse than I had expected it to be.
Read our full Intel Core i5 13600K review.
Best budget CPU for gaming
For a gaming PC, there's no better value CPU than a Core i5. For most of 2022, we recommended the Core i5 12600K for the best gaming CPU and the Core i5 12400 as the best gaming CPU on a budget. Last year, the Core i5 13600K took over the top spot. And now, the Core i5 13400F pushes Alder Lake out of the running with an even more impressive specification for the money.
The Intel Core i5 13400F is a processor I've been waiting patiently to test since I first heard wind of it last year. You'll understand why once you read these specs: A 10-core processor made up of six Performance-cores (P-cores) and four Efficient-cores (E-cores), the Core i5 13400F has a total of 16 threads. Its fastest cores will run up to 4.6GHz out of the box, a clock speed that wouldn't have seemed out of place on the box of a Core i7 only a few years back.
For that impressive spec, the Core i5 has been given an Intel-recommended price tag of $196. Consider the other options: that's a handful of dollars more than the Core i5 12400 from last year, or $33 cheaper than AMD's Ryzen 5 7600.
All of which means, as someone who has been happily running an Intel Core i7 6700K over the past six or seven years, and which now resides in a PC I built for my partner, this is the first time I've considered upgrading my old 6700K for something newer.
The Core i5 13400F is only a handful of frames shy of the Core i9 13900K in Total War: Three Kingdoms, Metro Exodus, and F1 2021. In Far Cry 6, this chip is significantly slower than Intel's high-end processors, however, showing Far Cry 6 to be a more CPU-limited game than the others. To a lesser extent, the same is true for Shadow of the Tomb Raider.
Yet even in these two games where the Core i5 13400F falls off the pace of the faster 13th Gen processors, it remains quicker than last year's best gaming CPU, the Core i5 12600K. It's also significantly faster than the Core i5 12400, though is more power-hungry for it.
In our testing, neither the Core i5 13400F or Ryzen 5 7600X can claim an outright win across the testing suite, though when AMD's chip is faster, it is quite a bit faster. AMD's chip does come out as the clear winner on the productivity and content creation side of things, but it is that much more expensive for it. AMD-compatible motherboards have tended to fall on the expensive side versus the cheaper Intel-compatible 600-series boards, but there are now some cheaper options coming through. That said, the Core i5 13400F is around $210 on Newegg at time of writing, and the Ryzen 5 7600 is only $229.
Intel's platform is surprisingly cheap for the inclusion of both the latest 700-series motherboards and older 600-series motherboards. Similarly, we're saving a little cash here on the 'F' designated model. The 'F' denotes the Core i5 13400F's lack of integrated graphics, which isn't a deal breaker by any stretch of the imagination. Generally, that integrated GPU isn't going to come much in handy for gaming, and even today's cheapest discrete graphics card will outperform it by a country mile.
While the Core i5 13600K remains the pick for the best gaming CPU, and AMD is very competitive in the ~$275 market, Intel's Core i5 13400F is a shoe-in for the best budget gaming CPU in 2023.
Read our full Intel Core i5 13400F review.
Best for pure gaming performance
There is a very strong argument to be made for the AMD Ryzen 7 7800X3D being the best gaming CPU around right now. It's certainly the best gaming chip that AMD has ever made, but it's also capably outperforming Intel's top CPU when it comes to gaming frame rates, and is doing so for a lot less cash.
It's also a lot less thirsty, too.
That's possibly one of the most intriguing things about the 3D V-Cache processors of the Zen 4 generation—just how much more efficient they are than the first top-end chips of the Ryzen 7000-series. In fact, with every subsequent release of this new generation AMD has improved its latest processor range, making the previous ones almost redundant.
The Ryzen 9 7950X3D was the first of the new 3D V-Cache chips to hit our test bench, and it offers a mix of high-end gaming performance and a full 16-cores of Zen 4 processing. But its hybrid design, which offered one eight-core chiplet (or CCD) with the extra 64MB of L3 cache fused on top of it and another CCD without, demanded some extra hoops for the operating system to jump through, and also sacrificed some of a standard 16-core chip's raw multithreaded performance.
If you want the absolute highest gaming frame rates, and care not a jot for the CPU-intensive distractions of rendering or encoding, then AMD's latest chip is the processor for you. It wears its gaming predilections on its sleeve, and delivers performance that could make a Core i9 blush.
And at $450 it's a lot more than the Intel Core i5 13600K/F. That's a ~$300 chip that sports 14 cores and 20 threads of compute power. It will also top 5GHz and can actually be overclocked.
Sure, the Intel i5 delivers slightly slower 1080p gaming frame rates at 1080p, but that performance delta will all but vanish at 1440p and 4K. And in the productivity stakes you've then got a more rounded processor, one which is more capable at multi-threaded workloads if you're into doing anything with your PC other than purely gaming.
Plus you get another $150 to spend on your graphics card if you're looking at building a new machine from scratch. Though, admittedly in these times that doesn't necessarily equate to a higher tier of GPU…
But those are the sensible facts and figures, and the Ryzen 7 7800X3D is still the fastest gaming CPU I've ever tested. So, if you want the absolute highest possible frame rates the extra cacheola on top of this Zen 4 chiplet is going to do the business.
You want a cool and quiet gaming PC that's capable of the absolute fastest gaming frame rates? Then grab a 7800X3D, people.
Read our full AMD Ryzen 7 7800X3D review.
Best high-end Intel CPU
Intel's Core i9 13900K is spectacularly good at what it does, and what it does is pretty much everything. Gaming? Of course, it can push high frame rates alongside the latest GPUs. Multitasking? Yep, easy. With 24 cores it's perfectly suited to lots of stuff happening all at once. High-demand creative workloads? Absolutely, it barely breaks a sweat.
Intel's hybrid architecture has really come into its own with the Core i9 13900K, though hasn't really pushed anything forward with its Core i9 14900K refresh. And that's why we're still sticking with this cheaper chip, that performs just as well. Throw it at any problem, and it's likely going to solve it in record time.
The Core i9 13900K actually makes ex-HEDT chips look slow by comparison. In fact, Intel's Core i9 13900K is almost 10,000 points clear of the Core i9 12900K in Cinebench R23. In the Blender Junk Shop benchmark, the Core i9 13900K is 60% faster than the Alder Lake chip.
If you want lots of speedy threads to throw at creative apps, this is it.
When it comes to gaming performance, the Core i9 13900K is equally impressive. This chip does little to hold back a modern high-end GPU, such as the RTX 3080 we're testing with, and I have no doubts it'll make the best pairing with Nvidia's new RTX 4090, too. Minimum and 1%/0.1% lows were also impressively high and consistently so, which is a good marker of CPU performance nowaday.
Now for some PC builders, that's an easy buy. This chip is immense at everything it does. But I would suggest that most PC gamers with a moderate budget will want to look at the Intel Core i5 13600K, and anyone looking for the pure pace in games to look at AMD's Ryzen 7 7800X3D.
But to say the Core i9 13900K is too expensive would be wrong. It's actually, surprisingly priced roughly the same as a Core i9 12900K, despite being much faster, offering eight more cores, and arriving on a now cheaper platform.
I'm not going to belabour the point. This is a mighty processor at a surprisingly reasonable price for a high-end chip, and a lot of builders will want one simply because it's the best of the best.
Read our full Intel Core i9 13900K review.
Best high-end AMD CPU
The AMD Ryzen 9 7950X was the vanguard for a whole new generation of CPUs and GPUs from the red team. But, despite its many advances, a whole new AM5 motherboard platform, and shiny heatspreader design, this isn't the best gaming CPU we were hoping for.
I mean, it's good. And certainly smashes the 16-core Ryzen 9 5950X from the Zen 3 generation, but this Zen 4 chip has a resurgent Intel CPU architecture to deal with in Alder Lake and Raptor Lake. With the Core i9 13900K offering so many cores itself now, it's very much encroaching on the hallowed high core count space of the Ryzen 7 7950X.
The Ryzen 9 7950X is an evolution of the Zen 3 design, and is at once a brute of a processor, running at the ragged edge of its thermal constraints, and yet with an impressively elegant design. Even on the outside—Yeah, I'll say it, I love that new heatspreader look.
But it's still not the processor I'd pick up today and there's a chance it might get savaged out there for being more of a derivative than a revolutionary CPU. There's no spectacular new tech on display, no vertically bonded cache chips, no extra cores, just a healthy clock speed bump, some finessed microarchitecture, and a new socket.
It is certainly fast. I did a bit of a double take checking out the numbers when I saw the Cinebench R23 single thread run tipping the odd core up to 5.9GHz. Even stable at 5.8GHz was pretty shocking. It's not quite that high under all-core load, but 5.4GHz across all 16 cores still makes it one blazing chip.
It's blazing in another way, too, because damn, does this thing get hot?! Actually, no. It's okay. AMD says that "At 95 degrees it is not running hot, rather it will intentionally go to this temperature as much as possible under load because the power management system knows that this is the ideal way to squeeze the most performance out of the chip without damaging it."
But does fast and hot make it the ultimate gaming processor? Not really, not at all in fact. On that score, it will often get outperformed by the eight-core Ryzen 7 7700X which launches alongside it. It is comfortably faster than the previous generation's Ryzen 9 5950X, which is important, especially as that was priced some $100 higher on release.
You will likely see a lot made about it being a disappointing release. But, to me, it feels like a confident, consistent release. You could argue it's maybe not super ambitious, but AMD has got where it is today by always delivering on its Zen promises, and yet again Dr. Su's gang has absolutely done that.
The Ryzen 9 7950X is great for throwing cores at a problem and making it go away, but it's not quite the all-round best gaming CPU we were hoping for.
Read our full AMD Ryzen 9 7950X review.
Best AMD AM4 CPU upgrade
At launch, the AMD Ryzen 7 5800X3D was the fastest gaming processor the red team had ever made. It's not so much anymore, but it remains the best bet for gaming performance if you're stuck with an AM4 motherboard.
AMD's chip was and still is a technically impressive beast, using the latest packaging processes from TSMC to bung an inordinate amount of cache into its new CPU. Because, after all, what do you do when you can't squeeze any higher frequencies out of your processor architecture? You stick a whole lot more cache memory into it and hope for the best. That's what AMD has done on the GPU side with its Infinity Cache, pairing up to 128MB with its RDNA 2 graphics cards, to great effect, and now it's doing the same to its CPUs.
The Ryzen 7 5800X3D is architecturally identical to the standard Ryzen 7 5800X, using the same Zen 3 processor design, and therefore the same chiplet setup that has made AMD's recent generations of CPU such world-beaters. That means you're getting the same eight-core, 16-thread layout in a single chiplet (so no potential inter-chiplet latency issues), but a slightly slower clock speed because of a necessarily lower voltage.
In general, the Ryzen 7 5800X3D either essentially matches or outperforms the Ryzen 9 5950X. That's a great result considering the top Ryzen is still an expensive CPU, and more than ever just a productivity chip and little else. There are also a few times where the CPU outperforms the standard Core i9 12900K, which again is a great achievement. Though, for the most part, it lags behind the Golden Cove microarchitecture of the Alder Lake part when it comes to gaming. Let alone Raptor Lake.
It's a technically elegant, efficient CPU that delivers on its promises. It can't quite beat Intel's hulking brute of a Core i9 12900KS in the frame rate war, but it still offers the majority of AMD users an easy upgrade path to gaming performance that is not far off. And for a fraction of the price and power demands, too.
Read our full AMD Ryzen 7 5800X3D review.
Best integrated graphics in a CPU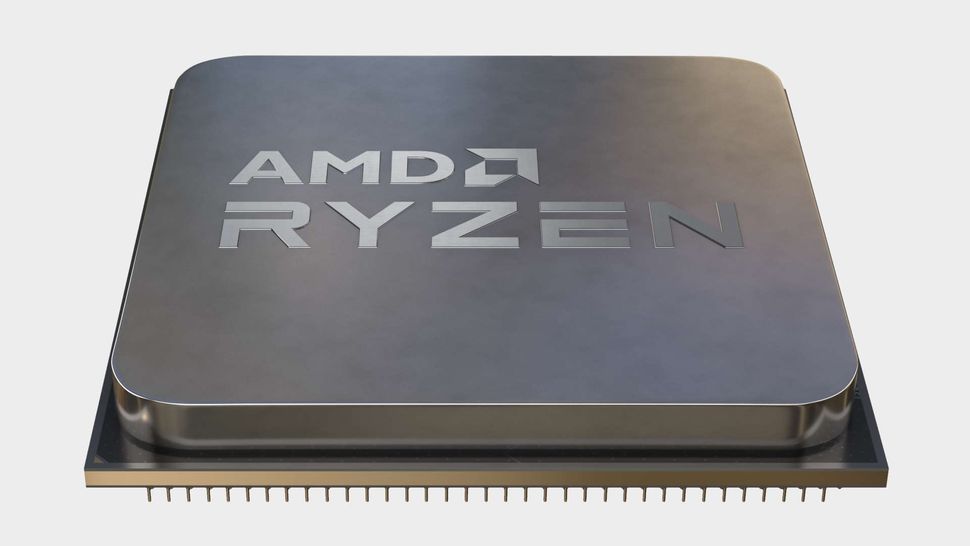 AMD's APUs are the best processors to drop into your rig if you're not going to use a discrete graphics card, but still want a modicum of gaming performance out of your system. And the AMD Ryzen 7 5700G is the best of the Zen 3 chips to deliver that.
Unlike previous APU offerings from AMD, the Ryzen 7 5700G is far more of a jack-of-all-trades chip because we are talking about an eight-core Zen 3 CPU component with 16 threads and a powerful Vega-based GPU to back it up. That makes this a chip that's almost up there with the best of the Ryzen 5000-series CPUs in processing power, but with the graphical grunt to deliver 1080p gaming on low settings in some seriously demanding titles.
It's a Zen 3 based processor with a 7nm, 180mm2 10.7 billion transistor monolithic die, with 8 cores and 16 threads. And by monolithic we mean that it doesn't match the chiplet design of the other Ryzen 5000-series CPUs, instead squeezing everything into one traditional package design.
The 5700G's graphics performance is certainly class leading, but it also remains as true as it ever was that integrated graphics simply can't provide the horsepower of even a low-end discrete GPU. This chip's graphics component is still based on the ageing, though reworked and well optimised, Vega architecture. That comprises eight compute units, and 512 GCN cores, operating at 2GHz. RDNA-based graphics, not to mention RDNA 2, will have to wait at least one more generation.
AMD's integrated Vega GPUs are known to benefit from faster memory, so if you plan to game with it, we'd advise you spend a few extra dollars to top that standard DDR4-3200 memory support and grab a decent set of DDR4-3600 RAM to eek out a few more frames. It will really show in gaming performance.
Notably, you'll also get AMD's Wraith Stealth cooler. That's a nice value add, though we'd say it's adequate at best, and pretty much any aftermarket AM4 CPU cooler will outperform it.
In summary, what the 5700G does is provide awesome convenience, well-rounded processing and graphics performance, and it does so within a 65W envelope.
Read our full AMD Ryzen 7 5700G review.
Processor FAQ
How do you test CPUs?
While gaming resolutions run from 720p to 4K, we largely test at 1080p. This will show the most significant difference in gaming performance you're likely to see and pushes the CPU into the spotlight instead of the GPU—an Nvidia GeForce RTX 3080 in this case.
We use a mix of motherboards depending on the platform, but all high-end to ensure as level a playing field as we can. These boards include the Asus ROG Maximus Z690 Hero, MSI MPG Z490 Carbon WiFi, ASRock X670E Taichi, and Gigabyte X570 Aorus Master.
When it comes to memory, we use G.Skill Trident Z5 Neo DDR5-6000 CL30 2x 16GB for 13th/12th Gen Intel processors, while 11th Gen processors are tested using Corsair Vengeance Pro RGB sticks at 3,600MHz effective. The AMD AM5 rig uses the same DDR5 memory as the high-end Intel one, however, the AM4 rig uses Thermaltake DDR4 3,600MHz effective.
To further eliminate any bottlenecks, a high-speed PCIe 4.0 NVMe SSD was used across each system, each loaded with Windows 11 and our suite of benchmarking applications and games.
Liquid cooling is also used on all test rigs to ensure these chips are not restricted thermally.
Our benchmark suite includes 3DMark Time Spy, Civ 6's turn benchmark, Total War: Three Kingdoms, Assassin's Creed: Valhalla, Metro Exodus, F1 2021, Shadow of the Tomb Raider, Cinebench R23, SiSoft Sandra, x264 v5, and PCMark 10.
Does your CPU matter for gaming?
The short answer is: yes. The longer answer is that it's more complicated and nuanced than that. You obviously need a CPU in your gaming PC, but the component that has the biggest impact on frame rates is your graphics card. That doesn't mean you can have a weak old processor in your rig and pair it with a high-end GPU and have no worries. You still need your processor to keep your graphics card fed with data to ensure a smooth gaming experience, without that you'll get stutters as the GPU waits for the CPU to catch up.
As with everything it's all about balance. But in modern times, a mainstream CPU won't see you losing out in terms of gaming performance compared to the top chips by anything more than single digit frames per second.
What motherboard is right for my CPU?
Raptor Lake is the most recent Intel platform to be released, and it's compatible with any 600-series motherboard and the newer 700-series ones. These are available supporting DDR5 (new) and DDR4, so pick that side of things carefully.
The latest AMD Ryzen 7000 CPUs use a new AM5 socket, and that means they only work with currently available X670, X670E, and B650 motherboards. Older AM4 motherboards, such as X570, B550, and A520 boards, are not compatible, ending a long line of compatibility there.
Is Intel or AMD better?
This is a rather loaded question. AMD has held the top spot for a long time, with its Zen architecture making for some incredible leaps in performance, but Intel stole the crown with its Alder Lake family, specifically the Core i5 12600K, and made it even better with Raptor Lake and the Core i5 13600K.
It's worth remembering that most games are GPU-limited, which means the graphics card is the limiting factor in terms of performance, and you would likely see the same essential frame rates with either CPU manufacturer when a discrete graphics card is used. This is especially true as you up the resolution, with 4K having little between the top chips.
Should I overclock my CPU?
The honest answer is: no. Overclocking your processor is not necessarily the risky move it once was, but equally, the benefits of doing so have drastically dropped in recent times. When we're talking about gaming performance, having a slightly higher clocked CPU can make a bit of a difference, but arguably your graphics card will be the part that limits the speed of your system.
There is also the point that overclocked CPUs create more heat, require more intensive and expensive cooling solutions, need those coolers to work harder, and are, therefore, often louder.
For us, overclocking your CPU to gain real-world performance benefits is not something we'd recommend most PC gamers do.
CPU review list
AMD CPU reviews:
Intel CPU reviews:
CPU jargon buster
Caching - A small segment of high-speed memory dedicated to storing and executing frequently used commands/instructions to speed up software execution. CPUs contain caches designated as Level 1, 2, and 3, with L1 being the fastest and smallest and L3 being the slowest and largest.
Core - Modern CPUs can contain anywhere from two to 70+ cores (in supercomputers), though CPUs housed in most consumer machines will generally carry between four and eight, with AMD's latest CPUs sporting up to 16 cores.
Clock speed - The speed at which a CPU can execute instructions, measured in hertz. A processor with a 3.7 GHz clock speed can process 3.7 billion instructions a second. Clock speed is one of the most critical factors for determining performance in games and workload functions.
Heat sink - A cooling solution for PCs that utilize fans or liquid cooling (active) or aluminum radiators (passive) that rely on convection to regulate a component's temperature.
Hyper-Threading (SMT) - Intel terminology for a tech that allows a processor to handle two sets of instructions 'threads' simultaneously. AMD and other CPU vendors call this SMT, Simultaneous Multi-Threading.
Socket type LGA (Land Grid Array), PGA (Pin Grid Array), or BGA (Ball Grid Array) - The way a CPU interfaces with the socket on a motherboard. LGA is used on Intel sockets with pins as part of the socket. AMD's AM4 solution, PGA, has the processors' pins, which fit into holes on the socket. AMD's Threadripper CPUs also use LGA sockets. A BGA socket is when the processor is permanently soldered to the motherboard, typically on a laptop.
TDP - Thermal design power, the maximum amount of heat a system or chip can produce that the attendant cooling system is designed to deal with under workload. This term can apply to PCs as a whole, GPUs, CPUs, or nearly any other performance component that generates heat and is in large part an indicator of how much power a part draws.
Thread - A thread refers to a series of CPU instructions for a specific program. Older CPUs and SMT disabled run one thread per core, but most modern AMD and Intel CPUs can simultaneously run two threads, sharing some resources (e.g., cache).
Turbo Boost - Intel technology that allows processors to run at higher clock speeds under demanding loads. AMD also supports turbo or boost clocks, and we use the terms interchangeably regardless of CPU vendor.