The best CPU for gaming today is not necessarily the best gaming CPU in a month's time. The next generation of processors has started to arrive, with AMD's Zen 4 chips already out and Intel's Raptor lake due October 20th. You may still want to consider current gen processors for a cheaper option in the meantime either way—they're still great, promise.
I'm happy to report that there are a ton of great affordable processors out there right now. For starters, I've been really impressed with the Intel Core i5 12600K (opens in new tab) that currently sits at the top of the list. It so far offers incredible gaming performance at a great value.
Saving money on a CPU is crucial because it will let you splurge on other components like a larger SSD, a better motherboard, and maybe even a better graphics card (opens in new tab). It's not about being cheap; it's about being smart with your money, so you get the most gaming bang for your buck.
Every chip on this list has been tested through our intense CPU benchmarking suite on our PC Gamer test rigs. This comprises plenty of the latest games and 3D and video rendering workloads, because we're all content creators and streamers now. Games are the most important tests for us, however, hopefully for obvious reasons.
Make sure you also check our guide to the best gaming motherboard (opens in new tab) if you are planning to do a brand new build. For now, on with the best CPUs for gaming (as it stands today).
The best CPU for gaming
Intel's 12th Gen Alder Lake processors are a vital return to form for Intel. Its underlying hybrid design was seen as a gamble when it was first announced, with its combo of performance and efficient cores not obviously bringing much to the desktop experience. It's a gamble that has unquestionably paid off though, and the gaming performance offered by Intel's latest CPUs is nothing short of incredible.
The Core i5 12600K is the standout processor for gamers because it not only offers great gaming performance across the board, but it does so at a price point that isn't going to reduce you to tears. It not only beats the similarly priced 5600X in pretty much every game, but it outperforms the $750 Ryzen 9 7950X in plenty of tests too. That it soundly beats the Core i9 11900K is just the icing on the cake. Not bad for a $320 mid-range chip.
As this is a new platform, you will need to pick up a new motherboard and probably new memory while you're at it—Alder Lake supports DDR5 as well as DDR4. That means the initial outlay may be a bit more than you planned, but the performance is worth it, and it isn't a power-draining beast either, so you won't need an outlandish cooler to get the most from it. Throw in future-looking support for PCIe 5.0 and we have a new gaming CPU king. Long live the king.
Read our full Intel Core i5 12600K review (opens in new tab).
(opens in new tab)
The Core i5 12400 is nearing on legendary status in the Alder Lake lineup, and that's because of its unprecedented ability to overclock where it shouldn't. The lack of a 'K' at the end of the Core i5 12400's name should denote its lack of overclocking prowess, but somewhere in the silicon it has the ability for BCLK overclocking.
With a motherboard capable of taking advantage of the Core i5 12400's overclocking ability, we managed to push this little chip that could to 5.2GHz rather happily. It didn't run too hot or too power hungry to do it, either, though you will need to be considerate of cooling potential before attempting this.
Similarly, Intel doesn't recommend anyone does this—though that's true of pretty much any overclocking nowadays. The company also could close the door on the non-K-series overclocking at some point, so keep that in mind if that's the sole reason you're thinking of purchasing this chip.
If you're not looking to overclock in the slightest, however, don't fret. The Core i5 12400 was already impressive without its secret ability, and with cooler included at this price tag, it's one helluva great deal.
Read our full Intel Core i5 12400 review (opens in new tab).
That the Core i5 12600K takes the top spot is hard to argue with—awesome performance at a good price will do that—but Intel's top chip hitting the third spot may be a little more surprising. The reasoning here is that the vast majority of gamers should get the Core i5, leaving this spot covering those that need even more performance.
If you're building a high-end PC not just for high-end 4K gaming, but for more serious pursuits like 3D rendering and video editing, then this is the chip for you. It's a powerhouse, no question about it, but one that really needs a system built around it to make it shine—you'll need a beefy PSU to get that absolute best from it, and a serious cooler wouldn't hurt either. The fact that there is plenty of overclocking headroom will allow you to push it to a whole new level as well.
When it comes to gaming performance, this is the fastest chip out there, by a considerable margin. The problem is, you only get a few more frames per second over our top recommendation and you have to pay royally for the privilege. And even when you're buying an 'enthusiast' class CPU, you still need to have an eye on overall value for money.
Read our full Intel Core i9 12900K review (opens in new tab).
Essentially what we have here is a direct replacement for the Ryzen 7 5800X of the previous generation. But it's called a 7700X because the 7800X designation is likely being reserved for a Zen 4 3D V-cache gaming chip. At least once AMD can get it put together in the fab and shunted out the door to face up to Intel's Raptor Lake (opens in new tab) launch.
That means we've got eight Zen 4 cores, with simultaneous multithreading delivering 16 threads of compute power. We've run a deeper look at the new Zen 4 architecture here (opens in new tab), but suffice to say it's a derivative of the Zen 3 tech, but with some extra L2 cache and a redesigned front end created to better feed data into the wider execution engines brought into the previous generation.
Oh, and higher clock speeds. Way higher clock speeds. Okay, the Ryzen 7 7700X isn't up to the 5.9GHz heights of its 16-core brethren, but with an all-core frequency of 5.15GHz out of the box it's still seriously impressive. Under single-core loads, such as those of most game engines, I've measured it running at 5.55GHz.
These would have been heavily overclocked frequencies just a few months back, and we're getting them in stock-clocked AMD chips. The Ryzen 7 7700X sports the same 105W TDP as the Ryzen 7 5800X and 5800X3D, but its 5nm compute and 6nm I/O dies deliver efficiency improvements and the Eco Mode feature delivers outstanding performance per watt figures. I'm a big fan of Eco Mode in the Zen 4 generation of chips and probably more so with this middle-order processor, too.
The Ryzen 7 7700X is an excellent example of the generational improvements of the Zen 4 architecture, especially on the efficiency side. This third-tier chip is pretty regularly beating the cache-heavy special edition CPU of the last generation, and that was the best gaming processor AMD had ever made just five months ago. It's efficient, hella fast, and can deliver on the gaming front too.
Read our full AMD Ryzen 7 7700X review (opens in new tab).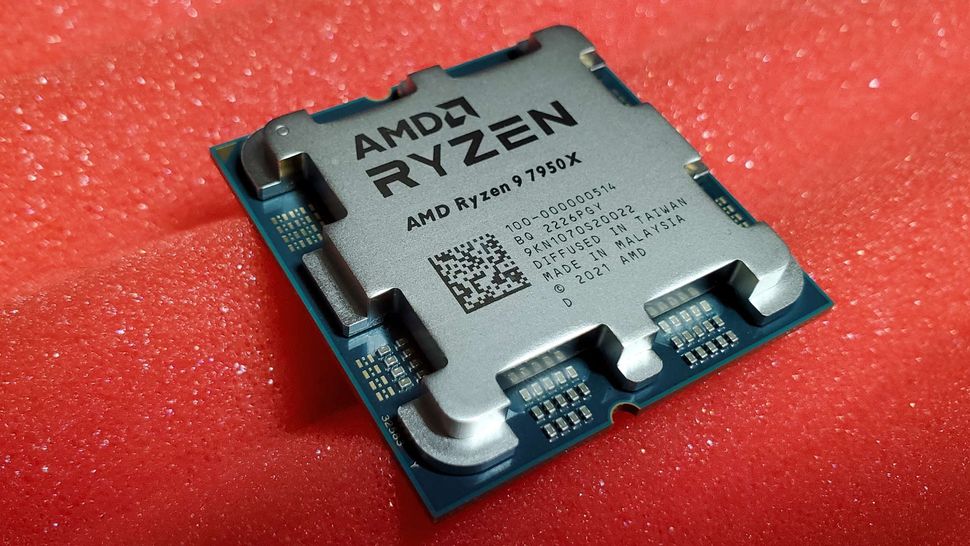 The AMD Ryzen 9 7950X is the vanguard for a whole new generation of CPUs and GPUs launching in these next few months. But, despite its many advances, a whole new AM5 motherboard platform, and shiny new heatspreader design, this isn't the best gaming CPU (opens in new tab) we were hoping for.
I mean, it's good. And certainly smashes the 16-core Ryzen 9 5950X (opens in new tab) from the Zen 3 generation, but this Zen 4 chip has a resurgent Intel CPU architecture to deal with in Alder Lake. And Raptor Lake is coming in just a few weeks, too.
The new Ryzen 9 7950X is an evolution of the Zen 3 design, and is at once a brute of a processor, running at the ragged edge of its thermal constraints, and yet with an impressively elegant design. Even on the outside—Yeah, I'll say it, I love that new heatspreader look.
But it's still not the processor I'd pick up today and there's a chance it might get savaged out there for being more of a derivative than a revolutionary CPU. There's no spectacular new tech on display, no vertically bonded cache chips, no extra cores, just a healthy clock speed bump, some finessed microarchitecture, and a new socket.
It is certainly fast. I did a bit of a double take checking out the numbers when I saw the Cinebench R23 single thread run tipping the odd core up to 5.9GHz. Even stable at 5.8GHz was pretty shocking. It's not quite that high under all-core load, but 5.4GHz across all 16 cores still makes it one blazing chip.
It's blazing in another way, too, because damn, does this thing get hot?! Actually, no. It's okay. AMD says that "At 95 degrees it is not running hot, rather it will intentionally go to this temperature as much as possible under load because the power management system knows that this is the ideal way to squeeze the most performance out of the chip without damaging it."
But does fast and hot make it the ultimate gaming processor? Not really, not at all in fact. On that score, it will often get outperformed by the eight-core Ryzen 7 7700X which launches alongside it. It is comfortably faster than the previous generation's Ryzen 9 5950X, which is important, especially as that was priced some $100 higher on release.
You will likely see a lot made about it being a disappointing release. But, to me, it feels like a confident, consistent release. You could argue it's maybe not super ambitious, but AMD has got where it is today by always delivering on its Zen promises, and yet again Dr. Su's gang has absolutely done that.
The Ryzen 9 7950X is the fastest, hottest, most power-hungry Zen chip yet, but though it's not the gaming champ it is still the best all-round AMD CPU.
At launch, the AMD Ryzen 7 5800X3D was the fastest gaming processor the red team had ever made. It also offered a value proposition Intel's elite gaming CPUs cannot compete with, even if they are actually the faster chips in the final reckoning. But that doesn't change the fact that AMD's chip was and still is a technically impressive beast, using the latest packaging processes from TSMC to bung an inordinate amount of cache into its new CPU.
Because, after all, what do you do when you can't squeeze any higher frequencies out of your processor architecture? You stick a whole lot more cache memory into it and hope for the best. That's what AMD has done on the GPU side with its Infinity Cache, pairing up to 128MB with its RDNA 2 graphics cards, to great effect, and now it's doing the same to its CPUs.
The Ryzen 7 5800X3D is architecturally identical to the standard Ryzen 7 5800X (opens in new tab), using the same Zen 3 processor design, and therefore the same chiplet setup that has made AMD's recent generations of CPU such world-beaters. That means you're getting the same eight-core, 16-thread layout in a single chiplet (so no potential inter-chiplet latency issues), but a slightly slower clock speed because of a necessarily lower voltage.
In general, the Ryzen 7 5800X3D either essentially matches or outperforms the Ryzen 9 5950X. That's a great result considering the top Ryzen is still an expensive CPU, and more than ever just a productivity chip and little else. There are also a few times where the CPU outperforms the standard Core i9 12900K, which again is a great achievement. Though, for the most part, it lags behind the Golden Cove microarchitecture of the Alder Lake part when it comes to gaming.
It's a technically elegant, efficient CPU that delivers on its promises. It can't quite beat Intel's hulking brute of a Core i9 12900KS in the frame rate war, but it still offers the majority of AMD users an easy upgrade path to gaming performance that is not far off. And for a fraction of the price and power demands, too.
Read our full AMD Ryzen 7 5800X3D review (opens in new tab).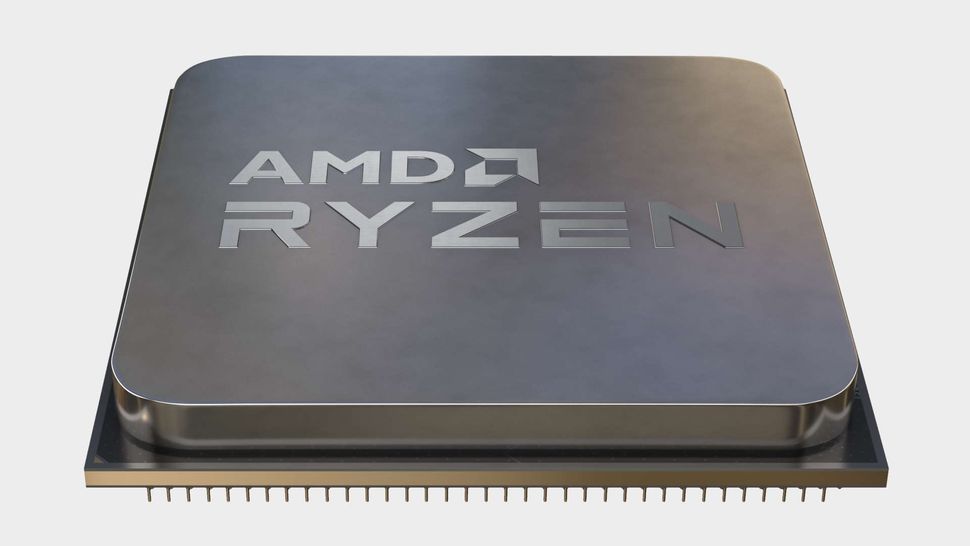 AMD's APUs are the best processors to drop into your rig if you're not going to use a discrete graphics card, but still want a modicum of gaming performance out of your system. And the AMD Ryzen 7 5700G is the best of the Zen 3 chips to deliver that.
Unlike previous APU offerings from AMD, the Ryzen 7 5700G is far more of a jack-of-all-trades chip because we are talking about an eight-core Zen 3 CPU component with 16 threads and a powerful Vega-based GPU to back it up. That makes this a chip that's almost up there with the best of the Ryzen 5000-series CPUs in processing power, but with the graphical grunt to deliver 1080p gaming on low settings in some seriously demanding titles.
Board walk
Best gaming motherboard (opens in new tab): the best boards around
Best AMD motherboard (opens in new tab): your new Ryzen's new home
Best Intel Z490 motherboard (opens in new tab): Intel's premium boards
AMD's Zen architecture has improved with each generation, but the fact that AMD managed to knock out a 19 percent IPC improvement with Zen 3 is nothing short of staggering. The key takeaway for us as gamers is that this improvement means AMD pushed Intel to improve, and improve it did with Alder Lake.
Whatever resolution you are gaming at, this processor can handle it and keep your graphics card of choice fed with many juicy frames. That this is a 12-core, 24-thread monster means that it can cope with anything else you throw at it as well. So if you have dreams of 3D rendering, video editing, or any other serious tasks, you'll know that you have the raw grunt to handle it. That it won't hold you back when gaming makes it even sweeter.
The only real downside is the pricing and the dropping of the Wraith cooler—don't forget to factor in you'll need a chip chiller when you buy. You do get what you pay for, though, and this is a phenomenal chip for gaming and anything else you might want to do.
If you're in the market for absolute power, you could step up to the Ryzen 9 5950X (opens in new tab), which gives you 16 cores and 32 threads. However, it costs $250 more, and for gaming purposes and even most content creation chores, the 5900X is more than sufficient.
Read our full AMD Ryzen 9 5900X review (opens in new tab).
Best gaming PC (opens in new tab) | Best gaming keyboard (opens in new tab) | Best gaming mouse (opens in new tab)
Best gaming chair (opens in new tab) | Best VR headset (opens in new tab) | Best graphics cards (opens in new tab)
The best CPU for gaming FAQ
How do you test CPUs?
While gaming resolutions run from 720p to 4K, we largely test at 1080p. This will show the most significant difference in gaming performance you're likely to see and pushes the CPU into the spotlight instead of the GPU—an Nvidia GeForce RTX 3080 in this case.
We use a mix of motherboards depending on the platform, but all high-end to ensure as level a playing field as we can. These boards include the Asus ROG Maximus Z690 Hero, MSI MPG Z490 Carbon WiFi, and Gigabyte X570 Aorus Master.
When it comes to memory, we use Corsair's Dominator DDR5 RAM at 5,200MHz effective for 12th Gen Intel processors, while 11th Gen processors are tested using Corsair Vengeance Pro RGB sticks at 3,600MHz effective. The AMD test rig uses Thermaltake DDR4 3,600MHz effective.
To further eliminate any bottlenecks, a high-speed PCIe 4.0 NVMe SSD was used across each system, each loaded with Windows 11 and our suite of benchmarking applications and games.
Liquid cooling is also used on all test rigs to ensure these chips are not restricted thermally.
Our benchmark suite includes 3DMark Time Spy, Civ 6's turn benchmark, Total War: Three Kingdoms, Assassin's Creed: Valhalla, Metro Exodus, F1 2021, Shadow of the Tomb Raider, Cinebench R23, SiSoft Sandra, x264 v5, and PCMark 10.
Where can I read all of PC Gamer's CPU reviews?
AMD CPU reviews:
Intel CPU reviews:
What motherboard is right for my CPU?
Alder Lake is the most recent platform to be released, and while initially only Z690 motherboards were available, Intel and its partners have since released cheaper chipset such as H670, B660, and H610. These are available supporting DDR5 (new) and DDR4, so pick that side of things carefully.
The latest AMD Ryzen 5000 CPUs still use the AM4 socket and are only compatible with X570, B550, and A520 motherboards (oh, and B450 and X470 motherboards).
Whereas Intel's Comet Lake chips use the LGA 1200 socket, Rocket Lake introduced 500-series boards. Unless you're desperate for the still slightly awkward Intel PCIe 4.0 solution which the latest Intel chips offer, go with either a Z490 or cheaper B460 motherboard to save some cash.
Is Intel or AMD better?
This is a rather loaded question. AMD has held the top spot for a long time, with its Zen architecture making for some incredible leaps in performance, but Intel has stolen the crown with its Alder Lake family, specifically the Core i5 12600K. The fact that it's a completely new kind of hybrid CPU is almost by the by, it's just a really strongly performing chip.
It's worth remembering that most games are GPU-limited, which means the graphics card is the limiting factor in terms of performance, and you would likely see the same essential frame rates with either CPU manufacturer when a discrete graphics card is used. This is especially true as you up the resolution, with 4K having little between the top chips.
Should I overclock my CPU?
The honest answer is: no. Overclocking your processor is not necessarily the risky move it once was, but equally, the benefits of doing so have drastically dropped in recent times. When we're talking about gaming performance, having a slightly higher clocked CPU can make a bit of a difference, but arguably your graphics card will be the part that limits the speed of your system.
There is also the point that overclocked CPUs create more heat, require more intensive and expensive cooling solutions, need those coolers to work harder, and are, therefore, often louder.
For us, overclocking your CPU to gain real-world performance benefits is not something we'd recommend most PC gamers do.
Jargon buster
Caching - A small segment of high-speed memory dedicated to storing and executing frequently used commands/instructions to speed up software execution. CPUs contain caches designated as Level 1, 2, and 3, with L1 being the fastest and smallest and L3 being the slowest and largest.
Core - Modern CPUs can contain anywhere from two to 70+ cores (in supercomputers), though CPUs housed in most consumer machines will generally carry between four and eight, with AMD's latest CPUs sporting up to 16 cores.
Clock speed - The speed at which a CPU can execute instructions, measured in hertz. A processor with a 3.7 GHz clock speed can process 3.7 billion instructions a second. Clock speed is one of the most critical factors for determining performance in games and workload functions.
Heat sink - A cooling solution for PCs that utilize fans or liquid cooling (active) or aluminum radiators (passive) that rely on convection to regulate a component's temperature.
Hyper-Threading (SMT) - Intel terminology for a tech that allows a processor to handle two sets of instructions 'threads' simultaneously. AMD and other CPU vendors call this SMT, Simultaneous Multi-Threading.
Socket type LGA (Land Grid Array), PGA (Pin Grid Array), or BGA (Ball Grid Array) - The way a CPU interfaces with the socket on a motherboard. LGA is used on Intel sockets with pins as part of the socket. AMD's AM4 solution, PGA, has the processors' pins, which fit into holes on the socket. AMD's Threadripper CPUs also use LGA sockets. A BGA socket is when the processor is permanently soldered to the motherboard, typically on a laptop.
TDP - Thermal design power, the maximum amount of heat a system or chip can produce that the attendant cooling system is designed to deal with under workload. This term can apply to PCs as a whole, GPUs, CPUs, or nearly any other performance component that generates heat and is in large part an indicator of how much power a part draws.
Thread - A thread refers to a series of CPU instructions for a specific program. Older CPUs and SMT disabled run one thread per core, but most modern AMD and Intel CPUs can simultaneously run two threads, sharing some resources (e.g., cache).
Turbo Boost - Intel technology that allows processors to run at higher clock speeds under demanding loads. AMD also supports turbo or boost clocks, and we use the terms interchangeably regardless of CPU vendor.