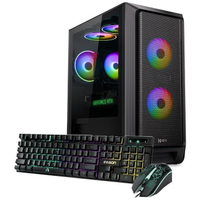 Ipason gaming desktop | Core i5 13400F | RTX 4060 Ti | 16GB DDR5-4800 | 1TB NVMe SSD | $1,999.99 $1,125 Newegg (save $874.99 with Promo code MKTC1AKQAI7L)
This might be the best price on an RTX 4060 Ti system we've seen in weeks. For less than $1,200, you've got yourself a deceptively powerful 1080p gaming rig with a 1TB SSD and 16GB of DDR RAM. Deal of the week!

Newegg is offering a killer deal on an RTX 4060 Ti gaming desktop with a 13th Gen Core i5 CPU for just $1,125, a staggering $900 discount from its regular $2,000 price tag. This is perfect for anyone seeking a powerful entry-level 1080p gaming rig—just in time to play that Baldur's Gate 3 game we're all crazy about.
The Ipason gaming desktop boasts a Core i5 13400F, 16GB DDR RAM, 1TB NVMe SSD, and an RTX 4060 Ti. This configuration ensures solid midrange 1080p gaming performance at a budget-friendly price.
The RTX 4060 Ti is a significant upgrade over the RTX 3060 Ti, which is already considered one of the ideal midrange GPUs available at an affordable price. What sets the RTX 40-series cards apart from last-gen RTX 30-series GPUs is their ability to fully utilize Nvidia's DLSS 3 frame generation technology, providing supported games with a substantial framerate boost.
My only knock against the PC is that it doesn't list what kind of NVMe SSD it comes with. There are no brand or transfer speeds listed. It'll certainly load faster than a HDD, but not all SSDs are created equal, so it wouldn't hurt to look up some cheap SSDs for gaming in case the one installed is a clunker (or you simply need more than 1TB of storage).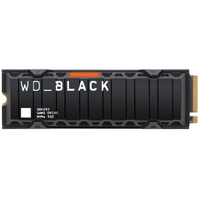 WD Black SN850X (with heatsink) | 2TB | NVMe | PCIe 4.0 | 7,300MB/s read | 6,300MB/s write | $309.99 $124.99 at Amazon (save $20)
This is our favorite SSD for gaming right now. Unlike the cheaper SN770, the SN850X encapsulates the best that PCIe 4.0 offers in terms of performance. That makes it a great fit for a boot drive with space to spare for your game library, and at this price, we're happy to pay the premium for its higher speed.
As for the 13th Gen Intel Core i5 13400F CPU, it is an excellent budget option that not only delivers incredible gaming performance but also features a high clock speed, making it suitable for non-gaming tasks as well. The only drawback we noticed in our review was that it consumes more power compared to the previous 12th Gen model.
Be aware that the GPU comes packaged separately, and you must handle the installation yourself. This is a common practice due to shipping safety concerns. While the process is simple if you're really uncomfortable with this task, other cheap gaming PCs that are sold fully pre-built are available on sale.