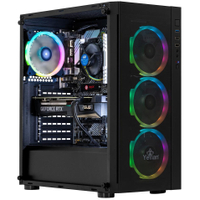 (opens in new tab)
Yeyian Katana X10 | Core i5 11400F | Nvidia RTX 3060 Ti | 16GB RAM | 500GB SSD | $1,399 $1,082.99 at Newegg (save $316) (opens in new tab)
This is a great deal for a mid-tier gaming PC, especially when many rigs around this price are delivering you an RTX 3060. The Core i5 is still a solid CPU today, and the RTX 3060 Ti is probably the best mainstream GPU of Nvidia's last generation of cards. You also get a full 16GB RAM and a 500GB NVMe SSD... which you'll probably want to give a little more storage down the line.
It's been a while since we spotted some really good cheap gaming PC deals (opens in new tab). Just when I was getting worried, this Katana X10 gaming desktop deal for $1082 on Newegg (opens in new tab), as if it heard my cries, popped up out of nowhere. PC gaming deals are back, baby.
An Intel Core i5 CPU and an RTX 3060 Ti GPU combo keep the Katana sharp (hah), along with 16GB of DDR4 RAM. This team-up delivers excellent 1080p performance on high settings and beyond. DLSS (opens in new tab)will be your best friend, as it will squeeze out a couple of extra frames from games that support it.
The Intel Core i5 11400F (opens in new tab) is one of the best 11th gen desktop CPUs for gaming. It punches above its weight class in terms of performance and is priced well at the moment.

The RTX 3060 TI (opens in new tab) is the most underrated of the RTX 30-series GPUs. Frankly, it's surprising seeing prebuilt with this GPU since they were hard to get at launch. On top of it being the best value of the RTX 30-series cards, you can also get away with some 4K gaming on it, putting it leagues ahead of the RTX 3060.
That said, gaming at 1080p on the RTX 3060 Ti should provide a surprisingly solid frame rate, especially if upgrading from an RTX 20-series card. You could probably get decent performance at 1440p on older titles if you want.
And to sweeten the pot, Newegg is even throwing in a free copy of Marvel's Midnight Suns (opens in new tab) with every purchase, our 2022 game of the year runner-up.
The only downside is the storage. It might not be a big deal if you can cram your favorite game (and that's about it) on the 500GB SSD, but you'll probably need more storage at some point. Cheap SSDs are all over the place, so your next planned upgrade (opens in new tab) should be this down the road.