US price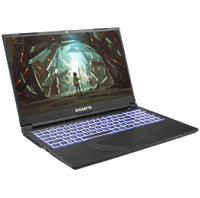 Gigabyte G5 KF | Nvidia RTX 4060 | Intel Core i5 12500H | 15.6-inch | 1080p | 144Hz | 8GB DDR4 | 512GB SSD | $1,099 $899 at Newegg (save $200 with coupon)
The Gigabyte G5 (see our review) is our favorite affordable gaming laptop around right now, packing the RTX 4060 GPU for some serious 1080p gaming performance in a budget package. It's a smart spec that essentially uses an otherwise older specification with the simple addition of just the new Nvidia RTX 40-series graphics chip. The 512GB SSD is a bit miserly, but that is upgradeable, but the 8GB of DDR4 memory is the tougher issue. Again, the memory is upgradeable, but it's still a bit frustrating—still, a great gaming laptop for the money.
Price check: Best Buy $950 | Walmart $999
What do you call it when our current best value gaming laptop gets a deep discount? That's not the setup for a joke, I'm actually asking. Hyper-affordable? Ultra-value? Whatever name you'd give it, it applies to the Gigabyte G5, which you can currently snag for well under a grand—in the US and the UK—in this year's crop of Prime Day gaming laptop deals.
This is our pick for the best value gaming laptop right now, and there's a good reason for that. Despite its low price point the G5 is a serious bit of kit, boasting a current-gen Nvidia GPU (the RTX 4060) and a glittering, glimmering 1080p, 144hz screen. That's more than enough to handle pretty much anything you can throw at it—especially when you switch on DLSS 3 and Frame Generation in games that support it—and in a durable, compact package too.
That's not to say there aren't any drawbacks, mind you. That 512GB SSD is downright stingy, and will probably have you juggling your game installations the second you want to play anything really sizable. Fancy playing Star Wars Jedi: Survivor? Better uninstall, well, almost everything else. Don't worry too much though, this is one of those friendly laptops that lets you upgrade its storage, so you can always whack a 1TB or greater SSD in there later on down the line.
And, wouldn't you know it, there just happen to be some great Prime Day SSD deals going down today, too. How fortuitous.
The same goes for that Scrooge-like 8GB of RAM in the Newegg version of this laptop. It ain't enough, but you can always put another stick in there if it all gets too much. Or, uh, not enough. You know what I mean.
Quibbles aside, this is a lot of laptop for relatively little money, and if it was a steal at its regular price point it's downright larcenous now. If you've been looking for something sturdy and cheap that still packs a punch, you can't really do better right now. When PCG's Jacob Ridley scored the machine a lofty 83% in his Gigabyte G5 review, you can bet it earned it.
UK price