Pick your parts well, know what it's OK to go cheap on, and it's entirely possible to put together a budget gaming PC build that will do justice to many of the latest games—building a rig doesn't have to mean driving yourself to bankruptcy, no matter whether you're looking for GPUs or the best PC case. For this budget build guide, we're targeting a price of $750 (£600/AU$1,000), give or take a little, with room to grow into a future higher performance rig. If you're looking to build your first PC in January, or start a new rig on a budget for the new year, this guide is for you. The good news is that with frequent online sales and a recent drop in pricing on several core components, we're coming in well under the $750 mark. If you wanted, you could upgrade to a more capable GPU or CPU, double the RAM—or simply enjoy the savings.
Buy it now
Prefer to buy a prebuilt than build your own gaming PC? Check out our guide to the best gaming PCs. Or, if you're going portable, here are the best gaming laptops in 2019.
In the high-end realm, you can reasonably expect any expensive part to perform well, but at the budget end of the spectrum there are unique challenges. A few dollars difference can sometimes mean a huge bump in performance. Most of the budget goes on the best graphics card you can afford, which is the most important element for a gaming PC. We've left out optical storage (a SATA DVD burner goes for $20 if you really need one) and a large HDD (you can pick up a terabyte of storage for $50), and we've skimped on components that have minimal impact on gaming performance, such as the case, PSU, storage, and memory.
Despite its budget nature, the system will still be upgradable. The CPU is at the low end of the Coffee Lake range, but the Z370 motherboard will work with everything up to a full-fledged Core i7-8700K, and MSI (along with other manufacturers) recently updated their motherboard BIOS to support 9th Gen CPUs too. Even without replacing the processor, you can easily swap the GPU out for a more powerful card in a year or so to bump your gaming visuals to the next level. Almost as a last aside, it is worth thinking about one of the best antivirus programs going once you're up and running to protect your brand new machine.
You should expect this build to run games very well at 1080p with high settings, maybe even at maximum. Jump to 1440p, and medium to high settings should also be viable, depending on the game, but this build isn't intended to tackle 4K.
The price point also doesn't account for the operating system or any peripherals. Check out our buying guides on the best best gaming mouse, best gaming keyboard, and best gaming monitor for our favorite picks to pair with your new rig.
All components
All the totals here are correct at time of publishing, and we update this feature regularly. The widget above will always show the cheapest component prices available, but be aware they go up and down. The build is based on US prices, but should be comparable in the UK and rest of the world.
CPU: Intel Core i3-8100
Good for gaming and regular tasks, but won't handle streaming
Cores: 4 | Threads: 4 | Base Clock: 3.6GHz | Turbo Clock: 3.6GHz | Overclocking: No | L3 Cache: 6MB | TDP: 65W | PCIe 3.0 lanes: 16
Keeps up with a GTX 1070
Efficient and fast architecture
No Hyper-threading or overclocking
Only four cores
Intel now has a true quad-core processor as a budget option, mostly thanks to AMD's Ryzen 3 processors and Ryzen 3 APU. The new Core i3-8100 is basically the same as the old Core i5-7400, with a slight bump in clockspeed as a bonus.
For gaming purposes, Intel's quad-core CPUs have been our go-to option for several years. It's awesome that Core i5 parts now have six cores, but for more modest gaming needs the 4-core parts are still more than capable. Just be careful of running too many background tasks while gaming (like Twitch streaming, Discord, etc.) or you may get some stuttering in more demanding games.
You could go higher up the CPU ladder with an i5-8400, which we recommend over the overclocking-friendly i3-8350K, but that's a slippery slope that quickly leads to our best overall gaming PC and a price that's $500 (£400/AU$700) higher than this budget build.
If you want to go with an all-AMD build, you'd want at least a Ryzen 5, preferably 6-core model, to meet or beat the i3-8100's gaming performance. It's about a $50-$100 upgrade, and certainly a viable option if you have some spare budget. (Don't forget to swap to an AMD motherboard if you go this route.) Or if you prefer an ultra-budget alternative using an AMD APU, scroll down a few screens.
GPU: AMD Radeon RX 580 8GB
A great graphics card for 1080p gaming
GPU Cores: 2,304 | Base Clock: 1,257MHz | Boost Clock: 1,340MHz | GFLOPS: 6,175 | Memory: 6GB GDDR5 | Memory Clock: 8Gbps | Memory Bandwidth: 1256GB/s
8GB of memory
Good DX12 performance
GCN architecture is getting old
Uses more power than GTX 1060 6GB
If you're running a 1080p display a faster card would be overkill. As this is a budget build, the RX 580 is a great choice for 1080p gaming. It roughly matches the previous RX 480 but with higher clocks. You could look to the new RX 590 as well, but prices are currently about $50-$80 higher for 10 percent more performance. The RX 580 8GB is a little faster than the GTX 1060 performance-wise, but uses more power. The card averages over 60fps at 1080p maximum quality in our test suite, though there are a few games where you'll want to tweak the settings a bit.
$200 to $275 is a reasonable price for budget-conscious gamers to spend on this GPU right now. Current prices are within that range, often less than the original $229 MSRP thanks to the end of crypto mining. Ultimately, it comes down to what manufacturer you prefer, as prices, clockspeed, etc. will vary. Asus, EVGA, Gigabyte, MSI, PowerColor, Sapphire, and XFX are some of the usual suspects. We do recommend sticking with the full 8GB VRAM model, though.
Motherboard: MSI Z370-A Pro
A good budget Z370 board with upgrade potential
Chipset: Z370 | Memory: (4) DIMM, 64GB, DDR4-4000 | PCIe slots: x16, x16 (x4), (4) x1 | Video ports: D-Sub, DVI-D, DisplayPort | USB ports: (6) rear IO, (6) internal | Storage: (1) M.2, (6) SATA | Network: Ethernet | Lighting: None
Affordable Z370 board
Does everything you need
Limited OC potential
No Wi-Fi or RGB, single M.2
MSI's Z370-A Pro provides everything you'll need, plus a lot of extra stuff you may never use. The M.2 slot for example means you can go with a higher performance SSD, but the impact on gaming is pretty minimal and the cost can be quite a bit higher. Four DIMM slots means you can upgrade from two to four sticks if you want more RAM in the future. MSI also lists up to DDR4-4000 memory support, which is far beyond what anyone should run in a budget build.
There are other budget Z370 boards, as well H370 options, but using a Z370 board here allows for a future CPU upgrade to a midrange or high-end processor, with modest overclocking potential. For the Core i3-8100 you're safe with grabbing just about any cheap Z370/H370 board, but we like to keep our options a bit more open than that.
Memory: 8GB DDR4-2400
Plenty of memory for most games
Capacity: 2x4GB | Speed: 2400MT/s | Timings: 15-15-15-35 | Voltage: 1.2V
Sufficient for most tasks
Relatively inexpensive
May need more RAM in the future
There's no shortage of options when you're shopping for memory, and while the past year has wreaked havoc on DDR4 prices, it looks like the price fixing allegations and improved production have mostly been sorted out now. Thankfully, 8GB of memory is generally fine for gaming, and for a budget build we're less picky about RAM brands and speeds.
We're not recommending a specific brand of DDR4 memory right now, as prices and availability fluctuate a lot. You should be reasonably safe with just about any DDR4 kit from Adata, Ballistix, Corsair, Crucial, G.Skill, GeIL, Gigabyte, Hynix, HyperX, Micron, Mushkin, Patriot, PNY, Samsung, Team, or XPG. Worst-case, you might need to manually set the speed or timings rather than using the defaults.
Our primary recommendation is to get an 8GB DDR4-2400 kit, though if you can find DDR4-2666 or DDR4-3000 without spending too much more that's not a bad idea. If two competing kits look similar in price, capacity, and speed, check the timings. CL15 shouldn't cost much more than CL17 RAM and is slightly faster.
SSD: Crucial MX500 500GB
Fast storage for your OS, apps, and a few games
Capacity: 500GB | Interface: SATA | Sequential IO: 560/510MB/s read/write | Random IO: 95K/90K IOPS read/write
One of the fastest SATA SSDS
Reasonable price per GB
Not a lot of capacity these days
Slower than M.2 NVMe drives
No matter how much storage you need, using an SSD for your boot drive is essential. The speed difference between SSD and HDD when starting up your system is massive, and with current prices even a moderate SSD has room for a few games, which will also load faster.
Crucial's MX500 SSD is one of the fastest SATA SSDs available, though it still pales in comparison to higher-end M.2 options. What it lacks in speed it makes up for in price and capacity. For around $75 (£55/AU$100), the 500GB model is cheap enough to fit our budget while providing ample storage to serve as a solo primary drive for our build. (It's also our top pick for best budget SSD.) Sure, you won't be able to store a massive game library loaded at once, but it's enough for a handful of games on top of your OS.
Also as a point of reference, earlier this year, before SSD prices dropped, $75 is what you'd pay for the 250GB model. We've doubled capacity and kept the same price, which gives us plenty of breathing room in terms of storage. You could also use an SSD cache combined with a 1-2TB hard drive, and the MX500 is also available in as an M.2 SATA drive for around the same price point—which our motherboard supports. It doesn't offer a performance increase, but it does potentially mean two fewer cables, which can make for a better system aesthetic.
Power supply: EVGA 450 BT
More than enough power for a budget PC
Output: 450W | Efficiency: 80 Plus Bronze | Connectors: 24-Pin ATX, (1) 8-Pin (4+4) EPS12V, (2) 8-Pin (6+2) PCIe, (4) SATA, (3) Molex, (1) Floppy | Modular: No
Small, inexpensive, efficient
Can power most single GPUs
Fixed (non-modular) cables
Only bronze (up to 82 percent) efficiency
Like memory, most power supplies from major vendors tend to be of high quality, and we don't recommend skimping on PSU quality. This non-modular EVGA 450W is 80 Plus Bronze certified and comes with a 3-year warranty. While we generally recommend going with a semi- or fully-modular power supply, this EVGA PSU routinely sells for just $25, making the fixed cables easy to forgive.
If you're looking for alternatives, just aim for 80 Plus Bronze or higher efficiency and at least 400W and you should be fine. If you intend to upgrade in the future, especially if you plan on adding an overclockable CPU and a faster graphics card, you may want to invest in a more powerful 600W PSU.
Note: If you can't find the EVGA 450 BT in your region, two good alternatives are the Corsair CX450 or SilverStone Essential ET450-B – both of which are 80 Plus Bronze certified PSUs from well-reputed PC parts makers.
Case: Fractal Design Focus G
Understated and attractive
Type: ATX mid-tower | Motherboard Compatibility: ATX, Micro-ATX, Mini-ITX | Drive Bays: (2) 5.25" external, (2) 3.5" internal, (1) 2.5" SSD | Front Ports: (1) USB 3.0, (1) USB 2.0, Audio | Fan Options: Front: (2) 120/140mm - White LED fans included, Top: (2) 120/140mm, Rear: (1) 120mm, Bottom: (1) 120/140mm | Max GPU Length: 380mm | Dimensions: 444x205x464mm (HxWxD) | Weight: 4.51kg
Does what you need
Includes dual 120mm fans
Only one each USB 2.0/3.0 up front
Some people like more bling
The Fractal Design Focus G is a lovely looking box that's easy to work with and doesn't cost too much. Having said that, cases can be extremely subjective, and what one person loves another may find boring or gaudy. If you're looking for other options, the NZXT S340 from our best mid-tower ATX case guide is another great choice.
Also be sure to get the ATX version, if you're using our recommended ATX motherboard. There's a micro-ATX Focus G as well that obviously wouldn't work.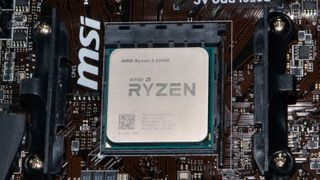 The ultra-budget alternative
The above build will give you a great gaming PC that can handle any current title at 1080p, typically with maxed out quality settings. But it still costs around $650 (£600/AU$1,000). Considering the graphics card is nearly half the total cost, and that you can play most games just at lower quality settings with a lesser GPU, for those that are looking to go even cheaper we offer these alternative components.
The SSD, case, and power supply remain as above, though you could opt for a micro-ATX case this time if you fancy. We've removed the dedicated GPU from the list as well, which is a future upgrade whenever you feel the time is right for something faster. The total cost for our ultra-cheap gaming build comes to about $390 (£425/AU$710) at the time of writing, and sales can drop things even lower if you shop around. Here are the three component changes.
APU: AMD Ryzen 3 2200G
Decent CPU with faster integrated graphics
Cores: 4 | Threads: 4 | Base Clock: 3.5GHz | Turbo Clock: 3.7GHz | Overclocking: Yes, 3.9GHz typical | L3 Cache: 4MB | TDP: 65W | PCIe 3.0 lanes: 8
Great price for CPU and graphics
Handles 1080p low/med in games
Can struggle in demanding games
Needs faster RAM to reach potential
With a lower price plus integrated graphics that are more than twice as fast as Intel's HD Graphics 630 (found in the Core i3-8100), if you're really on a tight budget there's no better starting place than AMD's Ryzen 3 2200G APU. Packing Vega 8 Graphics, the processor handles the majority of modern games at 1080p and low to medium quality, and we haven't found a game that can't run acceptably at 720p in a pinch. The 2200G is also a solid foundation for an HTPC in your home entertainment center, should you choose to put it in the living room.
The CPU portion is no slouch either, coming in just a tad slower than the i3-8100. But at this end of the spectrum, no one should get overly concerned about 5-10 percent differences in CPU performance. You can make up a decent chunk of that via overclocking as well.
The only real caveat to going with a Ryzen APU and using the integrated Vega graphics is that you need better memory, which we've provided below. Using DDR4-2400 CL15 memory reduces gaming performance by around 15-20 percent, because the CPU and GPU portion of the chip are fighting for over bandwidth. Note also that only eight PCIe lanes are available from the CPU for graphics, not that the lack of a true x16 connection will really hinder most discrete graphics cards you're likely to pair with this processor.
AMD motherboard: Gigabyte AB350M-DSH3
Chipset: B350 | Memory: (4) DIMM, 64GB, DDR4-3200 | PCIe slots: x16, x16 (x4), x1 | Video ports: DVI-D, HDMI 1.4 | USB ports: (8) rear IO, (3) internal | Storage: (1) M.2, (4) SATA | Network: Ethernet | Lighting: (1) RGB
Compact and affordable
Provides everything you need
Not designed for heavy overclocking
Limited expansion options
When you're going for a cheap Ryzen APU build, you'll generally want to stick with the B350 chipset, or perhaps the newer B450. Not only does that save you money, but many X370 and X470 motherboards don't include the necessary video ports to use the built-in graphics. Gigabyte's AB350M-DSH3 provides everything you need, and a few minor extras as a bonus.
Cost is a major factor, but we chose a board with a better reputation. Some of the early B350 motherboards are still a bit flaky about memory choice, but the Gigabyte board should work well with up to DDR4-3200 memory kits. It also includes an M.2 slot, if you want to eliminate some cables, but there are no USB Type-C ports on the back. It's a minor omission, just like the lack of wi-fi, but for this price we can't complain.
AMD Memory: 8GB DDR4-3200
Faster memory to make your APU fly
Capacity: 2x4GB | Speed: 3200MT/s | Timings: 16-16-16-36 | Voltage: 1.35V
More bandwidth for iGPU
Costs more than basic DDR4 kits
May need manual tuning of timings
Normally upgrading to a higher performance kit of memory would be very low on our priority list, particularly for a budget system. However, with built-in processor graphics sharing system memory bandwidth, you can improve performance by up to 20 percent by going with DDR4-3200 instead of DDR4-2400 (and just say no to DDR4-2133).
The problem is that higher speed kits also cost about $25 more than basic kits, so consider looking for slightly lower speeds like DDR4-2800 to DDR4-3000. Plus, this is $25 on memory that could be put toward a faster dedicated GPU in the future.
Just about any DDR4 kit should work fine, though you might need to manually tweak or input some of the timings in your motherboard BIOS. Also, remember to set the A-XMP profile to enable the faster speeds, otherwise you're wasting money.
___________________________________________________________________________________
A note on affiliates: some of our stories, like this one, include affiliate links to stores like Amazon. These online stores share a small amount of revenue with us if you buy something through one of these links, which helps support our work evaluating PC components.