Let's get this out of the way now: There is no GTA 5 money cheat. In single player there are GTA 5 cheats for pretty much everything, from making yourself invincible to maxing out your health and armour, but there isn't one that'll give you an infinite bank balance.
Need More Cheat Sheets?
Fallout 4 cheats: Nuclear codes
Minecraft commands: Unblocked
RDR2 cheats: Most wanted
GTA 5 cheats: Phone it in
The Sims 4 cheats: Life hacks
Ark cheats: Expedited evolution
That's down to the game's stock market, which is one way of ensuring that you can still lord your many millions over the rest of Los Santos from your glistening ivory tower regardless. The single player stock market persists in all instances of the game, and it'd be ruined if any player can cheat their way to their fortunes in an instant. More on that below.
However, if you're here looking for a GTA Online money cheat, they exist, but they're not worth the risk. These third-party initiatives, that tend to ask for your Social Club information and have you take a survey, are scams that must be avoided. Rockstar already offer you the chance to pay real money to add cash to your Online account, so an official money cheat will just never happen. They also contravene Rockstar's terms and conditions, so pursuing that route risks getting your account banned.
So, in lieu of a GTA 5 money cheat for Online or single player, here's how to make serious cash in Los Santos fast, without any lawyers needing to get involved.
How to get rich in single player, without a GTA 5 money cheat
The thing is, you don't even need a cheat to get rich in GTA 5's story. Follow these sneaky stock market tips to make over GTA$2 billion. Yes, that's with a 'b'. Access the stock market by navigating to the 'Internet' tab on your phone, click on Money and Services', and then hit 'LCN' or 'BAWSAQ':
Save Lester's assassination missions until last: Excluding the 'Hotel Assassination' mission (required to continue the story) save the four remaining quests until after you've beaten the story so you can invest the lucrative proceeds in the game's stock market.
Before 'The Multi Target Assassination', have all three characters invest their money in Debonaire (LCN): After you murder the four corrupt jurors, stocks in this company will skyrocket. Wait a full day after you've completed the mission to double your money.
Invest in Redwood (LCN) immediately: The cigarette company, harmed by your assassinations, and their stocks are way down, so invest in them and wait a few days for another financial bonanza.
Invest in Fruit (BAWSAQ) before 'The Vice Assassination': Then sell your shares for a 50 percent cash boost after you've completed the mission.
Put your money in Facade (BAWSAQ): Next, sleep for a day and net a tasty 30 percent boost.
Invest in Vapid (BAWSAQ) straight after completing 'The Bus Assassination': Take out your money a few days after to double your money again.
Stick all your money on GoldCoast (LCN) before 'The Construction Assassination': Once you've taken out the sketchy boss extorting the company, wait a few days for business to improve and cash out to make all your playable characters filthy rich.
How to make bank in GTA Online the old-fashioned way
Before you worry about making money, some good news: Just logging into GTA Online in May will earn you a free GTA$500,000 from Rockstar. But when it comes to earning your own millions in GTA Online, our guide on how to make money in GTA Online is the place to start.
That guide covers everything you need to know about big money opportunities, like double money events, heists, hauling cargo, and more. Some of these can be more time-consuming than others. For instance, the GTA casino heist payout is GTA$2.1 million, but thorough prep can take a few hours, and then another 20 minutes for the actual job itself. On the plus side, it's a big, fun project to take on.
But big heists like that aren't much good when you're just starting out in GTA Online, because you'll need some resources to take them on. The same goes for some of the other systems, which can require an initial investment of GTA$1.2 million before you can really get going. To start getting money quickly, complete your daily objectives and do some premium races to get some starter cash.
Then you'll want to focus on passive sources of income that will keep earning you money in the background: Nightclubs, motorcycle clubs, and gunrunning will all pull in cash for you even when you aren't actively doing anything.
How to start GTA Online with $1 million or more
Become a Los Santos kingpin with these GTA 5 guides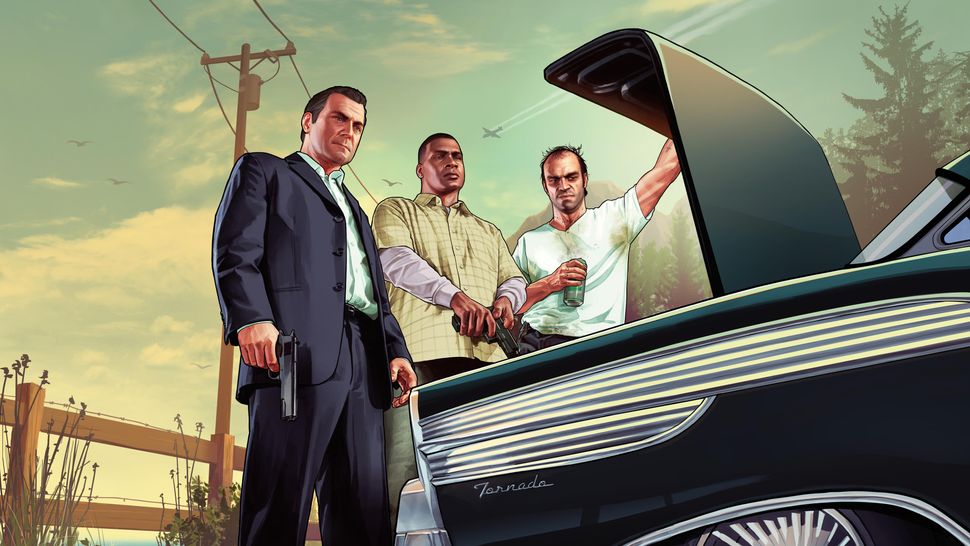 GTA 5 cheats: Every cheat code and vehicle spawn
GTA 5 cars: The fastest vehicles in the game
GTA 5 mods: The best visual and gameplay tweaks
GTA 5 casino heist: How much can you make?
GTA 6: All the rumours in one place
If you haven't played GTA Online yet, there's actually a couple very easy ways to skip all the grinding for cash and get rich quick: You can get GTA$2 million bucks in GTA Online by taking advantage of the following promotions.
Option 1: Buy the GTA 5 Premium Edition, which includes GTA$1 million (or get it for free on the Epic Games Store until May 21).
Option 2: Link a Twitch Prime account to your Rockstar Games Social Club account for another GTA$1 million.
Yes, past GTA games did have a single player money cheat
If the absence of a money cheat in GTA 5 got you thinking: "Didn't the past GTA games have one?" You're not crazy—the older Grand Theft Auto games had money cheats that lined your pockets.
GTA 3 - IFIWEREARICHMAN
Vice City - Buy all properties - FULLCITYPEOPLEMINES
San Andreas - Full health, armor, and $250k - HESOYAM
However, GTA 4 didn't have a money cheat, and GTA 5 carried that forward. Either way, with our tips for Online and single player, you'll never want for a single penny ever again. You're most welcome.