Become a Los Santos kingpin with these GTA 5 guides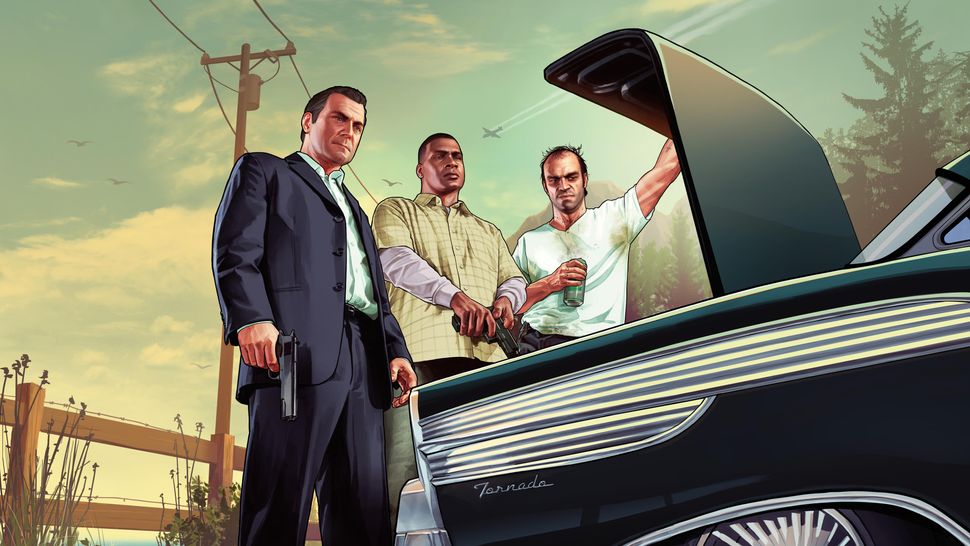 GTA 5 cheats: Every cheat code and vehicle spawn
GTA 5 money: How to make the big bucks
GTA 5 mods: The best visual and gameplay tweaks
GTA 5 casino heist: How much can you make?
GTA 6: All the rumours in one place
"What's the fastest car in GTA Online?" is a tricky question. Is it the fastest car in a short drag race? Around a standard circuit with corners? With the highest top speed? Going in reverse then pulling a J-turn and accelerating up to 60mph?
There are a lot of variables that it's possible to measure speed over, but for the purposes of this article I'm going to focus on two of the most useful: Lap times and top speed. Listed below will be the five fastest non-rocket powered cars around a regular circuit in GTA Online (where braking, cornering and acceleration all play a part in getting a quick lap time), followed by the five fastest non-rocket powered cars on a long straight piece of road (when all cars are travelling at their maximum speed). Looking at the best cars across these two metrics will then allow us to infer what the best overall GTA 5 car is.
​This article only focuses on 'normal' car—those that don't get a benefit from external boosts and can be used in regular races. The main notable exceptions from doing this are things like the Rocket Voltic, Scramjet, Vigilante, and Arena War vehicles with Nitrous Boost upgrades. So, let's get to it, these are the GTA Online fastest cars.
The fastest car in GTA Online by lap times and top speed
Lap times
1: Benefactor BR8 (0:54:788)
2: Progen PR4 (0:56:424)
3: Declasse DR1 (0:56:790)
4: Ocelot R88 (0:56:791)
5: Progen Emerus (0:57:823)
Top speeds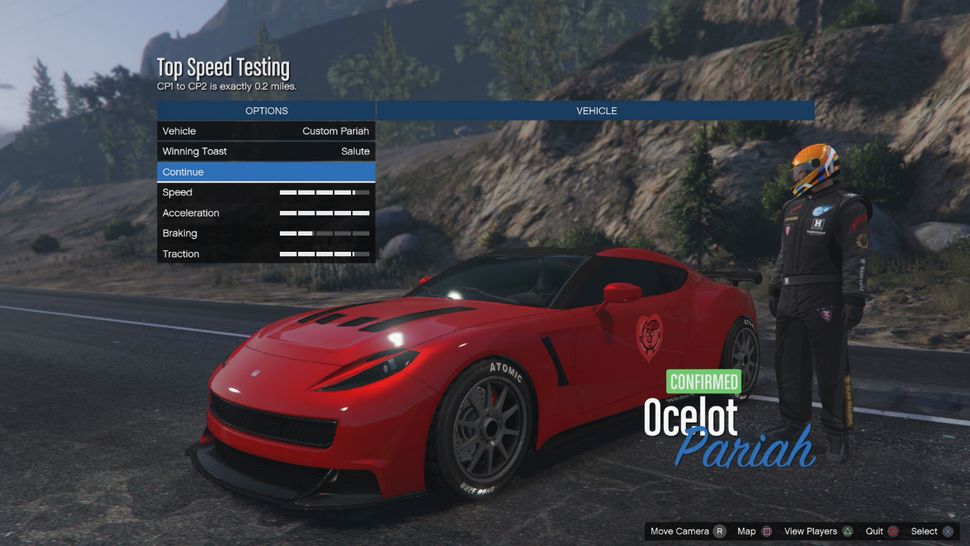 1: Ocelot Pariah (136.0mph)
2: Pfister 811 (132.5mph)
3: Principe Deveste Eight (131.8mph)
4: Bravado Banshee 900R (131.0mph)
5: Coquette D10 (130mph)
From the above you now know the cars you want if you have a corner-heavy race and a long top speed race. But having the best in one situation doesn't necessarily mean you'll have the best in the other. For example, the 811, Banshee 900R and Coquette D10 are nowhere to be seen when it comes to the overall lap times list (50th, 79th and 65th respectively) despite being in the top five for top speeds. In addition, the best top speed any Open Wheel car can muster is almost 10mph slower than that of the Pariah from the Sports class, despite dominating around a track due to their cornering abilities.
So what should you buy? Well there are a number of different situations you could find yourself in, and you'll want a different car for each.
Best GTA Online car for any sports class race
Best for sports class races: Pariah
Before the release of the Itali GTO one thing was true: If it's a sports class race, just use a Pariah. The Itali GTO has actually taken the crown away from the Pariah when it comes to lap time now (although not by much), but the Pariah's top speed is still unmatched by any car in the game, even supercars. While it can be tricky to handle at times, if you have a Pariah you're guaranteed to be competitive.
Best GTA Online car for a Rockstar-created stunt track
Best for Rockstar stunt races: Deveste Eight
In this kind of situation a good balance between lap time and top speed is essential, since most Rockstar stunt races are frankly not that challenging from a cornering perspective. However, they do still require a car to be able to take corners at high speed when it isn't focusing on utilising its top speed 90-95 percent of the time. The Deveste Eight fits the bill perfectly here by having a top speed good enough to get into our top 5 list, while also having a lap time that's just outside of the top 10 for the Supers class.
Best GTA Online car for a long highway race
Best for long highway races: 811
If you're going to be spending your time racing around the highways of Los Santos you might as well try to get it done as quickly as possible (since you'll probably be bored after 30 seconds). In this case top speed matters most as corners are few and far between, so for supercar races that leaves our number two vehicle overall – the 811. This car will be even quicker on PC at higher framerates due to a bug with its suspension physics too.
Best GTA Online car for supers class races
Best for supers class races: Emerus/Krieger
If you're driving on a track that is either primarily corners or has a balance of corners and straights, and is set up like most regular racing circuits you'd see in real life, there are usually only a few options that you need to consider. One of them managed to sneak onto the top 5 lap times list, but the other is only 0.035 seconds per lap slower.
These two cars are the Emerus and Krieger. The Emerus is slightly harder to drive and the All Wheel Drive system of the Krieger makes it more stable, but both take corners better than anything else that doesn't have open wheels. If you lose a race in one of these cars, it won't be because of the car.
Best GTA 5 car for open wheel races
Best for open wheel races: BR8
The introduction of Open Wheel cars and races added some complexity to things, because (unlike in other cars) different body modifications change their cornering and top speed abilities by affecting the amount of downforce the cars have. However, apart from top speed—where it's the DR1 that is fractionally the quickest in the lowest downforce setup—you generally always want to stick to the BR8.
As you can see from the lap times list, it's just that much quicker than the rest. A middle downforce setup is often the right option too, and more information on which modifications affect downforce, as well as the effects of each modification.