Gone Home
Released: 2013 | Developer: Fullbright
Shaun: Video games aren't always about mowing down aliens and nazis and trolls in fantasy/sci-fi/post-apocalyptic settings. But most of the time they are. Gone Home wasn't the first meditative, narrative-driven game, but it arrived at a time when people were more receptive to their possibilities than ever before. Crucial to Gone Home's success is that, rather than resting on the delivery tactics of film, Fullbright uses the more tactile nature of the videogame medium. Sure, it's interactive in the sense that you're wandering through a home and discovering its inhabitants' stories, but it also asks of the player that they mull over the lives that they're eavesdropping on. While there are plenty of "walking simulators" nowadays, Gone Home endures because the story it tells is enduringly affecting and important.
Proteus
Released: 2013 | Developer: David Kanaga
Jody: I like walking simulators, and I use the term affectionately, but sometimes I find it hard to get caught up in their stories. They can feel anticlimactic. Proteus doesn't because its story is one I tell myself. It dumps me on a procedurally generated island and lets me explore, climbing hills and chasing frogs. There is another story in it though, in the sense that there's a sequence of events that you can experience, but it's a subtle one. (I'll give you a hint: it involves the standing stones.) If you want it there's a build-up and climax there, but even without that the relaxing strolls over its islands gave me all the satisfaction I needed.
Papers, Please
Released: 2013 | Developer: Lucas Pope
Jody: Games are amazing at letting you experience someone else's life. To pick an extreme example, just like the wriggly controls of Snake Pass give you an insight into what it would be like to be a snake, the rubber stamps and bureaucracy of Papers, Please make you feel like a border guard under a totalitarian regime.

Morality's a thing games don't often do well, but by letting you master increasingly complex regulations—Papers, Please has a great difficulty curve, which indie games sometimes struggle with—it gives you power over the hapless citizens who line up to present their documentation. It motivates you to judge them harshly because if you don't, the pay you need to support your family will be docked, but also because the detective work of uncovering fraud is shockingly fun. You discover a contradiction in someone's papers and feel great, then realize what that will mean for the human on the other side of the counter trying to get home and feel awful. Yeah, it's a game about paperwork, but it's so intense that when I was rewarded for my paper-pushing by being given the key to the gun cabinet I wanted to hand it back. I wanted to tell a video game I wasn't interested in its gun.
Austin: I still remember one of the many would-be citizens I turned away in Papers, Please—the old man who repeatedly submits ridiculously inaccurate papers. Sometimes his ID shows the wrong gender or expiration date, sometimes he even has a photo of someone else on 'his' passport. His errors get more and more obvious and egregious, but his cheery attitude never changes. Every time I turned him away, he'd just smile and say he'd be back, like I was a server at his favorite local restaurant. Papers, Please is a game about hard choices, but nothing in it made me feel guiltier than denying that old man so many times.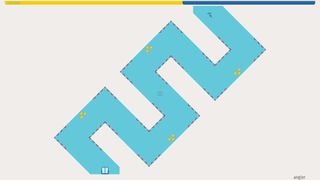 N++
Released: 2016 | Developer: Metanet Software
Shaun: During my first ecstatic weeks spent with N++, I thought it might be the last platformer I'd ever need to play. The slippery, floaty physics are so expertly tuned, and the level design so varied (despite having upwards of 5,000) that I thought it could keep me busy forever. And while I've played probably dozens of different platformers since, N++ is the only one I feel compelled to regularly return to.
Even when you're not winning, N++ just feels good, and its focus on precision and reflexes isn't as potentially frustrating as it can be in, for example, Super Meat Boy. The whole game has a zen-like quality, from its austere minimalistic art style through to the experimental electronic soundtrack (one of the few, in a platformer, that I've never turned the volume down on). This is simply the best pure platformer you can get on PC, a museum-worthy distillation of the genre's strengths.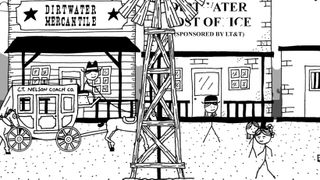 West of Loathing
Released: 2017 | Developer: Asymmetric Publications
Chris: West of Loathing is just so wonderfully jam-packed with humor, clever writing, and charming characters that it's hard to stop playing even when you've finished the main story, solved all of the (sometimes quite devious) puzzles, and collected every hat (there are more than 50) in the game. Everywhere you turn there's some little bit of descriptive text that will make you smile, chuckle, or laugh, even the the settings menu. It's one of the only games that drove me to explore not for loot or experience, but for words.
Crypt of the Necrodancer
Released: 2015 | Developer: Brace Yourself Games
Bo: Crypt of the Necrodancer is a rhythm-based roguelike—a DDR-dungeon crawler, if you will. A head-scratching combination, to be sure, but that's exactly what it is. Dance your way through pixelated depths to the beat of an awesome, rhythmically complex soundtrack. Stay on beat to slay the dungeon's dancing denizens, and don't forget to spend some time with the opera-singing shopkeeper.
Evan: Definitely give the metal version of the soundtrack by YouTuber FamilyJules (composed by Danny Baranowsky) a listen. It's right up there with the Doom 2016 soundtrack.
Bastion
Released: 2011 | Developer: Supergiant Games
Jody: There's no game I've had better luck recommending to people than Bastion. Everybody loves its narration and its music, which would be cool independently but become truly outstanding because of how they're integrated. You think you're hearing a beautiful soundtrack and then you discover the musician in the level you're exploring. You think the narrator is a guy with a deep voice telling a story and then he reacts to how you play.
Bastion is an action RPG about a ruined sky-city that rebuilds itself under your feet, nothing beyond the screen existing until you walk toward it. Instead of playing inventory Tetris you choose two weapons from a growing catalogue, and are rewarded for choosing strange pairings with narration snippets and radically altered play. And if you don't like the combat then go into the options and pick a different control scheme. I'm not normally the kind of critic to sing the praises of an options menu but you can turn Bastion into Diablo if you want. Come on, that's awesome.
Her Story
Released: 2015 | Developer: Sam Barlow
Jody: I used to watch an English cop show called The Bill. Back when it was good they'd sometimes dedicate half an episode to an interrogation, a guest star stamping their mark on the show. That's Her Story, only instead of cops it's you, years after the recorded interview, searching through video clips by entering keywords. Her Story plays out in those videos and that search bar, but it's also played on note paper you inevitably fill with conspiracy scribbles like Charlie from It's Always Sunny in Philadelphia. I didn't bother making notes during Fez (I probably should have), but for Her Story I scrawled pages.
It spread even further after that, into an argument with friends about what really happened which I remain convinced I'm right about. Maybe I got obsessed? It's one of a handful of games I 100-percented on Steam and I don't regret it.
Wes: In tech, skeuomorphic design—making your music player in the form of a cassette tape, for example—is now quaint and frowned upon. But it's a rarely used concept in games, and Her Story uses it to great effect. I'd go so far to say that its dusty CRT computer interface is the best marriage of aesthetic and game design in anything I've ever played. It's immersive in a subtle, well-earned way that makes Her Story enrapturing from its first few moments.
Dungeons of Dredmor
Released: 2011 | Developer: Gaslamp Games
Chris: I'm not typically one for turn-based games, and roguelike RPGs often break my heart when I'm forced to start over from scratch, but Dungeons of Dredmor immediately drew me in with its style and comedy. I've never won a game, never beat or even met Lord Dredmor, never even gotten more than a few levels deep. It's still a joy to play for its writing, humor and surprisingly deep and amusing lore.
Evan: The absurdity goes so far to soften the blows of its difficulty. You can build a Vampire Communist who wields Egyptian Magic, Fungal Arts, or Emomancy to fight hordes of weird robots, carrots, genies, and whatever the hell diggles are.
Austin: I keep coming back to Dungeons of Dredmor because it's a gamble I don't mind losing. I've never beaten Dredmor either, but generating a random character and pushing the usefulness of absurd skills like Fleshsmithing, Killer Vegan and Paranormal Investigator is always a thrill, even when I die on the first or second floor. It's a system that rewards inventiveness. You can manually select your skills, but rolling the die and making the best of random skills is far more satisfying, and like the optional but actually totally necessary permadeath, makes every round feel genuinely different.
Lovely Planet
Released: 2014 | Developer: QuickTequila
Shaun: You don't need blood and exploding heads in a first-person shooter. Case in point: Lovely Planet, a first-person shooter where you run increasingly complex gauntlets while shooting cute pastel shapes in a floating pastel land. But how, you ask. How can a game about shooting cute pastel shapes (that don't bleed!) be fun? Because this is basically a platformer—a more-ish precision-oriented runner combining the fluidity of a Quake speedrun with the one-more-try quick respawn loop of Super Meat Boy.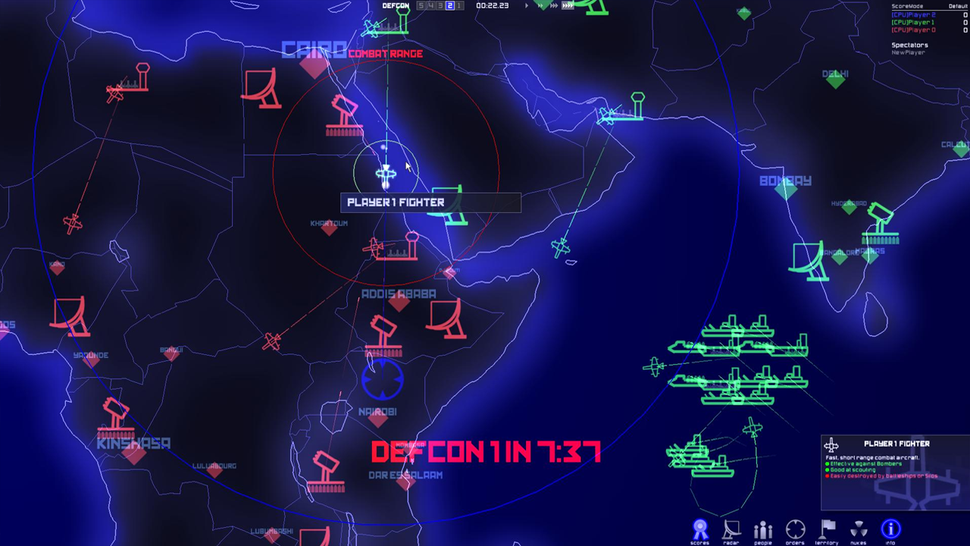 DEFCON
Released: 2006 | Developer: Introversion Software
Tyler: DEFCON is one of those games I could play forever. It's a simple, morbid real-time strategy game in which global nuclear war is inevitable and 'winning' means losing fewer people than everyone else. In the early stages it's about placing missile silos (which double as missile defense systems), airfields, radar stations, and fleets of submarines, battleships, and aircraft carriers. As the war turns hot, the only option is to manage losses and inflict your own genocide, to make paranoid alliances and break them with bombs—ignoring that the fallout will kill everyone anyway. The brutality is rendered with War Games-style vectors, turning cities to dots and people to casualty numbers, emulating the calculated viciousness of modern drone wars.
Oikospiel
Released: 2017 | Developer: David Kanaga
James: Oikospiel is a dog opera game about dogs making an opera game. I think. Here's the plot synopsis according to developer, composer, everything-er David Kanaga: "The Oikospielen Opera is developing an epic global-gaming festival called THE GEOSPIEL, scheduled for the year 2100. The opera's employees, organized by the Union of Animal Workers, are trying to integrate the game dev dogs of Koch Games into their group, but these loyal pups love their jobs and boss Donkey Koch too much! Will there be Unity, or will Multiplicity prevail?"
It's as strange as it sounds, and it sounds strange—literally—too. With a soundtrack that mimics its frenzied landscapes, Oikospiel is a touching, psychedelic trip through videogame history with a meaningful message about labor.
The Stanley Parable
Released: 2011 / 2013 | Developer: Galactic Cafe, William Pugh, Davey Wreden
Shaun: Are you playing the game, or is the game playing you? So much of our agency in modern games is illusory, or, more gratingly, reductive and binary. Are you going to go the nice path or the bad-arse path? The Stanley Parable is a meta-critique of gaming as a medium, but it's also a trojan horse existential crisis (and we all love having those). When we don't take the critical path, the one prescribed to us, what could possibly go wrong? And given the actual opportunity to do so—given the opportunity to deliberately stray from what a game (or The Stanley Parable's narrator) is telling us to do, is there any point in playing the game at all? Hmmm. Makes you think.
Jody: First time I played The Stanley Parable I did everything I was told to. Knowing it would be meta-commentary, I rebelled by not rebelling. That's a dumb way to experience The Stanley Parable for the first time. Don't do that. Sabotage it, go the wrong way, hide in a closet and refuse to leave. It's a better game if you break the rules other games have taught you rather than the first rule of The Stanley Parable, which is: don't do what you're told.
SOMA
Released: 2015 | Developer: Frictional Games
Shaun: Survival horror too often devolves into repetitive efforts to fend off undead with unwieldy weaponry, but Soma is different. There's no combat on this underwater research facility, and enemy encounters are few and far between. Most of the time you're just looking at stuff, but that's ok in the hands of studio Frictional. They manage to wring an overwhelming sense of dread and despair from a mere dark corridor, not to mention the sprawling sub-aquatic outdoor areas peppered throughout. And the ending of Soma—even if you're usually ambivalent towards low action horror—is worth the trip alone. It may be more contemplative and less jump scare-oriented than Amnesia, but it's all the better for it.
James: I'd even recommend those typically averse to horror give SOMA a try. Install the teasingly named "Wuss Mode" mod from the Steam Workshop to make the monsters harmless without losing much horror in the process. Sure, you won't have to hide, but that doesn't make their appearance and origins any less terrifying.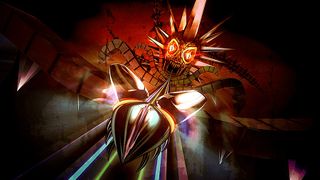 Thumper
Released: 2016 | Developer: Drool
Shaun: Thumper is like an ugly, loathsome, despair-inducing industrial techno song come to life. And that's a very good thing. In our Top 100 Evan described it as "a documentary about the path you take to heaven or hell when you die" which is just about the most alluring description for a video game I've ever read. Yes, it's a tough, precision-oriented rhythm game, but it's a precision-oriented rhythm game that feels like a collaboration between Gaspar Noe and Laibach.
The list concludes over the page.