The tantalising hum of a loot chest. The no-nonsense galumph of a pump shotgun unloading. The tinny thrum of tropical house playing through someone's headset at devastating volume while you're waiting to board the Battle Bus. A pre-teen shouting at you for not reviving them. Fortnite is a game of many sounds.
Headset radio DJs and embittered fallen squadmates aside, audio cues in Fortnite are often of vital importance, and you're going to want the best headset for Fortnite to hear them. Picking up on an enemy's footsteps is in very real terms a life and death matter, and being able to communicate with your squad makes the game orders of magnitude easier. A good, reliable gaming headset is essential.
We've put together a selection of candidates that are all more than up to the job, occupying a range of prices but generally geared towards the more affordable end. We don't need customisable RGB or fancy charging stations where we're going—the bodies hit the floor at Tilted Towers regardless of how expensive their owners' cans were. Unlike our general best gaming headset guide which factors in many different usage scenarios, this guide to the best Fortnite headset places microphone quality, features like game/chat controls, and budget-friendly pricing at the fore.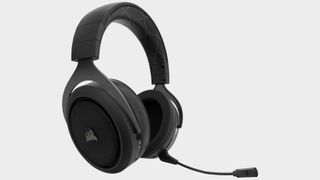 Corsair HS70
Wireless without the premium price
Frequency response: 20Hz-20,000Hz | Impedance: 32 Ohm | Features: Available in black or white finishes, detachable mic
Amazing value
Long battery life
Headband digs in slightly
Mic doesn't stand out from the pack
If you want to go wireless with your Fortnite setup but don't feel like spending much in doing so, say hello to your new friend. Corsair's latest budget wireless model features up to 16 hours of battery charge and formidable audio quality without any niggling audio dropout that might have spoiled the party in older wireless headsets.
To get the negatives out of the way: yes, we found the headband a little uncomfortable after long sessions, but the time it takes for it to dig in exceeds our tolerance threshold for being demolished by strangers with Hunting Rifles anyway—so no biggie here. Although the mic isn't quite on the same level as Sennheiser's peerless GAME ONE, it's nicely adjustable and offers more than adequate quality for keeping squadmates in check. It's available in either black or white too, so aesthetes who want to match their headset with their rig are covered.
Promoted recommendation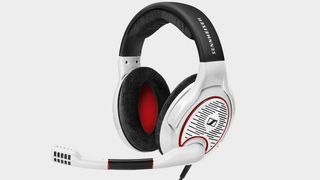 Sennheiser GAME ONE
The best Fortnite headset you can buy
Drivers: 40mm neodymium | Frequency response: 15Hz-28,000Hz | Impedance: 50 Ohm | Features: Open backed earcups, flip-to-mute mic, on-ear volume control, lightweight design
Amazing mic
Great high-end clarity
Open backed design leaks sound
Pricier than other similar models
If you want cat-like hearing, razor-sharp communication with squadmates and prolonged comfort while fighting to the death in Fortnite, Sennheiser's ol' reliable GAME ONE headset is the ideal pick. Headset microphones simply don't get better than this, and the sheer size of this one lets you know it means business. It's decent at noise-cancelling though some keyboard and mouse noise will still filter through, and it's worth it for the quality of your voice broadcasting. Friends often comment that we sound louder and clearer than usual whenever we use the GAME ONE.
The GAME ONE is a rarity in the gaming headset market in that it's open-backed, which means it trades sound leakage both in and out of the headphones for a more spacious sound. Making a bit more noise through your headphones shouldn't be a problem in Fortnite unless you're in the habit of playing down in your local library, and the roomy soundscape is worth it. Picking out pockets of distant gunfire and not-so distant footsteps is easy—and it might save your life.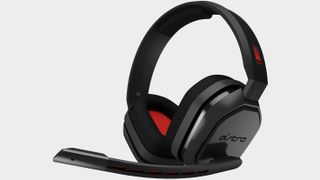 Astro A10
Fantastic audio and build quality for under $100
Drivers: 40mm neodymium | Frequency response: 20Hz-20,000Hz | Impedance: 32 Ohm | Features: Choice of four color schemes, optional M60 mixamp, optional hard case and display stand
Great value
Trademark construction quality
Mic weaker than the GAME ONE
Tighter fit on larger ears
It turns out Astro can kick it with the budget players just as well as the high end wireless crowd. This is the company's first attempt at a low cost gaming headset, taking its cues from the pricier A50, and it loses very little in the process—particularly if you're after a no-nonsense Fortnite audio setup. The mic's dependable if not the outright best of the group, and as with Sennheiser's GAME ONE it's always handy to be able to flip the boom up to mute yourself.
Meanwhile audio and build quality hit the mark very well for a sub-$100 headset, built to a sprightly 346g and well-padded. The earcups are quite a tight fit if you happen to be of the larger-eared persuasion, but that's really the extent of the A10's drawbacks. A pro gaming staple brand, on a budget—perfect for your next jaunt in Dusty Depot.
Kingston HyperX Cloud Alpha
One of our all-time favorite headsets
Drivers: 50mm | Frequency response: 13Hz-27,000Hz | Impedance: 65 Ohm | Features: Carry case, replaceable mic and cable
Comfortable forever
Beefy but clear audio
Handy inline controls
Several replaceable parts
The elder statesman of PC gaming headsets is back at its most regal with the latest Alpha incarnation of the HyperX Cloud. Unlike most alphas it won't tell you about its gym routine and macronutrient profile in painstaking detail, but it will make Fortnite sound like the jamboree of explosive mirth it was intended to.
We love the generous padding, which seems to keep the headset feeling light as air indefinitely, and while we've never had problems with cable or mic connection breakages it's reassuring this model features replaceable parts on both these fronts. As for the mic, an ample foam shield and smart noise cancellation keep your voice clear and pop-free even if you're warning squadmates about a perp with a pump shotgun at Pleasant Park.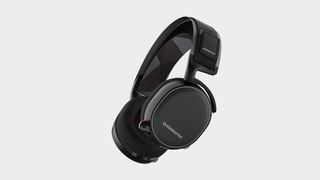 SteelSeries Arctis 7
Our favorite wireless headset
Drivers: 40mm | Frequency response: 20Hz-20,000Hz | Impedance: 32 Ohm | Features: Volume and chat mix controls on earcup, replaceable earcups and headband
Market-leading sound quality
Neat and tidy retractable mic
Fit can slacken over time
Pricier than other picks
We've said it many times: we really like the Arctis 7. For under $150 it brings you a hassle free wireless setup with good battery life, an innovative headband design that takes the weight away from the top of your head, stellar sound quality and a sensible control layout on the headset itself. We always miss the chat/game mix scroll wheel when we use other headsets, and in a game like Fortnite where hitting the right volume balance between the two is paramount, that handy feature becomes an essential addition.
A massive 24-hour battery life ensures those annoying beeps don't kick in until well after you've ignored the advice of every medical professional about play session duration. The fit can loosen over time—and we mean months here, not days—but thankfully new headbands and earcup covers of different designs are available from Steelseries, so you can freshen up the Arctis's look as well as revitalize its fit when the time comes.
Logitech G Pro
A no-frills workhorse designed for esports
Drivers: 40mm | Frequency response: 20Hz-20,000Hz | Impedance: 32 Ohm | Features: Extra set of ear pads, ultra lightweight design
No fuss, just functionality
Light and comfortable
Audio lacks HyperX-style punch
An unusual fit
The G Pro is the fruit of Logitech working with esports pros to produce no frills, high performance peripherals. That'll explain the absence of RGB lights, then. It's also brilliantly suited to a game like Fortnite whose demands are specific: great mic, great positional audio, no extraneous controls or features to accidentally hit mid-game.
The earpads are bigger and squarer than anything else we've tested lately, which makes for great breathability, particularly using the microsuede earpads (leatherette pads are also supplied). It does give them a different feel while you're wearing them though, one that's not necessarily preferable to more snug fits like the Kingston HyperX Cloud Alpha. While its soundscape might not be as beefy as the Alphas, that doesn't matter nearly as much in the context of a battle royale headset as it does an all-purpose set of cans. In short: you'll hear everything you need to in killer detail, from furtive building and sneaky pursuers' footsteps to marauding ATKs about to turn you into a pancake.