The best capture cards not only fuel your content creation but also make it a lot easier to do so. Capturing footage of games can be tedious and capture card that does it easily and with high-quality footage. The best capture cards make a recording on consoles like the PlayStation 5 or your PC simple. Without it, you'd lose your best plays and memorable moments to share with your adoring public.
Nowadays, capture cards come in all shapes and sizes. Best of all, they no longer require you to pry open your PC and hope you have an extra card slot next to your GPU to install it. External capture cards are much more portable, so much easier to use, and in some cases, cheaper than their internal counterparts since they connect to your PC via USB 3.0 or USB Type C.
We recommend most people focus on a 1080p target resolution and at least 30fps with any potential capture card purchase. 60fps is great if your PC can handle the extra load, but play it safe if you're starting out. There are good 4K capture cards out there, but they're also expensive, and those files' storage needs are harsh. Plus, the bandwidth requirements often mean 4K is not worth the hassle for most streamers.
The picks below were tested using OBS and Xsplit, two popular broadcasting apps among streams, since that's the best for most of your footage. A capture card is just part of our broader streaming ecosystem; you should ensure you're investing in the best webcam and microphone to complete your setup.
Best capture card for PC gaming
Elgato's latest capture card, the HD60 X, aims to make streaming and recording a little more amenable to gamers with a modern, half-decent gaming monitor. With the option of 4K passthrough, there's a little more this device can offer gamers with high pixel count screens. Though it's also pretty handy if you use G-Sync of FreeSync technologies, which also receive timely support on the new HD60 X.

As with any capture card the speeds and feeds can be a lot to chew through. So let's break it down to basics for this $200/£190 option. With the HD60 X you're essentially looking at three key capture resolutions: 4K at 30fps, 1440p at 60fps, and 1080p at 60fps. Then for your passthrough resolution it's possible to run up 4K at 60fps or 1440p at 120fps, and there's support for Variable Refresh Rate technologies (VRR), such as G-Sync and FreeSync, and HDR (only on Windows).
To save bandwidth on the HD60 X, it offers 4:2:0 by default. Corsair tells me 4:2:2 is available via non-default codecs and will work at 1080p at 60fps or 1440p at 30fps, but don't expect that out of the box.
It does look decent with chroma subsampling, too. And the thing to remember here is that, if you intend to use your content, say, online—which most will—then video compression is going to eat up a lot of the quality anyways.

The passthrough functionality of the HD60 X is, however, fully capable of running at 4:4:4, or in other words, uncompressed. So while your recording may lose some of that information, you don't have to suffer through a low picture quality while you're recording.

Though only a few of these 4K cards are standalone units, most being PCIe add-in when you get down to near the price of the HD60 X. Some of the flexibility is removed when you ditch the external connection from your capture card: Not only will you have to make space inside your PC, but you're removing the ability to run your stream or recording off a laptop close-by. You also lose the option to easily travel around with your capture card, though let's be honest I can't imagine that's of massive importance for many.
Ultimately, a PCIe add-in capture card tends to get you more bang for your buck at 4K, and comes with heaps of benefits in other ways to make up for its lack of portability. So the flexibility of how you wish to set up your streaming setup is something to weigh up before hitting purchase on an external unit like this HD60 X.

As a user of the original Elgato Game Capture HD and then the HD60 S, I'll admit the HD60X doesn't feel like a revelatory new product. I'm yet to find any external capture card that makes capturing gameplay as much of a doddle as I'd like to think it to be. That said, there are some things I probably couldn't go without now that I have used the HD60 X. Adroit 1080p at 60fps recording, yes, though more so the low latency passthrough, VRR, and HDR support. All of which makes it so I don't have to sacrifice my own gaming experience to record it for others.
Read our full Elgato HD60 X review.
AVerMedia might not be a household name yet when it comes to capture cards and streaming devices, but that doesn't mean the company isn't turning heads. Its capture cards in particular always seem to come with an interesting innovation—and the AVerMedia Live Gamer Duo doesn't buck the trend.

Previously we've seen the Thunderbolt-only Live Gamer Bolt, and the 4K HDR streaming lineup, in the Live Gamer Ultra and Live Gamer 4K. However, one of the newer entries to the market is the Live Gamer Duo, an internal card that fits into a PCIe slot on your motherboard and can handle two HDMI inputs at once—a very useful tool for streamers and content creators.

The software setup was also fairly effortless. After downloading the drivers as well as the AVerMedia RECentral 4 software, all my PC needed was a restart and everything was working as expected. I've wrestled with capture cards not always picking up sources before but was very happy to lower my guard.
Even since the initial install I've only experienced problems when having two different programs trying to use the card at once. When the RECentral 4 software is running, while something like Xsplit or OBS are also getting signals from the card, the audio will feedback on itself in your recording or stream. It doesn't seem to matter whether I've got PC audio turned on or any other settings. So you're limited to only using one software at any time, which is actually very fair.

I probably wouldn't even have come across the issue if I wasn't using the RECentral 4 software as a screen to play games on rather than using passthrough. This is actually a testament to the latency because it was good enough that I didn't really notice.
RECentral 4 software can have problems when left open but not in use for long periods of time. The audio and visual information become distorted but are immediately fine again when restarting the program. It's never happened while the software has been in active use or during streaming so has never felt like a problem that inhibited performance.

That's what impresses me about the Live Gamer Duo the most. It does everything it advertises with relatively low effort. The full HD recording and high-enough-frame rate streaming just works and is immediately recognisable by third party software.
Video processing, such as downscaling or frame rate conversion, is all done on the card itself, and I believe it. My PC is unbothered while the card is operating, though it still takes the usual hit from my streaming software. Meanwhile, the 4K passthrough has remained unhindered entirely by the process, though it would be nice to have passthrough options for both inputs rather than solely HDMI1.

Of course, it's not without sacrifice. If you want to be able to record in 4K or higher than 60 fps this quite simply isn't the device. What you get with AVerMedia's Live Gamer Duo is a single one-time set-up unit that's largely plug and play. It has especially made streaming easier by having a setup that simply works, and one which I can mostly leave in place. For anyone looking to include multiple sources for minimal hassle, AVerMedia's Live Gamer Duo is a really smart choice that lives up to all its promises.
Read our full Avermedia Live Gamer Duo review.
We didn't expect much from NZXT's debut capture cards, but we were pleasantly surprised by the Signal HD60, from the sleek, small form factor to its affordable price point. You have to appreciate NZXT's appeal to a content creator's wallet and still provide decent performance.
The Signal HD60 is perfect for streaming newbies, as the setup is practically idiot-proof. We love its discreet, travel-friendly design. More importantly, it plays well with consoles, for the most part. If you want to feature in-game voice chats in your steams, that'll require creative solutions (and a cheap cable).
As much as not having HDR or VRR support is a letdown, the Signal HD60 is a reliable capture card, which is more important than anything else.
The Signal HD60 may not be as feature packed as some of its rivals, but if you're looking for smooth, no-nonsense 1080p 60fps performance with little to zero latency, look no further.
Best gaming PCs | Best gaming laptops | Best gaming keyboard
Best gaming mouse | Best gaming chairs | Best graphics cards
Read more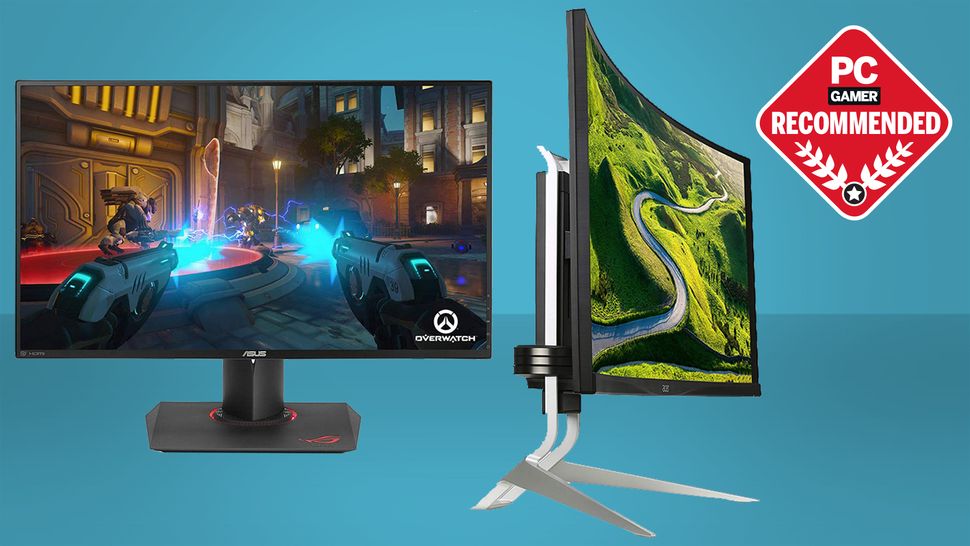 Our pick of the best gaming monitors to buy in 2022
Your eyes aren't deceiving you; that's RGB lighting and a control dial on the EVGA XR1, a capture card with some style. The XR1 gives you control over your content without diving into endless menus. The dial handles everything from volume mixing to controlling the lighting effects.
It features an APT (Advance Pass Through) button on the dial that'll let you toggle between 1440p/120fps passthrough and 1080p 60fps capture on the fly without needing to swap cables or force you to change the display settings on your gaming PC when you're not streaming.
Capturing in 1080p was headache-free, and the footage looked serviceable. Problems arose with the 1440p and 4K passthrough (with and without HDR). It was in constant conflict with the monitor forcing us to shy away from the APT switch.
While the control dial for audio mixing is a nice feature, it becomes troublesome when introducing more complicated audio scenarios like piping in a Discord call during a session.
As flashy capture cards are concerned, you could do worse.
The Elgato Game Capture 4K60 S+ is for content creators who want to upgrade their channels in a big way. For starters, it can capture 4K HDR gameplay directly to your PC or SD card. Yep, this is Elgato's first capture card to use stand-alone recording via an SD card, which is a massive plus for console games and a long-awaited feature from veteran Elgato users. While the 4K60 Prodoes something similar in terms of what it can capture, the S+'s extra portability is what you should care about.
The super useful thing about the stand-alone recording is that the 4K60 S+ will optimize itself in real-time. You don't have to worry about adjusting any settings before recording, so the recording process itself becomes relatively painless. Anyone who has tried to capture footage at a trade show or preview event can tell you how much of a nightmare it can be to do on the fly. But with the new Elgato 4K60S+ you simply plug in the device to a power source (via USB-C), your HDMI in/out, pop in a 256GB SD card (it supports either V30 or UHS-3 SD cards), then hit the record button and you're ready to rock.
I started by recording some 4K footage of Final Fantasy 7 Remake in action on a PS4 Pro. The zero-lag passthrough meant that I was able to bash Shinra lackeys as Cloud without missing a beat or needing a PC. I then hopped on and messed around in the target range in Apex Legends on Xbox One. This time I changed the Xbox One X's display settings to 1080p, and the 4K60 S+ automatically made the changes with no issue.
The footage came out great and it was easy to pull clips from the SD card via card reader. To be honest, I've had more issues managing the video files using the Elgato 4K Capture Utility software. This software is the only place to make changes to the capture card and adjust picture settings.
The real problem is that the software just isn't as robust as the HD Capture Software for Elgato's other cards. Since the 4K60 S+ doesn't work with HD Capture Software, you're forced to use the 4K Capture Utility, which offers no video editing, just raw capturing and commentary track support. If you want to do anything significant with these clips, you're going to have to invest in some third-party editing software.

To truly use this capture card to its full potential, you need a 4K-ready console, 4K monitor with HDR support (not cheap), and a PC beefy enough to edit 4K HDR footage (really not cheap). Let's not even get into the amount of bandwidth required to upload 4K video, let alone stream it.
The Elgato 4K60 S+ is the capture card of the future... that we aren't quite ready for yet. It provides some of the best-looking screenshots and videos around, assuming you have the hardware that can handle your high-quality media. Still, the capture market is yet to catch up to the fidelity the 4K60 S+ can deliver.
Best capture card FAQ
Why do I need a capture card if I just use OBS?
OBS and other third-party capture and streaming software are great, but there are limitations, let's say you want to stream gameplay from a game console or use an HDMI camera instead of a webcam; the easiest way to get them to work your PC without an external or internal capture card.

With software like OBS, you are entirely reliant on your system resources, such as your CPU or GPU, when it comes to capturing video inputs. That can drain if you capture at a high bit rate and try to play a game simultaneously. Modern CPUs have improved at the necessary multi-tasking, but a dedicated capture card can help lighten the load.
Also, if you dual-wield a PC and console, such as the PlayStation 5 or Xbox Series X, an external capture card can help you pull footage from those devices.
Do capture cards reduce quality?
On the contrary, a good capture card could increase the quality of your stream, potentially lighten the load on your main PC, and improve the performance of your games while streaming.
If you're asking on purely technical terms, however, then yes, they can. Capture cards often use Chroma Subsampling to reduce bandwidth requirements, which will reduce the final picture's quality. Though it's worth bearing in mind that once you upload your footage to a service like YouTube, they will severely drop the quality anyway. So there's not a tremendous loss overall as a result.