Explore Teyvat with these Genshin Impact guides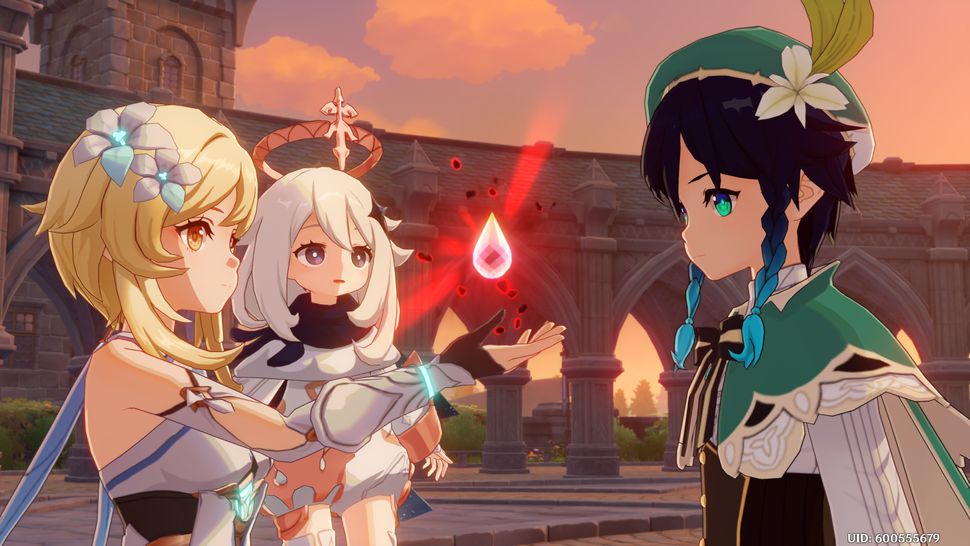 Genshin Impact guide: 9 beginner tips
Genshin Impact characters: Full tier list
Genshin Impact map: New regions
Genshin Impact builds: Equip your party
Want to find out what's coming in the Genshin Impact 2.1 update? Inazuma's been fun: we went to a festival, saw some fireworks, fought a god, and died from electric shocks more times than we'd probably care to admit. But version 2.1 is rapidly approaching, and as ever, we all want to know who we're wishing for, and what new events and features are arriving in the game.
Though a lot of details around Genshin Impact 2.1 initially surfaced through beta tests and data mining, most of them have since been confirmed by this update's recent special program. And just like version 2.0, there are definitely some new additions to get excited about: slapping bosses into submission with a giant fish, for one.
If you're still working your way through Inazuma, this Genshin Impact Electroculus locations map will come in handy for levelling Statues of the Seven. We also have a guide for building or beating Baal. Otherwise, here's everything we know about the new stuff, including the Genshin Impact 2.1 release date, characters, events, and that feature we've all been waiting for: fishing.
Release date
When is the Genshin Impact 2.1 release date?
The Genshin Impact 2.1 release date is September 1, 2021. This was officially announced during the new version's special program. You can watch the trailer above.
Characters
Genshin Impact 2.1 characters: Who's on their way to Teyvat?
We have four Genshin Impact characters to look forward to in 2.1:
Raiden Shogun
Also known as Baal, the Raiden Shogun is a five-star Electro polearm-wielder who many will remember from their fight with her during the most recent Archon quest. She's the de-facto leader of Inazuma and pursues eternity by gathering visions and inlaying them on a mysterious statue. She will be part of Genshin Impact 2.1's first banner on September 1, alongside Kujou Sara.
Kujou Sara
The second character arriving in 2.1 is Sara, a four-star Electro archer and general of the Tenryou Commission. She appears a couple of times during the Inazuma Archon quest, including at the battle between the resistance and the Shogunate, but all we really know about Sara is that she's loyal to Baal and is a descendant of the Tengu, a tribe of speedy, black-winged warriors.
Kokomi
Sangonomiya Kokomi is the Divine Priestess of Watatsumi Island and a five-star Hydro catalyst-user. Though she's more of a healer than a fighter, her strategic smarts and leadership are what has kept the resistance alive this long. She'll be part of 2.1's second banner.
Aloy
The red-haired huntress from Horizon Zero Dawn is coming to Genshin Impact 2.1, though only on PS4 and PS5 at first. If you want to snag Aloy in Genshin Impact on PC you have to wait until version 2.2, or potentially use the new Genshin Impact cross-save feature to claim her on PlayStation before using her on PC. Although the chance of that working are unlikely. You'll also have be at least Adventure Rank 20 to claim her.
Quests
The Inazuma Archon quest continues in "Omnipresence Over Mortals"
Following on from the previous version, Genshin Impact 2.1 continues the Inazuma Archon main story quest with "Omnipresence Over Mortals", exploring the country's troubled history, and concluding the clash between the Sangonomiya resistance and Shogunate. We can also expect appearances from the Fatui, including the Inazuma Harbinger, Scaramouche, as well as Signora.
We'll also be getting two new character story quests for Baal and Kokomi, giving some more details about their respective backstories. We recently got a teaser for Baal's backstory, showing how she losts her friends, turning her into the impassive Electro Archon that we know:
Map
Will there be new Inazuma islands?
It looks like we'll be getting two of Inazuma's remaining islands: Watatsumi and Seirai. Watatsumi is blanketed in a dense, colourful forest, and is home to the Sangonomiya resistance and Kokomi. It makes a lot of sense that we'd get this island when you consider we're getting Kokomi as a character, too.
Seirai island, on the other hand, fell victim to a strange disaster and is now perpetually engulfed in a powerful thunderstorm. It also apparently has a shrine whose priestess is a talking black cat, and seems to be where we'll fight the Electro Oceanid boss.
I think that just as Watatsumi will reveal more details about Kokomi, so too will Serai and its past reveal more about the Raiden Shogun, Inazuma's troubled history, and her motivations. This will leave Tsurumi as the final island to be added to the Inazuma map.
Weapons
Genshin Impact 2.1 weapons
Like me, you're probably most excited for the fish claymore, but there are plenty of other Genshin Impact 2.1 weapons:
| Name | Rarity (stars) | Type |
| --- | --- | --- |
| Engulfing Lightning | 5 | Polearm |
| Predator Bow | Aloy's free weapon | Bow |
| The Catch | 4 | Polearm |
| Everlasting Moongglow | 5 | Catalyst |
| Luxurious Sea-lord | 4 | Claymore |
Events
Genshin Impact 2.1 events
There are plenty of Genshin Impact 2.1 events coming in the next version. Moonlight Merriment revolves around Liyue's culinary Moonchase Festival, and sees the Traveler working alongside Xiangling and Keqing to cook dishes and discover the origins of the famous food event. There will also be two event games that involve locating mystery chests and moonchase charms for rewards, including that coveted fish claymore.
Hyakunin Ikki is a tag-team fighting tournament in Inazuma where you create six teams of two characters, and earn points by rapidly combo-ing between them to defeat enemies before the time runs out. Imagine a running relay, except with fighting. Spectral Secrets is another event that involves dispatching expeditions to follow up on spectre sightings across Inazuma.
There's also the fishing event, Lunar Realm, that gives you a fishing rod, and has you track and catch the Lunar Leviathan. Finally, though not in-game, there'll be an online concert to celebrate Genshin Impact's anniversary, where musicians from across the world will cover songs from the soundtrack. I don't know exactly when this is taking place, yet, though.
Bosses
Which bosses will we be fighting?
There are three new bosses in version 2.1, including La Signora, who was officially announced in the special program:
Hydro Hypostasis: The same Hypostasis we know and love but now in Hydro flavour. This version looks like it can transform into sea creatures when attacking.
Electro Oceanid: I'm not really sure how this creature exists, considering Electro and Hydro are generally a lethal combo, but that should make it a deadly twist on Liyue's oceanid boss. It looks like this boss fight will be located on Seirai Island.
Signora: Just like Childe, this Fatui Harbinger is able to take multiple forms, and use both Pyro and Cryo. She'll also be the new weekly boss in version 2.1.
Fishing
Genshin Impact 2.1 fishing: What we know
It's o-fish-al: It looks like you'll finally be able fish in Genshin Impact 2.1. Players will receive a rod as part of the Lunar Realm event, and be able to catch a variety of fish to use for cooking, or to exchange for rewards at the all-new fishing association. There are also ornamental fish that player's can catch and raise themselves in a specially constructible fish pond in the Serenitea Pot.
You can only fish in certain locations and have to craft special bait depending on your region, but the actual fishing mini-game itself looks a little like how cooking works, as you time when to reel the fish in. Considering Kokomi, the water-based bosses, the fish claymore, and now this, I sense a theme emerging.