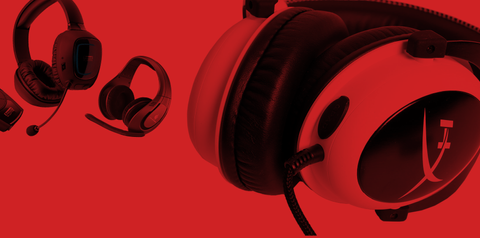 Whether you're chatting with your buddies or listening intently for the footsteps of your enemies, your ears deserve the best gaming headset around. A great headset doesn't just produce clear, balanced sound. It also needs a good microphone for chatting, and to be comfortable for long periods of wear. These are the ones worth your money: an all-around great headset, and a high-end winner if you have some extra cash.
Deal update 5/28/2016: Right now you're looking at $67.96 for the Kingston HyperX Cloud.
Update 4/11/2016: We've totally revamped our headset testing and are currently in progress testing more than 50 headsets. We're about to reset the benchmarks using some amazing hardware and software to help provide objective measurements to complement our subjective evaluations. The HyperX remains an excellent choice at a great price, and Creative's Recon3D Omega is a step up; we're looking for a new budget offering.

The best gaming headset
Sturdy body
Comfortably padded headband and earcups over long-term use
Clear, accurate sound with good low-end response
Kingston's HyperX Cloud is priced at well under $100, and the manufacturer doesn't have the same reputation for quality cans as Creative, or recent debutant to the audio market Corsair, so we were as shocked as any to find such a killer overall package.
In such a crowded marketplace, many big-name manufacturers attempt to stand out from the crowd by offering virtual 7.1 surround setups, making meaningless boasts about '4D sound' or inventing absurd technologies like Mad Catz' ViviTouch (essentially force feedback for your ears, which is exactly as useful and welcome as it sounds).
Read

More

The best high-end gaming headset
External sound card offers great surround positioning
Comfortable for hours despite their size
So you're feeling flush, and you don't want to make any compromises—you want the best gaming headset, no matter the cost. Look no further than Creative's Sound Blaster Recon 3D Omega, a headset that would reign supreme in a world that judges earphones purely by number of baffling buzzwords in their name and, more relevantly, also offers the best overall package above the $200 mark.
These are wireless cans, with the mobility benefits that come with it but without the range and battery dramas. We're able to take the headset anywhere in our house and stay within range (though admittedly we're not talking mansion-level floor space) and once fully charged the battery gives you roughly ten hours of faithful service before it needs to be hooked up to the juice again via mico USB cable.
Read

More
How we tested gaming headsets and others we tested
To some extent, the perfect gaming headset is the one that's most comfortable for your particular head and ear shape—like finding a mouse that suits your grip style. But there are also lots of handy empirical metrics that can be used to separate the wheat from the chaff—frequency response, driver size, and mic sensitivity are key specifications for assessing overall quality, along with boring but pragmatic considerations such as cable length and weight.
The price range for headsets is extremely broad. In general we'd advise that between $80 and $120 is the sweet spot—headsets above that mark have little to offer but garish LEDs and travel bags, and the ones below start to show evidence of major compromises.
How we tested
We spend hours benchmarking every headset we cover, running a full 20Hz—20 KHz frequency 'swoop' using a simple sine wave to determine if the cups can produce the full range of thunderous low-end frequencies and crystalline highs their manufacturers promise on the back of the box.
Once we've established the range of a headset's frequencies, we listen out for harmonic distortion and changes in dB levels between frequencies. Many audio manufacturers will artificially 'scoop' the midrange from the EQ to accentuate the bass and high-end tones either side of it, but generally you're looking for a fairly flat EQ so that not only do your games sound good, but your music does too. Listening to songs you know very well with a new headset gives a good indication of which frequencies it's boosting and cutting.
From there we run software programs and audio files designed to calibrate surround mixes in order to get a feel for the headset's positional audio qualities. Many gaming headsets claiming to offer 5.1 surround mixes are doing so digitally rather than by using several tweeters—which isn't necessarily a negative, but the two produce different effects and must thus be thoroughly tested.
A lot's learned about a headset from a long, four hour-plus gaming session. If you don't have a headache in the area of your skull that the headband sat on, you've found yourself a fine set of cans. If your ears remain relatively perspiration-free—ditto.
In addition to overall build quality, we factor in connection options, bundled software, customisation options, inline remote and any other peculiarities of the overall package.
Competitors
We put a ton of headphones on our ears before settling on the best cans. Here are some of the ones we used, and why we didn't think they were as good as the Kingston HyperX Cloud.
Astro A40 TR + Mixamp PRO TR:
On its own, the Astro A40 TR is an excellent (though expensive and bass-heavy) stereo headset. Connecting it to the Mixamp Pro TR adds very good surround sound and opens access to a slew of customizable settings in Astro's software; for added bells and whistles (and even more cash outlay), you can buy a mod kit that lets you switch in closed-back earcups, a "voice-isolating" mic, and different designs for the speaker tags and headband. The A40's main weakness is its microphone; both the standard and mod kit versions require strong voices for transmission -- not ideal for when you need to be quiet while gaming.
Audio-Technica ATH-AG1:
Audio-Technica is one of the most esteemed names in the pro audio market, so it certainly has the technical know-how to produce great tone and comfort. Unfortunately all that know-how went walkies during the ATH-AG1's design.
Yes, the gold trim is shiny and pretty, but these cans feel flimsy and on some shapes of head simply won't sit in a useable position. That alone would put them out of contention, but the uninspiring sound reproduction is the nail in the coffin.
Corsair Vengeance 1300:
Along with the newer 1400, this mid-range headset from Corsair's a strong contender for both best overall and best budget headset, losing out eventually to Kingston's HyperX Cloud on the basis of build quality and low end oomph for the overall spoils. Its popularity means it hasn't yet dipped below £50, but snap one up as soon as you see that happen.
Corsair Vengeance 2100:
Corsair's wireless headsets are designed with simplicity in mind, and as a result the 2100 is easy to set up and offers a mighty battery charge time. However, for well over $100 its sound quality lets it down, producing slightly muffled midrange tones. Some bundled software would have been nice, too.
Creative Sound BlasterX H3:
One of Creative's newest offerings, this budget headset features clean but flat stereo sound, good noise isolation, and a comfortable fit. It's dependable and serviceable, but with the Kingston HyperX Cloud at the same price, the H3 can't compete.
Gamdias Hebe:
Gamdias is a little-known east Asian manufacturer making promising strides in the budget end of the headset market. The Hebe is its best yet and is priced well below £50, but its scarcity with US vendors and slightly suspect build quality push it out of contention.
Gamdias Hephaestus:
Unlike the Hebe, the Hephaestus attempts a few flourishes designed to catch the eye of pro gamers and kit enthusiasts. The result? Not good. Are we really buying the idea that a headset requires a heatsink?
Logitech G633 Artemis Spectrum:
This headset has great surround, chat quality, and sound separation, but stereo audio performance is disappointing. As a result, its multiplatform compatibility is a bit of a moot point; playing games on consoles is an exasperating experience at best. Our reviewer also found that the fit of the headset produced strange sound directionality for her, which hasn't been an issue with other headsets.
Well-made, capable of substantial bass, but frankly just too silly to be in with a serious chance. Firstly there's the '4D' surround sound nonsense—its surround capability is some way off shattering the laws of physics—then there's ViviTouch, the force feedback system for your ears. A fascinating curio, but not worth the outlay.
Ozone Onda Pro:
The clue's in the title. Ozone attempts to mimic pro gaming headsets at a much lower price point, and produces mixed results. The visual aesthetic is flashy, the carry-case is a welcome touch, but the sound quality itself is slightly disappointing, despite offering surround capability.
Plantronics Rig:
The Plantronics Rig has a nice set of features for the price: a mixer for taking calls or jacking in music while gaming, swappable mics, and a hefty amount of control over varying EQ and input levels. But its rigid plastic build means unless your head fits, it's going to hurt after a few hours. The cabling feels a bit flimsy as well. With the HyperX Cloud at nearly the same price point, it's no contest.
Plantronics Rig 500HD:
Though its microphone snagged consistently high feedback during testing (not surprising, given Plantronics' pedigree), the 500HD's audio performance wasn't quite as strong. You'll get excellent surround sound, with details rendered precisely, but mids and highs dominate over rather subdued lows.
QPAD QH-90:
Our favourite headset for a long time… until Kingston came along and improved upon it just that little bit with an updated look and muscular 53mm drivers. So close, QPAD…
Razer Kraken 7.1 Chroma:
These headphones offer superb surround sound and impressive balance between lows, mids, and highs -- so long as you're willing to fiddle with EQ settings. Out of the box, the 7.1 Chroma is tuned for people who only want an emphasis on lows. Sadly, nothing in Razer's impressively polished companion software can help shore up its mic performance; while it's reliable, audio is harsh and often picks up background noise.
Sennheiser G4ME One:
If your priorities lie in microphones, Sennheiser attaches brilliant mics to every model of headset it produces, and the G4ME One is no exception. However, the fact that we're singling out a mic as the best thing about it speaks volumes (pun intended).
Sennheiser 323D 3D G4ME:
Like the G4ME One, but with an even sillier name.
Steelseries 9H:
A great headset that's just a bit pricier than our favorite. The H90 sounds good, is comfortable on your head (though it'll get hot and heavy after a couple hours of wear), and works over both 3.5mm and USB. We have gotten complaints from friends about mic quality, but appreciate the mic's ability to retract unobtrusively into the headset.
SteelSeries Siberia 650:
Formerly known as the Siberia Elite Prism, the Siberia 650 has great surround sound and excellent microphone performance. But while details are clear and precise, audio is skewed toward mids and highs. Also, as a large and heavy headset, it also only seems to fit well (and comfortably) on people with bigger skulls.
Steelseries Sibera Elite:
These headphones look incredibly comfortable but are actually tight and ear-crushing after a bit of use. The mic is also low quality for a premium-priced headset. A new version of the Siberia Elite may be fixing these issues.
Tritton Pro+:
Offers true surround sound by virtue of its 4 drivers in each earcup, but still doesn't produce audio quality up there with our top end pick, the Recon 3D Omega, and doesn't come with nearly as many fun extras.
Turtle Beach i60:
As that telltale 'i' in its title suggests, these luxury earphones are designed primarily for use with Macs, but play just as nicely with PC. A quality package offering a discrete internal mic, EQ presets which can be cycled via buttons on the headset, and an external sound card. It's considerably pricier than our top end pick from Creative though, and isn't as well-suited to gaming.
Turtle Beach PX4:
Another Turtle Beach headset that calls a different platform home—in the PX4's case, the PlayStation 4. The only drawback to using it with PC is that you'll need BlueTooth connectivity to use the mic. It's almost worth that hassle, because the surround sound quality and comfort level of the headset are phenomenal, but ultimately that extra work sidelines it from serious contention.
Future testing
The headset market is massive, and it changes every day. Our ears can only test so many cans, so it's impossible to field test every single product available. Instead, we've tested headsets from a variety of price points and manufacturers, from the established stalwarts to lesser-known upstarts. The products we singled out as the best in each category are ones we've lived with for weeks, sometimes months, and tested thoroughly through synthetic benchmarks and day-to-day use.
But those picks aren't set in stone. Asus is making big strides in the market, likewise Shogun Bros. Steelseries has also released a refresh of its Siberia headset line, including a the Siberia V3 and Siberia Elite, which we plan to test. Look for more details on Astro, Plantronics, and Steelseries in a future update.
We'll keep this list as up-to-date as possible as manufacturers release promising new kit which threatens to dethrone the current best-in-class cans. Watch this space.
A note on affiliates: some of our stories, like this one, include affiliate links to stores like Amazon. These online stores share a small amount of revenue with us if you buy something through one of these links, which helps support our work evaluating PC components.
Topics