The new year is almost upon us, and while you're desperately attempting to wrap up the latest hits, we made a list of every game you'll want to watch out for in 2018. We've got everything from open-world shooters to indie shopkeeper sims, and the most recent info for release dates. Of course, with so many games hitting Steam every day, we might miss a few, so for surprise releases, make sure to check out our weekly guide to new Steam games you might have missed. You'll also want to check out the games that don't have a definite 2018 release date at the end of our list.
There's plenty to cover, so let's dig in.
We'll update this post as the year goes on to account for new announcements and new releases.
The 2018 PC games we're most excited about
Far Cry 5
February 27 | Ubisoft Far Cry moves to mountainous Montana, which has been overtaken by a homicidal cult. A retooled "guns for hire" system means you can call on buddies at any time (including a sharpshooter, aerial support, and even a canine) for help during combat.
Metro Exodus
2018 | 4A Games The latest Metro game returns to the irradiated, yet beautiful world of post-apocalypse Moscow. The debut trailer showed off plenty of familiar resource scavenging, mutant shooting, and a tense escape from a quite irritated bear before leaping onto a runaway train.
Vampyr
Spring | DONTNOD Entertainment The developer behind Life Is Strange expands its horizons with this early 20th-century vampire fable set in London. As recent vampire Dr. Jonathan Reid, you must find a cure for the city's disease-ridden population while balancing the politics of the undead bloodsuckers around you. When not fighting off vampire hunters or zombies, you'll be deciding which citizens to feed on for progression points, with plenty of narrative consequences to follow.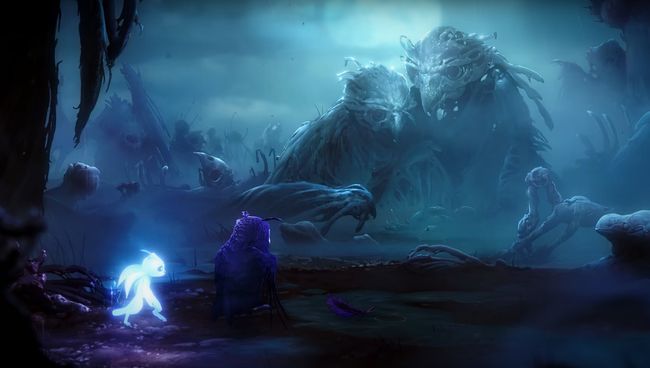 Ori and the Will of the Wisps
TBA | Moon Studios 2015's Ori and the Blind Forest wowed players with an emotionally charged narrative and challenging Metroidvania-like gameplay, so why not go for two? Developer Moon Studios debuted a trailer at E3 2017 showing off a painterly, yet blighted landscape before ending on the titular Ori comforting a young owl mourning over the bodies of its dead parents. No one ever said beauty had to be pleasant.
BattleTech
2018 | Harebrained Schemes BattleTech creator Jordan Weisman and the developers behind Shadowrun Returns team up for turn-based mech combat based on the 33-year-old tabletop strategy game. Customize your squad of mechs, oversee a crew of support personnel, and fight for the throne in a full single-player campaign.
Hunt: Showdown
TBA (Early Access) | Crytek One of the most visually stunning games we've seen in some time, according to our own preview, Hunt: Showdown mixes the monstrous horrors of Resident Evil and Stalker with the permadeath combat of DayZ. Five teams of two hunters scour miles of swampland for up to three demons to kill, procure their loot, and attempt to make it out without another team stealing the prize.
More 2018 PC games
Frozen Synapse 2
2018 | Mode 7 2011's Frozen Synapse surprised with its cool blend of turn-based gameplay and scenario simulation that allowed you to sweat some ideas before committing to your moves. Its sequel expands the action to a procedurally generated city filled with varying factions that will react differently to your actions, stealth maneuvers, and new unit types.
A Way Out
Early 2018 | Hazelight The creators of Brothers: A Tale of Two Sons tap into their fascination with co-op once again for a mature prison break narrative. Dual framing of the action allows scenes to play out from different angles, forcing players to cooperate in unique ways to make their escape to freedom.
Tropico 6
2018 | Limbic Entertainment Everyone's favorite banana republic simulator is back, this time with the chance to build cities on multiple islands or archipelagos, send agents out to raid foreign countries, and the return of election speeches. You'll also be able to deck out your El Presidente mansion with customizable extras, like a swimming pool with a shark in it, for that extra statesman vibe.
Pillars of Eternity: Deadfire
2018 | Obsidian The sequel to 2015's well-regarded isometric RPG Pillars of Eternity, Deadfire returns to the world of Eora, continuing the story of the telepathically gifted Watcher. Comandeer a pirate ship and sail the open-world tropics of the Deadfire Archipelago in search of the god Eothas, who destroyed the keep you called home by the end of the original game. Major overhauls include companion A.I., class systems, combat speed, afflictions, and more.
Skull and Bone
Fall 2018 | Ubisoft Singapore The high-seas buccaneering of Assassin's Creed: Black Flag is expanded on in this multiplayer pirate ship sailing game. Team up with friends for five versus five matches or build up your own gang of raiders to take down trade routes and establish your own pirate empire.
Anthem
Fall 2018 | BioWare Enter a world of "freelancers" clad in mech suits protecting the world's last bastion of humanity, and collect some loot while you're at it. Similarities to Destiny aside, the multiplayer-focused Anthem promises the chance to soar through the skies (and underwater) on rocket boots, battle giant monsters, and contend with dangerous weather effects like "shaver storms."
State of Decay 2
Spring 2018 | Undead Labs The well-received zombie apocalypse survival simulator goes from singleplayer-only to multiplayer in this sequel. Three new maps, each the size of the original game's single map, will be available, as well as improved settlement crafting.
Forgotton Anne
Early 2018 | Throughline Games When you lose socks apparently they all go to live together in a world full of abandoned objects that looks like it was animated by Miyazaki. Forgotton Anne is one of the only humans in this world, an enforcer whose job is to prevent rebellion among the lost possessions in this adventure-platformer.
Octahedron
January 2018 | Demimonde Studios Demimonde have found a way to breathe new life into the 2D indie platformer in Octahedron. There's the psychedelic neon look, the vertical design of levels, and finally the ability to make your own platforms—when you fall, it's entirely your own fault. Also some of the music's by Chipzel, who was responsible for Super Hexagon's excellent tunes.
UFO 50
2018 | Multiple Developers Five indie game developers (including the talents behind Spelunky, Downwell, Ridiculous Fishing, and more) have teamed up for a collection of 50 single and multiplayer 2D games from a fictional '80s game company. Clear inspirations are taken from the likes of River City Ransom, Gradius, Shadowgate, and more, but each game looks unique on its own right. The developers have claimed you'll need 100 hours to finish them all, so get cracking on that nostalgic crunch.
Surviving Mars
2018 | Haemimont Games Cities: Skylines meets Mars Attacks. OK, not quite, but this space colony building simulator promises more than just bad traffic to contend with. Players choose a sponsor agency for initial resources, then it's up to you to grow your settlement from an automated mining operation to a fully enclosed glass dome with a bustling sense of life, making use of a randomized research tree. But Mars holds many secrets, and not all of them might be friendly.
Tunic
2018 | Andrew Shouldice Formerly known as "Secret Legend," Tunic evokes the charm and beauty of The Legend of Zelda, all wrapped up in a beautifully fluid cel-shaded art style. Challenging combat demands plenty of dodge-rolling and pits you against huge bosses.
Ooblets
2018 | Glumberland As long as there are video games, there will be people who enjoy collecting adorable monsters in them. Ooblets combines elements of Pokémon, Harvest Moon, and Animal Crossing, letting you build a farm full of cute little creatures, explore a charming town, and battle other Ooblets.
System Shock
2018 | Nightdive Studios It's been over 20 years since the original System Shock helped establish the gameplay and storytelling tropes that would influence countless other games like Deus Ex and BioShock. With parts of the original development team and SHODAN voice actor Terri Brosius returning, the remake promises a faithful reimagining of the wrench-swinging, computer-hacking, mutant-shooting action adventure.
Darksiders 3
2018 | Gunfire Games Fury, the fairer of the four horsemen of the apocalypse, takes center stage for the third installment in the popular action franchise. You'll make use of her bladed whip, a revamped combat system, and plenty of magic abilities to take down the Seven Deadly Sins, and collect some solid loot in the process.
The Walking Dead: The Final Season
2018 | Telltale Games Our darling Clementine has grown up quite a bit since her days as a treehouse refugee, and the world of the popular zombie franchise hasn't been kind to her. The fourth and final season of Telltale's narrative adventure will close out Clementine's tale, with original voice actress Melissa Hutchison returning.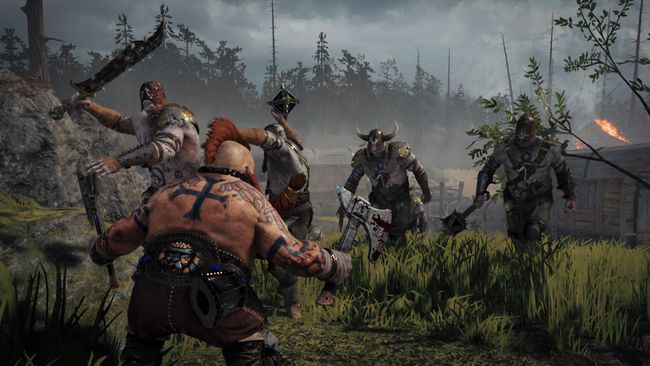 Warhammer: Vermintide 2
2018 | Fatshark The Left 4 Dead-like fantasy exterminator sim returns, this time with 15 different careers with unique talent trees, customizable weapon and gear loadouts, and a new Heroic Deeds system. You'll need all the options you can get, considering the vile Skaven hordes have teamed up with a brutish Chaos army that are much stronger than any rat.
We Happy Few
April 13 | Compulsion The unsettling tale of a society controlled by mind-altering drugs and an authoritarian police force, We Happy Few mixes a full-length campaign with three playable characters, with more than 250 encounters set in a procedurally generated world. After existing as an Early Access "rogue-lite" for quite some time, the game's expansion has pushed its original $30 price tag to $60.
Wargroove
2018 | Chucklefish Taking clear inspiration from the likes of Advance Wars, Wargroove combines turn-based, grid-based strategy with knights, flying mages, the occasional golem, and more fantasy fare. You'll need to exercise caution during each match's 40-60 minute runtime as you fight to capture the enemy commander or raze their fortress, or show off your design skills with a fully featured map editor.
Psychonauts 2
2018 | Double Fine Dive once again into the twisted minds of the Psychonauts in the long-awaited sequel to Double Fine's inaugural game. Characters Raz, Milla, Lili, and Sasha make their first visit to Psychonauts' headquarters, with all the psychic crime fighting it entails.
Ace Combat 7: Skies Unknown
2018 | Bandai Namco After a 2013 release on PC, the oftentimes silly and melodramatic dogfighting sim is circling back for another run, bringing a story full of royal intrigue, besieged cities, and massive space elevators. New aircraft types, like futuristic, high speed drones and the A-10 Warthog promise plenty of chances to light up the skies.
Biomutant
2018 | Experiment 101 This peculiar looking action-RPG mashes up ancient Wushu martial arts, gun-fu, and plenty of anthropomorphic beasts to take down, all in the name of protecting a vast, mystical land. Weapon crafting and the ability to infuse your character with psychic mutations or robotic limbs promise to let you bash heads in your own unique way.
Anno 1800
Winter 2018 | Ubisoft Blue Byte Anno returns to its city-building roots in the historical, taking players to the dawn of the 19th century, a time of massive industrialization. The sequel features a story-based campaign, a customizable sandbox mode, individual AI opponents, and more.
Frostpunk
TBA | 11 Bit Studios What's a city simulator without a little moral grey area? Frostpunk pits you against elements both interior and exterior as you fight to survive in a frozen post-apocalypse landscape and keep your citizens safe. In a world where heat means life, you'll be forced to make difficult decisions, like how to dispose of bodies, who to pull from work for scouting parties, or how you feel about child labor.
Gravel
Early 2018 | Milestone S.r.l. An arcade-style off-road racing game with plenty of mud and dirt to spare. Gravel features four disciplines of racing, including expansive Cross Country tracks, treacherous lap runs in Wild Rush, real-world vistas in Speed Cross, and a Stadium track mode filled with epic jumps.
Moonlighter
Early 2018 | Digital Sun An adventurous shopkeeper named Will dreams of adventure in a world populated with strange dimensional portals and creatures. By day, tend to your humble shop, meet townsfolk, and try to figure out which customers will pay more for certain items. By night, leap into randomly-generated Zelda-style rooms filled with traps, enemies, and treasure.
Crackdown 3
2018 | Reagent Games, Sumo Digital, Cloudgine Leap like the Hulk across a futuristic neon metropolis and live out your supercop fantasies by systematically taking down a network of crime bosses and kingpins. A competitive multiplayer mode allows for skyscraper-smashing destruction through some cloud computing wizardry, but you'll have to settle for a more restrained sense of action in the single-player/offline campaign.
The Crew 2
March 16 | Ivory Tower/Ubisoft Reflections While the first Crew featured a map of the United States so vast that it took players over 40 minutes to get from New York to Los Angeles at 100-plus miles per hour, its sequel looks to expand that map at all angles. Numerous route options allow players to race cars through the Grand Canyon, speed boats through the Hudson River, and fly a plane over Central Park. Because why not?
Ni no Kuni 2: Revenant Kingdom
2018 | Level 5 This JRPG (featuring animation work from the renowned Studio Ghibli) features the tale of Evan, a child king who finds himself usurped from his throne and aided by a bevy of creatures and fantastical characters. Combat has received a major overhaul, adopting a more western design with real-time fights replacing the original's turn-based system. A new mode called "Skirmish" pits two small armies against each other, blending Fire Emblem and a traditional tactics game's combat.
The Wolf Among Us: Season Two
2018 | Telltale Games Sheriff Bigby Wolf returns to the world of Fabletown, New York. The first series saw Bigby solving a gruesome murder mystery and uncovering a web of conspiracy among the the familiar, yet twisted fantasy characters of childhood parables. It's unclear if any of the mysteries left hanging from season one will receive more closure, but Telltale promises a new mystery for players to bite into.
Dragon Ball FighterZ
January 26 | Arc System Works The studio most known for 2D anime fighter hits Guilty Gear and BlazBlue throws their weight into the world of Dragon Ball Z, incorporating a distinct mix of 2D and 3D graphics to make each fight feel like an epic Super Saiyan battle. A new story mode features three separate arcs that follows the return of the androids, along with the mysterious new Android 21.
Final Fantasy XV
Early 2018 | Square Enix The road trip to end all road trips is set to arrive on PC with some level of mod support, as well as all three DLC episodes that focus on Gladiolus, Ignis, and Prompto. It will also come with the Comrades expansion pack, which introduces an online multiplayer component, as well as a first-person mode for all that high-flying sword swinging.
GreedFall
2018 | Spiders A mysterious island paradise has been discovered by several warring factions, and it's up to the player, a "neutral," to pick a side and defend it from the ravages of its colonizers or rip its resources from the earth in this RPG. There's a distinct 17th-century alternate universe vibe going on, with concept art and trailers showing off cobblestone settlements and a pointy-hatted marksman hunting a forest nymph before meeting the rough end of a massive creature's horns.
Monster Hunter World
2018 | Capcom Monster Hunter is finally coming to PC, complete with overhauled graphics and an actual open world no longer segmented by loading screens. Monster AI looks the best it's ever been, with creatures coexisting in their own unique, tangible ways that make the world feel like a true ecosystem, among other significant gameplay changes, like damage stats popping up during attacks.
Jurassic World Evolution
2018 | Frontier It went so well the first two or three times, so why not give players the chance to build their own dinosaur theme park, all based on the latest installment of the Jurassic Park franchise. The debut trailer shows off a T-Rex wreaking havoc on a group of herbivores and park workers before a security center is built and dispatched to neutralize the threat. Let's be honest, that's what we're all here for.
Kingdom Come: Deliverance
February 13 | Warhorse Studios Set in an immense, realistic depiction of medieval Bohemia, players take on the role of a young man thrust into the world of royal politics and violence after his family is slaughtered by the king's mercenaries. Fight, steal, seduce, or do whatever else your heart desires in this non-linear story.
Mugsters
2018 | Reinkout Earth is enslaved and it's up to you to beat back its alien invaders in this top-down, physics-based action game. More than 30 vehicle types let you sow chaos and solve explosive puzzles, or bring a buddy in co-op.
Sea of Thieves
Early 2018 | Rare Pirates will never not be cool, if recent trends are to be believed. Rare's first-person pirating sim revels in that Disney-esque pirate charm, complete with co-op treasure quests and multiplayer naval warfare.
Shenmue 3
Late 2018 | Ys Net The sequel few thought would ever happen, Shenmue 3 features the return of martial arts everyman Ryo Hazuki as he closes in on the mystery of who killed his father. The game promises similar gameplay to previous entries, letting players combat enemies hand-to-hand, explore a living, populated world, and upgrade abilities.
Bloodstained: Ritual of the Night
2018 | Inti Crates With Castlevania creator Koji Igarashi no longer helming the franchise at Konami, the developer is creating a spiritual sequel that's pure Castlevania in all but name. Main character Miriam has a range of familiar magic abilities, including the use of a whip, as she fights off against bloodletting bosses and their minions.
Metal Gear Survive
2018 | Konami It's been a weird couple of years for Metal Gear, and in the wake of series creator Hideo Kojima's departure, use of Metal Gear Solid: The Phantom Pain's Fox Engine has fallen to Konami. Playing similarly to Metal Gear Online, Survive's alternate reality lets players fight against hordes of crystalline zombies using stealth and weaponry in both a singleplayer campaign and multiplayer.
Left Alive
2018 | Square Enix The director of the Armored Core series, mech designer from Ghost in the Shell, and character designer from Metal Gear Solid have teamed up for this third-person shooter/stealth game. Play as three different characters attempting to survive a violent invasion filled with explosions and giant mechs. Because with a pedigree like that, how couldn't you have giant robots?
The Last Night
2018 | Odd Tales With a captivating debut trailer that showed off its inventive mix of 2D sprites and 3D environments, The Last Night promises a visually arresting cyberpunk narrative. That story will touch on a world full of people seeking meaning in material consumption, and a protagonist who must go without.
The Bard's Tale IV
2018 | inXile The first entry in the classic dungeon crawler franchise since 1991, The Bard's Tale IV mixes old school turn-based combat with decidedly more open, surface-level world exploration. With more than 20 dungeons to explore and some significant shake-ups to conventional dungeon combat (party members can be positioned in a two-row grid), it looks like fans old and new might find enough to surprise them.

Phantom Doctrine
2018 | CreativeForge Games Phantom Doctrine plays out like Cold War XCOM. You and a band of conspiracy-fighting agents known as the Cabal must stop a plot to pit world leaders against one another, and you send agents on missions to recover intel, sabotage operations, or stealthily infiltrate enemy ranks. Most interestingly, you can defeat enemy agents, then bring them back to convert them, extort them for info, or plant a trigger phrase in their head for later. Just don't leave your guys behind, as the enemy may have equally nefarious plans.
Phantom Brigade
2018 | Tetragon Works This turn-based mech combat game pulls inspiration from Armored Core and Front Mission, with tabletop-style rules determining unique damage statistics, destructible buildings, and pilots that evolve as characters, like a simpler Nemesis System from Shadow of War. Mod support promises new events, missions, order, mech parts, and more.
Ashen
2018 | Aurora44 As a wanderer in search of a permanent home, the bleak open world of Ashen looks pretty uninviting. You'll need to seek out other players and NPCs, encourage them to support your settlement with their own skills, and all while avoiding the murderous beasts that wait in the dark.
MechWarrior 5: Mercenaries
2018 | Piranha Games In this singleplayer follow-up to Piranha's MechWarrior Online, you take charge of a mercenary operation in the Inner Sphere, the region of space surrounding earth, and melt some robots in the first MechWarrior campaign in 15 years. Developed in Unreal Engine 4, players will have the freedom to choose their house, travel anywhere, and fully customize their mechs for 12 versus 12 battles.
Deep Rock Galactic
2018 | Ghost Ship Games "Procedurally generated co-op space dwarf mining shooter" is a heck of a pitch, and it's one Deep Rock Galactic leans into with gusto. Currently in Early Access, players pick a class of dwarf, then venture into the veins of the most hostile planet ever discovered, fending off massive wall-crawling creatures with a variety of weapons and tools.
Re:Legend
2018 | Magnus Games You've washed up on the shore of a mysterious island without a single memory, but at least there are cute little monsters to make friends with. Tame the little creatures, known as Magnus, to help you with farming, traveling, combat, and more in this chibi adventure.
Indivisible
Fall 2018 | Lab Zero Games After a rebellious young girl's home is attacked and an ancient power awakens inside her, she must absorb the "Incarnations" of people she meets along the way to aid her journey. Side-scrolling platforming and party-based combat set in a hand-drawn 2D world will keep you busy while you reunite the land.
Riverbond
2018 | Cococucumber "Legend of Zelda meets Castle Crashers," as the developer puts it, Riverbond pits you and up to three other friends in a shimmery voxel world full of enemies to hack-n-slash as you traverse down the River of Light. Between the incredibly destructible environments, each level is full of neat hidden secrets and alternate weapons that can drastically change how you approach a battle.
ToeJam & Earl: Back in the Groove
2018 | Humanature Studios From the original creators of ToeJam & Earl, the funky alien duo and friends are back for another rogue-like adventure on Earth. With nine playable characters (and online/couch co-op for up to four players), explore through randomly generated levels to recover parts of your ride, the Rapmaster Rocketship, and jam out to 15 new songs.
Beyond 2018, or no specific date
Beyond Good & Evil 2
TBA | Ubisoft Montpelier A prequel to the original cult classic, BG&E 2 introduces some significant shifts to what was originally a linear, cutesy adventure game. Though it's hard to pin down what the end result will be, creator Michel Ancel has teased the idea of a galaxy-spanning RPG that lets you work up from the bottom rungs of society to a ship captain, with multiplayer components to boot.
Cyberpunk 2077
TBA | CD Projekt Red The studio behind The Witcher dives into the world of the Cyberpunk pen-and-paper RPG by Mike Pondsmith, and all signs point to an even bigger scale than the Witcher 3: Wild Hunt. CD Projekt Red has also confirmed the game will have some multiplayer elements as well.
Death Stranding
TBA | Kojima Productions Hideo Kojima and weird paramilitary nonsense are like peanut butter and jelly. The game's first two trailers showed us a naked Norman Reedus, Guillermo Del Toro holding a fetus in a jar, and Mads Mikkelsen patrolling a sewer with skeleton-faced soldiers. Yeah, we don't know, either.
Artifact TBA | Valve Dota 2 is getting its own card game, featuring three different boards to play on and a variety of familiar characters. Sean "Day9" Plott let slip that the game might involve constructing barracks, creeps, and lanes, lending a little more MOBA-ness to the formula than Hearthstone has.
Ashes of Creation 2018 | Intrepid Studios In most MMOs, the overworld is set in stone, only changing during an expansion or event. Ashes of Creation throws this trope aside with its "Node" system, which lets players build up unique communities, quests, and narratives for their individual server. But nothing is forever, and multiplayer siege battles can threaten everything you've worked for.
Battalion 1944 2018 (Early Access) | Bulkhead Interactive Battalion 1944 takes FPS players back to the British front, with all the classic WWII weaponry, including the M1 Garand. Emphasis is being placed on competitive play, with no unlocks beyond cosmetics, and skill tracking implemented from the get-go.
Dauntless 2018 (Early Access) | Phoenix Labs If you're looking for a more accessible, less grindy Monster Hunter, Dauntless might be for you, featuring a bunch of "behemoths" sporting ethereal spikes, giant wings, or flame-spewing orifices, among other pleasantries. Our preview detailed some of its free-to-play shortcomings, but you have the chance to join its closed beta to get an idea for yourself.
Conan Exiles March 2018 (Early Access) | Funcom The world of the Conan the Barbarian has been yet another staple in the early access survival game wheelhouse since early 2017, but its arrival on consoles suggests a sense of finality. Crush some enemies, drive some wild beasts before you, and hear the lamentations of their women when you use a towering demigod to smash their fortresses to pieces.
Deep Sky Derelicts TBA (Early Access) | Snowhound Games Hire and control up to three mercenaries to root through derelict ships for resources and hope in this dystopian sci-fi adventure with animation that flows like a motion comic book. Turn-based combat pits you against space zombies, gargantuan worms, and god knows what else by using randomly-drawn cards from a deck of possible actions.
Mount & Blade 2: Bannerlord
TBA | Taleworlds Entertainment It's been a long wait for the sequel to Mount & Blade: Warband, and it may be a bit longer still, but previews have indicated a strongly expanded combat system to the cavalry battle simulator. Chief among those changes is a directional shield blocking system, chain attacks, and a command structure that allows you to focus on the task at hand while letting your A.I. commander dictate the overall flow of the fight.