Having one of the best portable storage drives for PC is a staple possession for some of us. Those of us who still value the ability to load a portable drive with our steam libraries, saves and other game files are very grateful that there continue to be some banging products out there in the range of the best portable storage drives for PC. On top of that they offer another convenient and reliable way of transferring any files between computers and other devices and they can be a valuable addition to your arsenal of gear.
The newest entries into the best portable storage drive marketplace will make use of the faster USB Type-C or Thunderbolt 3 connections too, which means they are the top dogs—though there are plenty of worthy contenders with the 'traditional' USB interfaces, for sure. A great attraction of USB-Cs is that they can basically match speeds of internal drives, and with their pricetags steadily falling they are becoming increasingly common as well as impulse purchase-worthy.
However, choosing one of the best portable storage drives is not exactly straight forward given the abundance of them available now, and with many of these claimig to be the best. However, to try and sort some wheat from some chaff, here are our top picks for the best in three broad categories (in this order): best portable SSD; best rugged portable drive; and best high-capacity portable drive. If you're looking for a smaller drive, check out the best USB flash drives.
Best SSDs for gaming | Best gaming motherboards | Best gaming monitor
Best DDR4 RAM | Best CPU for gaming | Best graphics card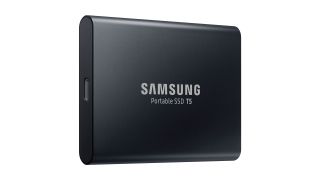 1. Samsung T5
The best portable storage device (SSD)
Much faster than USB flash drives
Easily fits in your pocket
Up to 2TB of storage capacity
Speed comes at a premium
This is the best portable SSD in our eyes. For the power user who wants it all—speed, capacity, and portability—and is willing to pay a premium for it, Samsung's Portable SSD T5 is one of the slickest solutions out there. It's faster than any USB flash drive available, it has the capacity of a hard drive, and you can carry it inconspicuously in your pocket. This spunky little drive shares the same DNA as Samsung's 850 Evo SSD, just in a smaller package. It has a USB 3.1 Type-C connector, upgraded now to Gen 2, giving a maximum theoretical throughput of 10Gbps. We pitted it against a 512GB Samsung SM951 NVMe SSD connected over Gigabit Ethernet. The T5 ran the table in all eight CrystalDiskMark benchmarks and proved significantly faster in reading and writing game files and large files.
Speed doesn't come at the expense of storage space. While it's easy to bump into the storage ceiling of a 32GB, 64GB, or even a 128GB USB flash drive, you'll find there's much more breathing room when dealing with terabytes of space, which is what the T3 offers. Whereas the first generation T1 topped out at 1TB, Samsung was able to double the maximum capacity of the T3 and T5 to 2TB, a result of upgrading from 32 to 48 stacked layers of V-NAND flash memory cells for a denser configuration.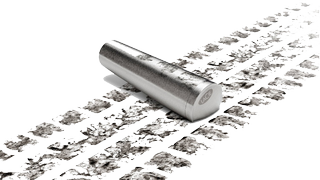 2. LaCie XtremKey 128GB
The most portable of storage drives
Built like a tank
Completely water tight
Strong AES 256-bit encryption
Expensive for basic file transfers
What's that, you're into skydiving and running with the bulls? If you're a true adventurer, then it might not be speed, capacity, or value that top your list of priorities. What you need is a rugged drive, something that can survive horrifying levels of abuse—then this is the best rugged drive for you. There are a few different solutions, though one of the toughest USB flash drives out there is LaCie's XtremKey. According to LaCie, you can run over this thing with a 10-ton truck without compromising your data. It can also withstand extreme temps from -50C to 200C, and it stays water tight when submerged up to 200 meters.
It's one thing for LaCie to say how durable its XtremKey is, but demonstrating it is another matter. Lest there be any doubt, LaCie posted a couple of YouTube videos showing its XtremKey being subjected to levels of abuse that would destroy any regular USB flash drive, such as being run over with a steamroller and dropped in a tank of liquid nitrogen.
How did LaCie build such a rugged flash drive? The memory modules sit behind a 2mm Zamac metal alloy casing sealed with water-resistant screw threads and a hermetic, rubber O-ring. But it's not just about physical protection, the XtremKey features AES 256-bit encryption and comes with backup software for Windows and Macs.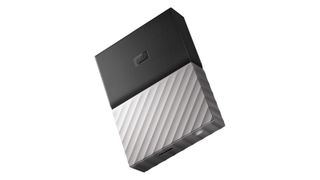 3. WD My Passport 4TB
The best regular portable HDD
It's cheap, bulk storage
Can automate backups
Doesn't require external power
Slow compared to flash-based drives
We like WD's My Passport. It's not as compact and fast as Samsung's T3, and it can't withstand armageddon like LaCie's XtremKey, but at up to 4TB for $120, it offers the copious storage space at a good value. We also like that WD (aka Western Digital) fares well each time cloud backup provider Backblaze releases a hard drive reliability report.
The 4TB model measures 21.5mm x 81.5mm x 110mm (HxWxL) and weighs 250g. You probably wouldn't want to try and jam one into a shirt pocket, but they're about as portable as a smartphone, just a little chunkier. The 1TB Passport is slightly thinner and weighs 170g, if you don't need as much space. It is, undoubtedly, the minivan of external hard drives. No external power supply is needed to use WD's drive—just plug in the USB cable and start backing up your files. You can also install WD's backup software to automate the process.
With 4TB of storage at your disposal, you can save:
- Up to 4,000 hours of digital video
- Up to 1,000 2-hour DVD movies
- Up to 1,280,000 digital photos
- Up to 66,640 hours of digital music
WD also goes the extra mile with password protection and hardware encryption. And if you're looking to make a fashion statement, you can select a My Passport in a range of color options.
Some online stores give us a small cut if you buy something through one of our links. Read our affiliate policy for more info.