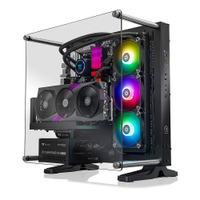 (opens in new tab)
Thermaltake Shadow 480 R4 | MSI RTX 4080 Ventus 3X OC | AMD Ryzen 7 5800X | 32GB DDR4 RAM | 3TB SSD | $2,999.99 $2,499.99 at Best Buy (save $500) (opens in new tab)
An RTX 4080 gaming PC with $500 off; except the rest of the spec around the graphics card doesn't suck. You actually get a whole lot of RAM and storage space here, which isn't something we see often in prebuilt PCs.
Nvidia and its partners ask for a lot of money to part ways with one of their powerful RTX 4080 graphics cards. It's a shame as the card delivers monumental 4K performance able to thwack an RTX 3080 Ti down a peg or two, but we just can't stomach its $1,200 asking price.
One deal with the devil we might make, however, is for this Thermaltake Shadow 480 R4 gaming PC over at Best Buy. It's sitting at $2,500 right now (opens in new tab)—$500 off the asking price.
For that money you can claim ownership of an RTX 4080. Not just any RTX 4080, it looks like Thermaltake's shipping an MSI Ventus 3X OC card with this particular build, which is a mighty three-fan card. We haven't reviewed that exact model, but we did check out the MSI RTX 4070 Ti Gaming X Trio (opens in new tab) and MSI RTX 4080 Suprim X (opens in new tab) and come away impressed with MSI's build quality on both counts.
That graphics card alone counts towards roughly $1,250 of this PC's $2,500 price tag, meaning the remaining parts need to total another $1,250, with some leeway for the system building fee we expect to see with a prebuilt machine. If you want to save that why not build it for yourself? It's fun, promise.
The remainder of this PC's specs list is pretty impressive. It's not a bad looking machine, either. The CPU is AMD's last-gen Ryzen 7 5800X, which is admittedly not quite the processor I'd pair with this machine if I had the choice, but with eight cores and 16 threads it's hardly a slouch. A good money-saving chip, anyways.
There's a triple-fan liquid cooler to keep that chip cool, and in doing so looks rather cool itself with RGB lighting on the fans—if you're into that sort of thing, anyways. Then there's 32GB of what appears to be Thermaltake RGB RAM in a quad-stick configuration, which will extract the most performance out of all available channels while, again, looking pretty sweet. My only pause for concern is the lack of speed noted for the RAM, but I found a similar listing for what's noted as the same Shadow 480 R4 gaming PC (opens in new tab) (for $3,299 😬) and it lists the RAM as TOUGHRAM RGB running at 3,600MHz. No complaints there if that is indeed the exact kit.
The surprisingly good spec here is the 3TB of NVMe SSD space. Again, there's not much detail on the Best Buy listing as to what SSD we're looking at here, but Newegg provides a brief spec of "1TB NVMe Gen4 M. 2 + 2TB NVMe Gen3 M. 2".
From the looks of a customer image posted to Best Buy, it's the Firecuda 530 1TB, a speedy Gen4 drive that we recommend as one of the best SSDs for gaming (opens in new tab), alongside 2TB of undisclosed PCIe 3.0 storage embedded elsewhere on the board.
To round it off, there's Thermaltake's Toughpower GF3 850W PSU, which is rated to 80Plus Gold. It's also a PCIe 5.0 compatible PSU and fully modular, which is important if you want to keep that open-style case looking in any way neat or tidy for long. I actually use a Thermaltake case like this as my test bench at the moment, and in all honesty it's a complete mess. It's easy to get to all your parts once you take all the screws off, though.
All in, could you build this PC for cheaper on your own time? Yeah, I reckon so, but you'd be getting pretty close to the asking price of this prebuilt PC. Or at least close enough that this looks a fair price for what you're getting plus labor and warranty—the warranty lasts for one year, by the way. If you're someone that doesn't fancy the DIY project or you're looking to buy a PC for someone else (lucky them), we've seen a lot worse premiums for RTX 40-series-powered PCs.
If this isn't quite the right price for you, or you want to shop around, we have a page filled with all the best cheap gaming PC deals (opens in new tab) we could find today.