Looking for Wolverine's trophy at Dirty Docks? Fortnite (opens in new tab) players have been eagerly awaiting their opportunity to score the Wolverine outfit, completing each Fortnite Wolverine skin challenge (opens in new tab) as they unlock in-game, and this is your next one. While most other Marvel characters are included in the Fortnite Season 4 battle pass (opens in new tab), as with Groot, Thor, and more, Wolverine's iconic yellow suit requires players to go the extra mile.
Now we're in week 3 of the fourth season of Chapter 2, you must find the Sentinel head at Dirty Docks in Fortnite if you want the skin. Here's a guide to help you complete this challenge.
Fortnite Sentinel Head location in Dirty Docks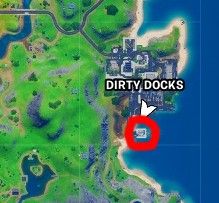 The Sentinel head is located at the southern tip of Dirty Dock, as seen in the image above. Head into the gray building at the southern edge, then head inside the small storage room inside. The trophy/sentinel head is located behind a box on the ground. Just go ahead and pick it up to finish the challenge.
For your trouble, you'll get the Sentinel head back bling, so you at least get a little something while you wait for the main prize. It's definitely a little less immense than the actual Sentinels you'll find around the Fortnite map (opens in new tab), but it's a decent cosmetic. It even sports a slashes like the ones you hunted down for the Fortnite claw marks challenge (opens in new tab) in week 1, which is fun.