More Destiny 2 exotics
Destiny 2 Bad Juju: How to get the exotic pulse rifle
Destiny 2 Lumina: Snag the exotic pistol
Destiny 2 Izanagi's Burden: Grab the exotic sniper
Destiny 2 Leviathan's Breath: Exotic bow quest steps
Destiny 2 Deathbringer: Bag the fearsome launcher
Destiny 2 Divinity: How to get the exotic trace rifle
Destiny 2 Fourth Horseman: Make this shotgun yours
Destiny 2 Traveler's Chosen: Get the OG sidearm
Need a hand with the Destiny 2 Growth quest? By now most players should be aware of Bungie's affinity for the number seven and, with the seventh day of the seventh month descending having passed, Bungie celebrated the day by releasing the Destiny 2 Ruinous Effigy exotic.
While the new trace rifle completes the holy trinity of elemental damage outputs for the weapon archetype with void damage, its unique perks are its more interesting aspects: Transmutation and Evolution. These allow you to turn enemies into Void orbs upon kills with which to attack neighbouring enemies with the Evolution skill.
So, here's all the Destiny 2 Growth quest steps—including how to find Calcified Light Fragments, Savathun's Marionettes—and get the Ruinous Effigy trace rifle.
Destiny 2 Growth quest: Visit the Prismatic Recaster and complete Interference on Io
As is customary every week, you gotta pay a quick visit to the Tower to pick up your weekly 'Means to an End' quest step, only this week is a little different. When you visit the Prismatic Recaster, you'll be able to pick up the 'Missive' quest step.
Your next step is to do a run of Interference on Io, a quest you'll likely be familiar with if you've been doing your weekly bounties for pinnacle gear.
How to find Destiny 2 Calcified Light Fragments and Savathun's Marionettes
The next part of the quest is to gather the Calcified Light Fragments you'll need to pull out your Ghost on Io, Titan, Mars, and Mercury. While your Ghost is out, you will see small diamond indicators on screen: Head to the locations indicated to collect the fragment of Calcified Light. There are 25 in total, with ten on Io and five on all other locations.
You'll also need to defeat 15 unique enemies known as Savathun's Marionettes, which are basically champion enemies, but with special names. The fastest method is to find where the blade/shield Taken Disruptors and a blight are spawning—you should be alerted to this by an in-game message. Five cycles of killing these enemies will spawn enough Marionettes to fulfill the requirements.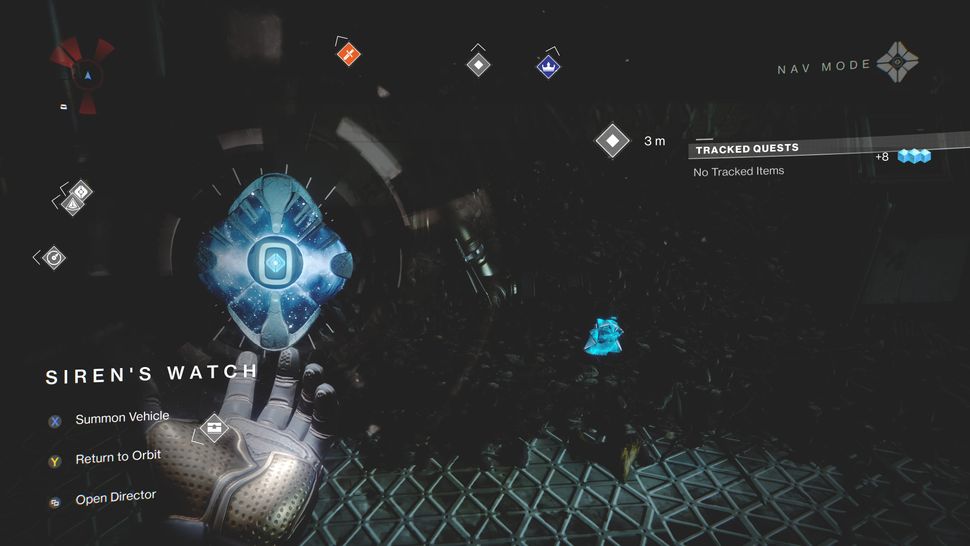 Defeat targets with Void damage in Gambit or Reckoning
This step is just as simple as it sounds. Head into the Reckoning or Gambit and start popping heads with whatever Void weapons take your fancy. It won't take too long, but equipping Recluse or that shiny new god-rolled Gnawing Hunger you may have got earlier in the season will make it that bit faster.
Then, take your new 'gift' and decode it at the Umbral Decoder in the Tower, the place you visited to decode Destiny 2 Umbral Engrams. Doing so will unlock the Ruinous Effigy trace rifle.
How to get the Destiny 2 Ruinous Effigy Catalyst
Some of you more observant Guardians might have noticed a series of new glowing blue orbs floating about the galaxy that couldn't be destroyed, until now. It turns out your new Ruinous Effigy exotic is the only thing that can destroy them. After you destroy all 50 of Savathun's Eyes, you'll unlock the Ruinous Effigy catalyst, and unlock one of the Triumphs in the Destiny 2 Moments of Triumph 2020 event, which runs until September 22..