Though you could shell out for the best computer speakers paired with the best microphone for streaming and gaming, some games are best experienced in isolation. Especially when the goal is to "cancel out" background noise, such as that produced by irksome roommates, securing one of the best gaming headset for 2019 is the obvious next move.
With living, shared world games like Anthem and The Division 2 occupying much of our time at the moment, owning the best gaming headset is pivotal. Nowadays, every last pair of top-ranking cans is equipped with a boom mic. Some are even detachable or retractable, while others have specialized noise-canceling mics designed to keep out the obnoxious uproar of unruly peers. In fact, my personal best gaming headset is the Razer Nari Ultimate, the headset that has it all. Comfy earcups, a retractable mic, 2.4GHz wireless connectivity and, yes, massive 50mm haptic drivers.
Because it's equipped with an experimental, proprietary technology Razer calls HyperSense, it's the most immersive headset we've ever used. In atmospheric first-person shooters, such as Metro Exodus, that makes a world of difference. A game that might seems mundane at first blush is enhanced exponentially by the tangible pulsation of shotgun recoil and massive trembling brought on by giant shrimp literally shaking your canoe along your travels.
But, of course, if you're on the prowl for the "normal" best gaming headset that doesn't vibrate, you've come to the right place as well. Some are wired, some are wireless. But all have been approved by an elite dedicated team of prolific hardware testers and reviewers, employed by none other than PC Gamer.
1. Razer Nari Ultimate
The best gaming headset on the market
Wireless: Yes | Drivers: 50mm neodymium | Connectivity: USB wireless, 3.5mm analog | Frequency response: 20Hz-20,000Hz | Features: Retractable unidirectional mic, Lofelt L5 haptic drivers, THX Spatial Audio, cooling gel-infused cushions, RGB
Haptic feedback works in its favor
Balanced sound quality
Limited wireless compatibility
No support for noise-cancelling
No matter where you stand on the polarizing debate of haptic feedback in games, we have to applaud its first proper execution in a gaming headset with the Razer Nari Ultimate. Showcasing the company's new HyperSense technology, this headset—which feels like you're wearing a pair of subwoofers on your head—is best experienced for yourself. Sure, there's an expensive point of entry, but it really is worth the money.
Since it features a wide gamut of haptic frequencies rather than just one static mode of vibration, the Nari Ultimate exhibits one of the most true-to-life rumble sensations we've ever experienced. And because support for it isn't programmed at the software level, every game is compatible. But it's more than just haptics. In fact, the sound quality on the Nari Ultimate is a considerable improvement from Razer's phonic endeavors of the past. Unlike the bass-heavy Kraken series cans, this one adds a healthy balance of highs and mids to the mix as well. The wireless connection is a rock-solid one, and the overall comfort of the headset is excellent.
Read the full review: Razer Nari Ultimate
2. Steelseries Arctis Pro + GameDAC
The high-end gaming headset that does it all
Wireless: No | Drivers: 40mm neodymium | Connectivity: USB, optical, 3.5mm analog | Frequency response: 10Hz-40,000Hz | Features: Retractable noise-cancelling mic, DTS Headphone:X 2.0, RGB
Tasteful RGB lighting
Handy GAmeDAC controls
Cables feel fragile
Slightly overpriced
High-res audio is on the up thanks to lossless streaming from Tidal et al, and games such as Wolfenstein II: The New Colossus offering full support. The Arctis Pro GameDAC makes full use of that crystalline high-res sound with a 5Hz-40KHz frequency response range—a spec that also makes the drivers sound great for everyday compressed audio usage. So, if you're planning to use a gaming headset for watching videos and TV on your PC, or music, this is a great choice.
The GameDAC itself is a combination of a digital-to-analog converter that takes the strain away from your CPU, a preamp, and a control center. With a press of its button and a roll of the dial, DTS Headphone-X surround can be enabled or disabled, chat/game mix tweaked, and EQ settings perfected. The subtle ring around each earcup on these cans ticks the RGB box without ruining the overall aesthetic. Our only reservations with the GameDAC model are that it requires an adapter for smartphone usage, and that its cables feel cheaper than a $250 headset should.
Read the full review: SteelSeries Arctis Pro + GameDAC
3. HyperX Cloud Alpha
A well rounded, well-balanced vessel for game audio
Wireless: No | Drivers: 50mm dual chamber neodymium | Connectivity: 3.5mm analog | Frequency response: 13Hz-27,000Hz | Features: Detachable noise-cancelling mic, in-line cable controls
Powerful but clear sound
Bombproof build quality
No detachable cable
Flimsy inline controls
Bearing the fruits of HyperX Cloud's long legacy of excellence, the newest Cloud Alpha presents excellent sound and build quality with the essential features done well, and no feature-flab inflating the price. The stereo soundscape in this closed-back design is punchier in the low end than we'd usually go for, but the extra bass doesn't interfere with overall clarity—and frankly, in games and music environments, it sounds great. Each 50mm driver's dual chamber design is intended to give low, medium and high frequencies space to resonate without interfering with each other, and you do get a sense of that while listening to them.
Elsewhere it's the usual impressive build quality, generous padding, clear mic and high comfort levels over longer play sessions that the Cloud design has always offered. The inline controls are the only exception to that rule—they feel flimsy by comparison to the rest of the package. We recommend the Alpha over the Cloud II (only just) because of the better frequency response range, although there's very little separating the two models.
Read the full review: HyperX Cloud Alpha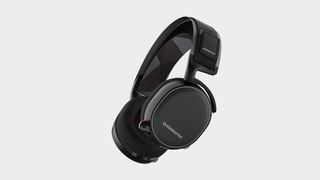 4. Steelseries Arctis 7
The best wireless gaming headset for most users
Wireless: Yes | Drivers: 40mm neodymium drivers | Connectivity: Wireless via USB, 3.5mm wired | Frequency response: 20Hz-20,000Hz | Features: Retractable noise cancelling mic, DTS Headphone:X, 7.1 surround
Great battery life
Comfortable 'ski goggle' headband
Headband can slacken over time
Average mic
What we like best about the Arctis 7 is that you can easily forget it's a wireless model while you're using it. There's none of the muddiness or audio artifacts that have historically ruined the party for wireless headsets—it sounds just as good as the best wired models we've tested at this same $150 price range. The extraordinary battery life clocks in at over 20 hours out of the box, and after almost a year of heavy use that figure's hardly dropped off. You can keep playing while you charge, too, simply by connecting the headset to your PC with a USB cable.
The Arctis range's distinctive ski goggle headband is really effective at keeping the weight of the headset away from your head, and even after playing for hours we've never felt it digging in. After a year of daily usage, the headband does slacken which makes for a looser and slightly less comfortable fit, but the bands themselves are replaceable and sold for under $15 on the Steelseries online store. A functional but slightly quiet and muffled mic is the only chink in its otherwise formidable armor.
Read the full review: SteelSeries Arctis 7
5. Logitech G Pro
A great budget gaming headset for esports
Wireless: No | Drivers: "Hybrid mesh Pro-G" neodymium | Connectivity: 3.5mm analog | Frequency response: 20Hz-20,000Hz | Features: Detachable mic
Clean, no-fuss design
Breathable, comfy earcups
A bit bass-heavy
Basic build materials
Logitech designed these cans with the help of esports athletes with a view to stripping away all the fat that's usually found in gaming headsets, leaving a lean package of high-performance essentials. Generally the G Pro achieves that: there's not a flame decal or RBG lighting strip in sight, and that functional aesthetic is matched by a barebones feature set. Looking to complete your RGB hellscape? You don't get that here.
The design is so barebones, in fact, that it might take some by surprise: there's no virtual surround, and only a mic mute and volume scroll wheel by way of controls. We like the overall sound produced by the drivers, even if it's a bit more pronounced towards the low end than we'd normally choose. If you can live with that, though, you get an otherwise attractive package with no unnecessary flab for under $100. It's a comfy, sturdy headset too, so you know it'll last for years.
Read the full review: Logitech G Pro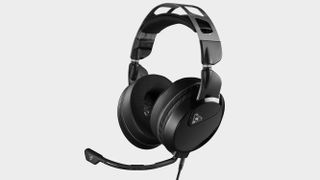 6. Turtle Beach Elite Atlas
A modular headset for streamers and competitive players
Wireless: No | Drivers: 50mm "Nanoclear" neodymium magnets | Connectivity: 3.5mm analog | Frequency response: 20Hz–20kHz | Features: Detachable noise-cancelling boom mic and ear cushions, swappable speaker plates, included red/green PC splitter cable, ProSpecs glasses relief system
Outstanding voice chat quality
Detachable mic, cushions and speaker plates
Weak mid-range sound
3.5mm cable unreliable at times
With a rich history of well-regarded console gaming headsets under its belt, Turtle Beach's return to PC gaming is timely to say the least. Esports comprise a nearly billion-dollar industry, and if the Elite Atlas is any indication, Turtle Beach wants in on some of that revenue. Though its price suggests otherwise, the Turtle Beach Elite Atlas headset is nothing revolutionary, but it does pack some interesting features.
In our testing, for instance, its TruSpeak noise-cancelling boom mic—which is also removable, mind you—was able to record Twitch stream commentary with virtually no background noise. That's an astounding feat, considering how hellishly loud roommates can be. Equally impressive is that the earcups on the Elite Atlas are attached magnetically to its speakers, making them a breeze to replace in the disheartening event that they're ever lost or damaged. Although the audio quality itself is less than ideal, the Turtle Beach Elite Atlas otherwise radiates promise, and if you're an esports player or gameplay broadcaster, it's a worthy set of cans.
Read the full review: Turtle Beach Elite Atlas
How we test headsets
We recently put more than 60 different headset units through a $50,000 testing setup to produce empirical data we could use to quantify our picks. We'll endeavor to make use of that HATS setup again in future, but we haven't given up on good old-fashioned testing by ear.
Each headset that we test we use daily for at least a week. We record a sample of our voice in Audacity and compare it to previous recordings from other models, then head to Discord to get some feedback from our friends on how we're sounding.
During that week, we aim to test each headset in a number of different game genres—shooters, battle royales, and racing games make for particularly good testing scenarios, since the former tends to test the low-end and reveal muddiness and distortion, while PUBG et al are great for positional audio tracking. Finally, good racing sims feature a very particular mix designed to help you hear brake lock-up and tyres losing traction. It's often in Project CARS 2 where great headsets are separated from merely good.
It's not just about gaming, though: we wear the headsets while we work, listen to music, watch distracting YouTube videos people send us, and everything else that crops up while we're at our desk. Finally, we compare a few lossless music tracks by listening through our BeyerDynamic DT770s and then the test sample. The 770s have a really flat EQ that makes them great for music production and critical listening applications—hearing another headset immediately after them really brings EQ peaks and dips into focus.
Some online stores give us a small cut if you buy something through one of our links. Read our affiliate policy for more info.