The best wireless gaming mouse will perform as well (or in some cases even better) than it's top wired competitors. We're well passed the era where you'd expect a wireless pointer to inevitably mean a laggy cursor and sub-par in game performance. The modern era of wireless interfaces means an incredible reduction in input lag, and wireless mice these days have been iterated on so thoroughly that they're often just as feature rich and thoughtfully designed as the best of their tethered counterparts.
What should you prioritize when you go to pick out the best wireless gaming mouse for you? In many cases, you're looking for some of the same standards as a traditional mouse. You want a high CPI rating to ensure it's precise, a good IPS so it keeps tracking even when you move it around at top speed, and whatever extras you crave, be their additional programmable buttons, an unlockable scroll wheel, etc. But with a wireless unit you also need to consider connectivity (is it USB? A dongle? Bluetooth?) and battery life, particularly if you plan on using it unplugged for any significant amount of time.
Best gaming PC | Best gaming mouse | Best gaming chair
Best CPU for gaming| Best gaming keyboard| Best graphics cards
1. Logitech G Pro Wireless
CPI: 16,000 | Sensor: Optical HERO 16K | Battery: 40+ hours rechargeable | Interface: USB | Buttons: 8 | Ergonomic: Ambidextrous | Weight: 81 g (0.18 lbs)
Swappable components
Excellent design
Well under 100 grams
Pricey
The G Pro Wireless packs Logitech's excellent proprietary HERO sensor and is hands down the best wireless gaming mouse I've ever gotten my hands on. It's incredibly light weight, coming in just over the 80 g mark, a remarkable accomplishment for a wireless unit (which usually pack heavy batteries that drive them over the magic 100 g mark). Logitech accomplished this by shaving down the thickness of the plastic that the mouse is constructed from, but it doesn't feel at all like quality was sacrificed in the process. If anything, the G Pro is one of the sturdier wireless mice I've gamed with, evidenced by the several times it survived unfortunate tumbles from my desk when my curious cat decided it was a little too like its living counterpart to be endured.
The G Pro boasts a massive 40+ hour battery life as well, even with its RGB lights enabled, and its fully ambidextrous, with removable side buttons that can be replaced with smooth inserts on either side of the chassis. It's even compatible with Logitech's wireless charging mat, and comes with a bottom slot to stash the USB dongle when not in use. The only downside is its price—at around $150 it lives near the high end of premium gaming mice, but this is one case where the additional cost is fully worth it.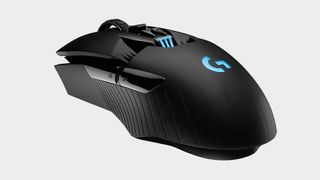 2. Logitech G903
CPI: 12,000 | Sensor: Optical PMW3366 | Battery: 32 hours (w/o RGB) rechargeable | Interface: USB | Buttons: 11 | Ergonomic: Ambidextrous | Weight: 107 g (0.24 lbs)
Around 30 hours of battery life while gaming
Best click feel of any mouse we've used
More expensive than most wired gaming mice
The Logitech G903 Lightspeed tries to do everything, and actually manages to pull it off. It's a wonderfully sculpted ambidextrous design that fits my hand as comfortably as any right-handed mouse, but can also accommodate lefties and has removable thumb buttons for either configuration. It has a brand new click mechanism that feels and sounds better than any other mouse click I've used. It has a metal scroll wheel that can click side-to-side and spin freely for 15 seconds, though I prefer putting it in notched mode for switching weapons in shooters. It uses the same extremely accurate 12,000 DPI sensor Logitech's been using for a few years now.
Somehow the G903 does all this while weighing only 107 grams, lighter than many wired mice despite its battery. And it still feels sturdy. The G903 is an ambitious combination of new design and new technology with ample opportunities to fail, but everything works. After more than a year of using the G903 (and its predecessor, the near-identical G900) I've never once had an issue with wireless performance, and I prefer the G903 to any wired mouse I've ever used. You can even plug it in and use it as a wired mouse, if you prefer, which is a good way to charge the mouse and keep gaming.
Logitech recently released a new high-end wireless mouse, the G Pro Wireless, which is lighter than the G903, uses an even better sensor, and has much longer battery life. But it's more expensive, and despite those improved features I think the G903 still has a far better click feel, shape, and scroll wheel. That keeps it in the top spot, for me.
The Logitech G903 is easily the best wireless gaming mouse available today. Read more about it in my full review here.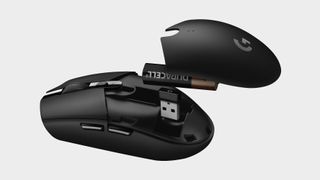 3. Logitech G305
A great, affordable gaming mouse
CPI: 12,000 | Sensor: Optical Hero | Battery: 250 hours, AA **Interface:** USB | Buttons: 6 | Ergonomic: Ambidextrous (left-side thumb buttons) | Weight: 99 g (0.22 lbs)
Amazingly light, with solid build quality
Logitech's best sensor in an affordable body
Fewer features than a high-end mouse
The Logitech G903 above has a peerless design, but it isn't affordable for everyone. With the newer G305, Logitech tried to make a high performance wireless gaming mouse for everyone. At a midrange price, it's competing directly against some great wired mice, but there are no real compromises here in terms of performance or design. The G305 uses Logitech's newest Hero sensor, an iteration on the fantastic performing sensor in the G903. It can last more than 200 hours on a single AA battery (which helps keep cost down vs. being rechargeable). The small wireless dongle can be stored inside the body of the mouse, but critically, the left- and right-click buttons are separate pieces from the removable palmrest, ensuring a reliable and satisfying click.
The shape of the G305 is based on a small, ambidextrous design Logitech has been using for years, and they haven't messed with a good thing. While components like the scroll wheel and buttons don't feel quite as premium as the ones in the G903, they're still far better than anything you'll find in a cheap gaming mouse. The quality and performance of the G305 are killer for the price.
4. Razer Mamba Wireless
The best Razer wireless option, with or without the charging mat
CPI: 16,000 | Sensor: 5G Advanced Optical Sensor | Battery: 50 hours | Interface: Wireless via dongle or wired USB | Buttons: 9 | Ergonomic: Ambidextrous (left-side thumb buttons) | Weight: 96 g (0.21 lbs) **Features:** RGB logo and scrollwheel, 1,000 Hz report rate
Lag and latency free
Extremely precise
Comfortable form factor
Odd looking side panels
The Mamba Wireless isn't just Razer's best wireless mouse, it's one of their best overall peripherals period. That's a pretty bold statement, given the exponential improvement Razer has made in recent years in both quality, design, and durability of their gear, but the Mamba Wireless warrants it, whether or not you're using it accompanied by the Hyperflux charging mat, which powers it as you use it and reduces the unit weight slightly by replacing the battery with a smaller, lighter capacitor.
The Mamba competes favorably with best-in-class wired mice, packing Razer's 5G sensor that boasts 16,000 CPI and is rated for 450 IPS. That's more precision than you're ever likely to need, even on huge displays, zeroing in for precision headshots at range. It also means that you can toss the Mamba around with wild abandon and it will never lose tracking. While the RGB lighting is a bit of an afterthought, as someone who's never fully gotten on board with this rainbow colored revolution, I don't mind it at all, and it is fully configurable where it shows up by the scroll wheel and logo. It's a light mouse, but it doesn't feel plasticy or insubstantial, and one of the best wireless options that's currently available from any manufacturer.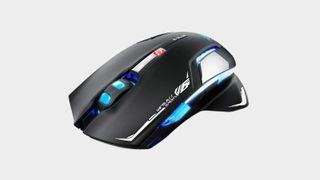 5. E-Blue Mazer II
A dirt cheap wireless gaming mouse
CPI: 2,500 | Sensor: Optical Avago 5090 | Battery: Months, 2xAA **Interface:** USB | Buttons: 6 | Ergonomic: Right-handed | Weight: 140 g (0.31 lbs)
Seriously, it's cheap
Not a great sensor
No driver software
Cheaper build quality
It's amazing what twenty dollars can get you. Budget gaming brand E-Blue makes a variety of wired and wireless gaming mice, and the Mazer II is a decent wireless mouse for about 20 bucks. Still, I wouldn't recommend anyone in the market for a mouse go this cheap: you'll get a much better sensor with a wired mouse for just a bit more money, and much better performance, battery life, and software with a high-end wireless mouse like the Logitech G903. But if you're dead set on wireless and only have a few dollars to spend, the Mazer II is a good choice.
The Mazer II has four DPI options, from 500 to 2500, and a comfortable enough left-hand grip (even if the materials are on the cheaper side). Don't expect any driver software with the Mazer II, or the kind of performance you can get out of typical gaming mice, which have polling rates of 1000 Hz, meaning they communicate with your PC every millisecond. The Mazer II only offers a 250 Hz polling rate. Now, will you ever notice that difference? That depends on how sensitive you are to the responsiveness of your mouse cursor. For most people, those few milliseconds won't offer a noticeable delay.
While I didn't have any wireless performance issues with the Mazer II, don't expect its signal to be as strong as what you get with a Logitech or Razer mouse. In a "noisy" wireless environment, you could end up experiencing some interference. But hey, that's why it's cheap.
6. Logitech MX Vertical
The best productivity mouse is also suitable for most games
CPI: 2,500 | Sensor: Optical | Battery: Up to four months **Interface:** USB, Bluetooth | Buttons: 6 | Ergonomic: Right-handed, vertical | Weight: 135 g (0.31 lbs)
Incredibly comfortable and ergonomic
Virtually no lag or latency
Reduces strain and fatigue
Awkward thumb buttons
Not suitable for twitch games
The MX Vertical is one of the best and most comfortable mice I've ever gotten my hands on; it's only this far down the list because it's not designed to be a dedicated gaming mouse. With a high resolution 4,000 CPI, it's certainly sensitive enough to be used in most gaming applications, particularly strategy games or sims where fast movements or insane precision aren't required, but it does lag behind the 12,000 or 16,000 CPI sensors you find in a lot of modern gaming mice.
The MX Vertical's strength is its ergonomic design, molded to allow you to rest your hand in a neutral position. After weeks of use, the lingering aches (and crackling joints) in my right hand had subsided significantly, and it's become my primary mouse at work. Even playing a few rounds of Apex Legends, I found the MX Vertical perfectly competent, though I'm sure eSports pros would disdain it for serious competition. But for productivity and most gaming scenarios, the Vertical is an awesome pointer, one of the best money can buy, and generally available right around the $80 mark, a bargain at that price.
How we test wireless gaming mice
Today, most of the common wisdom about wireless gaming mice is now outdated. Some wireless mice are still more expensive, and poor ones could suck their batteries dry in the middle of a match or lag thanks to a poor wireless receiver. But good wireless gaming mice today perform almost indistinguishably from wired ones, without a hint of wireless lag or stutter to be found. To test wireless gaming mice, I got my hands on current models from big names like Logitech, Razer, and SteelSeries. I also scoured Amazon to find other popular wireless gaming mice, most of which are budget models.
I used each wireless gaming mouse for several days, at minimum, getting a sense for how the mouse felt in my hand, the grip and material, and the feel of its buttons. I paid attention to battery life and how often the mouse needed to be recharged, if it was rechargeable.
For gaming, I primarily test mice with Unreal Tournament and other shooters, playing many rounds of Instagib to see how my performance stacks up against other mice. I scrutinize the cursor movement and responsiveness for lag, jitter, and other issues.
I used each mouse with its wireless receiver plugged into my keyboard or sitting on my desk, giving it the best possible wireless situation to work with. I also tested them with their wireless receivers plugged into my tower a few feet away with my legs in between, increasing the opportunity for lag and interference.
Some online stores give us a small cut if you buy something through one of our links. Read our affiliate policy for more info.