The best wireless gaming mouse delivers the precision of the best gaming mouse without the hassle of wires. No drag, no tugging on the cable when it gets caught under the corner of your monitor, just cable-free action to suit your gaming style. The best wireless gaming mouse serves up buttery-smooth, snag-free, clean gaming.
Right now the best wireless gaming mouse is the Razer Deathadder V3 Pro, thanks to it's impeccable sensor and fantastic battery life, to boot. Thanks to advancements in sensors and communication protocols from Logitech, Corsair, and Razer, a new generation of speedy, wireless rodents has scuttled out of the darkness. Plenty of them offer great battery life and highly accurate sensors, while the intense competition makes for comfortable and clever designs, too.
Importantly though, your decision should be based on the same criteria as it would be when buying a wired gaming mouse: How many buttons do you need? Lefty, righty, or ambidextrous? Heavy or light? There are a few wireless-specific questions you'll need to ask though: like how does it connect? How good is the battery life? Some wireless gaming mice are rechargeable, while others use standard batteries. If you weigh the pros and cons I've listed on those I've tested below, you're sure to find one that fits your budget.
The PCG team has tested all the best wireless gaming mouse wannabes so you can make an informed decision. And if you're looking to go wireless across the board, check out our lists of the best wireless gaming keyboards and best wireless headsets.
Best wireless gaming mouse
With over 15 million sold since its inception, the Razer DeathAdder has certainly earned its place in the best gaming mouse hall of fame and at the top of our best gaming mouse guide. There have been so many iterations and variants of the legendary mouse and with the newest one, the Deathadder V3 Pro, Razer isn't really messing with a winning formula. In fact, it has doubled down on everything that earned the Deathadder its name: excellent ergonomics and pro-level performance.
Razer has taken the DeathAdder to the gym, cut down the fat, shed weight, and ripped the muscles to create a lean, mean, clicking machine. The design changes are reasonably subtle but enough to offend some DeathAdder diehards. Gone are the massively flared-out mouse buttons and smooth shell in favour of a slimmer, less aggressive profile that has more in common with the Viper Ultimate than previous DeathAdders.
It's still very much a right-hander's mouse thanks to the slanted curve of the mouse's hump that leans ever so comfortably into your palm. The shell has a new micro-texture coating instead of smooth plastic. It helps keep the now 63g mouse (a 25% drop from the previous DeathAdder) from flying out of your hand in the heat of battle.
As a clicker aimed at the highest echelon of esports professionals, Razer has put only its finest tech inside the V3 Pro. First up, it features Razer's fastest-ever sensor: the new Focus Pro 30K Optical sensor with a 70G acceleration and a maximum speed of 750 inches per second for 99.8% accuracy. No one will play at such a ludicrous DPI but combined with a few tricks like Asymmetric cut-off, Motion sync, and Smart tracking, you'll never claim that the mouse is why you lost that match. For the main clickers, the DeathAdder gets third-generation Razer optical mouse switches with a blink-and-you'll-miss-it 0.2ms response time and long life of 90 million clicks.
to me, there's no distinguishable difference between using the V3 Pro wireless or wired. But if you have doubts, Razer also has a special 4,000Hz Hyperpolling dongle that you can buy as an add-on, but I reckon most folks would simply use the bundled Speedflex USB cable to assuage their latency fears.
The new DeathAdder, like its predecessors, is light on buttons, having only five which is laughable compared to the 11 you'll find on the Basilisk V3. I like how chunky and accessible the side buttons are since I don't have to awkwardly contort my thumb just to use them. I'm not too enamoured with the scroll wheel though. Sure it's tactile with steps that are great for weapon switching in-game, but it gets very tedious to do lots of scrolling with this mouse.
Razer's new Hyperscroll Tilt wheel would have been welcome here. It's little things like this and the simplicity in button configuration that works great for FPS gamers but not so much for other game genres or work. I wager more gamers are like me; we need a mouse that's as great for Doom slaying as it is for navigating dense Excel sheets. However, if your job is playing twitch shooters, then this is just perfect.
Razer claims 90 hours and since unboxing it about three weeks ago, I've only charged it once. I've been exclusively using this as my primary mouse for at least 8 hours a day.
It's fast, comfortable, has excellent battery life, and is very deadly in the right hands. Very few gamers can lay claims to such hands though. For most of us, the $149 being asked for the DeathAdder V3 Pro is simply too much, and it feels somewhat akin to owning an F1 car and using it for grocery shopping and school runs. Still, if you fancy yourself an esports pro who needs a no-nonsense, hyper-focused slaying machine, the V3 Pro lives up to the legends of old.
Read our full Razer DeathAdder V3 Pro review.
Lighter, brighter, and faster, that's what gamers want, and Logitech isn't one to disappoint with every turn of the product crank. In order to fulfil our unquenchable thirst for minute performance metrics, the Logitech G Pro X Superlight takes the popular Logitech G Pro Wireless and shaves off 17 grams.
You'd hardly tell it by looking at the Pro X Superlight, though. It looks near-identical to the G Pro Wireless with the exact same hallmarks of the popular and simplistic gaming mouse. The outer shell is fairly pronounced near the palm, which adds that little extra support compared to sleeker mouse models, and there's the slightest touch of contouring on the primary mouse buttons and beneath where your thumb and pinky sit. All in all, it's a fairly restrained design by modern mouse standards.
The two do feel differently under hand, however. The G Pro Wireless is no welterweight but it feels practically portly by comparison to the Superlight. Just 17 grams separates the two yet they feel night and day next to each other. You'll notice the reduction in game when you're practically throwing the 63 gram Superlight around your desktop.
The Logitech Superlight has seen some major changes in order to meet its stringent weight requirements, and compete with its lightweight wireless competitors. Even many of the best wired lightweight mice for that matter.
There are no removable thumb buttons, those which had become a bit of a signature feature of the G Pro Wireless. Instead in their place are two permanently affixed thumb buttons on the left-hand side. That's a shame for a couple of reasons. First, it's a little less customisation on offer, although I'll admit that most users will end up opting for the exact same loadout even with the option. Second, the Superlight's omission of removable switches means it's now only suitable for right-handed users.
It's hardly a dealbreaker for the majority of users, but it will mean a few of you reading this will hit the back button. Sorry bud, I feel for you, but it's all in the name of shaving grams.
For the lack of excessive features, however, the standard battery life is a solid 70 hours. That's actually 10 hours more than the G Pro Wireless even with RGB disabled, so battery life has actually improved between the two units. In practice, you'll probably have the Superlight connected by cable at least once a week to ensure it's juiced up. It'll charge pretty swiftly, too, so you won't have to worry about the cable tugging your mouse about for long, which I find is more of a pain with wired ultra-lightweight mice.
Inside you'll find the applauded Hero 25K sensor that's common across Logitech's latest. What's more to say about this one: It's great, responsive, offers an outrageous remit of CPI speeds, and in my testing across MouseTester sees nary a single inconsistent result or errant data point at even the highest CPI setting. Impressive as ever.
There's also the promise of carbon neutrality with Logitech's latest products, and while that might not materially stand for much in the performance of the product itself, it's a great sell if sustainability is high on your priority list—it should be, too.
Read our full Logitech G Pro Wireless review.
With the Logitech G305 Lightspeed, Logitech has created a high-performance wireless gaming mouse that doesn't cost the earth. Its mid-range price has it competing against some great wired mice, but there's no compromise here in terms of performance or design.
The G305 uses Logitech's Hero sensor, an iteration of the fantastic sensor Logitech's best mouses, from the classic G502 down to the G Pro X Superlight . It can last more than 200 hours on a single AA battery (which helps keep the cost down vs. being rechargeable). The small wireless dongle can be stored inside the body of the mouse, but critically, the left- and right-click buttons are separate pieces from the removable palm rest, ensuring a reliable and satisfying click.
The shape of the G305 is based on a small, ambidextrous design Logitech has been using for years. While components like the scroll wheel and buttons don't feel quite as premium as the ones in the G502, they're still far better than anything you'll find in a cheap gaming mouse. The quality and performance of the G305 are killer features for its price.
It's fascinating how much the new SteelSeries Prime Wireless gaming mouse reminds me of the Razer Viper Ultimate. It's a no-frills, high-performance machine designed to meld with your palm and make you the FPS god you always dreamed of being. The $139 mouse is part of SteelSeries' Prime lineup of esports-focused peripherals and sits between the cheaper wired Prime and the OLED packing Prime+.
But it's earned its place on the list thanks to its regular discounts down below the $80 mark. At that price the Prime Wireless is an impressively affordable high-end gaming mouse.
SteelSeries says it worked with several esports pros to develop the right shape and weight that feels like an extension of your arm. For once, the product lives up to the hype. The Prime Wireless is designed for right-handers particularly claw and fingertip grippers. The whole mouse seems to gently slope towards the right so that it cradles in your palm for a comfortable grip.
The body is made from a micro-textured ABS plastic which has a matte finish that feels simultaneously slick and yet grippy. At 80g, it's slightly heavier than the DeathAdder V3 Pro or G Pro X Superlight mouses, but it's hardly what you'd call heavy. The thumb well curves inwards while the mouse buttons rise higher towards your index finger and taper off under your middle finger. This subtle slope makes the buttons feel somehow easier to click. The thumb buttons are positioned slightly above where your thumb rests so there's barely any travel to reach them. I do wish they were slightly more forward so I don't have to crook my thumb so much in order to press the rear button but I can live with it.
The Prime Wireless has a built-in rechargeable battery that's rated for 100 hours per charge. That's over a week of average use. However, I should point out that those numbers are only achievable when the mouse is running in High-efficiency mode which tones down some settings like the RGB to save power. For gaming, you'll want to keep it in performance mode which will chew through the battery in significantly less time—around 40 hours in testing.
Thankfully, charging the Prime Wireless is a breeze, thanks to a handy quick charge feature which gives you an impressive 40 hours of play with just 15min of charging. Power is delivered via USB Type-C but the port on the mouse won't work with just any old cable lead which is a little annoying.
When it comes to gaming, the Prime Wireless is just a joy to use. The mouse glides effortlessly thanks to its lightweight and large PTFE skates, especially since there's no annoying wire to hold you back. The TrueMove Air 18000 CPI optical sensor combined with a 1000Hz polling rate makes 1-1 tracking precise and snappy. Annoyingly, switching CPI sensitivity requires lifting the mouse to access the button underneath which isn't ideal in the heat of battle.
I never expected to like the SteelSeries Prime Wireless but it's just so damn comfortable to use for work and gaming. Input lag is no issue and honestly, wireless these days are virtually indistinguishable from their wired counterparts. The battery life is great and that quick charge is something every wireless peripheral should have. At $139, the MSRP of the Prime Wireless is on the pricier side, but it's a quality mouse that will serve you well and with regular discounts you'll be able to find it for a far more tempting price.
Read our full SteelSeries Prime Wireless review.
The Razer Naga Trinity has been on our best gaming mouse list as the top recommendation for MMO/ MOBA games for years now, but there's a new kid in town—the Razer Naga Pro. The Naga Pro drops the cable for Razer HyperSpeed Wireless and Bluetooth connectivity. It also picks up optical mouse switches and the over-the-top 20,000 DPI sensor.
The overall design of Naga Pro stays close to the Trinity but has gained a bit of weight to accommodate the new tech. The Naga Pro is 7mm wider and heavier than the Trinity at 117g, but thanks to the 100% PTFE feet, it glides smoothly across most surfaces. The bigger mouse also takes some getting used to; requiring my long hands to adopt a full palm grip. But the contoured mouse buttons and a rest for my ring finger make it easier to hold onto. Textured rubber grips for the thumb and pinky also help.
I'm a fan of Razer's optical-mechanical switches, which use light to register clicks instead of mechanics, and that makes them really fast. The switches are durable too, with a lifespan of 70 million clicks, but of course, the Naga Pro has plenty of other buttons too. The three swappable plates have 2, 6, and 12 buttons which you can remap to your heart's content.
Remapping buttons in Razer Synapse is child's play—a simple point-and-click affair. You can do anything from simple keyboard shortcut bindings to complex game macros as well as adjust DPI stages, polling rates, lift-offs, power management, and of course, Razer Chroma lighting.
Obviously, none of this matters if you have a laggy experience. Thankfully, the HyperSpeed Wireless doesn't disappoint. I used vsynctester.com to quickly measure lag and I was very impressed. The test records how quickly the cursor responds to your mouse movements. In wired mode, I recorded 6ms while the the Naga Pro's wireless connection managed 6.1ms—a 0.1ms difference. The Bluetooth was slower by 4-6ms but only a keen eye would notice it in daily use.

The Naga Pro's optical sensor has also been updated to the Razer Focus+ 20,000 DPI sensor with 650 IPS tracking. This is far beyond anything most people will ever need—I max out at 8,000 DPI.
Now, with all this technical wizardry, battery life is a legitimate concern but Razer's claim of a 150-hour battery life proves true. I've been using this review unit for the past week—averaging 14 hours daily and I still have about 35% battery left. That involved a ton of gaming, work, and swapping back and forth between wireless and Bluetooth.
Quite frankly, lack of a dock aside, I find nothing to really complain about the Naga Pro. The discerning, cable-phobic multi-genre master will love the speed, accuracy, and versatility of this new Razer Naga Pro.

Read our full Razer Naga Pro review.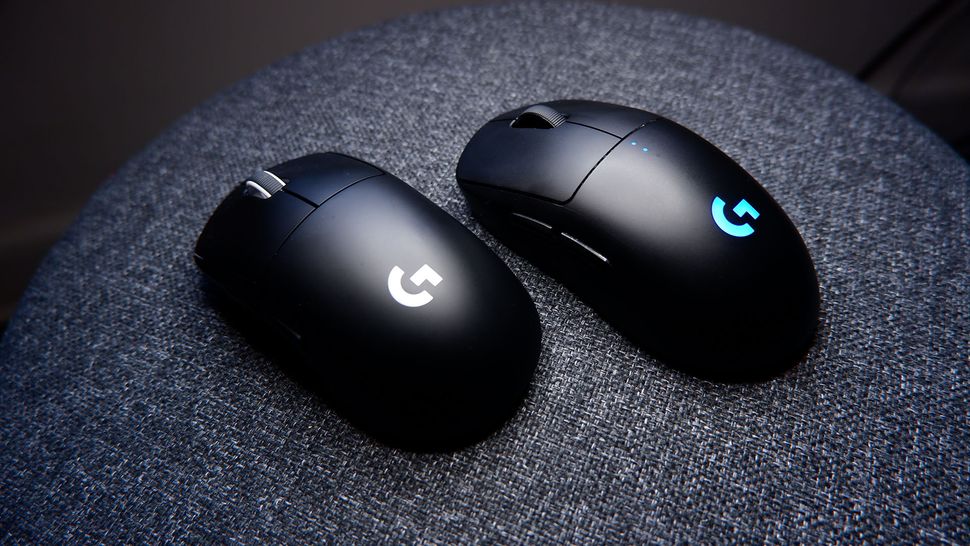 Best wireless gaming mouse FAQ
What's the main reason to choose wireless over wired?
Today, most of the conventional wisdom about wireless gaming mice is wrong. Some wireless mice are still more expensive, and poor ones could suck their batteries dry in the middle of a match or lag thanks to a weak wireless receiver. But the best wireless gaming mice perform almost indistinguishably from wired ones, without a hint of the traditional lag or stutter to be found.
Do pro gamers use wireless gaming mice?
Modern wireless connections, such as those created by Logitech and Razer, deliver no discernible difference between their wired and wireless mice brethren when it comes to gaming latency. Reportedly both Ninja and Shroud use the Logitech G Pro X Superlight mouse that we recommend in our list of the best wireless gaming mice.
How does a wireless mouse connect to my PC?
Most wireless mice offer both 2.4G wireless connections, which will most often require a dedicated USB device, or they'll use Bluetooth. Bluetooth is more widely compatible with a range of devices, however, it usually adds latency to the connection, whereas a wireless connection has next to none. This makes wireless the preferable connection method for gaming.
How do we test wireless gaming mice?
We use each wireless gaming mouse for several days, at minimum, getting a sense of how the mouse feels in our hands, the grip and material, and the feel of its buttons. We pay attention to battery life and how often the mouse needs to be recharged if applicable.
For gaming, we primarily test mice with Destiny 2 and Apex Legends and twitchier shooters like Quake Champions to see how our performance stacks up against other mice. We scrutinize the cursor movement and responsiveness for lag, jitter, and other issues.
We use each mouse with its wireless receiver plugged into a keyboard giving it the best possible wireless situation to work with. We also tested the wireless receivers plugged into our test system a few feet away with my legs in between, increasing the opportunity for lag and interference.
Wireless gaming mouse jargon buster
Grip refers to how you hold the mouse. The most common grips are palm, claw, and fingertip. Here's a good example of how each grip works.
CPI stands for counts per inch, or how many times the mouse sensor will read its tracking surface, aka your mousepad, for every inch it's moved. This is commonly referred to as DPI, but CPI is a more accurate term. The lower the CPI, the further you have to move the mouse to move the cursor on the screen.
Jitter refers to an inaccuracy in a mouse sensor reading the surface it's tracking. Jitter often occurs at higher mouse movement speeds or higher CPIs. Jitter can make your cursor jump erratically, and even slight jitter could wreck a shot in an FPS or make you misclick on a unit in an RTS.
Angle snapping, also called prediction, takes data from a mouse sensor and modifies the output to create smoother movements. For example, if you try to draw a horizontal line with your mouse, it won't be perfect—you'll make some subtle curves in the line, especially at higher sensitivities. Angle snapping smooths out those curves and gives you a straight line instead. This is generally bad because it means your cursor movements won't match your hand's movements 1:1, and angle snapping will not be useful in most games. Thankfully, almost all gaming mice have angle snapping disabled by default.
Acceleration is probably the most reviled, most scrutinized issue with gaming mouse sensors. When a mouse sensor exhibits acceleration, your cursor will move faster the faster you move the mouse; this is often considered bad because moving the mouse slowly six inches across a mousepad will move the cursor differently than moving the mouse rapidly same distance. This introduces variability that can be hard to predict.
Perfect control speed, or malfunction rate, refers to the speed at which the mouse can be moved while still tracking accurately. Most gaming mice will track extremely accurately when moved at slow speeds, but low CPI players will often move their mice large distances across the mousepads at very high speeds. At high speeds, especially at high CPIs, not all mouse sensors can retain their tracking accuracy. The point at which the sensors stop tracking accurately will differ between CPI levels.
IPS measures inches per second and the effective maximum tracking speed of any given sensor is rated too. Not to be confused with the gaming monitor panel type by the same name, the higher the IPS of any given mouse, the better it can keep up with high-speed movement and maintain accuracy.
Lift-off distance is still a popular metric in mouse enthusiast circles, though it does not affect most gamers. LOD refers to the height a mouse has to be raised before the sensor stops tracking its surface. Some gamers prefer a mouse with a very low lift-off distance because they play at very low sensitivity and often have to lift their mouse off the pad to "reset" it in a position where they can continue swiping. With a low LOD, the cursor will not be moved erratically when the mouse is lifted.