It's safe to say that virtual reality has passed through that critical early phase where novelty technology often disappears into the waiting maw of consumer apathy, and so it's an excellent time to be shopping for the best VR headset. With HMD makers producing a ton of new, excellent models, like Oculus Quest and Oculus Rift S , and Valve's brand new Index lurking just around the corner, VR is proving to be durable (and very exciting) corner of the gaming tech landscape. Plus, with Amazon Prime Day coming up in early July, we're likely to see at least some of the main consumer headsets available at a discount.
So which of the best VR headsets is for you? If you don't own a gaming PC or hate the idea of cluttering up your space with more wires, our top choice the Oculus Quest is for you. On the other hand, if you want a really high end, performance-driven VR experience, and you've got the PC to power it, perhaps a Rift S is a better investment. If you've got money to burn and really want to see what VR is capable of with top-of-the-line hardware, there's the HTC Vive Pro, the most expensive and well specced option. Regardless of which headset you land on, keep your eyes on our Amazon Prime Day game deals hub, we may just see a raft of discounts.
If you do snag a wired headset to pair with a powerful PC, treat your rig right with the best gaming keyboard.
Best gaming PC | Best gaming mouse | Best graphics card
Best CPU for gaming| Best wireless gaming mouse | Best wireless gaming keyboard
1. Oculus Quest
Display: OLED | Resolution: 2880 x 1600 | Refresh Rate: 72Hz | Field of View: 100 degrees | Controller: Oculus Touch | Connections: Standalone (USB-C to charge, 3.5mm jack for 3rd party headphones)
Completely standalone
Excellent performance without a PC
Smart UI
Limited software library compared to other Oculus headsets
The Oculus Go was a solid first step towards proper wireless VR, but it was more a proof of concept than anything. Now, the much more substantially specced Oculus Quest has arrived, at the same $399 price point as its wired counterpart, the Rift S, and standalone VR finally has a proper champion.
The freedom of untethered VR is genuinely powerful—even after becoming more than slightly jaded by spending tens of hours in Oculus' other headset offerings, the Quest was able to wow me with its power and portability. While it's not quite at the same performance peak as the Rift S, in practical terms you're unlikely to ever notice, and the magic of being able to look through the passthrough cameras like your own eyes and walk around your house is fully unique. Going on a trip? Toss the Quest in your bag and go. At 571g it's still pretty lightweight, especially since it doesn't require sensors or cables or any other constrictive accessories (other than the excellent, refined Touch Controllers), and it doesn't need to be connected to a massive, powerful gaming PC to function. It's currently the headset that delivers most convincingly on the magical promise of virtual reality, to the point that $399 seems like a bargain.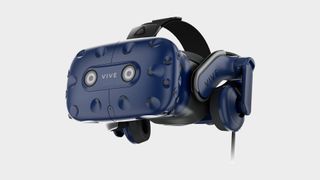 2. HTC Vive Pro
The best high end VR headset
Display: AMOLED | Resolution: 2880 x 1600 | Refresh Rate: 90Hz | Field of View: 110 degrees | Controller: Vive controller, any PC compatible gamepad | Connections: HDMI, USB2.0, USB3.0, Wireless (with adaptor)
Best room-scale VR experience
Most comfortable VR headset we've tried
Expensive
No controllers or sensors
Right now there are two major players for VR headsets for the PC. No one else has demonstrated products that are consumer ready other than HTC and Oculus—except Sony with its PSVR headset, but that isn't for the PC (at least until modders get their hands on it).
While both headsets hold close positions in our hearts, Oculus made all the difference by bundling its headset with the Touch controllers and dropping the price significantly. This was the deciding factor in choosing the Rift over the Vive as our new preferred headset.
The games helped, too. We expect that eventually, nearly all VR games will be made to work on both headsets, but right now Oculus boasts quite a few existing and upcoming exclusives (which we aren't exactly happy about, but they are a factor).
If you have the cash and a big room, the Vive's wall-mounted sensors provide the best room-scale VR we've experienced. Additionally, the Vive Pro is much more comfortable than the original Vive, and ups the resolution to 2880x1660. This makes it easily the best performing and most comfortable VR headset we've ever tried.
But as mentioned previously, the main reason we can't recommend the Vive Pro above a regular Vive package or the Oculus Rift is that for $800, you don't get the sensors or controllers—pricey! But if budget truly is no issue for you, the Vive Pro with controller and room sensors will hands down provide the best possible experience.
3. Oculus Go
The best introductory headset
Display: LCD | Resolution: 2560 x 1440 | Refresh Rate: 60-72Hz | Field of View: 100 degrees | Controller: Single proprietary controller | Connections: Standalone (Micro USB 2.0 to charge; 3.5mm jack for 3rd party headphones)
Completely standalone
Lightweight and inexpensive
Modestly specced compared to pricier headsets
Coming in at only $199, the Go is easily the least expensive headset on our list, and that's only the tip of the potential savings. Because the Go is a completely standalone headset, you don't need a PC of any kind to make use of it, much less a pricey mid- to high-tier PC that more expensive headsets require. Despite that, and its low price, the Go is still a fairly robust headset; it doesn't stack up against the Rift or Vive Pro, but it still delivers an impressive 2560 x 1440 resolution and 100 degree field of vision, just ten degrees less than the Vive Pro.
One of the major annoyances of any kind of room scale VR, or really any virtual reality experience that requires you to stand or move around at all, is that you're constantly in fear of tripping over or getting entangled in all the wires trailing off of the headset (or those leading to the sensors). Because the Go is standalone, that major hindrance is completely removed, providing a much more comfortable, secure experience. While the Go doesn't track you moving through space the way the Rift does, eliminating all the wires also eliminates a lot of the discomfort associated with being tucked inside a headset. And speaking of comfort, the Go feels downright cozy when it's properly cinched to your face - the inner lining is soft and pillowy and there are no hard plastic ridges creasing your skin.
The Go may not compete with the Rift of the Vive Pro, but it doesn't compare favorably to the similarly specced PlayStation VR offering. For a set that packs all of its required components inside a tiny gray box attached to your head, it's an incredible piece of technology with a solid library of offerings, and it also has the advantage of not requiring lengthy setup or configuration, meaning it's really easy to pull out anytime you want to wow your family or introduce your friends to the wonders of virtual reality.
4. Oculus Rift S
The best mid-tier wired VR headset
Display: LCD | Resolution: 2560 x 1600 | Refresh Rate: 80Hz | Field of View: 110 degrees | Controller: Oculus Touch | Connections: DisplayPort/Mini DisplayPort, USB 3.0
Excellent resolution and refresh rate
Great, deep library of games
Inside out tracking
LCD screen in place of OLED
Lower refresh rate than the original Rift
The Rift S is an interesting proposition. It fully displaces its predecessor, the original Oculus Rift, and is definitively an upgrade, but it's being sold at the same price point that the original retailed for (and still does, on some storefronts). That said, it is also an odd step back in some baffling ways, with a slight decrease in refresh rate and LCD lenses rather than OLED.
That said, the Rift S is easily the best mid-level wired headset you can buy for PC. Not only does it have a solid, deep library of games, a library that's matured and expanded tremendously since the launch of the original Rift, its higher resolution and more comfortable fit means the original Rift is basically now obsolete (unless, of course, you can find one at a deep discount). While the original may have a slight advantage in some of the aforementioned categories, the actual experience of wearing the Rift S is far superior, especially given that it fully supports inside-out tracking, meaning you don't have to buy, wire-up, and find a place for external sensors in your play space.
If you've already invested in a mid-tier or higher gaming PC and want a powerful headset, one that will deliver top-tier VR experiences that look and play great, and don't want to spend a massive amount of cash for the privilege, the Rift S is a clear winner. It may be more of an iterative upgrade from the original that we originally hoped, but it's still an excellent piece of hardware, and a fantastic way for PC owners to dive into virtual reality for the first time.
Some online stores give us a small cut if you buy something through one of our links. Read our affiliate policy for more info.
Best gaming keyboard | Best gaming mouse | Best gaming chair
Best VR headset | Best wireless gaming mouse | Best graphics cards