The Oculus Rift + Touch and HTC Vive are both good bundles, but which is the best VR headset? In our minds, the $400 Rift bundle is slightly better than the $500 Vive bundle. The more comfortable, higher-resolution Vive Pro is a great headset, too, but at $800 (without controllers or sensors!) it can't be our first recommendation for anyone looking to jump into VR right now.
We recommend the Oculus Rift with Touch controllers for a few reasons. One, the two included sensors now allow you to move around while standing, if not with the degree of freedom the Vive's harder-to-install mounted sensors offer (it can lose tracking when you turn around). Add a third sensor for $60, though, and full room-scale play is possible with the Rift—still at a slightly lower price than the Vive.
The Touch controllers are lighter and more comfortable than the Vive's wands, as is the Rift headset itself. As for games, Facebook is putting more resources into developing games than any other company in the VR space, so we feel good about an investment in a Rift headset right now. Currently, you get six games bundled with the Rift: Lucky's Tale, Medium, Toybox, Quill, Dead and Buried, and Robo Recall.
Oculus Rift
The best VR headset today
Display: OLED | Resolution: 2160 x 1200 | Refresh Rate: 90Hz | Field of View: 110 degrees | Controller: Oculus Touch, Xbox One Controller | Connections: HDMI, USB2.0, USB3.0
Better perceived resolution than Vive
Touch controllers come bundled
Now $399
Roomscale size not as big as Vive's
We can pretty much thank Oculus for making VR a reality. With Facebook snapping up the startup for $2 billion, Oculus has a huge war chest with which to push VR forward. The Rift headset is the most polished VR headset on the market today, and really demonstrates how far along we've come in bringing VR to the mainstream, but we're not quite there yet, and neither is Oculus.
Oculus took a heaping long time to release the Touch controllers, but when you use them, you immediately feel like they're a refined and well thought-out finished product. Compared to the clunkier Vive controllers, the Touch controllers are miles ahead in terms of comfort and immersion.
The Rift headset is the best example of a finished consumer VR product that we have, besting the HTC Vive with its build. It wears lighter than the Vive, fit and finish are top-notch, and you can comfortably strap yourself in for several hours. The Rift is only slightly marred by a smaller face frame—it fits tighter around your eyes, and is a pain in the butt to use if you wear glasses.
Many early games made for the Rift essentially limit you to a static position and expect that you will be chair-bound. With the included extra sensor, though, you're now able to stand up and move around, which was previously only done well on the Vive. Add a third sensor, and the two experiences come very close to each other. This brings the overall Rift experience on par with the Vive, and the more comfortable frame, better controllers, and price drop from Oculus puts it just ahead in our view.
In terms of content, Oculus has a leg up on HTC with a bigger library of games and more coming. Facebook's huge investments into developers only mean that the company is in VR for the long haul. The Rift dashboard is also a bit better than SteamVR, and it's easier to set up. When you factor in the price difference between Oculus and the Rift Pro, it's hard for us to justify spending nearly triple when the Oculus is already so good.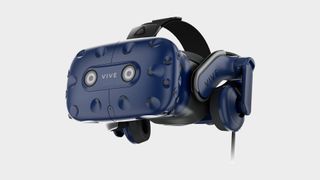 HTC Vive Pro
The best high end VR headset
Display: AMOLED | Resolution: 2880 x 1600 | Refresh Rate: 90Hz | Field of View: 110 degrees | Controller: Vive controller, any PC compatible gamepad | Connections: HDMI, USB2.0, USB3.0, Wireless (with adaptor)
Best room-scale VR experience
Most comfortable VR headset we've tried
Expensive
No controllers or sensors
Right now there are two major players for VR headsets for the PC. No one else has demonstrated products that are consumer ready other than HTC and Oculus—except Sony with its PSVR headset, but that isn't for the PC (at least until modders get their hands on it).
While both headsets hold close positions in our hearts, Oculus made all the difference by bundling its headset with the Touch controllers and dropping the price significantly. This was the deciding factor in choosing the Rift over the Vive as our new preferred headset.
The games helped, too. We expect that eventually, nearly all VR games will be made to work on both headsets, but right now Oculus boasts quite a few existing and upcoming exclusives (which we aren't exactly happy about, but they are a factor).
If you have the cash and a big room, the Vive's wall-mounted sensors provide the best room-scale VR we've experienced. Additionally, the Vive Pro is much more comfortable than the original Vive, and ups the resolution to 2880x1660. This makes it easily the best performing and most comfortable VR headset we've ever tried.
But as mentioned previously, the main reason we can't recommend the Vive Pro above a regular Vive package or the Oculus Rift is that for $800, you don't get the sensors or controllers—pricey! But if budget truly is no issue for you, the Vive Pro with controller and room sensors will hands down provide the best possible experience.
Price made all the difference
The competition is neck and neck. Valve has said that it's developing new VR games of its own (though it would be somewhat un-Valve like to release them as Vive exclusives when they could easily be Rift-compatible). Valve has also been talking about new 'knuckle' controllers, which depart from the wand design for a more Touch-like experience.
HTC is diverting most of its attention to improving its VR products. The company recently sold off its mobile phone division to Google for $1.1 billion, and plans to use significant portions of that money to its VR efforts. LG is also developing a SteamVR headset, and several other companies are showing off prototypes. Our recommendation could change quickly, so we'll be keeping an eye on the news and updating this article as new games and headsets are announced and released.
VR is still very young, so any investment right now comes with the caveat that a better headset might release next year, or a price drop could be around the corner. Much like the early years of PC gaming itself, we expect leaps in quality to come fairly quickly, meaning that this is a high-end purchase that likely will not stay cutting edge for more than a year or two. That said, the current VR experience with either the Rift or Vive is a lot of fun.
As prices change and new headsets are released, our recommendation will surely change. For the foreseeable future, though, we'll continue to recommend the Oculus Rift as the most affordable, comfortable package with the best software.
Some online stores give us a small cut if you buy something through one of our links. Read our affiliate policy for more info.