If you're serious about competitive gaming, then there's a good chance you've been lusting after a high-refresh monitor for a while now. Such screens tend to cost a pretty penny though. At least they do normally. Right now you can save a big wad of cash on one of the fastest screens around, the 360Hz Alienware AW2521H can be yours for just $400 (opens in new tab). Dell says that this is a massive $510 saving on the normal price of $910, although it generally sells elsewhere for around $730, which is still a great saving.
You can also grab the exact same screen over at Amazon for $380 (opens in new tab), which is $20 cheaper than getting it direct from Dell. It's good to have options, so go with whichever outlet works best for you basically.
The headline figure for this screen is obviously that 360Hz refresh rate, although 1ms gray-to-gray response time is nothing to be sniffed at either. This is a speedy screen, make no mistake. It's an IPS panel, so it produces a fine image too.
One of the downsides of these high-refresh screens is that you don't get a whole load of pixels for your money, and the AW2521H is no different. The native resolution of 1920 x 1080 is great for competitive shooters, but Windows and more relaxed games may push up against the limits of what can be displayed. If you're into your esports though, that's a compromise you'll be happy to accept in order to give your GPU a chance of hitting 360fps.
There are a couple of other features on offer from this screen worth calling out too. It acts as a great USB hub for your keyboard and mouse, and can also charge your devices too. The USB connectivity is useful beyond the obvious too, as this screen supports Nvidia Reflex, so you can see on screen what your mouse input latency is. Again, great for esports players looking to get the very best from your hardware.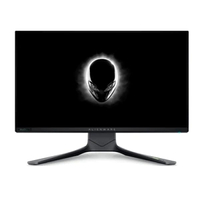 (opens in new tab)
Alienware AW2521H | 1080p | 360Hz | 1ms | $909.99 $399.99 at Dell (save $510) (opens in new tab)
This Alienware screen is one of the fastest panels you can get your hands on right now, supporting a 360Hz refresh rate and a 1ms (gray-to-gray) response rate. This thing is fast. Seriously fast. The native 1080p resolution means that it isn't perfect for every game, but competitive esports titles will revel in the extra frame rate. This is a massive saving too.
I've had this exact screen on my desk for coming up to a couple of years now, and I can confirm that it absolutely delivers when it comes to silky smooth frame rates in Apex Legends, Valorant, and the like. Unfortunately it also basically means that it's my own reflexes that are coming up short these days, not my hardware. At least it's good to know.
I do find the 1080p resolution limiting in some games, but when it comes to competitive shooters, it's absolutely my go-to monitor. The fact that it has a great stand that supports full pivoting also shouldn't be overlooked. It doesn't hurt that it's such a great-looking panel.