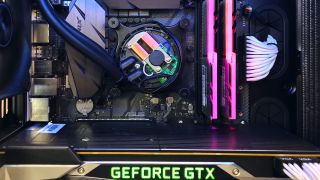 PC build guides
PC gaming can be an expensive pursuit, and as you move up the performance ladder, pricing can quickly outpace the diminishing gains in performance. While there may not be a large price difference between a single component and the next step up, applying that logic across an entire build quickly adds up. It's easy to set out to build a budget rig, only to end up with a few small upgrades that quickly balloon into midrange or higher territory. But we're not building on a budget here, this is a build for high-end gaming.
A high-end gaming PC may not be practical for a lot of people, and that's partly because PC parts can be expensive. More importantly, there are many different interpretations on what "high-end" actually means. PC Gamer's high-end PC build guide is aimed at a price tier of around $2,000 / £2,000, but we're not afraid to go a bit higher if we feel it's justified. We'll also provide some easy downgrades if you're looking to trim things down.
We have multiple build guides at PC Gamer, covering everything from the ultra-budget $500 mark up through $3,000 dream machines, but the most popular builds always end up being our mainstream and high-end builds. What's great about these two builds is that the parts are largely interchangeable—you can use nearly everything from the CPU and motherboard through the memory and graphics card from the mainstream build. The case and cooler are the only potential sticking points, but otherwise comparing and contrasting the mainstream and high-end options is a great way to figure out what will fit you best.
At the $2,000 tier (give or take), we push a good bit further on the graphics card, and you'll want a monitor that allows the rig to stretch its wings. We recommend 1440p 144Hz displays as the best overall value, potentially ultrawide if you prefer, and that's not part of the price. The price point also doesn't account for the operating system or any peripherals. Check out our buying guides for the best mouse and keyboard for our picks in those areas.
In our latest update to this guide, we've overhauled nearly everything. There's a new Coffee Lake processor, which also requires a new motherboard. We've opted for higher performance RAM, a larger SSD, and a new case, cooler, and power supply for good measure. The only thing that remains the same is the GTX 1080 Ti graphics card, which will likely only be replaced in 2018 when something faster comes out. Our final price ends up closer to $2,500 than $2,000, but if you're building a PC north of $2,000 you shouldn't be making compromises. Here are our picks for the best high-end gaming PC.
Components
Prices fluctuate regularly, particularly during the holidays with short-lived sales. Above are the real-time prices for our high-end build, which at the time of writing totals $2,340 / £2,075.
CPU: Intel Core i7-8700K
We've been tempted to go for Intel's enthusiast platform on our high-end build for a while, but the cost has always been just a little too much. With the arrival of Coffee Lake and Z370, there's no longer a need. The Core i7-8700K has the highest stock clockspeeds Intel has ever offered, and with six cores we get a huge boost to overall processing power compared to the earlier Kaby Lake processors. Intel's 6-core and 8-core Skylake-X parts are almost impossible to justify now, and for gaming purposes the i7-8700K beats every other Intel processor in nearly every game.
Compared to the previous generation i7-7700K, i7-8700K is a huge upgrade. You get 50 percent more cores, running at higher clockspeeds. Few games actually use more than four cores, but that's starting to change, and outside of games the additional computational power can be very useful. Videos encode substantially faster, for example, and streaming while gaming is less likely to cause stuttering.
Coffee Lake is basically Intel's answer to Ryzen. The Ryzen 7 processors doubled mainstream core counts, with four times as many threads as the i5-7600K. Unfortunately, per-core performance is lower, and games in particular still tend to not like Ryzen as much as Core i5/i7. But outside of gaming, the Ryzen 5 1600 and Ryzen 7 1700 were winning virtually every conceivable test scenario.
The i7-8700K addresses this shortcoming and then some. It claims the top spot for gaming performance, sure, but it also typically outperforms every AM4 Ryzen processor right now. There are a few benchmarks where Ryzen 7 chips can take a small lead (eg, Cinebench multi-threaded), but the difference isn't enough to warrant sacrificing gaming performance.
There are only a few complaints with Coffee Lake. First is simple: what took so long!? Intel should have had mainstream 6-core parts several years ago, but basically relegated those to the enthusiast platform because AMD CPUs were already far behind Intel. The second is more irritating, and it's that Coffee Lake chips require a new 300-series motherboard, and indications are that Intel changed the pinouts of socket LGA1151 just to force users to upgrade to a new motherboard, not because the CPUs couldn't have worked in existing Z270 boards.
The final issue is one that Intel has been dragging along for a while now, and the company refuses to listen to requests for something better. Several years back, Intel switched to a less expensive thermal interface material (TIM) between the CPU die and the heatspreader on the processor package. While Intel's chips run fine at stock, using the TIM costs a bit less than solder, and temperatures can get fairly toasty. In testing, even with a good AIO liquid cooler, we only managed 4.8GHz on the i7-8700K, and 4.9GHz had thermal throttling, with temperatures peaking at over 100C. If you want to delid your CPU, you can probably get a couple hundred more MHz out of the 8700K, and keep temperatures below 85C.
Motherboard: Asus ROG Strix Z370-E
Coffee Lake is a new platform, but there are already plenty of Z370 motherboards available. The least expensive boards start at close to $100, with extreme variants pushing into the $500 range. For a high-end build, we like to get something with great features, good overclocking support, and plenty of extras, which usually means looking at the $200 mark.
The Asus Strix Z370-E is a great board, with everything you need and probably plenty of things you'll never use. It overclocks nearly as well as any other Z370 board we've tested so far (MSI's Z370 Godlike was a bit better, but it's in a different price league), and it comes with useful extras like 802.11ac WiFi and USB 3.1 Gen2 (10Gbps), along with flashy options like Aura-RGB lighting. It's not quite as full-featured as the Z370 Hero, but few people will really care about the minor differences.
Even with our high-end build, we're only using one of the three x16 PCIe slots. You could potentially add a second graphics card down the line if you want to try out multi-GPU. With fewer major games supporting SLI and/or CrossFire at launch, we don't normally recommend that, but it remains an option.
If you're interested in other options besides the Asus board, MSI's Z370 Gaming Pro Carbon AC and Gigabyte's Aorus Z370 Gaming 7 offer very similar features and pricing. Asus is a larger company with more R&D resources, and long-term we find its boards usually work just a bit better than the competition, but gamers would be pleased with any of these three boards.
Memory: G.Skill Flare X 16GB (2x8GB) DDR4-3200 CL14
RAM can often be a question mark when putting together a high-end build. Should you opt for clock speed or quantity? While quantity can be a factor up to a certain point, going beyond 16GB requires very specific workloads before you really benefit. As such, we felt it better to go after top-tier memory in the form of G.Skill's Flare X DDR4-3200 line, which has extremely tight 14-14-14 timings.
Compared to typical DDR4-2400 with CL15 timings, the Flare X improves performance by 5-10 percent. It costs about 25 percent more on the memory side, which might seem like a bad investment, but if you look at the entire system it only increases the price by less than two percent. And at least you'll never have to worry if your memory speed is slowing things down.
If you'd rather have more RAM rather than higher performance RAM, be prepared for a much larger increase in price—and the benefits of 32GB are only available if you're actually running workloads that need more than 16GB. There's no binary right/wrong answer to the question of speed vs. capacity, but most users will see more benefit from faster RAM, at least once we're at the 16GB level.
RAM prices remain fairly high right now, due to increased DDR4 demand from both the PC sector and smartphone manufacturers. The G.Skill kit we've chosen is an excellent set of sticks, but check out our DDR4 RAM buying guide for additional options. If you're looking to keep prices in check, dropping down a notch to DDR4-2666 isn't something you're likely to feel so much as imagine.
Graphics card: Nvidia GeForce GTX 1080 Ti
The GTX 1080 Ti takes the crown of top-tier graphics performance. Technically the GTX Titan Xp is "the world's most powerful GPU," but it comes with a $1,200 price tag, so we're not even putting it into consideration. The 1080 Ti meanwhile comes in at around $700 and delivers a nice improvement over the GTX 1080. It's also substantially faster than anything AMD has yet created, as Vega 64 ended up being disappointing.
What do you get from a GTX 1080 Ti? In our testing, we averaged over 60 fps at 4k, and more importantly the card delivers close to 100 fps at 1440p. Combine it with a 1440p 144Hz G-Sync display and games will glide by with nary a stutter in sight. A card like the 1080 Ti will also provide longevity—the previous generation 980 Ti still posts similar numbers to a GTX 1070, and it came out in mid-2015. That means the 1080 Ti should still be going strong in 2020, and possibly later if you're willing to tune performance of more demanding games a bit.
Which GTX 1080 Ti card should you get? We've tested and used the reference Founders Edition, along with cards from Asus, EVGA, Gigabyte, MSI, PNY, and Zotac. There are minor variations in clockspeeds and cooling, but the main differences tend to come down to appearance and price. A 2.5-width card like MSI's 1080 Ti Gaming X or Zotac's Amp! Extreme will block the two adjacent PCIe slots, which may present a problem in some builds. Blower fans typically make noise than open-air cooling, but help vent hot air out of your case. Some manufacturers offer longer warranties. But if none of those are major considerations for you, we recommend getting whichever 1080 Ti costs the least, as otherwise the various models are all quite similar.
If you're looking for ways to keep the price closer to $2,000, the GTX 1080 Ti might seem like an extravagance, but a gaming PC in this price range simply didn't feel right not having the best card available. We suggest scaling back on the storage first, and maybe a few other areas. The 1080 Ti meanwhile should continue to reign as the fastest graphics card around until Nvidia launches its Volta line, which won't occur until some time in 2018.
Power supply: EVGA Supernova 850 P2 Platinum
When it comes to power supplies, EVGA's P2 series are a favorite of ours. They improve on the already impressive G2 line and sport 80 Plus Platinum efficiency, along with a fully modular design that keeps cable clutter to a minimum. EVGA also backs its premium power supplies with a 10-year warranty, and the PSUs run cool and quiet.
The 850W maximum load is plenty for this rig, and there's still plenty of room for a second GPU should the need arise. We usually like to leave 50-100W of headroom above the estimated maximum load of the system, and even with overclocking and a second 1080 Ti, this PSU will be sufficient.
Primary storage: Samsung 960 Evo 1TB
SSDs have always been more expensive than HDDs, and it may be another decade or two before that changes. However, the advent of non-volatile memory express (NVMe) is another step beyond SATA drives, and performance is high enough that you're not likely to need an upgrade to your primary drive for many years.
The Samsung 960 Evo delivers sequential read speeds of up to 3,200MB/s and write speeds of 1,900MB/s (that's megabytes per second, mind you). It's not quite as fast as the more expensive 960 Pro line, but you likely won't notice the difference. More importantly, you won't be spending a whole lot of time on loading screens.
By moving to a full 1TB SSD, you'll also have plenty of room for a large gaming library—though 100GB install sizes like that of Forza Motorsport 7 and Middle-Earth: Shadow of War can certainly put a dent in your free space. The thing is, once you get used to loading games off an SSD, it's painful to go back to a hard drive. We don't want any of you to feel pain with a $2,000 PC.
You could save money by sticking with a SATA drive—the Mushkin Reactor 960GB for instance costs over $100 less. If you're only worried about gaming performance, you generally won't notice the difference between a modest SATA SSD and an NVMe drive (until you verify a large game install in Steam).
Another option would be to stick with a 500GB 960 Evo as your boot drive, and then use a large HDD for archival purposes, including games you aren't actively playing any longer. With utilities like Steam Library Manager, you can easily move things back and forth between fast and slow storage over time. We'd rather ditch spinning disks completely, or at least avoid them as much as possible, which is sort of the point of a high-end build.
CPU cooler: NZXT Kraken X62 v2
NZXT's Kraken series of CPU coolers are an excellent choice for all-in-one closed-loop solutions. They're not the least expensive options, but they're easy to install and work well. The Kraken X62 includes a large 280mm radiator, which is more than enough for an overclocked i7-8700K (though you'll still probably want to delid that sucker). Just make sure your case can handle such a large cooler.
NZXT's Kraken X52 (240mm) or Kraken X42 (120mm) are also great if you're after something more compact. If you want other alternatives, Corsair's H80i v2, H100i v2, and H110i are equally viable. They tend to run a bit louder but don't cost quite as much.
Custom cooling loops can take things to the next level, but tend to be a bit too extreme for most users. They require a lot more effort to set up, and while they perform a bit better, the cost is often several times higher—although you can use a single loop to cool your CPU and GPU(s), and possibly even chipset and RAM if you want to go all-in.
Case: NZXT H440
We build a lot of systems, and we know what things we like and dislike when it comes to cases. Modularity is great, and good cable management with a separate PSU partition are almost required. Things we don't really like (other than for aesthetic purposes): small cases that are a pain to set up and run hotter.
NZXT's H440 is a continual favorite among system builders, with good reason. Not only does it look beautiful in an understated sort of way, but it's available in white or black, with several accent options. There's also a 'silent' option that includes sound dampening panels, but that does tend to increase temperatures a bit. Airflow is decent, and there are plenty of options for routing cables, storing SSDs, and more.
Cases are highly subjective, however, and our previous pick, the Cooler Master MasterCase 5, remains a great option that's geared toward tweaking and liquid cooling. If you're looking for something a bit flashier, or just want other ideas, check our best mid-tower and best full-tower case guides.
Some online stores give us a small cut if you buy something through one of our links. Read our affiliate policy for more info.