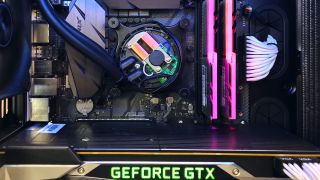 1080p isn't enough for you. 60 fps? Eh, that's a baseline. High settings? Hell no. Ultra all the way. If those are your demands for PC gaming, you need a high-end gaming PC: a system built for 1440p at ultra settings. A system that can hit 144 fps in competitive games. A system that doesn't break the bank, but still completely dwarfs the performance of the PS4 or the Xbox One.
Buy it now
Want to buy a prebuilt instead of building your own PC? Check out our guide to the best gaming PCs. For more practical advice on how to build a gaming PC, our video and guide puts together a system very similar to this high-end system.
PC Gamer's high-end PC build guide is aimed at a price tier of around $2,000 / £2,000, but we're not afraid to go a bit higher if we feel it's justified. We'll also provide some easy downgrades if you're looking to trim things down. At this tier, we push for a powerful graphics card and an overclockable processor to run today's games at their highest possible performance. And this rig will still be able to handle games that come out years from now at respectable settings.
We have other gaming PC build guides if you're on a budget, want an all-around great PC, or need to crush even the most demanding games at 100+ fps. This is the high-end option, which should be able to play the latest games at high refresh rates and high resolutions. To that end, we recommend 1440p 144Hz displays as the best overall value, potentially ultrawide if you prefer. The price of this build doesn't account for the monitor or the operating system or any peripherals. Check out our buying guides for the best mouse and keyboard for our picks in those areas.
Here are our picks for the best high-end gaming PC.
Components
Prices fluctuate regularly, and short-lived sales come and go. Above are the real-time prices for our high-end build, which at the time of writing totals $2,300 / £1,800. The SSD, motherboard, and memory are great places to trim costs, if needed.
CPU: Intel Core i7-9700K
Excellent gaming performance at a lower price
Cores: 8 | Threads: 8 | Base Clock: 3.6GHz | Turbo Clock: 4.9GHz | Overclocking: Yes, 4.9-5.1GHz typical | L3 Cache: 12MB | TDP: 95W | PCIe 3.0 lanes: 16
Excellent gaming performance
Eight high-speed cores
No Hyper-Threading
Limited overclocking
The release of the Core i9-9700K puts Intel's Core i7 line in an interesting middle ground between the high-end Core i9 and the more budget-friendly Core i5. This Core i7 has the same number of cores as the Core i9, but lacks Hyper-Threading. Their clockspeeds are similar too, but the Core i7 is about $100-$150 cheaper, which is a more cost-effective option. We still rank the Core i7-9700K within our best CPU picks, so there's a good reason why we'd put it in this high-end build.
One of the main selling points is the lack of Hyper-Threading. This CPU won't run as hot as the Core i9, so you can use an air-cooling solution if you prefer that over liquid-cooling. You might not get as high of a maximum overclock, but the Core i7-9700K is still a pretty beefy CPU even at base clock, so it'll last for years to come. Also, the difference in performance between the Hyper-Threaded i7-8700K and the non Hyper-Threaded i7-9700K isn't an issue. The i7-9700K's has additional cores over the i7-8700K that more than make up for it.
If you're only concerned with building a new PC for gaming, and not live streaming or video editing, the Core i7-9700K is the better alternative. You'll save some money and can still clock close to 5GHz.
Motherboard: Gigabyte Z390 Aorus Ultra
Great gaming performance and features at a decent price
Chipset: Z390 | Memory: (4) DIMM, 64GB, DDR4-4266 | PCIe slots: x16, x16 (x8), x16 (x4), (3) x1 | Video ports: HDMI | USB ports: (10) rear IO, (7) internal | Storage: (3) M.2, (6) SATA | Network: Ethernet, 1733Mbps 802.11ac | Lighting: Heatsink and DIMM slots RGB, (2) RGBW headers
No-compromise features including triple M.2 slots
Slick RGB package with two LED headers
Potentially too much bling
For a high-end build, we like a motherboard with great features, good overclocking support, and plenty of extras, which usually means looking around the $200 mark. The Gigabyte Z390 Aorus Ultra is our pick for a high-end Z390 motherboard, with everything you need and probably plenty of things you'll never use.
It overclocks as well as or better than other Z390 board we've tested, and it comes with useful extras like triple M.2 slots, Intel Wi-Fi Wave2 and Ethernet, along with flashy options like Aura-RGB lighting. There's room for more than one graphics card, and the built-in audio is top notch.
Other options include MSI's Z370 Gaming Pro Carbon AC and the Asus ROG Maximus XI Hero (Wi-Fi). We find Asus boards usually work just a bit better than the competition, but any of the boards we've mentioned would please any gamer.
Graphics card: Nvidia GeForce RTX 2080
Second fastest GPU at a more reasonable price
GPU Cores: 2,944 | Base Clock: 1,515MHz | Boost Clock: 1,710MHz | GFLOPS: 10,068 | Memory: 8GB GDDR6 | Memory Clock: 14GT/s | Memory Bandwidth: 448GB/s
Ray tracing and deep learning features
Fast and potential to become even faster
Unclear how it will handle ray traced games
More expensive than the 1080 Ti
While we previously recommended the GTX 1080 Ti for this build, it looks like that GPU is being phased out. So, it's time to move on totThe RTX 2080, one of Nvidia's latest GPUs that has new Turing architecture, ray tracing and, of course, higher performance. This is the card to get if you're all about playing games at the highest resolution and fps possible.
Unfortunately, there aren't many games that have ray tracing at the moment, but with this new technology available, it's more than likely we'll start seeing more as the years go on. Ray tracing seems poised to become a new standard for GPUs, so the RTX 2080 is a great option for the long-term. We did test its capabilities in Battlefield 5 with mixed results, but even if you are only playing at 1080p on Ultra, the RTX 2080 can more than handle that.
Which RTX 2080 card should you get? We've tested and used the Founders Edition, but this card is also available from Asus, EVGA, MSI, PNY, and Zotac. There are minor variations in clockspeeds and cooling, but the main differences tend to come down to appearance and price. We recommend whichever you can find cheapest, unless you have a strong brand or aesthetic preference.
Memory: G.Skill Ripjaws V 16GB DDR4-3200 CL14
Fast memory with tight timings to maximize performance
Capacity: 2x8GB | Speed: 3200MT/s | Timings: 14-14-14-34 | Voltage: 1.35V
Excellent timings and speed
Great for overclocking
No RGB, if that's your thing
RAM can often be a question mark when putting together a high-end build. Should you opt for clock speed or quantity? While quantity can be a factor up to a certain point, going beyond 16GB requires very specific workloads before you really benefit. As such, we felt it better to go after top-tier memory in the form of G.Skill's Ripjaws V DDR4-3200 line, which has extremely tight 14-14-14 timings.
Compared to typical DDR4-2400 with CL15 timings, the Ripjaws V improves performance by 5-10 percent. It costs about 10 percent more on the memory side, but if you look at the entire system it only increases the price by about one percent. And you'll never have to worry if your memory speed is slowing things down.
If you'd rather have more RAM rather than higher performance RAM, be prepared for a much larger increase in price—and the benefits of 32GB are only available if you're actually running workloads that need more than 16GB. There's no binary right/wrong answer to the question of speed vs. capacity, but most users will see more benefit from faster RAM, at least once we're at the 16GB level.
RAM prices remain fairly high right now, due to increased DDR4 demand from both the PC sector and smartphone manufacturers. The G.Skill kit we've chosen is an excellent set of sticks, but check out our DDR4 RAM buying guide for additional options. And if you're looking to keep prices in check, dropping down a notch to DDR4-2666 isn't something you're likely to feel so much as imagine.
Primary storage: Samsung 970 Evo 1TB
Plenty of fast storage for your games and other media
Capacity: 1,000GB | Interface: M.2 PCIe | Sequential IO: 3,400/2,500MB/s read/write | Random IO: 500K/450K IOPS read/write
Excellent performance and reasonable price
Plenty of capacity and endurance
Not quite as fast as 970/960 Pro
Twice the price per GB of SATA
The Samsung 970 Evo delivers sequential read speeds of up to 3,400MB/s and write speeds of 2,500MB/s (that's megabytes per second, mind you). It's not quite as fast as the more expensive 970 Pro line, but you likely won't notice the difference. More importantly, you won't be spending a whole lot of time on loading screens.
By moving to a full 1TB SSD, you'll also have room for a large gaming library—watch out for those 100GB games, though! Once you get used to loading games off an SSD, it's painful to go back to a hard drive. We don't want any of you to feel pain with a $2,000 PC.
You could save money by sticking with a SATA drive—the Crucial MX500 1TB for instance costs $180 less. If you're only worried about gaming performance, you generally won't notice the difference between a modest SATA SSD and an NVMe drive (until you verify a large game install in Steam).
Another option would be to stick with a 500GB 970 Evo as your boot drive, and then use a large HDD for archival purposes, including games you aren't actively playing any longer. With utilities like Steam Library Manager, you can easily move things back and forth between fast and slow storage over time. We'd rather ditch spinning disks completely, or at least avoid them as much as possible, which is sort of the point of a high-end build. You could also use PrimoCache to set aside part of your SSD as a cache, which is something we'll be testing in the near future.
Power supply: EVGA Supernova 850 P2 Platinum
High efficiency and enough power for future upgrades
Output: 850W | Efficiency: 80 Plus Platinum | Connectors: (1) 24-Pin ATX, (2) 8-Pin (4+4) EPS12V, (4) 8-Pin (6+2) PCIe, (2) 6-pin PCIe, (10) SATA, (4) Molex, (1) Floppy | Modular: Fully
Excellent efficiency
Can power any current system
Additional connectors for the future
It's not Titanium efficiency
When it comes to power supplies, EVGA's P2 series are a favorite of ours. They improve on the already impressive G2 line and sport 80 Plus Platinum efficiency, along with a fully modular design that keeps cable clutter to a minimum. EVGA also backs its premium power supplies with a 10-year warranty, and the PSUs run cool and quiet.
The 850W maximum load is plenty for this rig, and there's still plenty of room for a second GPU should the need arise. We usually like to leave 50-100W of headroom above the estimated maximum load of the system, and even with overclocking and a second 1080 Ti, this PSU will be sufficient.
About the only thing you're missing is Titanium efficiency, which the EVGA 850 T2 provides. That's $70 more for the final 1-2 percent gain in efficiency, which isn't really necessary.
Case: NZXT H440
A stylish case that's easy to use
Type: ATX mid-tower | Motherboard Compatibility: ATX, Micro-ATX, Mini-ITX | Drive Bays: (11) 3.5" internal, (8) 2.5" SSD | Front Ports: (2) USB 3.0, (2) USB 2.0, (1) Headset | Fan Options: Front: (2) 140mm or (3) 120mm (included), Top: (2) 140 or (3) 120mm, Rear: (1) 140/120mm (140mm included) | Max GPU Length: 294mm, 428mm without drive cage | Dimensions: 513x220x480mm (HxWxD) | Weight: 10.16kg
Great tool-less design
Clean aesthetic and good cooling
No support for optical drive (use USB)
We build a lot of systems, and we know what things we like and dislike when it comes to cases. Modularity is great, and good cable management with a separate PSU partition are almost required. Things we don't really like (other than for aesthetic purposes): small cases that are a pain to set up and run hotter.
NZXT's H440 is a continual favorite among system builders, with good reason. Not only does it look beautiful in an understated sort of way, but it's available in white or black, with several accent options. There's also a 'silent' option that includes sound dampening panels, but that does tend to increase temperatures a bit. Airflow is decent, and there are plenty of options for routing cables, storing SSDs, and more.
Cases are highly subjective, however, and our previous pick, the Cooler Master MasterCase 5, remains a great option that's geared toward tweaking and liquid cooling. If you're looking for something a bit flashier, or just want other ideas, check our best mid-tower and best full-tower case guides.
CPU cooler: NZXT Kraken X62 v2
Size: 280mm | Fan speed: 500-1,800rpm | Noise level: 21-38 dB(A) | Dimensions: 315x143x30mm | Socket support: LGA115x, LGA1366, LGA2011, LGA2066, FM1/2, AM2/3, AM4, TR4
Great cooling performance
Compatible with all major sockets
Not the quietest AIO cooler
Needs a larger case
NZXT's Kraken series of CPU coolers are an excellent choice for all-in-one closed-loop solutions. They're easy to install and work well. The Kraken X62 v2 includes a large 280mm radiator, which is more than enough for an overclocked i7-8700K (though you'll still probably want to delid that sucker for maximum OC potential). Just make sure your case can handle such a large cooler.
The X62 can be a bit of a squeeze on the H440, though it does fit. If you're looking for a bit more room, consider one of the alternate cases, and NZXT's Kraken X52 (240mm) or Kraken X42 (120mm) are also more compact. If you want other alternatives, Corsair's H80i v2, H100i v2, and H110i are equally viable. They tend to run a bit louder but don't cost quite as much.
Some online stores give us a small cut if you buy something through one of our links. Read our affiliate policy for more info.