Looking for a good Venti build? The tone-deaf bard is back for his third rerun in Genshin Impact 2.6 (opens in new tab), and even though it means we're not getting Kazuha (opens in new tab) and Klee (opens in new tab) until later on, it's still nice that players have another opportunity to grab the superpowered Anemo character.
More top Genshin Impact builds
Genshin Impact Yae Miko build (opens in new tab): Electro Kitsune
Genshin Impact Raiden Shogun build (opens in new tab): Archon of eternity
Genshin Impact Kokomi build (opens in new tab): High priestess
Genshin Impact Shenhe build (opens in new tab): Icy exorcist
Genshin Impact Yun Jin build (opens in new tab): Prestigious performer

Even though he was released all the way back in 2020, Venti is still extremely strong, and set the precedent for OP Archon characters like the reworked Zhongli and the powerhouse Raiden Shogun. Venti's strength lies in his vortex-like burst and its ability to create Swirl reactions, strengthening other elements.
Fighting with Venti is wonderfully simple. Just whack down his burst and throw every element you have in to create a glorious melding pot of destruction. It's one of the things that makes him a valuable addition no matter what kind of party you're running. In this Genshin Impact Venti build guide, I'll run through the top tier Swirl build, and some four-star alternatives if you don't see yourself hurling wishes into the weapon banner.
Builds
The best Genshin Impact Venti build
As with many Anemo characters, Venti is best utilised as a sub-DPS, using his burst and elemental skill to cause elemental absorption damage and Swirl reactions.
Swirl DPS
Weapon: Elegy for the End
This five-star bow is perfect for Venti since it boosts energy recharge as a substat, letting him use his burst more, and increases elemental mastery by 60 for stronger reactions. When the character's skill or burst lands, you gain a Sigil of Remembrance, stacking up to four. When you get the fourth, nearby party members gain a buff of 100 elemental mastery, and 20% attack for 12 seconds
As you'd imagine, this strengthens reaction damage for the whole party, meaning Venti can drop his burst, and all your other characters can add their elements to cause Swirl reactions and deal some hefty damage. A four-star alternative is the Stringless, which offers elemental mastery as a substat, and boosts skill and burst damage by 24%.
Artifact: (4) Viridescent Venerer
Two-pieces of Viridescent Venerer increase Anemo damage by 15%, strengthening both Venti's burst and skill damage. Four-pieces buff Swirl reaction damage by a whopping 60%, while also decreasing elemental resistance to the infused element by 40% for ten seconds.
For artifacts stats, you'll want to prioritise elemental mastery, energy recharge, and attack. Crit rate and crit damage are less important seeing as, similar to other elemental reactions, Swirl cannot crit and its damage is based on elemental mastery.
F2P build
Weapon: The Stringless or Favonius Warbow
If you're looking for less rare alternatives for Venti, either The Stringless or the Favonius Warbow are good weapon choices. The Stringless buffs elemental mastery and burst damage by 24%, making it perfect if you want to use Venti as a DPS. The Favonius Warbow is better if you're willing to sacrifice that extra burst damage for more energy recharge, since it grants energy particles whenever you crit. Be sure to build crit rate and crit damage with your artifacts if you use this one.
Artifact: (2) Viridescent Venerer (2) Noblesse Oblige
If you're not an avid artifact farmer, chances are you won't have a full five-star set of Viridescent Venerer. Still, you can throw a couple of pieces of Noblesse Oblige on Venti instead to get that 20% burst damage boost, while still retaining the 15% Anemo damage buff from the Viridescent Venerer.

It's certainly not as optimal, since Venti's burst strength lies in its ability to Swirl and absorb other elements, but it'll still provide a bit of a damage boost. For artifact stats, you'll want an Anemo damage bonus if you can have it, then elemental mastery, attack, and energy recharge. If you're going with the Favonius Warbow, energy recharge will matter less, but you'll want to build crits and damage potential to make up for using a primarily energy-recharge based weapon.
How to unlock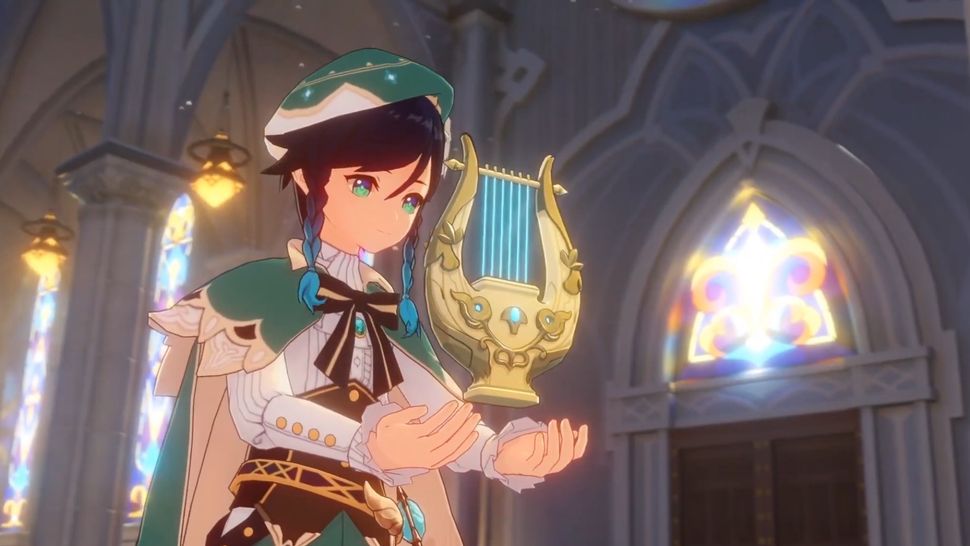 How to get Venti in Genshin Impact
As of Genshin Impact 2.6 (opens in new tab), Venti's "Ballad in Goblets" banner is back for a third time. You'll have three weeks in which to grab the green bard if you want him, before Ayaka takes his place for her rerun. The featured four-stars on the banner are Yun Jin, Sucrose, and Xiangling. Considering this is Venti's three rerun, chances are that after this he won't be back for quite a while.
Abilities
Venti's abilities
Here are Venti's abilities, Constellations, and passives:
Swipe to scroll horizontally
Normal attack: Divine Marksmanship

| | |
| --- | --- |
| Normal Attack: | Shoots up to six consecutive arrows. |
| Charged Attack: | A precise Aimed Shot with increased damage. A fully-charged shot deals Anemo damage. |
| Plunging Attack: | Fires off a shower of arrows from mid-air and strikes the ground dealing AoE damage. |
Swipe to scroll horizontally
Elemental skill: Skyward Sonnet

| | |
| --- | --- |
| Press: | Summons a Wind Domain at the enemy's location, dealing AoE Anemo damage and launching enemies up in the air. |
| Hold: | Summons an even larger Wind Domain with Venti as the epicenter, dealing AoE Anemo damage and launching affected enemies into the air. After unleashing this ability, Venti rides the wind current. |
Swipe to scroll horizontally
Elemental Burst

| | |
| --- | --- |
| Wind's Grand Ode: | Summons a huge Stormeye that sucks in object and enemies along its path, dealing continuous Anemo damage. |
| Elemental Absorption: | If the Stormeye comes into contact with any different element, it will also deal elemental damage of that type. Occurs once per use. |
Swipe to scroll horizontally
Passives

| | |
| --- | --- |
| Embrace of Winds: | Holding Skyward Sonnet creates a wind current that lasts for 20 seconds. |
| Stormeye: | Regenerates 15 Energy for Venti after Wind's Grand Ode ends. If an Elemental Absorption occurred, this also restores 15 Energy to all characters of the other element. |
| Windrider: | Decreases gliding stamina consumption of your characters in the party by 20%. Not stackable with talents with the same effect. |
Swipe to scroll horizontally
Constellations

| | |
| --- | --- |
| Splitting Gale: | Fires two additional arrows per aimed shot that deals 33% of the original arrow's damage. May hit and damage the same target in close range. Each arrow has its own critical rate. |
| Breeze of Reminiscence: | Skyward Sonnet decreases enemy Anemo Resistance by 12% for 10 seconds. Enemies launched up in the air suffer an additional 12% Anemo and Physical Resistance debuff. |
| Ode to Thousand Winds: | Increases the level of Wind's Grand Ode by three, up to a maximum of 15. |
| Hurricane of Freedom: | When picking an Elemental Orb or Particle, Venti receives a 25% Anemo damage bonus for 10 seconds. |
| Concerto dal Cielo: | Increases the level of Skyward Sonnet by three, up to a maximum of 15. |
| Storm of Defiance: | Targets who take damage from Wind's Grand Ode have their Anemo Resistance decreased by 20%. If an Elemental Absorption occurs, then their resistance towards the corresponding Element is also decreased by 20%. |
Ascension materials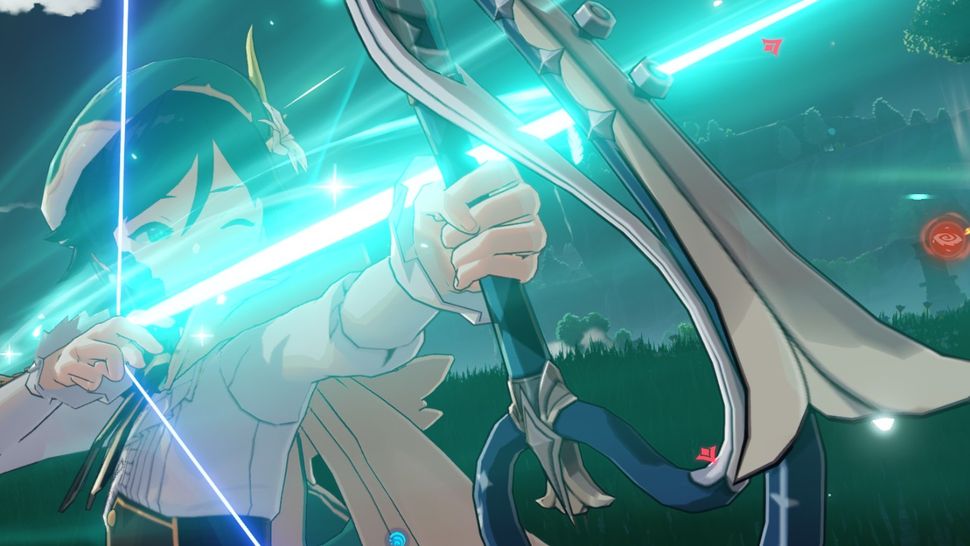 Venti Ascension materials
Character
You're going to need some Vayuda Turquoise in order to ascend Venti, and you're best off getting it from the Anemo Hypostasis boss in Mondstadt, since you also need the Hurricane Seeds you get from that fight. There are also a couple of world materials:
Cecilias are flowers that can be found on Starsnatch Cliff to the east of Mondstadt, though you can also buy five from Flora's flowershop in the city every couple of days. You can see their exact locations on the official Genshin Impact map (opens in new tab). If you've been playing Genshin for a little while, you should have plenty of Slime materials, since they are the game's most common enemy. If not, you can farm them at the Mondstadt Blossoms of Wealth and Wisdom while also earning some Mora or EXP materials.
Talent
Here's what you need to level Venti's talents:
Ballad books
Slime materials
Tail of Boreas
Crown of Insight
Teachings of Ballad and their higher rarity variants are a reward from the Forsaken Rift Domain on Wednesdays, Saturdays, and Sundays. Slime materials, as mentioned above, are potentially dropped by all slime enemies.
The Tail of Boreas is from the Wolf of the North boss in west Mondstadt, though it can be crafted from his other boss materials and Dream Solvent at the Alchemy Bench. Lastly, the Crown of Insight comes from levelling the Sacred Sakura in Inazuma, the Frostbearing Tree in Dragonspine, and from seasonal events like the Lantern Rite.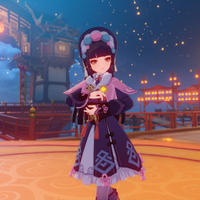 (opens in new tab)