The best FreeSync monitors are easy to find. FreeSync is readily available on many monitors today, and you'll find this screen-synchronising technology from AMD on budget panels all the way up to high-end mega-super-ultrawides. When you can free yourself from the scourge that is screen tearing, why wouldn't you want FreeSync on your monitor?
Perhaps you're waiting for a recommendation for which one to buy, actually. We've got you there. Below you'll find all the FreeSync monitors we've tested extensively and recommend heartily. These screens are usually G-Sync Compatible, too, so even if you're using an Nvidia GPU you will often reap the benefits. If you prefer a G-Sync monitor, we've also tested a whole bunch of the best G-Sync monitors, too.
We've run all the monitors on this list through the PC Gamer display assault course, which basically means playing a host of different games on them to test responsiveness and subjective image fidelity. But also running different image quality tests to check for ghosting, HDR artifacts, and any backlighting weirdness. Believe us, that weirdness happens a lot.
But that's how we know we can stand behind all the screens we recommend on this list, whether you're after a high-end 4K FreeSync screen, a budget option, or a lovely ultrawide.
Best FreeSync monitors
4K gaming is a premium endeavor. You need a colossal amount of rendering power to hit decent frame rates at such a high resolution. But if you're rocking a top-shelf graphics card, such as an RTX 4090 or RX 7900 XTX, then this dream can be a reality, at last.

The LG UltraGear was the first 4K, Nano IPS, gaming monitor with 1ms response times, and it will still properly show off your superpowered GPU. Coming in with Nvidia G-Sync and AMD's FreeSync adaptive refresh compatibility, this slick slim-bezel design even offers LG's Sphere Lighting 2.0 RGB visual theatrics.
And combined with the crazy-sharp detail that comes with the 4K pixel grid, that buttery smooth 144Hz is pretty special.
While it does suffer from a little characteristic IPS glow. It appears mostly at the screen extremities when you're spying on darker game scenes, but isn't an issue most of the time. The HDR is a little disappointing as, frankly, 16 edge-lit local dimming zones do not a true HDR panel make.
What is most impressive, however, is the Nano IPS tech that offers a wider color gamut and stellar viewing angles. And the color fidelity of the NanoIPS panel is outstanding.
The LG UltraGear 27GN950-B bags you a terrific panel with exquisite IPS image quality. Despite the lesser HDR capabilities, it also nets beautiful colors and contrast for your games too. G-Sync offers stable pictures and smoothness, and the speedy refresh rate and response times back this up too.
And while the lack of HDMI 2.1 and USB Type-C is a little limiting, especially looking forward, right now it's one of the best monitors going.
Read our full LG 27GN950 review.
Much like the mystical ways of the Force, PC gaming is all about balance. There's little point weighting your system too heavily in one direction without paying attention to the whole package. Why bother pairing your RTX 3080 Ti with a 60Hz 1080p screen? Likewise why spend big on a 4K monitor when you're only sporting a Radeon RX 6600?
The classic 27-inch Dell S2722DGM marries that screen real estate with a 2560 x 1440 native resolution, which gives you a great pixel pitch for fine detail. At 1440p it's also a decent resolution for getting high frame rates without the GPU demands of a 4K display. It's also capable of delivering that resolution at 165Hz, which is appreciated.
At 2ms grey-to-grey response, it's just a hair behind the 1ms and 0.5ms ratings of the best IPS panels, so you're covered when it comes to speed.
As for picture quality, the Dell S2722DGM is a reasonably punchy and vibrant monitor considering it's a pure SDR panel. The strong inherent contrast certainly helps with that, ensuring you don't feel short-changed running games like Cyberpunk 2077, which support HDR, in SDR mode.
We'd steer clear of MPRT mode, which hammers the panel's brightness and vibrancy. 'Extreme' mode, which is rated at 2ms, does suffer from a whiff of overshoot, but that's only just visible in-game, while 'Super fast' resolves the overshoot but allows just a little smearing of darker tones.
USB Type-C connectivity, for instance, doesn't feature. But the dual HDMI and single DisplayPort connections are just fine, even if the HDMI ports top out at 144Hz rather than 165Hz.
This VA panel also means it has a far higher contrast ratio, too, given the technology's inherent strong contrast. It's also a great price. Dell delivers high quality gaming panels, with all the features you need and few extraneous ones to bump up the price. And that makes it one of the best gaming monitors for most PC gamers today.
Read our full Dell S2722DGM review.
You can find 1080p screens for cheaper, but there are few genuinely affordable 1080p gaming monitors as good as this. It's especially a good fit for competitive gamers that don't want to break the bank.
In an age of megabucks GPUs, $200 seems like a pitiful amount of money for, well, almost anything. But BenQ is here to tell you it's enough for a pretty darn good gaming monitor, the BenQ Mobiuz EX240, to be precise.
On paper, this 24-inch panel ticks a lot of boxes for entry-level esports. It's a 1080p model—predictable enough—hits 165Hz, and offers IPS panel tech with 1ms response times.
BenQ rates the Mobiuz EX240 at 350 nits brightness and includes HDR10 support. There's no VESA certification or local dimming. So this isn't a remotely serious attempt at an HDR panel, but it will process an HDR signal correctly, which is something.
As for actual image quality, the first out-of-the-box impressions are good. This is a pretty vibrant, punchy panel. The viewing angles are good and the default color calibration betrays no real nasties. There is a little compression at the darker end of the color spectrum. But, generally, this monitor has been fairly well set up well.
Head in-game and the good news continues. BenQ claims 1ms response by the MPRT metric. In broad terms, MPRT response figures tend to be lower than grey-to-grey for a given monitor, putting this panel roughly in the 2ms region for GtG response.
And it feels very much good for 2ms. This is a snappy little panel. In subjective terms, it looks little different to the best 1ms GtG IPS monitors. Sure, you could tease out the differences with high speed photography, but in terms of actual gameplay, motion blur is kept to a thoroughly acceptable minimum.
All told, there's a lot to like here. Granted, this monitor has plenty of limitations. 1080p feels pretty stingy these days as native resolutions go, but on a smallish 24-inch monitor, the pixel density is tolerable and the main benefit is that you don't need to be running a cryptocurrency Ponzi scheme to pay for this monitor.
That you can have a decent IPS gaming panel running at 165Hz with good pixel response, reasonable overall calibration, generally punchy and pleasing image quality, and nice low latency, all stuffed into a good looking chassis, for just $200 is a blessed relief here in inflationary 2023. For that we can only thank BenQ. Nice job.
Read our full BenQ Mobiuz EX240 review.
It may have once been a niche, but 240Hz gaming has become more widespread, and Alienware has set itself ahead of the pack with the gorgeous AW2521HF gaming monitor. While not the cheapest on the market, it has the style and performance to make you want it on your desk.
Here we have a G-Sync compatible FreeSync monitor that really makes for a smooth, stutter-free gaming experience on either Nvidia GeForce or AMD GPUs. Alongside that immense 240Hz refresh rate, the AW2521HF comes packing a lightning-fast 1ms gray-to-gray response time. In games like Valorant and Destiny 2, it chugs along with little to no ghosting or artifacts.
This ones viewing angles are a little iffy with certain colors, but otherwise, there's a strong, balanced color consistency. Rich, natural colors come out not too oversaturated in-game. The static contrast leaves a little to be desired, with blacks not the darkest of the lot, and there's a noticeable IPS bloom toward the bottom and left, depending on the viewing angle.
It's nice and bright, however, and if you work or game in a bright room, the Alienware 25 handles even the most obnoxious glares. More importantly, the AW252HF has some impressive viewing angles regardless if you have it set in the middle of your desk for gaming or off to the side as a second monitor in portrait mode while you work.
Our only real complaints are the lack of HDR support, along with a lack of contrast, but it remains one of the best gaming monitors.
Does less than $400 buy you a premium gaming panel? That kind of money barely touches the sides when it comes to graphics cards these days. But the new ASRock Phantom PG34WQ15R2B gives you a 34-inch ultrawide experience, with 165Hz refresh, 1ms response and even HDR support, all for just under $370.
What more do you really need? The catch, of course, it that mere specifications rarely tell the whole story with gaming monitors. We've seen several $2,000 screens with outrageous on-paper capabilities recently that thoroughly disappointed. What are the odds that ASRock has delivered at well under $400?
Beyond those headline figures, the PG34WQ15R2B certainly is promising. Predictably, it's based on VA rather than IPS panel tech given the appealing pricing. That typically means compromising on pixel response performance, but not necessarily by a huge amount.
Brightness is rated at a punch 550 nits, which is impressive at this price point, and you get DisplayHDR 400 certification, which is entry level stuff but better than nothing. Given the punchy backlight and the fact that the VA panel offers 3,000:1 native contrast, it actually all bodes pretty well for a half decent entry-level HDR experience.
What about response? ASRock claims 1ms MPRT, but VA panel tech generally lags behind the best IPS panels. Unfortunately, the ASRock's fast MPRT mode crushes brightness so badly, it's hard to imagine anyone actually using it.
As good as the best 1ms GtG IPS screens? Not quite, but at this price point, the response is good enough. The same goes for the 165Hz refresh and overall input latency. If extreme esports are your thing, you'll be better off with a higher refresh 1080p panel. But For everyone else, the PG34WQ15R2B is going to be quick enough, it really is.
So, yeah, this really is a surprisingly nice screen for the money. 34-inch ultrawide remains a form factor for immersive gaming, and here you get a nice, contrasty VA panel, plenty of backlight punch provided you run the screen in HDR mode (in which setting SDR content in any case looks better), reasonable pixel response and high enough refresh for most gamer's purposes.
That you can have all that for $370 really is fantastic. That this is ASRock's first stab at a gaming screen is even more impressive.
Read our full ASRock Phantom PG34WQ15R2B review.
Screen queens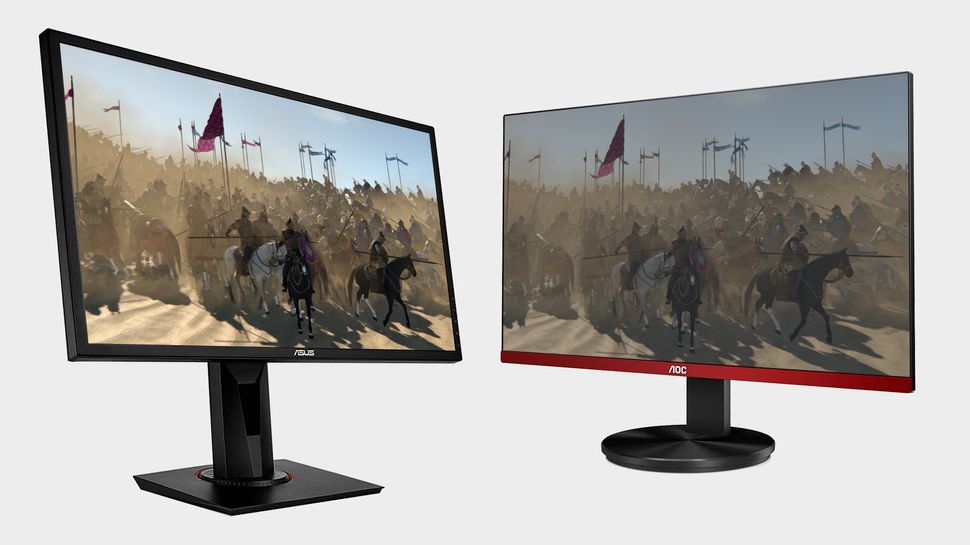 Best gaming monitor: pixel-perfect panels for your PC
Best high refresh rate monitor: screaming quick screens
Best 4K monitor for gaming: when only high-res will do
Best 4K TV for gaming: big-screen 4K PC gaming
We're finally in an era of gaming where an affordable 4K monitor and a fast 4K monitor are one and the same. You could still buy a lower resolution panel for a whole lot less, and there are less desirable 4K panels out there, but as the Gigabyte M32UC proves you can get a whole lot of screen for what feels like a fair price.
You can find this monitor going for as low as $600, which is an awfully competitive price tag for a speedy 4K gaming monitor at this size. Gigabyte has figured out a heady blend of features for that sort of money too, with two HDMI 2.1 ports, 1ms MPRT, FreeSync Premium Pro, and even a USB 3.2 hub.
The M32UC runs at a perfectly reasonable 144Hz out of the box—and you'll need a powerful graphics card to make the most of that at 4K. However, if you hook this monitor up via DisplayPort 1.4 you can also overclock the panel via the OSD. That bumps the refresh rate up to 160Hz, and while that's probably excessive for most, if you're going big with the rest of your rig (or plan to pick up a powerful next-gen GPU sometime in the future) then it's a decent option to have at the ready.
But something to consider with the M32UC's blend of resolution and refresh rate is that even a high-end GPU won't always make the most of it. That's what makes the M32UC's FreeSync capabilities so crucially important. Keeping this panel in sync with your graphics card when it's under the max refresh rate of the screen, as it is likely going to be at times, prevents a whole lot of screen tearing.
It should come as no surprise that the 32-inch panel running at 4K results in a stunningly crisp image while gaming. I've been playing arguably too much Destiny 2 right now and the M32UC is a stunning way to experience the game. Fine details are well preserved and this panel doesn't struggle with saturation, which makes for a luscious and vibrant image.
The M32U also offers a DisplayHDR 400 rating on the box, though I wouldn't consider it for its HDR capabilities. It's lacking much of what's required of a true HDR monitor, such as a higher brightness and local dimming. You also have to look past what is otherwise a fairly bland outer shell on the Gigabyte.
In terms of value for money, Gigabyte has hit the nail on the head with the M32UC. If you look around for competition with similar specs at around the same price, you'll often only find other Gigabyte models coming close, including a handful of often discounted Aorus models. That makes the M32UC a great choice if you're planning ahead for a next-gen 4K-capable gaming PC or if you already have a high-end GPU but are not yet making the most of it.
Read our full Gigabyte M32UC review.
---
Best FreeSync gaming monitor FAQ
Should I go for a FreeSync or G-Sync monitor?
In general, FreeSync monitors will be cheaper. It used to be the case that they would only work in combination with an AMD GPU, however. That's not great for widespread appeal as, despite AMD's best efforts, Nvidia still commands the largest market share. The same went for G-Sync monitors and Nvidia GPUs, though these tend to cost a little more with a genuine G-Sync module within each screen.
Nowadays, though, Nvidia has loosened up its frame-synching compatibility on its graphics cards, and it is possible to find G-Sync compatible FreeSync monitors, if you're intent on spending less. Many FreeSync monitors work with Nvidia GPUs today, even many not officially signed off as G-Sync Compatible'. You do want to double check this before purchasing, however.
What is the difference between FreeSync and FreeSync Premium?
The FreeSync standard is split into three grades: FreeSync, FreeSync Premium, and FreeSync Premium Pro. Basic FreeSync nets you the standard variable refresh rate. It's smoother than standard gaming, but that's about it. Premium ups this with the requirement for 120Hz at FHD, as well as support for low framerate compensation. The top tier is FreeSync Premium Pro, which delivers everything Premium does while also offering HDR support.
Jargon buster - gaming monitor terminology
Refresh Rate (Hz)
The speed at which the screen refreshes. For example, 144Hz means the display refreshes 144 times a second. The higher the number, the smoother the screen will appear when you play games.
V-Sync
Graphics tech synchronizes a game's framerate with your monitor's refresh rate to help prevent screen tearing by syncing your GPU frame rate to the display's maximum refresh rate. Turn V-Sync on in your games for a smoother experience, but you'll lose information, so turn it off for fast-paced shooters (and live with the tearing). Useful if you have an older model display that can't keep up with a new GPU.

G-Sync
Nvidia's frame synching tech that works with Nvidia GPUs. It basically allows the monitor to sync up with the GPU. It does by showing a new frame as soon as the GPU has one ready.
FreeSync
AMD's take on frame synching uses a similar technique as G-Sync, with the biggest difference being that it uses DisplayPort's Adaptive-Sync technology which doesn't cost monitor manufacturers anything.
Ghosting
When movement on your display leaves behind a trail of pixels when watching a movie or playing a game, this is often a result of a monitor having slow response times.
Response Time
The amount of time it takes a pixel to transition to a new color and back. Often referenced as G2G or Grey-to-Grey. Slow response times can lead to ghosting. A suitable range for a gaming monitor is between 1-4 milliseconds.
TN Panels
Twisted-nematic is the most common (and cheapest) gaming panel. TN panels tend to have poorer viewing angles and color reproduction but have higher refresh rates and response times.
IPS
In-plane switching, panels offer the best contrast and color despite having weaker blacks. IPS panels tend to be more expensive and have higher response times.
VA
Vertical Alignment panels provide good viewing angles and have better contrast than even IPS but are still slower than TN panels. They are often a compromise between a TN and IPS panel.
HDR
High Dynamic Range. HDR provides a wider color range than normal SDR panels and offers increased brightness. The result is more vivid colors, deeper blacks, and a brighter picture.
Peak Brightness
This refers to the maximum brightness of a monitor or television and is measured in nits.
Ultrawide
Shorthand for monitors with aspect wider aspect ratios like 32:9 or 21:9
Resolution
The number of pixels that make up a monitor's display, measured by height and width. For example: 1920 x 1080 (aka 1080p), 2560 x 1440 (2K), and 3840 x 2160 (4K).