In my opinion, gaming monitors should be either QD-OLED or Mini LED. They both give immense color, contrast, and HDR performance, which is way more important to me than some ridiculous 500Hz refresh rate. Both have their pros and cons, with OLED being better for contrast and response while Mini LED is brighter but with more blooming. But after checking out the Acer Predator X32 FP Mini LED, I've been seriously leaning toward the latter.
The Predator X32 FP comes with a crisp 4K resolution, tons of ports, and HDR 1,000 with 576 local dimming zones. That's pretty impressive for a 32-inch screen, though it's still about half the number found in the Samsung Odyssey Neo G8. Though both monitors cost the same eye-watering $1,500 / £1,390. That's a lot of dough.
I noticed more blooming on the X32 FP than on the G8—when a bright object is on a dark background it creates a distracting glow or fog around it. It happens a lot in dark mode with the X32, where the cursor casts a slight glow, and you'll notice those dimming zones turning on and off as you move. It's not enough to make it a problem, and most of the time in gaming I didn't notice it too much.
So what makes this Acer monitor worth the same price as the Neo G8? Certainly, picture quality has something to do with it. Its Agile Splendour IPS panel has all sorts of safeguards for your eyes but manages to maintain a 99% Adobe RGB, 10-bit Wide Color gamut with a Delta E<1. As a content creator and designer, I can appreciate the benefit of a monitor that I can also use for professional work but also get lost in the glorious world of Elden Ring.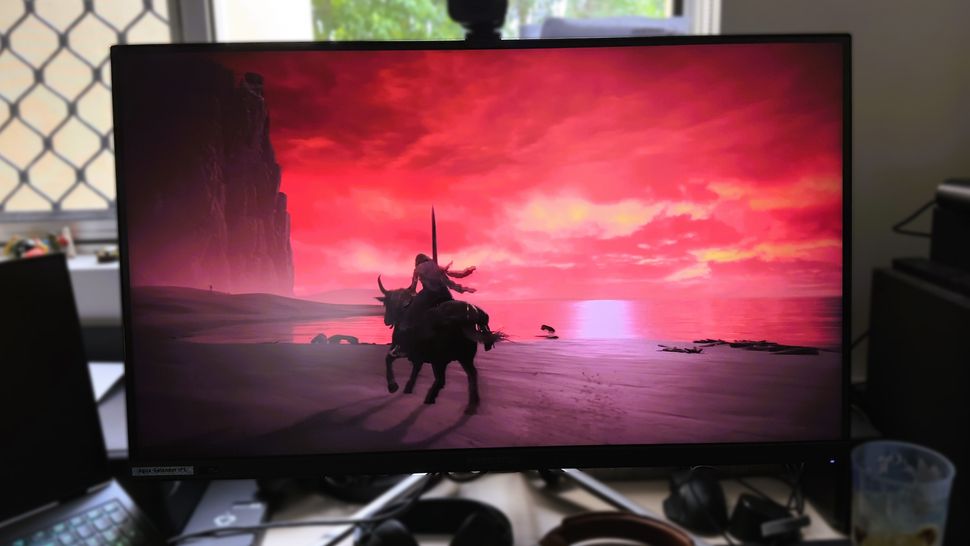 Acer Predator X32 FP specification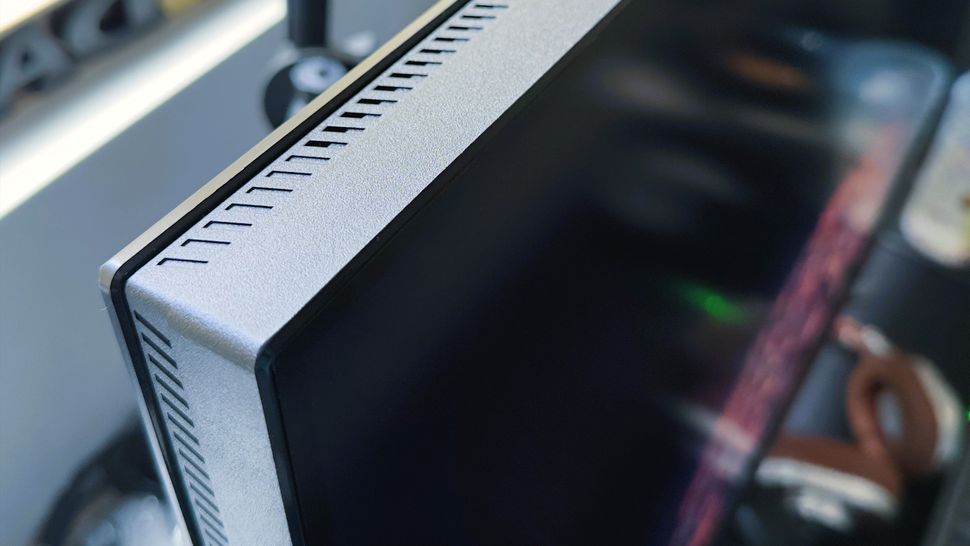 Screen size: 32-inch
Resolution: 3840 x 2160
FALD: 576-zone mini LED local dimming
Brightness: 1,000 nits peak HDR
Response time: 0.7ms
Refresh rate: 160Hz
Viewing angle: 178° H&V
Speakers: 2x 7W
Contrast ratio: 1,000:1
Features: 4x HDMI 2.1, 1x DisplayPort 1.4, 1x Type-C (PD 90W), 5x USB Type-A, Audio out
Price: $1,500 | £1,390
While HDR is often unusable on most monitors when just in the Windows desktop environment—colors get washed out, white pages are just too bright to look at, and reading text becomes very strenuous—that doesn't happen so much with the X32. In fact, I love the X32 FP's HDR mode. It's really where this monitor excels.
With a peak brightness of 1,200 nits, the X32 FP boasts the coveted VESA DisplayHDR 1000 certification and is definitely one of the best HDR gaming monitors I've ever experienced.
I've been playing a ton of Atomic Heart and Wo Long, both of which are stunning showpieces with super bright outdoors and dark, dingy interiors. The X32 delivers a gorgeous view all around with excellent detail in the dark areas and sufficiently bright highlights.
As if that wasn't enough, it does all of this in a pin-sharp 3840 x 2160 resolution, smooth, 0.7ms GtG response, and a 160Hz refresh rate. Again, that's not as fast as the Neo G8's 240Hz, but more than what most of us non-esports pros require.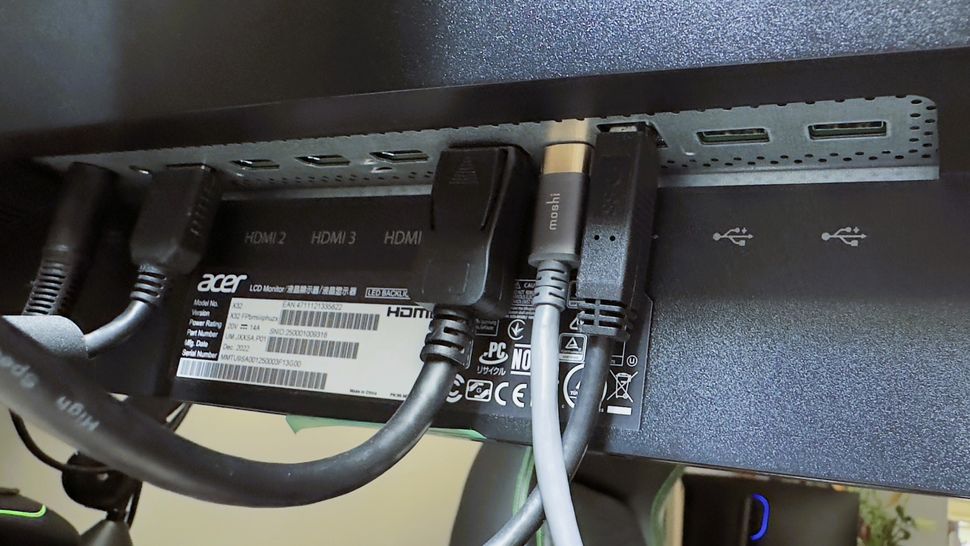 The X32 supports AMD FreeSync Premium Pro, but I had no problems running it with my RTX 3080 even though it didn't recognize the monitor as G-Sync Compatible. Plus, the monitor supports VRR which, combined with its four HDMI 2.1 ports, makes it great for PlayStation 5 and Xbox Series X|S owners. For Steam Deck owners, too, the USB Type-C downstream delivers 90W so you can charge up your Deck easily.
Speaking of ports, the X32 makes my heart sing with the richness of ports it provides. On top of those HDMI 2.1 ports, you get DisplayPort 1.4 and 90W PD USB Type-C video input, which is great for single cable laptop setups. Even better are the four USB 3.0 ports; two of which are located on the left side of the monitor for easy access.
The X32 includes a KVM switch that brings all of these ports together. This allows you to use any peripherals attached to the X32 and swap between connected PCs. It is particularly useful for people who have a gaming PC and a work laptop. Both PCs must be connected via USB Type-C and Type-B ports for this to work, and the monitor can automatically switch between them. A nice addition, but a pretty niche use case.
In terms of physical design, there's really not much to say. Acer stuck with the decades-old Predator aesthetic. You're spending most of your time looking at the screen and not at its body, anyway. The stand has a pretty deep stance thanks to its two metal feet, which is appreciated. It's very solid, and wobble isn't an issue. You can adjust the height, swivel, and tilt with smooth motion, too. No rotation here, however.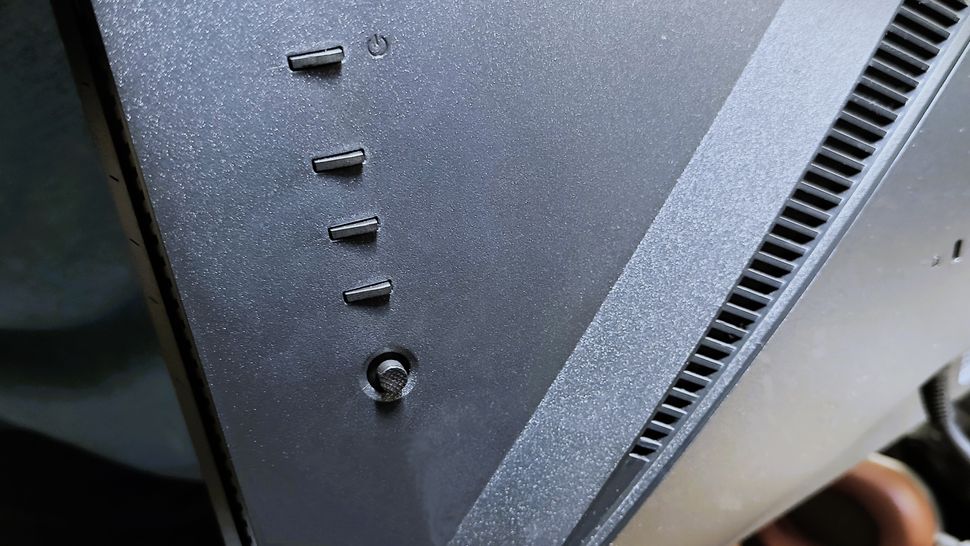 The main OSD is your standard gaming affair with a column of buttons and a joystick on the back of the monitor. You get six-axis color controls and a host of preset color modes, though I was happy to just leave it in the default HDR mode.
The Acer Predator X32 FP is easily one of my favorite Mini LED gaming monitors, and I highly recommend it if you're pro team Mini LED. However, the asking price of $1,500 / £1,390 is steep.
Right now you can get the best gaming monitor, the Philips Evnia 34M2C8600, for $200 less. When you consider this OLED monitor it hits all the above points and how shockingly well it handles HDR it's hard to recommend a monitor that's two inches smaller, with a slower response and lower refresh rate, for more cash.
That doesn't change the fact the X32 FP is a sterling monitor, just that you maybe want to wait for a deep discount.