Building PCs for gaming can get expensive. It's easy to put together a cart or two that quickly swells to two or three thousand dollars. Can everyone afford such a machine? No. Some—actually, many—people have stricter budgets and bills to pay. But that doesn't mean you can't build a PC you can be proud of. If you're prudent about part choices, you can still build an impressive PC that will run today's games great and upgrade well in the future.
PC build guides
The best cheap gaming PC (<$500/£500) - Our alternative to buying a console.
The best budget gaming PC (~$750/£750) - A good entry-level system.
The best gaming PC (~$1,250/£1,250) - Our recommended midrange build for most gamers.
The best high-end gaming PC (~$2,000/£2,000) - Everything a gamer could want.
The best extreme gaming PC (>$3,000/£3,000) - You won the lotto and are going all-in on gaming.
Building a budget gaming rig often poses more challenges than one with a budget of $1,500 or more. Budget builds can be easier to assemble, but picking parts can be a bit of a nightmare when you're trying to stretch every dollar as far as it will go. This guide is here to give you a bit of insight if you're looking for a rig that won't break the bank.
This build is designed with an $800 price point in mind, cutting out extras such as an optical drive or a large HDD. It basically skimps on superfluous components, like the case, storage, and even CPU, instead putting almost all of the budget into the graphics card. Having said that, this build offers a nice backbone for a system that will upgrade well in the future—the CPU should be your first stop down that path. (If you think $800 is too expensive for a "budget" build, we suggest you check out our "cheap" gaming PC build which aims for a ~$500 price point.)
Performance-wise, you should expect this build to run games very well at 1080p and 1440p, but only decently in 4K. What it won't be great at is CPU-heavy tasks, such as video editing, live streaming, and CPU-intensive games like Ashes of the Singularity and Civilization VI, but that should be expected given the price point and ultra-budget CPU.
The price point also doesn't account for the operating system or any peripherals. Check out our buying guides on the best mouse, keyboard, and gaming monitor for our favorite picks to pair with your new rig.
Components
We based this build on prices we could find at the time we updated this article, but prices do change. You will find current prices for the parts in the above table, including prices for non-US locations.
CPU: Intel Pentium G4560
It was tough to choose this CPU, it really was. But after long deliberations and fretting over cores, cache, Hyper-Threading, and clock speeds, the determining factor that slapped me in the face was price.
We haven't seen a Hyper-Threaded Pentium since the venerable Pentium 4 and Pentium D back in the mid-'00s. Much has changed in the last ten years, but the extreme budget pricing on the Pentium G4560—it retails for $65, including an Intel heatsink and fan—makes this potentially the most interesting budget CPU Intel has released in years.
To be clear, the G4560 is a low-end, budget CPU, but in our testing it only slightly bottlenecks the GTX 1070 GPU we're using in this build. One of the main reasons we opted for this CPU is there isn't really a good step up from it, at least not without stepping up considerably. The first step up is to the Core i3-7100, which for an additional $60 offers only minor improvements when it comes to gaming. The next step after that is the i3-7350K, which would require an unlocked motherboard for overclocking, or the i5-7400, which is definitely an upgrade but also costs a lot more.
In our case, think of the G4560 as a stopover CPU. At $65, it lets us pour all of our budget into the graphics card. This means you'll be able to game well at 1080p and 1440p, but you won't be able to perform CPU-intensive tasks like livestreaming or video editing. Then when you're ready to upgrade, you can easily swap the G4560 out for a Core i5-7500 or similar, and not feel too bad about eating the cost along the way. Or you can just upgrade right now, but be warned that the cheapest Core i5 or Ryzen 5 part will cost over $100 more than the G4560.
GPU: Nvidia GeForce GTX 1070
This budget build has been through a number of GPUs over its lifetime, but until Nvidia or AMD unveils their next generation of pixel-pushers, this will probably be the last.
Thanks to prices dropping for a number of our components, we've built this rig around the powerful GeForce GTX 1070. At launch, this card cost $450 or more, and it was a good value then. Prices have since dropped down to $400 and lower, sometimes as low as $300 on sale. At that price point, the GTX 1070 is an absolute incredible value, and the clear choice here. Note that cryptocurrency mining fever has pushed most GPU prices higher right now, so be patient or shop around.
The GTX 1070 is capable of holding framerates well above 100fps at 1080p in most games, and performs well at 1440p too. Across our fifteen game average, it scored an average of 111fps at 1080p ultra, and 77fps at 1440p. It's worth noting those scores are also several months out of date, and should be a fair bit higher now that games have been optimized and new drivers released.
The one thing to note is that our chosen CPU will bottleneck the GTX 1070 a little bit, but not so much that it would justify changing our configuration to, say, a Core i3-7100 + GTX 1060. The G4560 + GTX 1070 we're opting for here will perform excellently, and even better if and when you decide to upgrade your CPU. Note also that at 1440p, the GPU becomes more of a factor than the CPU, so if you're into higher res gaming you'll want to balance more resources to the graphics card.
Motherboard: ASRock B250M Pro4
Much like most of the components in this build, the ASRock B250M Pro4 is a budget-minded motherboard. Having said that, it brings a lot to the party, offering dual M.2 slots, four DIMMs, and a USB 3.0 type-C port, all on an mATX form factor.
The M.2 slot means you can opt for either the 2.5" SATA or M.2 option for our chosen SSD, and with four DIMMs you can upgrade from two to four 8GB DDR4 sticks if you want a little extra RAM in the future. It also comes with Intel I219-V LAN for Gigabit Ethernet.
Of course, the board is not without drawbacks. Outside of doubling the number of RAM sticks, upgrade potential is limited by the mATX form factor and, more importantly, the B250 chipset's meager 12 lane PCIe 3.0 I/O potential. There's also no overclocking of your processor or RAM. Our main upgrade path for this PC is through the CPU, so when you eventually do swap out the G4560, you shouldn't bother with an unlocked processor. Stick to a nice mid-range CPU like the Core i5-7600, or maybe an i7-7700.
Memory: 16GB DDR4 RAM (2x8GB)
There's no shortage of options when you're shopping for memory, especially when you're looking at the cheap kits. For this build we're opting for 16GB of DDR4 RAM, which is enough for any game out today and likely the next several years. If you really feel the need for more, our mobo has four DIMM slots so it'll be easy to drop in an additional 2x8GB kit.
We're not actually going to recommend a specific brand or frequency of RAM, as prices fluctuate daily. Memory in this frequency bracket—and several rungs higher—is highly commoditized, so the buying advice is basically to find a reputable brand and find the capacity and speed you're looking for. If two competing kits look similar in price, capacity, and speed, check the timings. Finally, choose a kit that matches the aesthetic you want in your case. (That sometimes means paying a little extra for a different color, though.)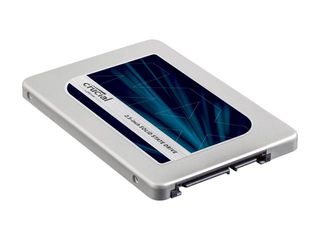 SSD: Crucial MX300 275GB
Storage is a tough thing to recommend, as the amount people think they need is very subjective. But no matter how much storage you need, using an SSD for your boot drive is essential. The speed difference between SSD and HDD when starting up your system is massive, and with current prices even a moderate SSD has room for a few games, which will also load faster.
Crucial's MX300 SSD isn't the absolute fastest SSD available, especially compared to higher-end M.2 options. But what it lacks in speed it makes up for in price and capacity. For around $100, this 275GB SSD is cheap enough to fit our budget while providing enough storage to serve as a solo primary drive for our build. (It's also our top pick for best budget SSD.) Sure, you won't be able to keep a massive game library loaded at once, but it's enough for a handful of games on top of your OS.
If 275GB isn't enough for you, you can jump up to a 525GB model for around double the price, or pair it with a Western Digital Black 1TB HDD for roughly the same price increase.
The MX300 is also available in an M.2 form factor around the same price point—which our motherboard supports. While it doesn't offer a performance increase (this is a SATA M.2 drive and not PCIe based), the compact form factor of M.2 means less cables to deal with—something especially nice considering the MicroATX case we're building inside.
Power supply: EVGA 450W 80+ Bronze PSU
Like memory, most power supplies from major vendors tend to be of high quality, and I don't recommend skimping on PSU quality. This semi-modular EVGA 450W is 80+ Bronze certified and comes with a 3-year warranty.
Unless I'm building in a really, really tight case, I generally recommend going with a semi- or fully-modular power supply. With detachable cables, you can ensure that you only use the cables you need. (I rarely end up using the Molex connectors, for example). You can keep the spares tucked away for future upgrades, or replace a cable if it becomes damaged. This can greatly improve airflow and will aid in cable management.
Case: Fractal Design Core 1100
This build guide has long used a mini-ITX case, but we've finally decided to swap it out for the Fractal Design Core 1100. It's a micro-ATX mini tower that gives you a bit more room to build in, as well as opens up our motherboard options to cheaper mATX boards.
Fractal Design is one of our favorite case manufacturers, and the Core 1100 is a great case for this budget build. It has 1x USB 3.0, 1x USB 2.0, and audio ports on the front, and has room for two 3.5 inch HDDs or three 2.5 inch drives. It also comes with a 1200 RPM Fractal Design 120mm fan, as well as dust filters on the front panel and sealable panels on the top and bottom.
The case measures 14.09 x 6.89 x 16.14 inches, and weighs 8.38 pounds.
___________________________________________________________________________________
A note on affiliates: some of our stories, like this one, include affiliate links to stores like Amazon. These online stores share a small amount of revenue with us if you buy something through one of these links, which helps support our work evaluating PC components.