2019 will bring us a whole host of new PC games, and maybe even a new you. Will you pick up and play a new MMO or 4X game this year? Might there finally be a battle royale mode that captures your imagination? Will Cyberpunk 2077 somehow come out? Anything could happen in 2019, but you can be certain there will be a ton of new games, and you'll find them in this list.
We've organized our massive guide to upcoming 2019 PC games by the month they're scheduled to release. For the games that don't have a release date yet (and there's a ton of them), check out the TBA page. We'll be updating this front page with the current month's releases and the biggest, most anticipated new games of 2019, so make sure to check back often.
March
April
May
June
July
August
September
October
November
December
TBA
New games out in February 2019
Wargroove
February 1 | Chucklefish | Steam | Tactics
It's been a good year or two for tactics games, but Wargroove clearly wants to bank off nostalgia for Advance Wars, complete with "splitscreen" battles. Plus, dogs in shiny knights armor.
Ace Combat 7: Skies Unknown
February 1 | Bandai Namco | Link | Action
One of the only Ace Combat games to actually make its way to PC, this arcadey aerial combat sim has enough control options to be accessible to those of us who can barely fly Spirit without trouble.
Fear the Wolves
February 6 | Vostok Games | Link | Battle Royale FPS
Some folks from the Stalker team decided the nuclear Soviet apocalypse needed its own battle royale mode, but with a few extra furry friends on the field. "Fear the Wolves" ain't just a title, as you'll need to be on the lookout for roaming packs of the lupine lurkers. The launch update added a bunch of features, like the ability to kill a matriarch wolf, take her heart, and use it to make friends with other wolves who will fight for you. Take that, Metro.
Civilization 6: Gathering Storm
February 14 | Firaxis Games | Link | Turn-based strategy
Civ 6's second expansion adds eight new civs, nine new leaders, seven new wonders and environmental effects that shape the course of a game, like climate change and droughts.
Degrees of Separation
February 14 | Modus Games | Link | Co-op puzzle platformer
Chris Avellone went and wrote himself a platformer instead of an RPG once. Appropriate that it comes out on Valentine's too, as it features two lovestruck protagonists (one whose world is warm, the other icy) and who share a screen while trying to get to each other. Check out our interview with Avellone.
The Occupation
February 5 | White Paper Games | Link | Adventure
A mix of investigative journalism, immersive sim storytelling, and shady government intrigue, The Occupation pits you as a reporter searching for the truth behind a deadly explosion. It's the kind of cold, moody thriller that makes All the President's Men or The Manchurian Candidate classics. We dug the developer's last game, Ether One.
God Eater 3
February 8 | Bandai Namco | Link | Action
Sometimes a sandwich is all you need to fill you up, but other times your hunger is so great that it can only be sated by munching on a deity. Unfortunately, God Eater 3 is not the third entry in a series of divine cooking games, but rather an action RPG where you're part of a team of monster-slayers in possession of extra-fancy, monster-killing weapons. These monsters, the Aragami, are taking over the world, changing and corrupting it, so they probably need a stern talking-to.
Trials Rising
February 12 | Ubisoft | Link | Arcade racing
The Trials brand of infuriating dirt bike acrobatics is back, but now you can get a buddy in on the rage with local co-op. On a bicycle built for two from hell, both players will have to coordinate acceleration and flipping to make sure they don't end up with 412 broken bones between you. Chris calls it "a hell of a lot of fun."
Jump Force
February 14 | Spike Chunsoft | Link | Fighting
There's more than a handful of people who wish they could beat up Naruto, and the only way to sweeten that deal is if you do it while playing as Frieza. Determine your supreme anime canon by tossing characters like Goku, One Piece's Monkey D. Luffy and Zoro, Bleach's Ichigo, and more into Times Square for proper fistfighting. You'll make a group of three and ape some moves from Dragon Ball FighterZ, with each button linking itself to an auto-combo.
Far Cry: New Dawn
February 15 | Ubisoft | Link | FPS
Rage 2 would like a word with you, Far Cry. Hope County went up in nuclear flames 17 years ago, so it's up to a new band of freedom fighters to battle against roving road warriors led by twin sisters. Base-building, weapon-building, and the chance to visit areas of the American wasteland outside Montana round the new features out.
Crackdown 3
February 15 | Reagent Games, Sumo Digital, Cloudgine | Link | Action
The third (Fourth? Fifth?) time is the charm, and quite frankly they have to release it this time, right? The super cop power fantasy missed its release window by 15 months last time, so fingers crossed.
Metro Exodus
February 15 | 4A Games | Link | FPS
Lions, and tigers, and irradiated bears, oh my. Okay, well, just irradiated bears, plus murderously religious cultists and other freakish outcasts as our dear Artyom ditches the subway for the open railroad. Expect some considerably bigger and more open-ended environments to scrounge and scrap through.
Anthem
February 22 (Feb 15 w/ Origin Access Premiere) | BioWare | Link | Shooter/RPG
Similarities to Destiny aside, the multiplayer-focused Anthem promises the chance to soar through the skies (and underwater) on rocket boots, battle giant monsters, and contend with dangerous weather effects like "shaver storms." Let's just hope these "freelancers" remember to do their 1099s.
Dirt Rally 2.0
February 25 | Codemasters | Steam | Racing
Dirt Rally is basically the best video game incarnation of the sport you'll ever find, especially if you're playing the intense-as-hell VR version. The 2.0 version is bringing new tracks, a create-a-team mode, and new environment types for you to absolutely botch a run in. Don't hold your breath for a new VR version, though.
Ape Out
February 28 | Gabe Cuzzillo | Link | Action/puzzle
I physically cannot believe Ape Out is actually almost here. It's been a staple of indie booths for about four years now, and for good reason. As the titular ape, you'll punch and throw your way to freedom past dozens of gun and flamethrower-wielding guards. It's all set to a snappy jazz soundtrack that makes every bone-crunching, blood-splattering attack feel that much more primal.
2019's biggest new PC games
Doom Eternal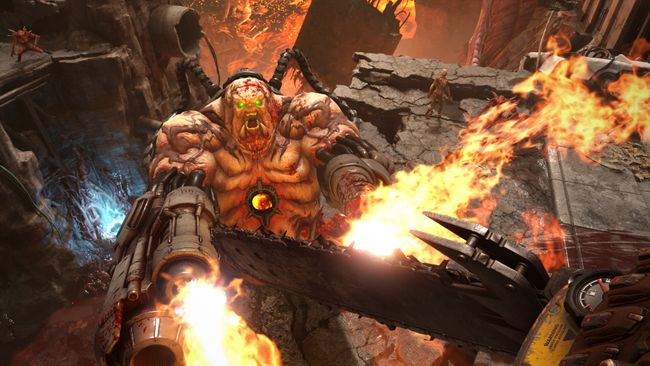 TBA | id Software | Link | FPS
Doom Eternal brings hell to Earth, a nice change of setting from 2016's excellent reboot. Expect to fight twice as many demons in this instalment, using a brutal upgraded armoury. This includes a new version of the Super Shotgun, which features a grapple-friendly 'meat hook' on the end, and hopefully a ton more ludicrous weapon mods.
Dying Light 2
TBA | Techland | Link | Open world
Dying Light 2 brings big choices to the open world zombie series. With writer Chris Avellone helping in the system's creation, your decisions will shape what happens to the city around you. Liberate a water tower, for example, and you can hand it over to authoritarian rulers so everyone can drink from it—they'll even repair the area around it, too, making it easier to navigate. You can also choose to hand it to shadier characters, who'll sell access to the water but give you a cut. Expect to see a lot more of how these decisions affect this ambitious game across 2019.
The Division 2
March 15 | Ubisoft | Link | Shooter
Eight-player raids come to The Division 2, as well as a big change in setting, taking the apocalyptic Tom Clancy game to Washington DC. The real sweetener, though, is the free DLC will follow release every three months for a year, so you'll have a reason to keep coming back to this third-person online game.
Sekiro: Shadows Die Twice
March 22 | From Software | Link | Action Adventure
Every From Software game feels like an event, now, and Sekiro's changes to the Souls formula take it more into action game territory. James called it "more Hotline Miami than Dark Souls", which potentially opens it up to a different audience—there'll be no souls, or stats, or armour and weapons to change up. Think more cinematic sword duels than trying to whittle down a health bar. You'll also have a grappling hook in tow, on top of other neat toys.
Total War: Three Kingdoms
May 23 | Creative Assembly | Link | Strategy
The next Total War takes us somewhere we've never been before in the series: ancient China, during the Three Kingdoms era after the dissolution of the Han dynasty. This entry promises to focus in on the heroes of the era, letting you pick a character from a selection of 11 rather than a faction, and brings matching new systems to the long-running strategy series.
The Outer Worlds
2019 | Obsidian Entertainment | Link | RPG
With original Fallout designers on-board, The Outer Worlds looks like a cross between Fallout and Firefly, taking us to a funny and bright-looking sci-fi universe. For Fallout fans who didn't love 76, this should scratch that New Vegas itch. Wes saw it in action recently—here's what he thought of Obsidian's latest.
Spelunky 2
2019 | Mossmouth | Link | Roguelike platformer
In the sequel to our 2013 GOTY, you'll be playing as the Spelunker's daughter and exploring the moon. In Summer 2018, we got a look at the game in action—glance at the trailer above for an idea of what's coming.
MechWarrior 5: Mercenaries
September | Piranha Games | Link | Action
If you, like us, have been waiting 17 years for a new singleplayer MechWarrior campaign, this will be a huge deal in 2019. MechWarrior 5 will let you explore and liberate apparently hundreds of planets from enemy strongholds, fully customising your mech along the way.
Hollow Knight: Silksong
TBA | Team Cherry | Link | Metroidvania
What started as DLC for Hollow Knight, starring Hornet as a playable character, apparently could not be contained. It's become a full game, a sequel to Hollow Knight, with a new setting, 150+ new enemies, a quest system, and doubtless much more. Whereas Hollow Knight was about descending deeper into the depths of Hallownest, this game will see Hornet climbing through a new kingdom to reach a peak. Team Cherry haven't mentioned a release date, but seem to be well into the game from what they've shown.