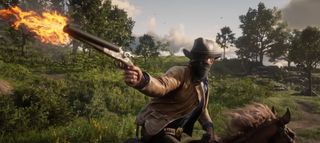 Winter is coming, which means that highly anticipated games both big and small are coming out every week, and the trend is forecasted to continue as the year comes to a close. Make sure you don't miss a release with our helpful guide to the new games of 2019.
We've organized our massive guide to upcoming 2019 PC games by the month they're coming out. For the games that don't have a release date yet (and there's a ton of them), check out the TBA page. We're constantly updating this guide with new games and release dates, so make sure to check back often. Looking for something to play right now? Then check out our guide to the best PC games or the best free games on Steam. And to make them really shine, check out our roundup of the best graphics cards.
On this first page we've listed out the new games coming to PC in November 2019 that you should keep an eye on. And below November's games, you'll find a quick guide to the biggest games still coming in 2019 from the Master Chief Collection to Hollow Knight: Silksong.
Games of November 2019
Red Dead Redemption 2
November 5 | Rockstar | Link | Open world adventure
Rockstar's beloved cowboy walking simulator is finally making its way to the PC, just in time for the holidays. For the first month, the PC version will only be available on Rockstar's own launcher. This new version comes with some extra guns, new side missions, and other goodies.
Planet Zoo
November 5 | Frontier | Link | Park Sim
The makers of Planet Coaster and Jurassic World Evolution take things back a notch with some simple critter corralling. We dug it so much we made it the cover of our June issue. Take a gander at what we had to say.
Stoneshard
November 7 | Ink Stains Games | Link | RPG
Stoneshard wants to make you suffer. A turn-based roguelike RPG, it promises to starve you, shock you—all kinds of fun stuff. But when you're not suffering, you'll be able to plunder caves, rescue villages and even build up your own company of mercenaries. There's a management side to the game, then, as you try to keep everyone happy---if you don't, they might betray you. You can play the prologue now.
Need for Speed Heat
November 8 | Ghost Games | Link | Racing
The next Need for Speed has cars, speed, cops, and palm trees. The Miami-adjacent setting is what seems to set Heat apart the most this time around. There also seems to be a larger emphasis on cop chases and car upgrades.
Star Wars Jedi: Fallen Order
November 15 | Respawn Entertainment | Link | TBA
It took a while, but we finally have some hard details on Respawn's Star Wars game. Respawn debuted a story trailer at Star Wars Celebration in Chicago, and while it doesn't showcase any gameplay (kind of a bummer), we do get a great look at protagonist Cal and his harrowing journey on the run from an Imperial Inquisitor. Respawn says they're focusing on "thoughtful combat" with lightsabers and force powers, so yep, definitely a Jedi game. Read everything else we know, and maybe we'll see more at E3.
Shenmue 3
November 19 | Ys Net | Link | Action adventure
The sequel few thought would ever happen, Shenmue 3 features the return of martial arts everyman Ryo Hazuki as he closes in on the mystery of who killed his father. Shenmue 3 promises similar gameplay to previous entries, letting players combat enemies hand-to-hand, explore a living, populated world, and upgrade abilities. If you're not familiar with the epic saga, Shenmue 1 and 2 remasters came out recently.
Sniper Ghost Warrior Contracts
November 22 | CI Games | Link | Stealth Shooter
It always feels like a new Sniper Ghost Warrior game is on the way. CI Games has had issues with overambition before, but they've promised a more replayable, less glitchy experience, and no open world.
Lost Ember
November 22 | Mooneye Studios | Link | Adventure
Mooneye Studios' lovely-looking game about exploring the through the eyes of animals in a world after humans has a new release date. You'll be able to possess any animal you come across to explore on land, sea, and air and uncover the lost Yanrana culture. After originally being planned for earlier in 2019, Lost Ember will now arrive on November 22nd according to its new date announcement trailer.
The biggest games still coming in 2019
Halo Master Chief Collection
TBA | 343 Industries | Link | Shooter
Despite a disastrous launch, the Master Chief Collection slowly became a definitive gathering of Halo games, made playable on newer hardware. And it's finally coming to PC. 343 Industries says it's all coming in stages, with Reach, then Halo 1, and chronologically on from there with community input being taken into consideration.
MechWarrior 5: Mercenaries
December 10 | Piranha Games | Link | Action
If you, like us, have been waiting 17 years for a new singleplayer MechWarrior campaign, this will be a huge deal in 2019. MechWarrior 5 will let you explore and liberate apparently hundreds of planets from enemy strongholds, fully customising your mech along the way.
Hollow Knight: Silksong
TBA | Team Cherry | Link | Metroidvania
What started as DLC for Hollow Knight, starring Hornet as a playable character, apparently could not be contained. It's become a full game, a sequel to Hollow Knight, with a new setting, 150+ new enemies, a quest system, and doubtless much more. Whereas Hollow Knight was about descending deeper into the depths of Hallownest, this game will see Hornet climbing through a new kingdom to reach a peak. Team Cherry haven't mentioned a release date, but seem to be well into the game from what they've shown.