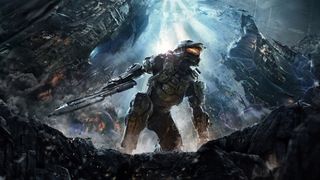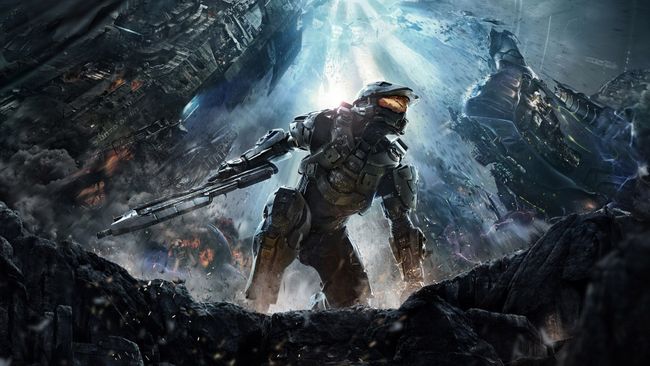 Spring, like that squad you didn't spot in PUBG, has sprung. In the meantime, there's plenty of new games to help welcome Mother Earth's rebirth through May and beyond. This month brings us the sheer badassery of Lu Bu in Total War: Three Kingdoms, while Rage 2 lets you slice mutants into a fine ragù. Cat lovers also finally get their justice in ESO: Elsweyr in June.
We've organized our massive guide to upcoming 2019 PC games by the month they're scheduled to release. For the games that don't have a release date yet (and there's a ton of them), check out the TBA page. We're constantly updating this guide with new games and release dates, so make sure to check back often. Looking for something to play right now? Then check out our guide to the best PC games or the best free games on Steam. And to make them really shine, check out our roundup of the best graphics cards.
On this first page we've listed out the new games coming to PC in May 2019 that you should keep an eye on. And below May's games, you'll find a quick guide to 2019's biggest new games, from Borderlands and Halo to Spelunky 2 and Hollow Knight: Silksong.
June
July
August
September
October
November
December
TBA
Games of May 2019
May 2 | Storm in a Teacup | Link | Horror
The BioShock comparisons are inescapable, but you can't say Close to the Sun doesn't nail that art deco spookhouse vibe. Instead of Ayn Rand making a libertarian mess of things, it's Nikola Tesla who has created a flying (floating?) utopia housing the world's brightest scientists, until things go horribly wrong as they are wont to do. You're a journalist hunting for her lost sister, so expect a more straightforward survival horror experience without the Big Daddy combat. It's an Epic Store exclusive.
Steel Division 2
May 2 | Eugen Systems | Steam | Strategy
Steel Division 2 is big. Like, 1:1 scale big. This means you'll mix turn-based, broad strokes war planning with RTS tactical battles, melding infantry, tank, and air combat on a dizzying scope. This time around you'll be plotting out the Soviet-led Operation Bagration in Belarus. Read our huge preview here.
Yakuza Kiwami 2
May 9 | SEGA | Link | Action RPG
JRPG best boy Kiryu Kazama is back once again, and this time he gets to punch a tiger in the face. When not raising PETA's hair, he's punching and kicking street thugs, desperately stopping all-out clan wars, and taking in the tourist attractions of a rebuilt and high def Sotenbori and Kamurocho. My favorite bit of new content is a "Majima Saga" that fills in the gaps between Yakuza 0, 1, and now Kiwami 2, and if you played 0, it's got one of the more surprisingly heartfelt narrative moments in recent gaming history.
Rage 2
May 14 | id Software/Avalanche | Link | FPS
This surprise sequel features the talents of Mad Max developers Avalanche Software. You're a ranger wandering the jungles and deserts of the wasteland, fighting to take back your home from the masochistic Authority gang. You'll splice, dice, and make nice with a ton of beefy monster trucks and gyrocopters, and collect weapon upgrades that push your machine to its limit.
A Plague Tale: Innocence
May 14 | Asobo Studio | Link | Action Adventure
A young girl and her brother are trying to make their way through medieval France, but they've got ruthless soldiers and ridiculously huge swarms of plague rats hunting them down. The tech behind the rats is pretty impressive (and creepy), so expect plenty of gore, horror, and using light sources to solve puzzles and ward off the buggers.
Sniper Elite V2 Remaster
May 14 | Rebellion | Link | Stealth-Shooter
One of four -- count 'em four -- Sniper Elite titles currently in the works, including Sniper Elite 5 and a VR game. The V2 remaster gets some modern day upgrades like a camera mode (perfect for capturing the expression of newly de-groined Nazis), new characters, and 16-player multiplayer, all for $35. Might as well read Phil's old review.
Druidstone: The Secret of Menhir Forest
May 15 | Ctrl Alt Ninja Ltd | Link | Isometric RPG
The folks behind the lovely Legend of Grimrock series are making this isometric tactical RPG that's far more colorful than its predecessors. Looks like combat will primarily be grid-based, and even takes some inspiration from Into the Breach with its "undo last move" option. Read Eric Watson's preview here.
Irony Curtain: From Matryoshka with Love
May 16 | Artifex Mundi | Link | Point-and-Click Adventure
If you were looking for a goofy point-and-click adventure that lets you live out a world where Donald Trump (or at least a similarly blonde blowhard) actually wants to spy on Russia, well...you found it. It's got a very LucasArts kinda vibe, and some solid humor from the looks of the trailers.
Team Sonic Racing
May 21 | Sumo Digital | Steam | Racing
If for some strange reason the really-quite-good Sonic Mania throwback isn't doing it for you, the blue blur is gearing up for another multiplayer racer. Enjoy the nostalgic Crush 40 butt rock.
Splitgate: Arena Warfare
May 22 | 1047 Games | Link | Arena FPS
I had a fair bit of fun with Splitgate, the arena FPS that blends Portal with, well...an arena FPS. It's interesting to see how the flow of combat is changed when cover means nothing, and skilled opponents can leap from place to place with a portal system that works exactly like you'd expect.
Total War: Three Kingdoms
May 23 | Creative Assembly | Link | Strategy
After delving through dark fantasy in Total War: Warhammer and briefly returning to British history in Thrones of Britannia, the Total War series takes us to the fall of China's Han dynasty. Fans of Dynasty Warriors might get some wild ideas once they see Lu Bu running around, but rest assured that Three Kingdoms will likely follow a much more historically accurate (though no less bloody) timeline.
Observation
May 21 | No Code | Steam | Adventure
If 2001: A Space Odyssey were a game, this might be it, especially since you're controlling the ship's A.I. "Sam" instead of his human counterpart. Thankfully, you're not very murderous (we hope), but you'll be helping the kind human astronaut gain access to other areas and solve the mystery of a vanishing crew. It's an Epic Store exclusive, and check out Sam's interview with No Code while you're at it.
Mechanic Miner
May 22 (early access) | Hello John | Link | Survival/Strategy/Sim
I'm typically not that into survival-esque games where you build whacky contraptions to solve puzzles or navigate environments, but the tall tales of Mechanic Miner's illustrious adventurer certainly make me want to try. You'll build weird-looking contraptions with noodle legs, hot air balloons, and sticky wheels for driving on cavern ceilings, all while destroying or dodging the quirky beasts of the underdark. You've got to see it all in motion to really understand, so check out the trailer.
Pathologic 2
May 23 | Ice Pick Lodge | Link | Horror
We're still not entirely sure what to think of the Pathologic sequel, where you're ostensibly trying to save a town from a dark illness before a nefarious evil can kill you dead. It's not "good" in any way we'd be able to describe with words, but when its weird blend of horror lands, it lands hard.
Conan Unconquered
May 30 | Petroglyph | Link | RTS
Conan Exiles is still out there nipping at the ARK bud, but Conan Unconquered aims to keep things more broad ala Age of Empires and Frostpunk. Blending survival elements into the fortress-building, you can share what is best in life with a friend in co-op.
Layers of Fear 2
May 28 | Bloober Team | Link | Horror
Layers of Fear certainly tried its best to instill painterly horror, and Observer took things up a notch with Blade Runner brain-diving, but I don't think either would be considered classics. Maybe a second stab at the Layers of Fear world will give Bloober Team enough experience to really make a masterpiece.
Void Bastards
May 29 | Blue Manchu | Link | Action-Strategy
From one of Irrational's co-founders, Void Bastards is a weird bit of fun, and those BioShock/System Shock roots definitely show. Lead your crew of former prisoners through space and board derelict and not-so-derelict ships to gather resources and make a break for freedom.
2019's biggest new PC games
Borderlands 3
September 13 | Gearbox | Link | FPS
Borderlands is baaaack, and it still looks a whole lot like Borderlands. That's okay—give the people what they want. We've got four new vault hunters, loads of returning characters, more than a billion guns, and a whole lot of lootin' and shootin' to do. The villains this time around are the clearly evil-looking Calypso twins, Claptrap's back (sorry) and you'll be journeying to multiple planets, not just around Pandora. You can read a ton about Borderlands 3 here in our comprehensive guide. By the way, it's exclusive to the Epic Games Store for six months.
Doom Eternal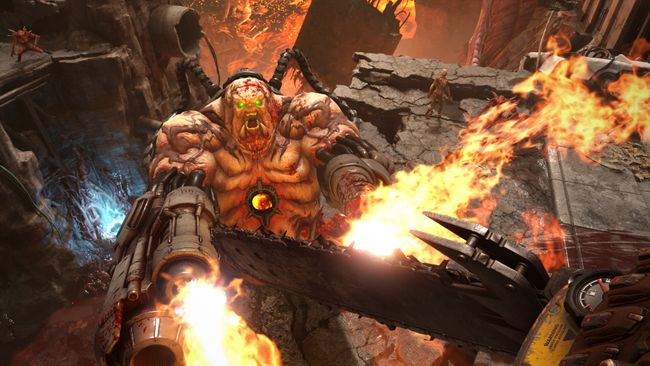 TBA | id Software | Link | FPS
Doom Eternal brings hell to Earth, a nice change of setting from 2016's excellent reboot. Expect to fight twice as many demons in this instalment, using a brutal upgraded armoury. This includes a new version of the Super Shotgun, which features a grapple-friendly 'meat hook' on the end, and hopefully a ton more ludicrous weapon mods.
Dying Light 2
TBA | Techland | Link | Open world
Dying Light 2 brings big choices to the open world zombie series. With writer Chris Avellone helping in the system's creation, your decisions will shape what happens to the city around you. Liberate a water tower, for example, and you can hand it over to authoritarian rulers so everyone can drink from it—they'll even repair the area around it, too, making it easier to navigate. You can also choose to hand it to shadier characters, who'll sell access to the water but give you a cut. Expect to see a lot more of how these decisions affect this ambitious game across 2019.
Total War: Three Kingdoms
May 23 | Creative Assembly | Link | Strategy
The next Total War takes us somewhere we've never been before in the series: ancient China, during the Three Kingdoms era after the dissolution of the Han dynasty. This entry promises to focus in on the heroes of the era, letting you pick a character from a selection of 11 rather than a faction, and brings matching new systems to the long-running strategy series.
The Outer Worlds
2019 | Obsidian Entertainment | Link | RPG
With original Fallout designers on-board, The Outer Worlds looks like a cross between Fallout and Firefly, taking us to a funny and bright-looking sci-fi universe. For Fallout fans who didn't love 76, this should scratch that New Vegas itch. Wes saw it in action recently—here's what he thought of Obsidian's latest. Also, you may want to know that it's a one-year exclusive to the Epic Games Store (but also on the Windows Store, just no Steam).
Spelunky 2
2019 | Mossmouth | Link | Roguelike platformer
In the sequel to our 2013 GOTY, you'll be playing as the Spelunker's daughter and exploring the moon. In Summer 2018, we got a look at the game in action—glance at the trailer above for an idea of what's coming.
Halo Master Chief Collection
TBA | 343 Industries | Link | Shooter
Despite a disastrous launch, the Master Chief Collection slowly became a definitive gathering of Halo games, made playable on newer hardware. And it's finally coming to PC. 343 Industries says it's all coming in stages, with Reach, then Halo 1, and chronologically on from there with community input being taken into consideration.
MechWarrior 5: Mercenaries
September 10 | Piranha Games | Link | Action
If you, like us, have been waiting 17 years for a new singleplayer MechWarrior campaign, this will be a huge deal in 2019. MechWarrior 5 will let you explore and liberate apparently hundreds of planets from enemy strongholds, fully customising your mech along the way.
Hollow Knight: Silksong
TBA | Team Cherry | Link | Metroidvania
What started as DLC for Hollow Knight, starring Hornet as a playable character, apparently could not be contained. It's become a full game, a sequel to Hollow Knight, with a new setting, 150+ new enemies, a quest system, and doubtless much more. Whereas Hollow Knight was about descending deeper into the depths of Hallownest, this game will see Hornet climbing through a new kingdom to reach a peak. Team Cherry haven't mentioned a release date, but seem to be well into the game from what they've shown.