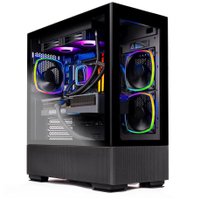 Skytech Azure Gaming PC | Ryzen 5 7600X | RTX 4070 Ti | 1TB SSD | 32GB DDR5-5200 | $2,099.99 $1,649.99 at Newegg (save $450)
Here's an RTX 40-series-powered PC on sale that doesn't skimp on RAM. This Skytech Azure has a Ryzen 5 7600X CPU with an RTX 4070 Ti GPU backing it up, alongside 32GB of DDR5-5200 RAM. You're giving yourself some really good performance for less than two grand. And you could dip your toes into some 4K gaming.
For most prebuilt gaming PCs it's expected to have to lose out on RAM or storage capacity in order to stretch to a bigger, better graphics card. Yet every so often we'll find a deal that appears to offer it all and still come in at a competitive price. That's what this Skytech PC is: one of the cheaper RTX 4070 Ti PCs we've seen with capacious RAM, storage, and PSU capacity.
Let's breakdown this PC's spec real quick. It comes with an RTX 4070 Ti, AMD Ryzen 5 7600X, 1TB NVMe SSD, 32GB of DDR5 RAM, and 850W 80 Plus Gold PSU. All stuffed inside a neat-looking tempered glass case. For all that, you can expect to pay $1,650 over at Newegg.
Even by the standards of some of the Prime Day gaming PC deals floating around right now, that's pretty good. That's not only because it's actually one of the cheapest RTX 4070 Ti machines we've spotted (there is this last-gen Ryzen 5 machine for $1,600), but it's also not skimping on key components.
The RAM is obviously a stand out here. That 32GB of DDR5 is plenty enough for creative pursuits, like rendering massive files in the Adobe suite, but also more than enough for gaming. DDR5 is the latest memory standard, and it's a nice addition here alongside that current-gen AMD processor. You can go much quicker, but we won't be picky for the price.
Speaking of that processor, it's built on AMD's latest AM5 socket. What that means for now is that you're able to upgrade the CPU to any of AMD's best gaming CPUs today, including its awesomely quick 3D V-Cache chips, but also there's an upgrade path for future generations of chip using the AM5 socket.
The PSU should also be supportive of a future upgrade with 850W capacity—more than is technically required to run the RTX 4070 Ti GPU and Ryzen 5 CPU.
Overall this stands out as a good deal—a surprising balance across the spec sheet for your money. If you want to check out our experience with a different Skytech machine to gauge opinion on the manufacturer, you can read our Skytech Chronos 2 review.