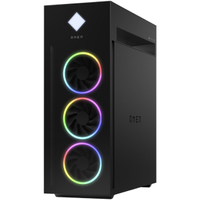 HP Omen 45L | Core i9 13900K | Nvidia RTX 4090 | 16GB DDR5-5200 | 1TB SSD + 1TB HDD | $3,999.99 $3,149.99 at HP (save $850)
This is as good as it gets in terms of a CPU and GPU combo, which is a discount on the original price. Given the price of SSD storage at the moment, it's a shame we don't get a 2TB SSD instead of that extra hard drive, and I'd want more memory for a top-end machine. But those are minor concerns that are easily fixed if they ever become an issue for you.
HP has a big discount on a beastly RTX 4090-powered Omen gaming desktop for $3,150. This makes it $850 cheaper than its usual price of $4000. More importantly, it's the cheapest RTX 4090 desktop we've seen with a current-gen CPU inside of it.
This OMEN 45L is a robust machine with a 13th Gen Intel Core i9 13900K CPU and an RTX 4090 graphics card that handles all the heavy graphical heavy lifting. This powerful combination is perfect for 4K gaming, editing, and most things you can throw at it.
This deal stands out because we haven't seen such affordable prices on RTX 4090 desktops that don't come with CPUs from previous generations. Typically, manufacturers tend to upgrade older systems by simply installing a new GPU while keeping older components. Although you'll enjoy most of the benefits of an RTX 4090, using an older CPU could cause a performance bottleneck, forcing you to make a costly upgrade down the road.
The Core i9 13900K is an exceptional CPU, excelling in both gaming performance and productivity. Combined with the RTX 4090, you'll have a powerful workstation and a 4K gaming rig.
Regarding memory and storage, the desktop includes 16GB of DDR5 RAM, a 1TB NVMe SSD, and a 1TB SATA HDD. While it would have been great to see a 2TB SSD instead of the SSD/HDD combo, you can easily upgrade the storage down the line as SSDs have become more affordable.
We were particularly impressed with the 45L case and cooling design when we reviewed the RTX 3070 Ti version last year. The separate cooling chamber on top of the case is a standout feature, pulling in cooler air from outside the PC and expelling warm air at the top, giving you better airflow.
The only drawback we found was the mediocre performance of the HDD. The case is also quite large, approximately 22 inches high, and weighing around 50 lbs. Therefore, you may need to make space on your desk and consider enlisting the help of a friend to lift this bulky machine.
Of course, if you're not feeling the HP Omen, you take a peek over the best Amazon Prime Day gaming PC deals to find other RTX 40-series systems getting some dramatic discounts just in time for Amazon's retail holiday.